12 Best Metallic Liquid Lipsticks – 2022 Update
It's time to switch back to those iconic good old days of textured lipsticks.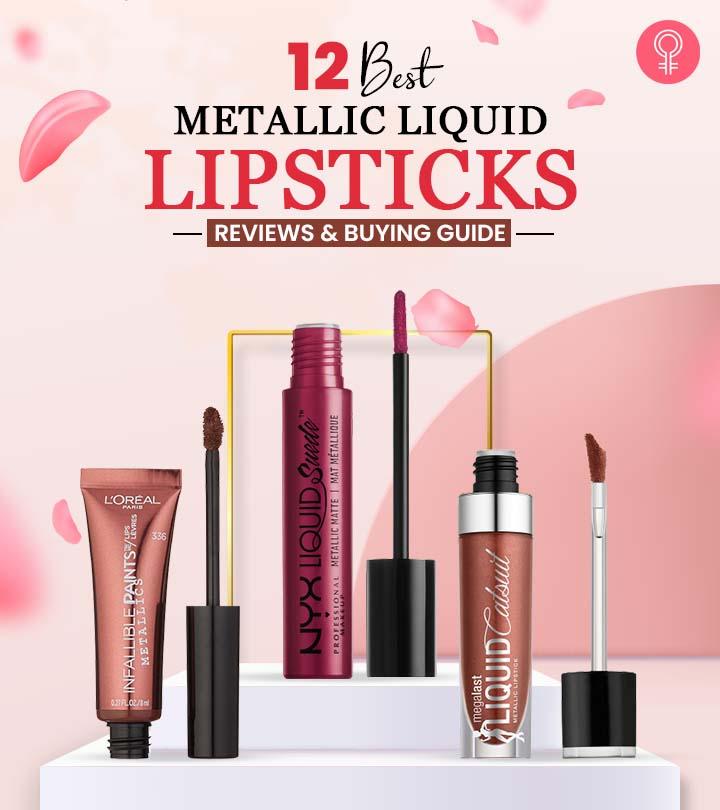 Metallic lipsticks are back in trend and can make you look chic, be at a party or some night out with friends. That is why we have included a list of the best metallic liquid lipsticks for you here to have a look at. Starting from the 90s, these were always in fashion and are here to stay. Available in various shades and textures, these can keep your lips looking plump and soft for hours. Be it glossy, metallic, or glitter textures, you can for sure give these a shot. So if you're still wondering which color would best suit your skin tone and what you should go in for, take a look here!
How Are Metallic Liquid Lipsticks Different?
Unlike regular lipsticks, metallic liquid lipsticks add a touch of shimmer in a single swipe. They come in a variety of formulas and shades to suit every individual. These lip colors look spectacular even in low light conditions, as the tiny flecks of metal offer a flawless sheen.
Want to know the details about the best metallic liquid lipsticks available on the market? Read the following section.
12 Best Metallic Liquid Lipsticks Of 2022
Add a pop of color to your lips with bold Megalast Liquid Catsuit Metallic Lipstick by Wet N Wild! The super pigmented formula glides effortlessly onto your lips and dries into a gorgeous metallic finish. Unlike regular liquid lipsticks, this one does not dry out your lips and is exceptionally lightweight. It is infused with natural ingredients like vitamin E and macadamia oil that condition and nourishes your lips. The applicator tip is designed to give you a precise and clean application. Thus, there is no room for mishaps. It is also long-lasting and stays put all day.
Shade: Ride On My Copper
Pros
 Non-drying
 Comfortable to wear
 H Long-lasting
 Does not transfer
 Vegan
 Cruelty-free
Cons
None
Dazzle your lips with this super plush lip color by NYX. It is super creamy and prevents dryness or peeling of the lips. The formula glides on your lips and leaves a glistening metallic finish. It is infused with vitamin E and avocado oil, which nourish and protect your lips from environmental damage. The rich pigments lock in the shade and are long-lasting.
Shade: Pure Society
Pros
 Smudge-proof
 Lightweight
 Goes on smooth
 Highly pigmented
 Cruelty-free
Cons
None
The highly saturated matte lipstick by Milani gives a velvety metallic finish and leaves your lips looking fuller. It features a flexible and double-sided applicator that helps you precisely contour the edges of your lips. The formula of the Amore Matte Metallic Lip Crème is super smooth, lightweight, and comfortable on the lips. It is also transfer-resistant and stays put for up to 16 hours.
Shade: Vampy Matte
Pros
 Non-sticky
 Transfer-resistant
 Goes on smooth
 Highly pigmented
 Vegan
 Cruelty-free
Cons
Enjoy a flawless, glossy metallic finish with the Infallible Paints/ Lip Metallics lipstick by L'Oreal Paris. It delivers high impact color in a single stroke, creating a bold statement. The metallic liquid lipstick is lightweight and does not let your lips feel dry or cakey. Unlike regular liquid lipsticks, it comes in a tube, along with a plush wand for precise application.
Shade: Liquid Venom
Pros
 Comfortable to wear
 Long-lasting
 Goes on smooth
 High-impact color
 Non-transferable
Cons
None
The handcrafted Metallic Matte Liquid Lipstick from Aromi offers intense color payoff. It is formulated without any harsh ingredients and toxic chemicals, which makes it perfect for sensitive-skinned individuals. It delivers a dual chromatic effect, and the color shifts depending on the viewing angle. The formula is lightweight and comfortable to wear all day long!
Shade: Peachy Tan
Pros
 Precise applicator
 Vegan
 Mineral oil-free
 Paraben-free
 Gluten-free
 Cruelty-free
 Triclosan-free
 SLS-free
Cons
None
Stand out and make a statement with this super-luxe lipstick by Lime Crime. The unique Velvetines Liquid Matte Lipstick dries down to a stunning velvety matte finish. The metallic shade blends perfectly onto your lips and complements your eyes and face for a dramatic look. You don't need to worry about smudges and occasional touch-ups, as this lipstick is impeccably kiss-proof and touch-proof.
Shade: Raisin Hell
Pros
 Long-lasting
 Kiss-proof
 Smudge-proof
 Doesn't bleed
 100% vegan
 Cruelty-free
Cons
Achieve a super bold makeup look with this matte metallic liquid lipstick by Maybelline. It glides across your lips seamlessly and dries to a lightweight and comfortable finish. The Studio Metallic Liquid Lip is infused with gorgeous color pigments, which provide a shimmery metal effect.
Shade: Nemesis
Pros
 Lightweight
 Smudge-resistant
 Long-lasting
 Highly pigmented
 Dries quickly
Cons
None
This gel-based lip color by Revlon glides onto your lips seamlessly to provide a soft matte finish. The deep and highly pigmented shade instantly brightens up your complexion. The lush Ultra HD Metallic Matte Liquid Lipcolor comes with a doe-foot applicator, which gives a plump appearance to the lips. It has a dreamy scent of whipped vanilla and cream mango and does not irritate or damage your lips.
Shade: Luster
Pros
 Moisturizing
 Lightweight
 Goes on smooth
 Dries quickly
 Does not smudge
 Long-lasting
 100% wax-free
Cons
None
This Metal Matte Liquid Lipstick by Gerard Cosmetics comes in flattering shades that make your teeth appear lighter. It glides across your lips without any tugging or pulling and provides superior pigmentation in a single swipe. It also lasts for hours and does not need occasional touch-ups.
Shade: Fuzzy
Pros
 Long-lasting
 Smudge-proof
 Lightweight
 Kiss-proof
Cons
None
This intensely pigmented gel lipstick by Covergirl is super creamy and does not feel tacky or sticky on application. It is infused with nourishing ingredients like castor seed oil, which deeply conditions and softens your lips. The Melting Pout Metallics Liquid Lipstick features a cushiony soft applicator that allows you to create a precise and smooth application. It dries into a velvety soft shimmery metallic color that you are sure to love!
Shade: Mayhem
Pros
 Lightweight
 Non-drying
 Long-lasting
 Does not transfer
Cons
None
Get pout-worthy lips with the plush Always On Metallic Matte Liquid Lipstick by Smashbox! It gives you a highly pigmented glossy metallic finish in just a single coat. This range of metallic lipsticks includes 16 gorgeous shades that uplift your makeup game. The formula is also long-lasting and stays put all day.
Shade: Bold Digger
Pros
 Kiss-proof
 Smudge-proof
 Goes on smooth
 Doesn't bleed
 Good coverage
 Highly pigmented
Cons
From shiny rose to dusty reds and vibrant coppers, the range of metallic lipsticks from Realher is vast. The Metallic Copper shade is highly pigmented but lightweight and ensures comfortable wear all day. The lipsticks deliver a soft matte finish yet do not compromise on shine. They glide seamlessly onto your lips and do not feel cakey, tacky, or sticky. The precise applicator that comes with these lipsticks helps create a proportional and clean application.
Shade: Metallic Copper
Pros
 Long-lasting
 Non-sticky
 Transfer-resistant
 Highly pigmented
 Goes on smooth
 Vegan
 Cruelty-free
Cons
None
Here are a few things to keep in mind when choosing a metallic lipstick.
How To Choose The Best Metallic Liquid Lipsticks
The very first step in choosing the right lipstick is determining the skin tone you have. For example, light pink, nudes, reds, and mauve shades work best for lighter skin tones, while colors like berry, toned blue reds, and bold pink work best for medium to dark skin tones.
All lipsticks come in a variety of finishes – satin, matte, glossy, or creamy. Make sure to check the type of finish to get the look you want to achieve.
If you have very dry lips, it is ideal that you choose a lipstick with moisturizing agents like vitamin E or conditioning oils. Also, stay away from harsh ingredients like parabens and sulfates, which can damage your skin in the long run.
When it comes to liquid lipsticks, make sure the applicator offers precise and well-sculpted application.
Why Trust StyleCraze?
Baishali Bhattacharya is our in-house certified expert in makeup techniques always looking out for lipsticks that make you look chic. She has spent hours trying out different lipsticks from top-selling brands and curated this list of the trendiest and leasing metallic lipsticks. These metallic lipsticks come in different shades and textures that give you a shiny and metallic finish suitable for every skin tone.
Frequently Asked Questions
Which skin tone do metallic liquid lipsticks look best on?
Metallic lipsticks look good on every skin tone, but the key is to choosing the right color that suits your complexion. Make sure to check out the buying guide above to know more about choosing the right lipstick for your skin tone.
How do you use liquid metallic lipstick?
• Exfoliate your lips and apply a lip primer.
• Line your lips with a lip liner.
• Apply a small amount of the product to your lips with the flat side of the applicator.
• Build in the color with more swipes.
• Clean messy strokes with concealer.
How long can you use liquid lipstick?
The shelf life of a liquid lipstick is one to two years. So use it before the expiry date.
How do you make lipstick not transfer?
Place tissue paper on your lips after wearing the lipstick, to remove the excess product. Then, dab some translucent powder on the lips to absorb the moisture from the lip surface. This is how you can make your lipstick transfer-proof.
How do you make liquid lipstick not smear?
Allow your lip balm to absorb in the lips completely before applying the lipstick or apply a lip primer to make your liquid lipstick smear-proof.
Which type of matte lipstick lasts longer?
Matte lipsticks that contain the least amount of oils and wax last longer than other matte formulas.
Recommended Articles