Top 51 Long-Distance Relationship Quotes That Will Keep The Spark Alive
Send a quote to your lover every day you are apart to let them know you miss them dearly.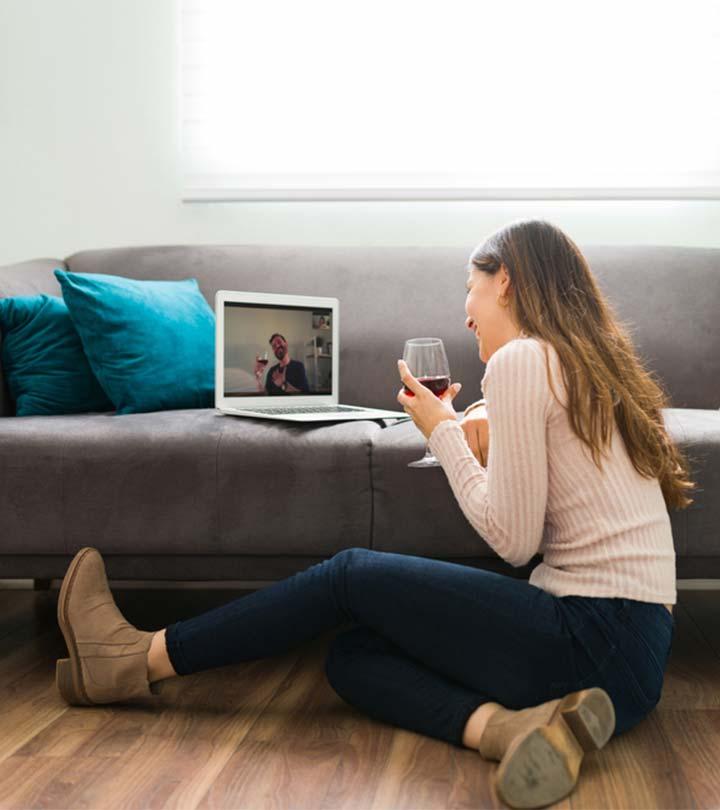 There are times when you fall short of words to express your feelings and heat up the romance for your loved ones. If you are in a long-distance relationship, it is tough to share your emotions with the same intensity. The touch and warmth of your partner bring out the best feeling, which is often missing in long-distance relationships. It can be the ultimate test of your perseverance and commitment, and communication plays a key role in keeping your relationship healthy. If you want to let your partner know how much they mean to you but do not know how to convey it, we can help. Here are some beautiful, heartwarming long-distance relationships, "missing you" quotes to inspire you.
51 Long-Distance Relationship Quotes For Your Partner
"I'm jealous of the people who get to see you every day." – Unknown
"There are no goodbyes for us. Wherever you are, you will always be in my heart." – Mahatma Gandhi
"I don't cry because we've been separated by distance, and for a matter of years. Why? Because for as long as we share the same sky and breathe the same air, we're still together." – Donna Lynn Hope
"Distance between two hearts is not an obstacle; rather a great reminder of just how strong true love can be." – Unknown
"Love is not finding someone to live with. It's finding someone you can't live without." – Rafael Ortiz
"When two hearts are meant for each other, no distance is too far, no time too long, and no other love can break them apart." – Unknown
Shutterstock
"The reason it hurts so much to separate is that our souls are connected." – Unknown
"Where you are is where I want to be." – Unknown
"Distance is temporary but our love is forever." – Unknown
"The distance is so long but our love is so strong." – Unknown
"If anyone asks me "What is Hell?" I would answer "Distance between two people who love each other." – Unknown
"You make me smile despite the miles." – Unknown
"Love isn't something you find. Love is something that finds you." – Loretta Young
"I like the sound of your voice even if it's from a thousand miles away. It keeps me going." – Unknown
"Even when we are thousands of miles apart, I feel emotionally closer to you each day." – Unknown
"The pain of parting is nothing to the joy of meeting again." – Charles Dickens
"I get butterflies just thinking about the next time I'll see you." – Unknown
"The distance may be far and wide but my heart can cover them all. The space between us is so much more but you should know that I love you so!" – Linda Roy
"Absence is to love what wind is to fire; it extinguishes the small, it inflames the great." – Roger de Bussy-Rabutin
"In true love, the smallest distance is too great, and the greatest distance can be bridged." – Hans Nouwens
"You're my favorite notification." – Unknown
"Distance makes the heart grow fonder." – Thomas Haynes Bayly
"That farewell kiss which resembles greeting, that last glance of love which becomes the sharpest pang of sorrow." – George Eliot
"Close together or far apart; you're forever in my heart." – Harry Styles
"But I must admit, I miss you quite terribly. The world is too quiet without you nearby." – Lemony Snicket
"Distance is just a test of how far love can travel." – Unknown
"If the days won't allow us to see each other, memories will, and if my eyes can't see you, my heart will never forget you." – Unknown
"If the only place where I could see you were in my dreams, I'd sleep forever." – Unknown
"Waiting is a sign of true love and patience. Anyone can say I love you, but not everyone can wait and prove it's true." – Unknown
"I can bear the distance but cannot imagine a life without you. For you, I will go through the distance and the heartaches. You are my one and only." – Montana Lee
"I might not be there with you. But I'm always there for you." – Unknown
"Being deeply loved by someone gives you strength while loving someone deeply gives you courage." – Lao Tzu
"You're far for my hands to hold you, but too near for my heart to love you." – Heraline
"I never feel alone as long as I hear your voice on the phone and in my mind." – Unknown
"I miss you so much more than the miles between us." – Unknown
"The best and most beautiful things in the world cannot be seen or even touched. They must be felt with the heart." – Helen Keller
"But nothing makes a room feel emptier than wanting someone in it." – Calla Quinn
"Distance doesn't matter… If two hearts are loyal to each other." – Unknown
"You are just one thought away from my heart no matter how far away you are." – Unknown
"Being close is the first and last desire of lovers, but being far and loving each other without an inch's difference is the characteristic of real love." – Senora Ray
"I exist in two places, here and where you are."– Margaret Atwood
"Distance does not break off the friendship absolutely, but only the activity of it." – Aristotle
"Missing someone is a part of loving them. If you're never apart, you'll never really know how strong your love is." – Unknown
"Every minute feels like an hour, every hour feels like a day, every day feels like forever, But I will wait for you. To hug you more, to kiss you more, and to love you more." – Unknown
"Good friends are like stars. You don't always see them, but you know they're always there." – Unknown
"The few hours I spend with you are worth the thousand hours I spend without you." – Unknown
"When your absence is felt, your presence is the essence and it makes a difference." – Michael Bassey Johnson
Infographic: 10 Quotes About Long-Distance Relationships To Send To Your Partner
Sharing heartfelt quotes about long-distance relationships with your partner can strengthen your bond despite the distance. These quotes also nurture emotional connection, encourage cherishing shared experiences, and foster hope for a future reunion. Take a look at the infographic below for a rundown of the best quotes to send to your partner.

When you are in a long-distance relationship, you do not have the luxury of physical intimacy. So, words play a major role in keeping both partners connected and the relationship alive. You cannot underestimate the power of thoughtful and heartfelt words coming from a loved one as they can tug at your heartstrings. You can experience the same for yourself by sending your beloved one or more of the above quotes and see them blush over the next video call. These quotes describe the power of love and how you can overcome any hurdle in life when you have a trusting and supportive partner.
Frequently Asked Questions
Is a long-distance relationship good?
Yes. While you may miss your partner being around, the distance helps build trust, improves your communication, and gives you time to focus on yourself.
How do I bring the spark to my long-distance relationship?
Send your partner a thoughtful message, surprise them with an online movie or game date, or reminisce about your favorite memories together.
How can I express my long-distance love?
You can express yourself in a sweet love letter or send your partner cute heartfelt messages or quotes. You can send care packages filled with your partner's favorite things or gifts once in a while. Video call your partner regularly and reaffirm your feelings for each other. Go out on regular video call dates as well.
Indulge in the essence of love with romantic long-distance relationship quotes that will melt your partner's heart. Let this video inspire you to express your love from afar. Check it out!