10 Best Long-lasting Eyeshadows Of 2023
Leave your eyeshadow palette at home with no worries as these ones are made to last!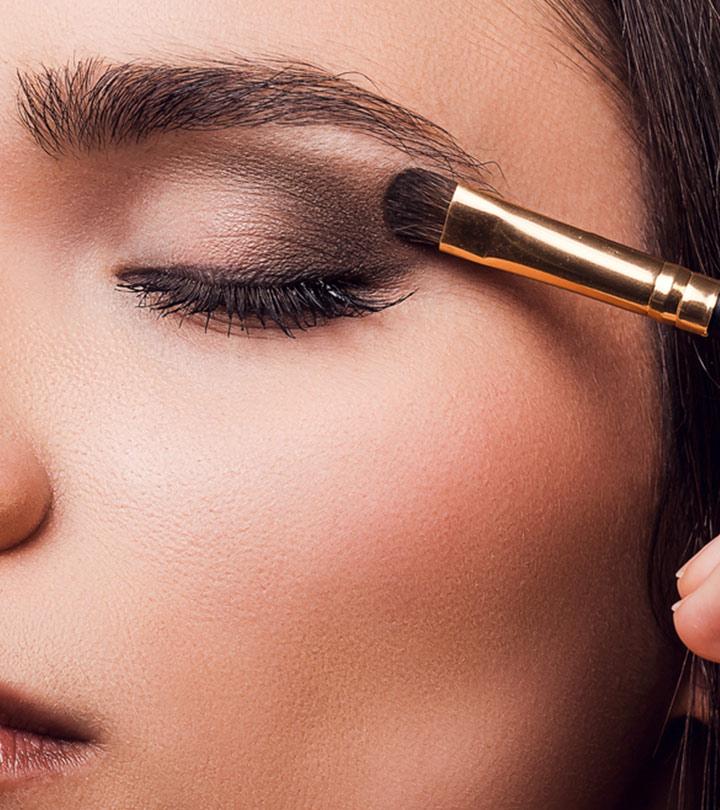 Finding the best long-lasting eyeshadows and other lasting makeup products can be a tough nut to crack, but once you find the right ones, they can make all the difference. Talking specifically about eye-makeup, we all know how most eyeshadows tend to fade away after some hours of application. But these days, a wide variety of long-lasting eyeshadows like pressed eyeshadow, pot eyeshadow, loose eyeshadow, and gel eyeshadow are available in the market. Most makeup products don't stay for longer hours on your eyelids because of the oil glands that surround your eyes. And on top of that, we have a tendency to blink, which leads to further creasing and smudging of our eye makeup.
Well, if you want to have a long-lasting eyeshadow for all-day glam in your kitty, read our list. We have included ones with various textures like gel, cream, and powder. And also of various price ranges.
Top 10 Best Long-lasting Eyeshadows For An All-day Makeup
The Julep Eyeshadow 101 Crème to Powder Waterproof Eyeshadow Stick in the shade Champagne Shimmer is a golden-beige eyeshadow that gives your makeup look a subtle pop of shimmer, perfect for any day or night look. This eyeshadow is easy to apply as it is enriched with Vitamin C and E, providing hydration and brightening and protecting your eye crease's delicate skin. The candelilla wax in this creamy shadow allows for a smooth application that is easily blendable and does not crease. In addition, this waterproof eyeshadow has a cream-to-powder formula, meaning it has a creamy consistency that dries to give a powder finish.
Pros
Creamy formula
Can be used without a brush
Built in smudger
Easily blendable
Contains Vitamin C and E
Waterproof
Suitable for sensitive skin
Cons
Looking for a super intense eyeshadow? This long-lasting eyeshadow offers a rich powder-cream texture that stays from day until dawn. This velvety formula glides smoothly on your eyelids, revealing a highly pigmented bold color with shimmery touch. So now enhance your eyes and make a lasting impression with this intense, single eyeshadow that can be worn for romantic evening dates or night parties. If you want to wear it all day long, you will not be disappointed as it stays for up to 24 hours. Swipe this beautiful lustrous fade-resistant eyeshadow over your eyelids and complete your alluring look with eyeliner and mascara.
Pros
Affordable
Breathable
Waterproof
Fade-proof
Crease-resistant
Cons
Product may flake a little during application
Price at the time of publication: $7.99
The velvety Mally Beauty Evercolor Shadow Stick delivers a smudge-proof and transfer-proof shimmery pigment to your eyes that lasts all day long. This creamy, long-lasting eyeshadow stick can be used in multiple ways in your makeup regime, from applying it as eyeshadow to using it as an eye primer, eyeliner, and highlighter. This easily blendable shimmer eyeshadow takes just about 45 seconds to set in and gives you a velvety finish that adds glamor to your everyday makeup.
Pros
Can be used in multiple ways
Creamy texture
Blendable formula
Long lasting
Smudge-proof
Transfer-proof
Cons
Price at the time of publication: $25
Get an appealing look with this award-winning liquid eyeshadow that has an incredible staying power. This gel-based formula is made for comfortable wear and delivers an amazing glitter coverage in one swipe. Infused with high-impact pearls and multi-dimensional glitters, you will achieve a vibrant eye look with minimum fallout. This highly pigmented, vibrant eyeshadow is easy to apply using its wand, after which it needs to be blended properly with a brush or your fingertip. You will achieve a buildable gel coverage with this lightweight, versatile eye makeup product. This opaque, vegan eyeshadow is free from chemicals like ethoxylates, phthalates, triclosan, nonylphenol, hydroquinone, and triclocarban.
Pros
Vegan
Quick-drying
Non-sticky
Cruelty-free
Paraben-free
Cons
May be slightly difficult to wash off the glitter
Price at the time of publication: $6.0
The LUXAZA Neutral Brown Liquid Eyeshadow is a metallic eyeshadow infused with the goodness of vitamin C that helps you wear dramatic eyes comfortably without the feeling of dry eyelids. In addition, this moisturizing, glitter eyeshadow applies smoothly without freezing. It is a lightweight eyeshadow that is suitable to be worn on sensitive skin and has a quick-drying formula lasting up to 18 hours without fading, flaking, or fallouts. It is also a great eyeshadow that can accompany you on your travels because of its compact and travel-friendly packaging.
Pros
Suitable for sensitive skin
Nourishing formula
Long lasting
Quick drying
Does not crease
Beginner-friendly
Travel-friendly
Cons
The glitter from the shadow can smear
Can feel patchy
Price at the time of publication: $7.99
The water-proof and long-wear Maybelline New York Color Tattooup is a cream eyeshadow that is highly pigmented and gives an intense shimmery payoff to create dramatic eye makeup. In addition, this eyeshadow is long-lasting and can be worn for long hours without creasing or smudging. The creamy formula glides like a dream on your eyelids in just one swipe and gives a tattoo-like hold. This crease-proof eyeshadow by Maybelline is fade-proof and can be layered to create bold and accentuated looks.
Pros
Extremely long lasting
Creamy formula
Crease-proof
Smudge-proof
Highly pigmented
Cons
Can look cakey
Hard to blend after set
Price at the time of publication: $14.99
Want a budge-proof eyeshadow? Get this long-wearing eyeshadow stick that stays put for up to 8 hours without budging. It glides smoothly on your eyelids and defines your pretty eyes. You can highlight, shade, or give a smokey effect with this creamy formula. It is perfect for all-day wear as it does not flake, fade, or crease. This eyeshadow will give you a vibrant look in just one stroke. Swipe the stick across your lids and blend with your fingertips. And to remove it, you can use a makeup remover or facial cleanser.
Pros
Gluten-free
Water-resistant
Cruelty-free
Comfortable wear
Free of paraben, sulfate, phthalate, and sulfite
Cons
Price at the time of publication: $38.91
Want an eyeshadow that moisturizes your skin? This eyeshadow stick is infused with chamomile and meadowfoam seed oil that keeps your skin moisturized. Chamomile soothes the skin, and meadowfoam seed oil reduces wrinkles and rejuvenates your eyes. This creamy formula has great staying power and can also be worn as a shadow base. This shade will give you a universal topaz caramel shimmer tone that suits all eye colors and skin tones. You can apply this pencil eyeshadow easily to your eyelids and then blend it with your fingertips or brush. If you need to sharpen the stick, you can do so with its built-in sharpener.
Pros
Waterproof
Cruelty-free
Paraben-free
Travel-friendly
Smudge-proof
Cons
May not be ideal for super oily skin
Price at the time of publication: $19.0
Are you looking for a multipurpose eyeshadow? Then get this eyeshadow stick that can also be used as contour, highlighter, shadow base, and eyeliner. This cream-to-powder eyeshadow glides seamlessly on your eyelids, allowing you to experiment with different eye looks. This high-performance eyeshadow does not build-up along your lash line, and you will not see any powdery fallout on your lashes as well. Formulated with ceramides and vitamins C and E, this eyeshadow nourishes your eyelids, delivers a smooth finish, and stays all day long. This lightweight eyeshadow stick comes with a built-in sharpener for easy use.
Pros
Buildable
Super blendable
Crease-proof
Hypoallergenic
Highly pigmented
Dermatologist and ophthalmologist-tested
Cons
Price at the time of publication: $28.0
The Lancome Color Design Eyeshadow is a pigmented and long-lasting powder eyeshadow that works on all skin types. It has a non-comedogenic formula that won't clog pores or cause allergic reactions. So, if you have watery or sensitive eyes, this is your pick. This eyeshadow also has a micro-air technology that ensures a smooth application and an intense color payoff that gives a satin matte finish. With travel-friendly packaging, the matte eyeshadow is designed to stay true to its color on all skin tones and can be the perfect eyeshadow to wear all day long.
Pros
Long lasting
Suitable for watery eyes
Non-acnegenic
Non-comedogenic
Cons
Buying an eyeshadow can seem really easy – however, you should be aware that if you want to get the 'perfect' one for you, you need to tick off a specific checklist. It totally depends on your individual requirements. Here are a few pointers you should keep in mind.
Things To Know Before Purchasing An Eyeshadow
Ingredients
Since eyeshadows go on the delicate skin near your eyes, opt for products that are free of parabens, sulfates, phthalates, and sulfites. Eyeshadows that contain skin nourishing ingredients would be a bonus.
Usage
Buying an eyeshadow also depends on how you plan to use it! If you want daily wear, live in a hot climate, have oily skin, and tend to get sweaty or have a habit of touching your face, a waterproof, transfer-proof, smudge-proof eyeshadow will be the perfect fit for you.
If you travel a lot, your eyeshadow should come in a travel-friendly packaging, or it could turn out to be a disaster!
If you are buying an eyeshadow for occasional use and for parties or weddings, go for the highly pigmented products. They will make your eyes pop and look festive. Going for a popping color is also a good idea.
Skin Concerns
People with allergies often do not use eyeshadows on their sensitive skin! Opt for a hypoallergenic and cruelty-free eyeshadow that is less likely to give your skin severe issues. If you get itchy around the eyes or teary-eyed on a regular basis after wearing an eyeshadow, discontinue using the same or switch to a different brand.
Skin Type
Women with hooded eyes often find their eyeshadows creasing and caking along the lines. It is very important for those with creases and lines on the upper eye to opt for an eyeshadow that is crease-proof.
Price
Expensive does not automatically mean better! However, it is a good idea to opt for branded products when it comes to eye products because you can trust most authentic brands to be diligent about quality-control. It is practical to invest in palette eyeshadows at affordable range, so that you can create colorful eye looks.
Go through the process of applying eyeshadow in steps.
How To Apply Long-lasting Eyeshadow
You need an eyeshadow primer, a clean brush, and your favorite eyeshadow to achieve the perfect look.
Step 1: Apply eyeshadow primer to your lids for a smooth finish and a long-lasting effect.
Step 2: Pick a clean fluffy eyeshadow brush for blending. Some may prefer applying the product using their fingertips, but if you want the best eye makeup look, use the tools.
Step 3: Apply base eyeshadow in a nude shade and blend it thoroughly. This helps increase the intensity of the colors.
Step 4: Use a darker tone like medium-brown for your crease to add depth and dimension to your eyes.
Step 5: Pick another dark shade to apply on the outer corners. You can even achieve a smokey eye look by extending the color past your crease. Also, apply the same shade on your lash line.
Step 6: Re-apply the base eyeshadow to the lids and blend seamlessly for a neat and smooth finish.
Step 7: Finish your eye makeup with an eyeliner or eye pencil, and mascara.
Why Trust Stylecraze
Chaitra Krishnan, the author, is a big time makeup enthusiast who loves to try new products as they hit the shelves. She believes that investing in a long-lasting eyeshadow palette will help you create intense and dramatic eye makeup. She has gone through thousands of online reviews and picked the best ones for her readers. The eyeshadows recommended in this list do not crease or smudge and stay in place for hours.
Frequently Asked Questions
How do I keep my eyeshadow from fading?
To keep your eyeshadow from fading, you should use a primer before applying the shadow and a setting powder after the application.
What is the best high-pigment eyeshadow formula?
The best high-pigment eyeshadow formula is L'Oreal Paris Infallible 24HR shadow, which is long-wearing, waterproof, and affordable.
Does cream eyeshadow last longer?
Yes, it does. Cream eyeshadow stays longer on your eyelids and is the best choice for dry skin.
Which eye shadow lasts the longest?
The Maybelline New York Eyestudio ColorTattoo Metal 24HR Eyeshadow and the L'Oreal Paris Infallible 24HR Long-lasting Eyeshadow are long-lasting products. Also, when it comes to formulation, a cream eyeshadow lasts the longest on the skin.
Is there an eyeshadow that does not crease?
Yes, several brands offer crease-proof eyeshadows. For example, the AFU Eyeshadow Palette is one of the best products for creaseless application.
Why does my eyeshadow not last?
Besides opting for a long-lasting formulation, an eye primer can help make your eyeshadow last longer. But if you have dry skin, apply a bit of eye cream to your lids. For oily eyelids, remove the extra oil with a wet wipe and apply the eyeshadow.
Do you put eyeliner on before or after eyeshadow?
Put eyeliner after the eyeshadow to make the lines visible and sharp.
Recommended Articles