13 Best Long-Lasting Mascaras For Thick, Glossy Lashes
Beautify your lashes with waterproof, hydrating, and clump-free mascaras.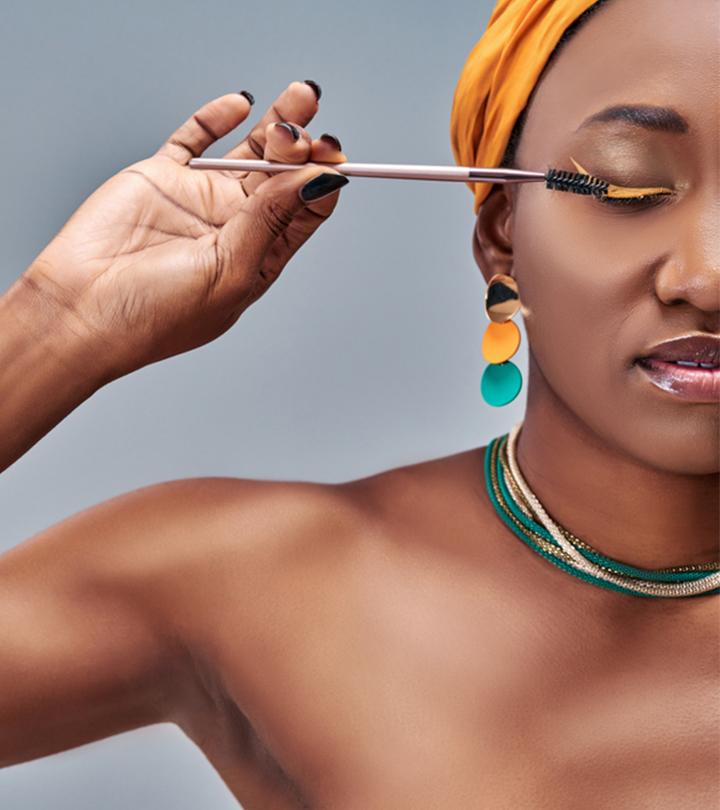 Mascara is a need, not a want. Mascara is life, but they can sometimes betray us by running down our faces and making us look like a still from a horror movie. In this desperate time of need, a long-lasting mascara is your new best friend. Like your best friend, they never leave you alone and always make you feel the best. Be it heaven or hell; they are with you all the way. They offer companionship during a busy day at the office or on nights when you cry yourself to sleep. They are tough and can resist anything, be it sun, water, or sweat- they can beat them all. So if you have been looking for your new best friend, don't worry, ladies. We have your back. We have compiled a list of the best long-lasting mascaras available today. All you need to do is know the type of wand and the shape of your eye, and you are sorted. Expensive or affordable, a long-lasting mascara can make you look like the diva you already are inside. To know more, scroll down to check out our top picks for you.
Choose The 13 Best Long-Lasting Mascaras of 2023 Statement Lashes
Lashes for days can be easily achieved with a single coat of the Cabaret Premiere Artistique Volume Mascara. If you want to make a bolder statement, you can always build on for a look that's thicker and more fanned-out. This clump-free, tubing mascara is also lightweight, which is a great relief as heavy lashes can be quite uncomfortable. Without any smudging or flaking, you can also remove this mascara without a hassle. For the ultimate length, thickness, and volume that stays put all day long without damaging your lashes, use this Vivienne Sabó Paris long wear mascara. You can also check this video out for a brief review of the product.
Pros
Cruelty-free
Clump-free formula
Resistant to smudging, flaking, or transferring
Lightweight
Buildable
Easy to apply and remove
Cons
Price at the time of publication: $19.95
Add volume to your lashes with the Secret Xpress Control Mascara. This silk fiber mascara is non-irritating and hypoallergenic. It separates the lashes preventing clumps. The evenly spaced brushes make your lashes look natural. The quick-dry formula ensures that it stays smudge-proof and also makes the application easier. In addition, this mascara makes your lashes appear curly.
Pros
Long-lasting
Adds volume
Smudge-proof
Water-proof
Suitable for all skin types
Cons
Might not be easy to remove
Price at the time of publication: $7.98
Pacifica Beauty's mineral mascara is enriched with coconut oil, vitamin B, and kelp extracts for deep hydration. The long-lasting and waterproof formula doesn't flake off or transfer, so you can have well-defined lashes, all day long. With a molded lengthening brush, each lash is separated for a fanned-out look and is lengthened for fuller lashes. The 100% vegan formula is easy to build, allowing you to keep it simple or turn it up a notch with some feathery lashes for a festive occasion. If you need more convincing, feel free to take a look at this YouTuber's video on the merits and demerits of the product.
Pros
Waterproof and transfer-proof
Free of parabens, phthalates, silicones, petroleum, and mineral oils
Contains hydrating ingredients
Buildable formula
Thickens and lengthens lashes
Cruelty-free
Cons
Some may find it to be drying
Price at the time of publication: $27.98
For an incredible root-to-tip definition like no other, try the Youngfocus 3D Fiber Lash Mascara. The natural fibers and transplanting gel come in 2 separate tubes for an enhanced and magnified lash volume up to 300%. This waterproof duo gives your eyes that wide-awake look that brightens up your entire face. Made with natural and non-toxic ingredients, you can rest assured that your lashes are in good hands. When you're done making a statement, using a gentle makeup remover does the trick. You need to get your hands on this because we think it's the best long-wearing mascara out there!
Pros
Enhances lash volume up to 300%
Waterproof
Made with non-irritating ingredients
Hypoallergenic
Cruelty-free
Easy to remove
Cons
Might not be resistant to flaking
Price at the time of publication: $13.99
Enriched with carnauba that nourishes your lashes and olive waxes that allow for smooth application, these ingredients are what contribute to this being Revlon's longest-lasting mascara. This award-winning drugstore mascara comes with an oversized Turn It Up brush that ensures fanned-out and fluffy lashes in no time. Its wavy bristles adjust to your lash curve while it deposits the mascara. The rich black color doesn't leave any lash untouched and keeps them from clumping together. Stroke on for a buildable formula that will instantly turn up the volume on your long-lasting lashes for the ultimate statement. If you want a detailed review of the product, make sure to take a look at this video.
Pros
24-hour mascara
Contains nourishing ingredients
Creamy formula
Wavy bristles allow for even and smooth application
Deep pigment
Thickens and volumizes lashes
Cons
Price at the time of publication: $6.99
Why settle for an average mascara when MOSTORY's 24-hour wearing formula is infused with nourishing ingredients? It contains jojoba oil that intensely moisturizes lashes and tocopherol keeps them long while stimulating growth. You won't be disappointed with its innovative brush that holds onto each lash and coats it from the root to the tip for plump and thick eyelashes. No matter how sparse or unruly your lashes are, the MOSTORY Cloud Volume Lash Mascara lengthens them and adds volume with a rich black pigment for a bold look. With a single tube of this long-lasting curling mascara, you're going to forget all about your falsies.
Pros
Doesn't smudge or transfer
Alcohol-free
Waterproof
Lengthening mascara
Hypoallergenic and allergy-tested
Brush coats each lash evenly
Cruelty-free
Cons
Price at the time of publication: $5.49
Fear no mascara smearing or smudging with Clinique's best long-wear mascara that graces your eyes for a whopping 24 hours. Get drenched in the rain or break down over your favorite Disney movie and yet the Lash Power Mascara will stay by your side through it all. Its unique brush ensures even coating and finds its way easily to hard-to-reach lashes with a deep pigment, so that your eyes can speak volumes. With the goodness of jojoba oil, your lashes will be amply moisturized and strengthened. Choose Clinique's best long-lasting mascara for busy days and eventful nights!
Pros
24-hour wear
Doesn't smudge or smear
Resistant to water and humidity
Easy to remove
Has a lengthening effect
Doesn't clump up
Cons
• Some people may find that it flakes

Price at the time of publication: $23
Black might be the most common mascara color but there's definitely more out there for when you want to add a little 'oomph' to your eyes. Colored mascaras come in handy for costume or Halloween makeup and they can also add a pop of color to an otherwise dull makeup look. Maydear's waterproof long-lasting mascara doesn't smudge and allows for comfortable all-day wear. The lightweight formula glides onto your eyelashes easily and lengthens them, so they look fuller and thicker. Made with safe and non-toxic materials, Maydear's mascara is also easy to remove.
Pros
Available in 14 shades
Smudge-resistant
Lightweight formula
Easy to remove
Lengthens lashes
Made with non-toxic ingredients
Cons
Price at the time of publication: $9.99
Brown mascaras are known to add a little flair to the eyes and CLIO's Kill Lash Superproof Long Curling Mascara adds a twist on the classic brown with a rose-colored hue. This shade is perfect for when you want to break out of a rut and also pairs well with rose gold elements in your makeup. Not only will you find this formula separating and lengthening each lash, its Strong Curve System technology builds and holds a curl with a gel layer. CLIO's mascara that lasts all day doesn't smudge or clump and also remains waterproof come sunshine or rain.
Pros
Doesn't smudge or clump
Waterproof
Adds length and volume
Curls lashes
Buildable formula
Wand grabs all eyelashes for even application
Cons
Might be difficult to remove
Price at the time of publication: $18
This Japanese mascara is a wonder product guaranteed to transform your lashes in seconds! With 5 mm long fibers, Heroine Make's long-lasting waterproof mascara gives your lashes a dynamic lengthening effect. Its angled brush helps curl eyelashes upwards and the memory shape polymer holds the curl in place for high-class definition. Owing to the super guard polymer present, the mascara stays resistant to oils, sweat, water, and even tears! For a deep conditioning effect, you'll find nourishing ingredients like royal jelly extract, argan and camellia oils, and wild rose fruit extracts infused into this long-lasting mascara. The Speedy Mascara Remover is a great helper in cleaning your eyelashes gently without the need for rubbing or tugging.
Pros
Comes with a mascara remover
Waterproof
Angled brush allows for even application
Smudge-resistant
Gives a glossy finish
Contains nourishing ingredients
Cons
• Some users felt that it became clumpy
Price at the time of publication: $29.99
Get voluminous and curly lashes with a single swipe of Pippa Of London's Full Fat Mascara. Its brush features both long and short bristles, allowing it to grab even the tiniest of lashes for a deeply pigmented black coat. With a waterproof and no-smudge formula, this long-lasting volume mascara with its full coverage will carry you through long and sweaty days. This black mascara glides easily and will give your lashes a natural-looking definition until you'd want to take it off.
Pros
Waterproof
Smudge-proof
Adds volume
Glides on easily
Clump-free
Cruelty-free
Cons
Might be difficult to remove
Price at the time of publication: $24.9
For phenomenal eyelashes, INIKA's award-winning natural mascara has a silky formula that works from the inside-out. It features a conical brush technology, which separates each lash and coats it with pigment for a look that beats even falsies! The clump-free formula contains carnauba wax for a boost of length and volume, so you can achieve show-stopping eyelashes. INIKA's Long Lash Mascara is also infused with nourishing ingredients like vitamin E, magnolia bark extract, and sunflower seed oil, which aid in lash growth and moisturize from root-to-tip for the ultimate voluminous lash.
Pros
Vegan
Certified cruelty-free and halal
Conditions lashes with nourishing ingredients
Clump-free formula
Safe for sensitive skin and contact lens wearers
Mineral-rich natural pigments
Cons
Some may find it slightly oily
Price at the time of publication: $32.84
If you've been ardently looking for a high-quality brown mascara we hope your search ends at W7's It's Brown Really Brown Mascara! It features a thick-bristled brush which is perfect for coating every single lash with a creamy brown pigment. With a high-impact formula, this long-lasting mascara volumizes lashes for an instant lift. The brown is ideal for days when you want your eyes to give off a delicate look and this color will grace green eyes beautifully.
Pros
 Ideal for a soft look
 Suits green eyes
 Creamy formula
 Adds volume to lashes
 Vegan
 Cruelty-free
Cons
Some may find that it clumps up
Price at the time of publication: $37.06
Now that we've looked at some of the hottest long-lasting mascaras on the market, let's look at how you can choose the right one for yourself.
How To Choose The Right Long-Lasting Mascara
As the name suggests, a long-lasting mascara is supposed to coat your lashes for extended periods of time, so it's necessary to be careful about the ingredients list. A rule of thumb is to always stay away from products that make use of any parabens, sulfates, phthalates, mineral oils, synthetic colors, and fragrances. These elements can cause great harm to the eyes and result in irritated skin. Look for nourishing ingredients like shea butter, aloe vera, argan, jojoba, sunflower seed, chamomile, and calendula oils as they not only aid in lash growth but also moisturize skin and lashes.
Mascaras in general can be quite messy during removal, but long-lasting ones are usually formulated to be hardy and some can be difficult to wipe off completely. Even if a mascara is waterproof, it should be able to come off with warm water or makeup remover. Read the label or review the product online to confirm that it is easy to remove before you purchase it.
As a mascara sits on your lashes through work, classes, or full-day events, coating on a heavy formula can feel uncomfortable. Opt for a mascara that is lightweight and has a silky or creamy formula that glides on smoothly. Products that use carnauba wax can help mascara go on easy and also help lengthen them. Smooth formulas also prevent lashes from clumping together.
Frequently Asked Questions
How long can mascara stay on your eyelashes?
Different brands formulate mascaras with varying staying power but the average time would be anywhere between 6 to 24 hours. A mascara that is smudge-proof and waterproof would generally stay on longer than those that don't have these traits.
Is it okay to apply mascara without curling your eyelashes?
You can apply mascara without curling your eyelashes, but an eyelash curler boosts the length and curls the lashes for a more defined appearance.
Is there a mascara that stays on for days?
Yes. Semi-permanent mascaras stay on for several weeks. It is a cosmetic treatment that enhances your eyelashes with a flexible coating that looks much like mascara. The coating is smudge-proof and waterproof and can last 3-4 weeks.
How do you keep mascara from smudging your eyes?
Mascara smudges when it comes in contact with the oils in the skin. To prevent this from happening, apply your mascara on clean lashes. You can also use smudge-proof mascara to get a long-lasting smudge-free look.
Does primer help mascara stay on?
Yes, a primer prevents mascara from smudging and coming off during the day. It helps the mascara stay on longer.
Does waterproof mascara stay on longer?
Yes, waterproof mascaras are designed to last longer than regular mascaras. These mascaras usually contain a type of silicon called dimethicone copolyol that does not react with water and helps the mascara to not smudge.
Do long-lasting mascaras ruin your eyelashes?
No, long-lasting mascaras are not harmful to your lashes as long as you wear them on occasion. But wearing mascaras every day can be damaging to your eyelashes.
Recommended Articles