10 Best Long-Lasting Nail Polishes For A Salon-Like Finish
Let your struggles end with these chip-resistant and smooth nail polishes.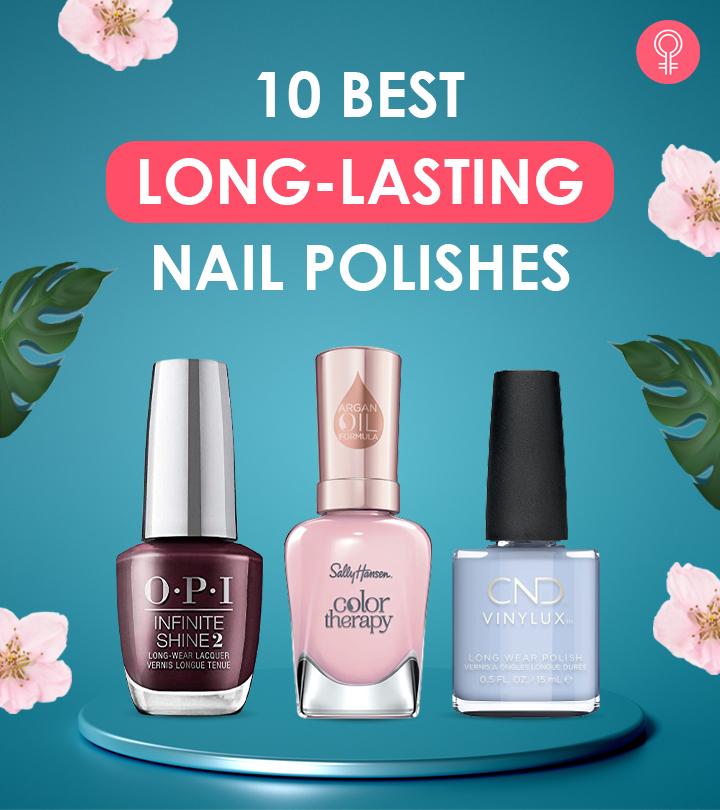 Making your nail polish last and preventing nails from getting chipped is a worrisome struggle. However, with the best long-lasting nail polish, you don't have to worry about the multiple frequent applications and get the perfect salon-like finish at the comfort of your home. It saves your time, money, and effort. Long-lasting nail polish formulas are healthy; they don't fade, discolor, or chip soon. If you are willing to try the best for yourself, then begin now with the 10 best long-lasting nail polishes listed below. Go grab your fav color now.
10 Best Long-Lasting Nail Polishes
The argan oil-enriched Sally Hansen Color Therapy Nail Polish strengthens and nourishes the nails. The long-lasting formula is chip-resistant and has a moisturizing effect on the cuticles. This fade-proof polish provides a long-lasting shine and statement-making finish to the nails. This high-quality nail polish is available in over 40 stunning and vibrant shades to suit different moods and occasions.
Pros
Moisturizing formula
40+ shades available
Goes on smooth
Chip-resistant
Fade-proof
Cons
The O.P.I Infinite Shine2 Nail Polish is known for its strong durability and high color payoff, providing the nails with a rich and velvety finish, even with a lighter color coat. This gel-like formula has a glossy shine. It is expertly crafted with ProStay technology that makes it last for up to 11 days. This collection includes over 200 vibrant hues for every mood, including summer nails as well as spring nails, and offers extended wear.
Pros
Quick-drying
200+ shades available
Highly pigmented
Cons
Thick consistency
Streaky application
The CND Vinylux nail polish is enriched with keratin, vitamin E, and jojoba oil to nourish and strengthen the nails. It is fast-drying and chip-resistant and requires no base coat. The combination of a dark color coat and the high-gloss top coat makes it long-lasting. The ProLight Technology is activated when it is exposed to natural light to make this polish durable. It lasts up to 7 days without chipping or fading or making your nails yellow. This nail polish provides a beautiful pearlized shine and ensures a smooth and flawless application, leaving you with a salon-quality manicure at home.
Pros
Fast-drying
Nourishing formula
Strengthens the nails
Chip-resistant
Smooth application
Cons
The 12-bottle nail polish set from Abitzon has a variety of richly pigmented colors that are suitable for any occasion or daily wear. The non-toxic, eco-friendly formula is quick-drying and does not need an LED lamp nail dryer. This long-lasting nail polish has a fade-proof and chip-resistant formula that does not peel off easily. Many reviewers love how these polishes glide smoothly on the nails and offer a rich color payoff in a single swipe.
Pros
Quick-drying
Vibrant
Set of 12
Non-toxic
Formaldehyde-free
Toluene-free
Eco-friendly formula
Cons
The nail polish set from Ownest consists of six attractive and subtle colors that give the nails a velvety texture. The shades are long-lasting and chip-resistant. The formula contains a premium grade natural resin that is non-toxic. It keeps the nails safe from damage as the lightweight texture allows the nails to breathe. The nail polishes glide on smoothly and are easy to apply.
Pros
Easy to apply
Set of 6
Lightweight
Quick-drying
Cons
This nail polish from Wet n Wild has a long-lasting formula that dries super quick in less than 40 seconds and promises to last up to five days. It provides a built-in base coat and top coat for maximum coverage in just one application. This calcium-enriched color strengthens the nails and is formulated with skin-safe ingredients. It gives you salon-like perfect and chip-resistant nails. What's more? This nail strengthener polish is free of animal testing, ensuring a guilt-free experience.
Pros
Quick-dry
Chip-resistant
Highly pigmented
Cruelty-free
Fragrance-free
Paraben-free
Vegan
Toluene-free
Formaldehyde-free
Camphor-free
Cons
None
This multicolor set from Lokfar Maxfine consists of six velvety matte hues that range from subtle grays and greens to vibrant fuchsia. The premium quality, nourishing ingredients in the nail polishes ensure that the nails are protected from damage as they allow them to breathe. These easy-to-apply polishes glide smoothly on the nails and do not require a top coat. Many reviewers agree that only one swipe is enough to get a thick coating of these long-lasting, rich, velvety matte colors.
Pros
Easy to apply
Quick-drying
Waterproof
Highly pigmented
Set of 6
Cons
The neutral shades in the Golden Rose Nail Color set give the nails a glossy, subtle sheen with a single coat and add a new look to your well-manicured nails. The 10 bottles in the set have broad and soft brushes that allow easy application. The quick-drying formula is chip-resistant, fade-proof, and long-lasting. This is a good set to gift your loved ones. The high-quality formula comes with a wide brush for easy use. It guarantees a professional-looking manicure that will impress anyone who receives it.
Pros
Travel-friendly
Quick-drying
Water-resistant
Set of 10
Chip-resistant
Fade-proof
Cons
This set of four nail polishes from Eternal Nail Enamel in flattering nude shades adds grace and brightness to your nails. The formula is highly pigmented and offers full coverage and a glossy finish that shows up on all skin tones. These nail polishes are long-lasting and chip-resistant and suitable for all types of nails, including acrylic, gel, and natural nails. Their dry time is also comparatively lesser than other traditional polishes. They are made with nail-friendly ingredients to protect the nails from damage. With their strengthening properties, they help to prevent damage and promote healthy nail growth.
Pros
Fast-drying
Vegan
12-free
Chip-resistant
Cons
This gel nail polish from Essie, a popular nail polish brand, gives a 14-day long-lasting manicure with even coverage. It comes with a contouring brush that provides precise application along the corners of the nails. This quick-drying formula delivers exceptional results, rendering an instant gel-like shine and a flawless finish to your nails. It does not require a base coat and can be removed easily with any acetone or non-acetone nail polish remover.
Pros
Quick-drying
Chip-resistant
Fade-resistant
Gel-like shine
Cons
*The prices provided in this article are based on the latest available information. However, they may vary due to changes in pricing by the seller and/or promotional offers.
Why Trust StyleCraze?
Baishali Bhattacharya is certified in makeup artistry and has a keen eye for various makeup products. She curated the list of the best long-lasting nail polishes after extensive research and reading many customer reviews on trusted online forums. These nail polishes last long, and some contain ingredients that help strengthen the nails.
Frequently Asked Questions
Why does my nail polish peel off so easily?
Nail polish will peel off easily if your nails have a lot of moisture. To prevent this, avoid applying too many thick layers of the polish. Two thin coats of the polish will do the trick.
Why does my nail polish chip after 2 days?
A few reasons why your nail polish chip after 2 days:
• You used a low quality nail polish on an oddly cut nail shape.
• You did not allow enough time for your polish to dry.
• You did not use a top coat to preserve the polish.
• You used too many thick layers of polish.
How does vinegar make nail polish last longer?
The acids in vinegar help the polish adhere to your nails for a longer period of time. You start by applying vinegar to clean nails, followed by the nail polish to seal the deal.
How do I keep my nail polish from chipping?
Here are some tips to keep your nail polish from chipping:
• Keep your hands and nails clean.
• Start with a base coat.
• Work in thin coats only.
• Do not go beyond 3 coats of polish.
• Allow 5-7 minutes between each coat.
• Always use a top coat.
• Let the polish dry completely.
• Make sure to polish your nail tips.
How long does salon nail polish last?
A high-quality salon gel nail polish can last up to three weeks but a regular nail polish done in salon can chip in just a week.
Does hairspray make nail polish last longer?
No, a hairspray cannot make your nail polish last longer. However, it may speed up the drying process.
Recommended Articles