8 Best Long-Lasting And Chip-Free Nail Polishes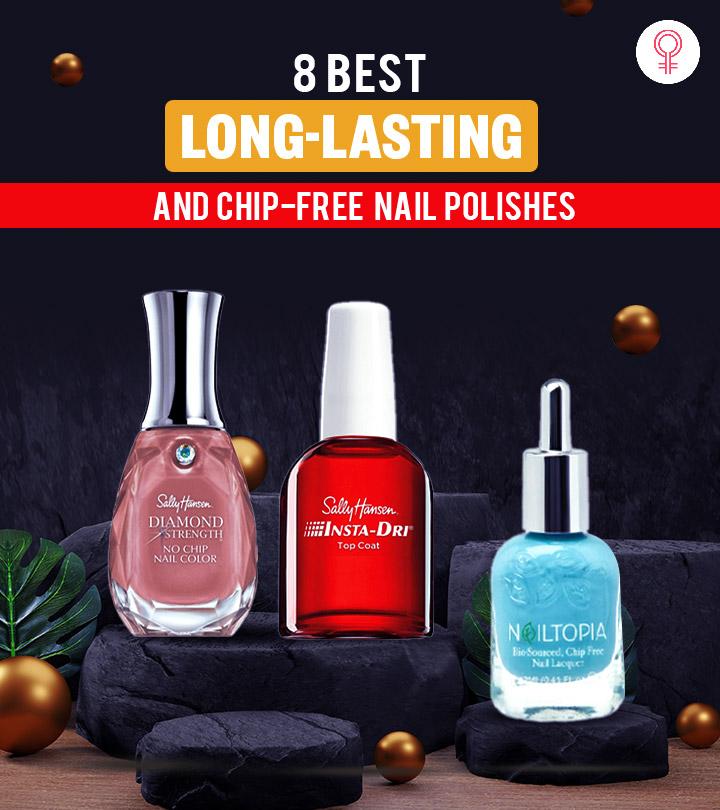 Are you tired of nail polishes that do not last long and chip easily? If you are retouching your nail polish only after a day or two of applying, you need to up your nail color game. We are here to save you from the hassle of trying and testing and figure out the staying power of nail paints available on the market. No more struggling with short-lived and flaky nail paints. Scroll down to check out the 8 best long-lasting and chip-free nail polishes!
8 Best Long-Lasting & Chip-Free Nail Polishes
The Sally Hansen Insta-Dri Top Coat colors your nails brilliantly in just one stroke. It glides smoothly and quickly over the nails to provide a precise finish while delivering super shine and long-lasting stay up to 10 days. This chip-free nail paint is infused with acrylic polymers that harden and dry nail color in just 30 seconds. The UV filters in the nail paint protect the color from fading due to sun exposure.
Color: Red
Pros
Quick-drying
UV protection
Precise application
Full coverage
Cons
Starts chipping before 10 days
Fall in love with Sally Hansen's Diamond Strength No Chip Nail Color that does not crack, chip, or split and keeps your nails looking beautiful. It offers a nude shade and lasting stay without much maintenance. Its hassle-free formula is infused with real platinum and micro diamonds to provide a shimmery finish. Go for this nail color if you are a fan of light and nude shades.
Color: Nude Shimmer
Pros
No cracking
No splitting
Shimmery texture
Cons
The Robin's Egg Blue shade of Nailtopia Bio-Sourced Chip Free Nail Lacquer has a plant-based formula to offer a chip-free and long-lasting finish. Its clinically-tested formula features nourishing and strengthening ingredients like vitamin A, pro-vitamin B5, calcium, biotin, and other naturally derived plant proteins. Its proprietary blend enhances the rigidity and flexibility of your nails. This nail paint delivers uncompromised performance while making your nails healthy and lustrous with a pop of color.
Color: Tropinail (Robin's Egg Blue)
Pros
Vegan
Cruelty-free
Creamy finish
Smooth application
Cons
The PS cosmeceutical Infused Nail Lacquer has a non-toxic formula with antifungal properties to protect your nails from staining and yellowing. It contains grapefruit seed extract (GSE) rich in flavonoids, limonoids, sterols, vitamin C, and E. GSE combined with other ingredients offer intense color payoff and health to your nails. This doctor-formulated no-chip nail polish is safe for all, including kids and post-chemotherapy & immunosuppressed individuals. Its highly pigmented formula provides hydration to your nails with healing benefits.
Color: Dream
Pros
Non-staining
Antifungal
Full coverage
Formaldehyde-free
Toluene-free
Phthalates-free
Camphor-free
Vegan
Cruelty-free
Cons
The AZA Nail Lacquer has an ultra-nourishing formula for your nails. It is enriched with the goodness of vitamin E and tea tree oil. This quick-drying nail paint provides high shine and a lasting stay without chipping. Its non-toxic formula is made by podiatrists and beauty consultant. This product is beautiful and has better ingredients than traditional nail polish.
Color: Deep Magenta Pink
Pros
Intense shine
Quick-drying
Vegan
Cruelty-free
Cons
None
The Revlon Super Lustrous Nail Enamel has a chipless and anti-fade formula to offer extended stay and vibrancy to your nails with a glossy finish. Its bubble-free texture makes application easy, whereas the effortless finish brush applicator puts the right amount of nail paint on your nails for optimum coverage.
Color: 771 Clear
Pros
Non-fading
No breaking
Easy application
Bubble-free
No yellowing
Formaldehyde-free
Dibutyl phthalate-free
Toluene-free
Formaldehyde resin-free
Camphor-free
Cons
The alluring and eye-catching ILNP Black Orchid Nail Polish has a chip-resistant formula that offers long-lasting coverage and durability. It is infused with premium ingredients to enhance the performance and color pay off while delivering a holographic twinkling effect. This exquisite and super-feminine nail polish is safe to use and provides an intensely glossy finish, even without a top coat.
Color: Deep Burgundy
Pros
Smooth Finish
Easy to remove
Easy application
Glossy finish
Safe
Non-toxic
Vegan
Cruelty-free
Cons
Zeva Nail Guard has a special three-resin formula that offers high durability, adhesion, and protection to fragile nails. It features a quick-drying formula that works as a base and fills ridges while providing a smooth and clear matte finish. The polyester resin in the formula provides durability, nitrocellulose strengthens nails, and epoxy resin gives adhesion for a long-lasting and chip-free stay. Its dermatologically-approved formula is free from harsh chemicals to ensure safe use.
Color: Natural Translucent Pink
Pros
Dermatologically-tested
Smooth application
Matte finish
Formaldehyde-free
Toluene-free
Dibutyl phthalate-free
Paraben-free
Camphor-free
Vegan
Cruelty-free
Cons
A few chip-resistant and long-lasting nail paints are essentials items in your nail color game. Listed above are the 8 best long-lasting and chip-free nail polishes that won't disappoint you ever. What are you waiting for? Just get going and buy your favorite option!
Recommended Articles