The 15 Best Liquid Eyeliners For Winged Look, As Per A Beauty Specialist- 2023
Define your eyes and draw perfect wings with these incredible long-wearing formulas.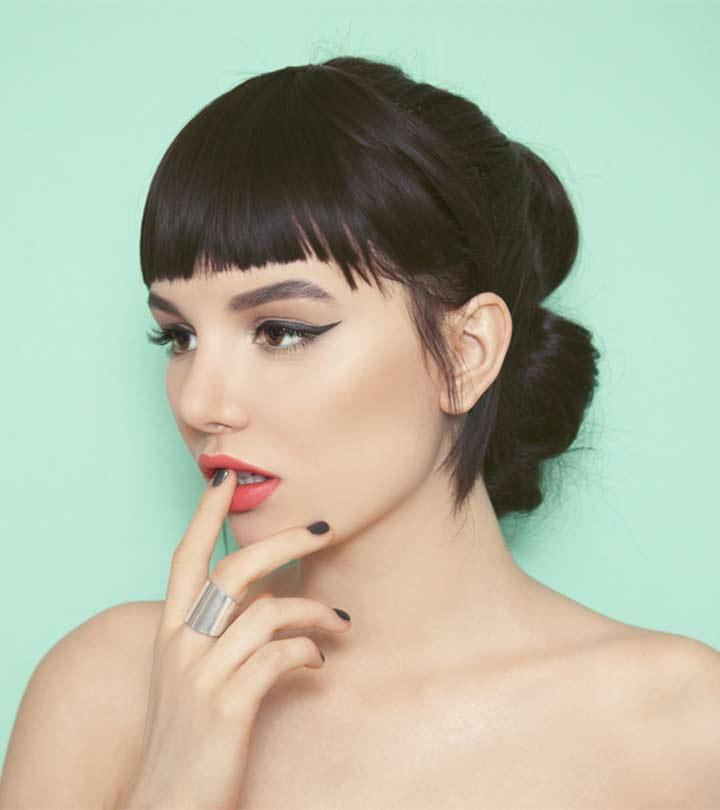 Given that eyes are the most striking feature of a person's face and applying eyeliner on them just takes your eye makeup to another level, you need to get your hands on the best liquid eyeliner available in the market. Liquid eyeliners are most people's favorite. One stroke of eyeliner on those eyes, and you are transported from a lazy look to that chic party look. Yes, instantly. So they are a total must-have. Therefore, understanding the immense significance in the world of makeup, we, in this article, have curated a list of the 15 most amazing liquid eyeliners that will make you steal the show like never before. What are you waiting for then? Go ahead and give this piece a read. The market is already brimming with umpteen options. So, allow this article to serve you as a buying guide so you can make your search mission and pick the one that suits you quickly. It is time for you to express yourself better with some intense eyes!
15 Best Liquid Eyeliners To Rock That Winged Look Like A Pro
Be epic with the NYX Professional Makeup Epic Ink Liner. This matte brush-tip eyeliner allows for ease of application Whether thin and crisp lines or bold, thick ones, this NYX waterproof liquid eyeliner delivers them all. Enriched with hydrogenated castor oil that is known for its moisturizing properties, this long-lasting liquid eyeliner gives you gorgeous, well-defined, celebrity-inspired eyes in just a few strokes. This video will help you make an informed decision about your purchase based on the tester's experience.
Pros
Long-lasting
Ultra-fine flexible tip
Waterproof
Cruelty-free
Cons
 Go pitch black like a moonless night sky with the Maybelline Hyper Easy Liquid Pen No-Skip Eyeliner. This waterproof liquid eyeliner pen has an easy-to-use brush tip that glides on smoothly on the eyelids to give you a shiny satin finish. The custom hexagonal grip helps you control the pen, providing for an easy and stable application with exceptional results. With no skips and no slips, the Maybelline liquid eyeliner sits perfectly on the outline of your eyes and gives them an intense color that lasts for up to 24 hours without smudging. Watch this reviewer's experience video to get a detailed review of the product.
Pros
Ergonomic hexagonal grip
Intense color
Smudge-proof
Waterproof
Cons
 If you are looking for an eyeliner that lasts all day, look no further than the Stila Stay All Day Waterproof Liquid Eyeliner. It does not smear or smudge, making it one of the best waterproof liquid eyeliners to wear the whole day. Several reviewers online have praised these features after testing the product. Easily draw thin curvy lines or opt for a cat-eye look with the flexible brush. The Stila liquid eyeliner helps you enhance the beauty of your eyes all day long!
Pros
Waterproof
Long-lasting
Smudge-proof
Intense color
Easy application
Cons
 Double up the fun and ease of eyeliner application with the iMethod Winged Eyeliner Stamp. You get 2 pens with wing stamps for each eye, so now be sure to ace that winge-eye look with just half the effort. And in case you are yet to conquer the art of winged eyeliner, this might be just the right liquid eyeliner for beginners. With a waterproof and smudge-proof formulation, you can be sure that this cat eye liquid eyeliner lasts all day long. Here's a video to help you know more about this product based on the tester's experience.
Pros
Long-lasting
Waterproof
Smudge-proof
Easy application
Winged stamp for each eye
Cons
It may not offer long-lasting wear.
If you are looking for precision in your eyeliner application, the Liquid EYE-LIE-NER from Haus Laboratories by Lady Gaga is the one for you. The tried-and-tested flexible felt-tip eyeliner pen helps you up your artistic skills and allows you to draw between the lines. The jet black punk shade of this ultra-thin liquid eyeliner leaves you with a semi-shine finish on the eyes that does neither smudges nor fades. Micro lines or thick wings, everything is possible with the smooth glide of this liquid eyeliner. The reviewer's online hail the product for its user-friendly application and longevity.
Pros
Smudge-proof
Flexible tip
24-hour stay
Weightless
Flake Proof
Bold matte finish
Vegan
Cruelty-free
Cons
 Are you in search of an eyeliner that lasts long and is easy to use? Your search is over as L'Oreal Paris Makeup brings the Infallible The Super Slim Liquid Eyeliner. The beautiful statement-making brown shade of this top-rated liquid eyeliner gives a warm hug to your eyes as it glides on smoothly without any slips and skips. The ultra-fine felt tip of this smudge-proof liquid eyeliner helps draw neat strokes and stays intact for a long time, leaving you with gorgeous-looking eyes throughout the day.
Pros
Waterproof
Smudge-proof
Quick-drying formula
Easy and precise application
Long-lasting formula
Cons
May not suit all eye colors
 Revlon's ColorStay Liquid Liner guarantees a sleek look and comes in a pack of 2. The shade Blackest Black delivers an intense color and lasts upto 16 long hours. It doesn't smudge easily and is one of the best waterproof liquid eyeliners available. The flexible applicator tip allows for easy application of the eyeliner even with a light touch. Moreover, this long-wear liquid eyeliner can be used with contact lenses too, without causing any irritation to the eyes. Check out the several rare reviews of this product online to make an informed decision.
Pros
Waterproof
Smudge-proof
Long-lasting
Quick-drying
Ophthalmologically-tested
Cons
May take a long time to dry
No products found.
Get the best of both worlds with the Vantica liquid and gel eyeliner. This dual-ended eyeliner has a liquid eyeliner pen on one side and a mechanical gel eyeliner pencil on the other side. It  delivers an intense 3 dimensional finish and has moisturizing ingredients like hyaluronic acid, vitamin C and E, aloe and argan oil. This might be one of the best liquid eyeliners for cat eyes as it helps you create a bold, dramatic effect on the eyes. Additionally, an eyebrow razor is included.
Pros
Smudge-proof
Waterproof
Easy application
Quick drying formula
Eyebrow razor included
Cons
Gel liner might not be waterproof
The Smooth Liquid Eyeliner from Heroine Make, a Japanese cosmetics brand, comes in the shade Jet Black. This matte finish liquid eyeliner is waterproof and the best eyeliner for oily eyelids as it does not budge from the eyes upon exposure to tears, sweat, water, or oily skin. With a flexible pen that glides on smoothly, you will confidently be able to draw precise lines; whether thick or thin. Flaunt the timeless beauty of your gorgeously contoured eyes with this great liquid eyeliner.
Pros
Waterproof
Quick-drying
Easy application
Smudge-proof
Cons
Might not offer full-day wear
 Line and define your eyes perfectly with the Eyeko Skinny Liquid Eyeliner. With an intense black finish, this liquid eyeliner sets perfectly on the eyelids, making them look ravishing. It stands up to all kinds of moisture without streaking and does not smudge easily. With extracts from brown seaweed and hydrogenated castor oil you can be assured that the eyes are protected from the harm sunlight can cause them. A winged cat-eye or a subtle thin line, the Eyeko skinny liquid eyeliner makes it all possible.
Pros
Paraben-free
Waterproof
Smudge-proof
Intense color
Cons
 Alluring eyes are just a stroke and a flick away. Use the Covergirl Get In Line Liquid Eyeliner and you may actually end up getting in line to be the next Covergirl. The shade Major Matte Black delivers a dark and intense color that accentuates your eyes, making everyone stare at them in awe. The feather-fine tip of this precision liquid eyeliner offers neat strokes that are smooth. Moreover, easy and controlled application is made possible owing to its contour grip handle.
Pros
Rich, intense color
Long-lasting
Precise application
Easy to remove
Cons
 Do you find a black eyeliner too mainstream and boring? Zuzu Luxe has the perfect liquid eyeliner for you that comes in a shade called Tuareg. This liquid brown eyeliner glides on smoothly on the eyelids without tugging at your skin. The fine-tipped eyeliner helps you draw precise lines to achieve perfectly defined eyes. It is made from natural ingredients like jojoba oil and grapeseed oil that helps keep the skin around the eyes moisturized.
Pros
Fine calligraphy tip
Paraben-free
Non-GMO
Gluten-free
Cruelty-free
Vegan
Cons
Some might find the product to runny or watery
 The Kat Von D Dagger Tattoo Liner is inspired by fine tattooing artistry, as the name clearly suggests. The shade Trooper Black is made from ink-like pigments to give your eyes that intense satin finish. This smudge-resistant black liquid eyeliner is waterproof and stays on for a decent amount of time. With a flexible brush that is sharp as a needle, you are sure to get precise lines and well-defined eyes.
Pros
Vegan
Cruelty-free
Waterproof
Intense pigment
Easy application
Cons
The celebrity-inspired brand Fenty Beauty by Rihanna brings the Flyliner Longwear Liquid Eyeliner. With a flex brush tip, this liquid eyeliner pen delivers amazingly straight lines or a curvy cat-eye look. It has a triangular grip that helps in controlling the pen well during application. Achieve alluring eyes with the hyper-saturated ink that flows out as you glide this water-resistant, high -end liquid eyeliner smoothly on your eyes.
Pros
Super-flex tip
Fade-proof
Hyper-saturated color
True satin finish
Cons
 Wish to give wings to your eyes? It is possible with the Urban Decay Waterproof Liquid Eyeliner. Create ravishing feline eyes or opt for a sombre lined look with the fine-point eye pen and an ultra-fine flexible brush tip. The blacker than black shade called Perversion helps give an intense semi-matte finish to the eyes. Use this blackest liquid eyeliner from Urban Decay and flaunt your bold, alluring, well-contoured eyes.
Pros
Paraben-free
Cruelty-free
Waterproof
Semi-matte finish
Easy application
Cons
The brush might fray upon constant or heavy usage
 An eyeliner is fast becoming a must have in one's cosmetic bag. It helps enhance the shape of the eyes and in turn uplift the overall beauty of the face. But before you set out to buy an eyeliner for yourself, there are some points to be considered:
Things To Remember While Choosing A Liquid Eyeliner
Types of eyeliners:
Gel/ creme liners: A gel/creme liner has a thick yet smooth texture, making it easy to apply. It comes in a small box with an applicator provided separately, which makes it less portable than others. Although smudge-proof, it takes more time to dry than others.
Pencil liners: Best for beginners, these pencil eyeliners are easy to use and glide on well. Their tips can range from soft to firm. These types of eyeliners tend to smudge easily and need to be sharpened often.
Kohl liners: Kohl liners come in thin, twisty tubes and need not be sharpened. Due to the thick and dark application these are best to be used on the waterline of the eyes. They aren't smudge-free.
Liquid liners: Liquid liners can give you the desired look, be it crisp, thin lines or thick, dramatic look. These liners don't smudge easily and stay longer and dry quickly.
How To Choose The Best Liquid Eyeliner
A liquid eyeliner gives you the best finish, whether it is lines that are crisp or thick, dramatic ones. They stay on for a longer time and can be applied in numerous ways as and how the situation demands. So let us look at the things to keep in mind before choosing a liquid eyeliner for ourselves:
Although black is the reigning shade, colored eyeliners with other shades like purple, blue, green, brown, grey, etc can be chosen in accordance with the color of the eye. For example, blue and purple go well on brown eyes, green and gold look good on hazel eyes, shades of reds and pink lift up the beauty of green eyes, black eyes can be highlighted well with metallic eyeliners with shades like silver, gold and copper.
There are eyeliners with different finishes on the eyes such as matte, glossy or shimmery eyeliners. Matte finish is most suited for everyday usage, whereas glossy and glitter eyeliners can be used on special occasions or night-time events.
 An eyeliner is generally accompanied with a thin applicator. One can also look out for thick or angled applicators to achieve different looks.
The formulation of a liquid eyeliner should be such that it is smudge-proof, waterproof, ophthalmologist-tested, and provides a long-lasting finish. Additionally, it should have ingredients that are eye-friendly and hypoallergenic.
Beauty specialist Barbara Ritzman says, "Creating the perfect winged eyeliner look takes practice and patience now that you have found your eyeliner. Here's a step-by-step guide I suggest that will help you rock the winged eyeliner look:
1. Start with a thin line: Line your upper lash, keeping it close to your lashes and starting from the inner corner, extending out thinly.
2. Create the wing: Extend a line from your eye's outer corner towards your temple, and mark with a dot where the wing ends.
3. Connect the dots: Draw a thin line from the marked dot back to your upper lash line to form the wing.
4. Fill in the wing: Fill the wing with eyeliner, adjusting thickness as desired, ensuring symmetry on both eyes.
5. Complete the line: Extend the line from the outer corner to the inner corner, connecting it to the initial thin line.
6. Makeup remover: Keep makeup remover and cotton swabs handy for any corrections."
Apart from the above, there are some tiny details to look out for to keep your eyes and the eyeliner in the best condition:
For hygiene and safety reasons, it is best to keep your eyeliner to yourself and not share it.
Store the eyeliner properly to ensure it doesn't dry out or is infested with pesky molds.
Keep track of ingredients used and shelf life of the eyeliner and dispose of it in case it doesn't suit you.
If you are a beginner, watch some winged liner tutorials for the best eyeliner application techniques, especially if you have hooded eyes, to help you set your hands at applying the eyeliner properly.
Lastly, keep at it because continuous practice will bring expertise that will lead to beautifully lined eyes.
Why Trust StyleCraze?
The author, Srijita De, is an avid makeup enthusiast, and her obsession lies in trying out new cosmetics as they hit the shelves. She has curated this list of liquid eyeliners after carefully researching and browsing online reviews and checking out customer feedback from e-commerce websites. These products are long-lasting, waterproof, smudge-proof, easy to use, and feature flexible tips.
Frequently Asked Questions
What is the easiest liquid eyeliner to put on?
The iMethod Winged Eyeliner Stamp is the easiest to put on and is the most suitable for beginners or those who are usually in a hurry in the morning. It comes with two pens with stamps for each eye.
How long should liquid eyeliner last?
Most liquid drugstore eyeliners last for about three to six months once the packaging seal is opened.
How can I make my liquid eyeliner look natural?
Apply a primer on your eyelids and choose a neutral eyeliner color for a natural look. Next, line your lids with short, tiny strokes. This ensures minimal product deposition as compared to one long swipe across the lid. Wipe off excess product with a Q-tip
Do you put liquid eyeliner on before or after eyeshadow?
Apply your eyeliner after the eyeshadow application to ensure sharp visibility of the lines.
Can you put liquid eyeliner under your eye?
Yes, you can apply liquid eyeliner under your eye but avoid application on the waterline to stay away from eye infections.
Is liquid eyeliner hard to remove?
No, although most liquid eyeliners are water-resistant, using an oil-based makeup remover or damp cotton with a light oil will get rid of the eyeliner in a few wipes.
Recommended Articles