15 Best Longline Sports Bras For Fitness Freaks – 2022
Make the most of your workout while providing the needed support to your breasts.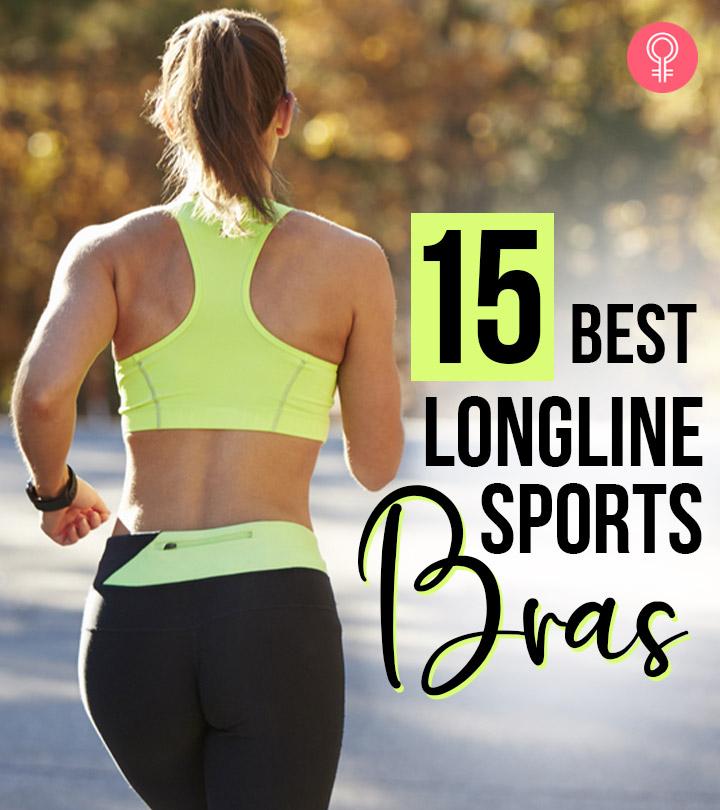 You need a reliable and supportive sports bra for all those intense workout sessions. The best longline sports bra is a wardrobe mandate for all those women who are fitness freaks. These bras are exclusively designed to provide maximum support and range of motion so that you can effortlessly achieve your fitness goals.
Longline bras are also the best choice in terms of comfort, support, constriction, and ease of use. To help you land the most comfortable longline sports bra, we have compiled a list of the 15 best options you can check out. Keep scrolling!
15 Best Longline Sports Bras – 2022 Update
The Dragon Fit Longline Padded Sports Bra provides extra support to your breasts during workouts. It has ventilation panels to keep the air flowing. The full-figure racerback design not only flaunts your back curve but also amps up your style quotient.
The bra is made of super-soft material that does not cause uncomfortable friction. The sleek design of this longline padded bra allows it to slip effortlessly under your favorite tank tops. This bra model is available in six solid colors, ranging from casual white and black to eye-catching vintage purple and pink and more patterned designs.
Pros
Removable pads
Stretchy
Ideal for low, medium, and high impact activities
Easy to wash
Cons
The Lemedy Women's Padded Sports Bra is made of nylon and spandex to offer style and functionality. You can wear it for medium-impact activities and stay comfortable all through the day. Its cropped length, U-shaped back, and super sleek design make it ideal to wear under crop tops and scoop necklines. This sports bra comes with removable pads that are easy to put in and take out.
Pros
Breathable
Moisture-wicking
Lightweight
Comfortable
Soft
Highly elastic
Cons
The CRZ Yoga Strappy Longline Sports Bra is designed with soft and stretchy polyamide and spandex material. The elaborated woven microfiber makes it breathable and comfortable and gives a silky soft feeling. The bra has a 4-way stretch feature that renders a perfect amount of compression.
This fashionable sports bra can be worn underneath T-shirts and tops and styled with a pair of high-waist leggings or jeans. It has removable pads that are designed to offer sufficient stability. It is available in both plain and patterned designs in a variety of flattering colors.
Pros
Stylish
Lightweight
Sweat-wicking
Full coverage and support
Cons
The Seasum Women's Longline Sports Bra is made of 92% polyester and 8% spandex to ensure ultimate comfort and support. Its cut-out racerback design delivers extra ventilation and adds a hint of style. This sports bra is a great choice for high-impact activities, such as running, Pilates, weight training sessions, and yoga. The double-layer fabric is efficient for sweat-wicking during intense workouts. The flatlock stitch keeps your neck and shoulders free from chafing. This bra comes with removable and adjustable pads.
Pros
Classic pullover style
Breathable
Mesh venting
Budget-friendly
Stretchable
Cons
None
The Lavento Women's Longline Sports Bra is made of nylon and spandex material to offer ultimate stretch and elasticity during the sweatiest sessions. The brushed fabric makes this longline bra ultra-soft and comfortable, much like second skin. This product comes with an inbuilt shelf bra to ensure full support, making it perfect for low and medium-impact workouts. This free-feeling bra offers 4-way stretch with no clasps or hooks.
Pros
Wire-free bra cups
Removable padding
Breathable
Moisture-wicking
Pullover design
Easy to wash
Cons
The ultra-soft, functional, and lightweight Oalka Sports Women's Longline Padded Bra is made of spandex and nylon. Its moisture-wicking, quick-drying fabric allows maximum airflow and makes you feel comfortable even during intense workout sessions. This longline bra comes with built-in detachable pads to provide the classic push-up support without squeezing your breasts. It is available in an array of beautiful and solid colors, ranging from neutrals like black, white, and gray to appealing plum, teal, and lavender.
Pros
4-way stretch
Pullover design
Medium support
Relaxed fit
Cons
The Yogerssy Longline Sports Bra is made of nylon and spandex fabric. It delivers medium support during low-impact activities, such as jogging, yoga, hiking, etc. It has removable pads that are easy to remove and put back in. This open-back sports bra allows maximum ventilation, wicks sweating, and prevents chafing during exercise. It is highly elastic and provides stability without any discomfort.
Pros
Breathable
Lightweight
Moisture-absorbing
Cons
None
The Xunyu Women Sports Bra is made of 13% spandex and 87% nylon fabric that feels ultra-soft. It comes with adjustable straps for additional support. The underwire-free design of this longline bra enhances your natural shape while holding your bust during high-impact sessions. Its Y-shaped racerback allows maximum air to flow, making it breathable. The moisture-absorbing fabric keeps you dry during workouts.
Pros
4-way stretch
Lightweight
Low-friction performance
Pullover design
No hooks or clasps
Full coverage
Slim and elegant
Available in 25 colors
Cons
None
The Uotjcnr Sports Bra is made of premium quality S-Level sports fabric that delivers the best-in-class lift and support with fashion-forward design. It features a flattering double U-shaped neck that lets air flow freely. This spaghetti-style bra comes with soft straps that don't slip or dig into the skin. The full-figure racerback design of this longline bra provides excellent coverage and stabilizes your breasts for a bounce-free fit. The bra has a 4-way stretch that offers a flexible range of motion.
Pros
Breathable
Removable pads
Stretchy
Lightweight
Cool-touch
Ultra-soft
Affordable
Cons
The Signeala Longline Sports Bra is made of a comfy nylon-spandex blend that feels like second skin and moves with the body. It has wide shoulder straps that provide plenty of coverage and support. It reduces chest bouncing while indulging in high-impact workout sessions. The inner layer of this bra has a mesh lining that keeps you cool and comfortable all day. It is compatible with all activewear and is suitable for both gym sessions and daily wearing.
Pros
Highly elastic
Moisture-wicking
4-way stretch
Flattering
Supportive
Cons
The CRZ Yoga Women's High Neck Longline Sports Bra is made of the comfy and classic polyamide-spandex blend. It comes with a cropped hem and a wide strap racerback to deliver full coverage. It has inner chest bands for extra stability that render exceptional support for the B/C cup. This bra supports medium-impact workouts, such as yoga, gym, and Pilates, and goes just as well with everyday activities. It is available in 12 beautiful colors and 5 different sizes.
Pros
4-way stretch
Sweat-wicking
Soft and elegant texture
Breathable and brushed fabric
Removable pads
Cons
Not suitable for bigger busts
The HHUQ Women's Longline Sports Bra has soft, moisture-wicking fabric. Its longline design offers sheer comfort and stability and alleviates breast and back pain. It provides a bounce-free experience during the workout and is suitable for low to medium-impact activities. The pads added inside this sports vest maintain the breast shape. This bra is available in six colors, ranging from neutrals like white and black to pastels like olive green and lavender.
Pros
Super stretchy
Breathable
Wire-free
Cons
None
The U-shaped design of Oyioyiyo Women's Padded Sports Bra elegantly reflects your back curve while giving you maximum support and full coverage. The open cut-out at its back lets the air flow freely and keeps you dry and comfortable during workouts. The longline sports bra comes with removable pads that allow you to get the desired, bounce-free lift. It has a light compression effect that keeps your boobs close to each other without squeezing them too much. The elastic band underneath ensures a tight, secure fit and prevents rolling up while exercising.
Pros
Elastic enclosure
Low friction
High-coverage
No clasp or hook
Cons
This longline sports bra from Move With You is made of spandex and nylon fabric that makes it ideal for high-impact activities. The high-neck design of this bra offers shoulder and back support to keep your breasts tight and in place even during rigorous workout sessions. The moisture-wicking fabric dries perspiration quickly and keeps you comfortable.
Pros
Quick-drying
Removable pads
Lightweight
Breathable
Soft
Stretchy
Cons
With a high neckline and U-back style, the Forland Sports Bra is a perfect choice for medium and high-impact activities. It hugs you like second skin and provides flattering support when you need it the most. It is made of lightweight, quick-drying fabric to boost breathability. This versatile longline bra is suitable for B/C cups. The double-layered design and removable pads add shape and comfort to this product.
Pros
Pull-on closure
Weightless
Sweat-wicking
Full coverage
Sensitive skin-friendly
Four-way stretch
Cons
Might get rolled up from the waist area while working out.
Before adding your favorite longline sports bra option to the cart, let's understand some of the benefits that make them actually worth investing in.
Why Do You Need A Longline Sports Bra?
These bras are designed to hug and tame your curves and offer a seamless look.
A longline bra provides extra support to your neck and shoulders and keeps your breasts in place even during intense workout practices. It fits your body like second skin, holds you amazingly, and gives you a bounce-free look.
Some of these bras are designed such that they offer the benefits of shapewear.
These bras are more breathable than traditional bras and allow maximum air to flow while doing high-impact activities.
If you wonder how to choose the best longline sports bra for your closet, here is your chance to learn about the important factors to consider before investing in any product.
How To Select The Best Longline Sports Bra
1. Level Of Support: Since different exercises require a different level of support, there's no one-size-fits-all for high, medium, and low-impact workouts. Look for a longline sports bra that offers an elevated level of support and compression if you are more into high-impact activities. Go for sports bras with medium support during low or medium-impact workouts.
2. Ventilation: When it comes to longline sports bras, ventilation holds great significance. Think about the relief you can feel when a cool breeze blows during a workout. Choose a bra with cut-out detailing or mesh panels at the back. This will not just add a hint of style but also allow the air to flow freely to keep you sweat-free.
3. Padding: Padding is good when you are looking for a lifted look, but it isn't much required during routine activities. Some bras come with removable pads so that you can take them out or put them back in as and when you like.
4. Band: Since bands sit lower on the longline bras, it is essential to make sure that it hugs your waist and is neither too tight nor too loose. While a tight band constricts your ribcage and causes discomfort during long workout sessions, a loose band ruins the shape and doesn't give you the optimal support.
5. Fabric: Don't forget to look at the fabric before making the final choice. Those removable pads, stylish design, excellent support won't make any sense if the fabric of a longline sports bra is not comfortable. Go for a premium-quality fabric that absorbs moisture during workouts and gives enough stretch for a good range of motion.
6. Budget: Like other types of workout apparel, longline sports bras are also available in medium to high budget ranges. Therefore, decide on a budget before searching for the right option. Both designer and non-designer bras can be good in quality. So, there is no need to run blindly after a particular brand. Check out the features of all available options and choose the option that meets your expectations without making a hole in your pocket.
Why Trust StyleCraze?
Baishali Bhattacharya is a certified image consultant and passionate about reviewing the latest fashion and beauty trends. She looked closely at various longline sports bras for women and conducted thorough research of user reviews as well as product features to shortlist the best options for our readers. The products listed here provide maximum support and range of motion while offering comfort, constriction, and style.
Recommended Articles