Top 27 Best-Looking Dreadlock Hairstyles
Dreadlocks just got way cooler with these fun and trendy styles that you must try!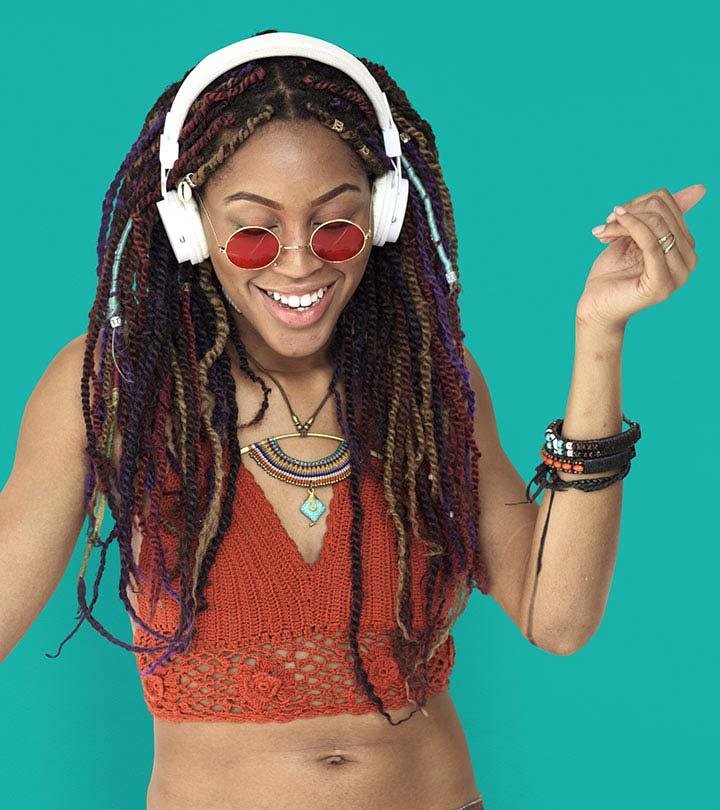 The word 'dreadlocks' seems to imply that this is one hairstyle to stay far away from. But that couldn't be further from the truth. In fact, dreadlocks are probably one of the coolest hair looks to sport. And guess what? You don't need to say goodbye to your girly hairdos once you get dreadlocks! Read on to find out how you can get the best of both worlds.
Here are the top 27 Dreadlock hairstyles for women to check out:
Before You Get Started
You need lots of patience when getting dreadlocks done. Depending on your hair texture, it may take anywhere between 3 months to 2 years of dedicated maintenance for your dreadlocks to lock and mature.
Ask your stylist for lightweight products to nourish your dreadlocks as they grow. Using products specifically meant for dreadlocks will lead to better results.
You will have to wash your dreads every 2-3 weeks to help them lock in and also to clear your scalp.
Your dreads will need re-twisting once a month. In the meantime, try to keep them protected in hair wraps to avoid dirt buildup.
If you wish to remove the dreadlocks, you can do so without chopping them off. Go to an expert or look up how you can pick them apart.
1. Dreadlock Half Up Top Knot
Are you thinking about going for a stylish and trendy look this holiday season? Look no further than the modern topknot and ever-popular half-up, half-down hairstyle. Perfect for any special occasion, this look will keep all eyes on you.  Depending on the occasion, you can go formal or casual.
2. Side-Swept Red Dreadlocks
If you want to make a statement with your hair, you can't go wrong with side-swept dreadlocks. This bold and feminine style is perfect for anyone who wants to express their daring and playful side. With their cool reddish-pink shade, these dreadlocks will help you stand out in a crowd. The romantic yet lazy swoop on one side will turn heads and make you feel gorgeous.
3. Twisted Dreadlocks
The great thing about dreadlocks is that you can experiment with a ton of textures to create unique hair looks. Case in point—this twisted style of dreadlocks. These locks have been given a twisted rope look and gathered over one shoulder to create an edgy yet elegant hair look

Trivia
Dreadlocks are among the earliest depictions of human hair that can be found in the Minoan Civilization in Greece, one of Europe's earliest civilizations. Several Aegean island frescoes show people with long braided or dreadlocked tresses.
4. Super Neat Dreadlocks Hairstyle
This style is more complex as the dreadlocks have been groomed to look twisted. The twists have been done so neatly that there's not a single strand out of place. But of course, can you expect anything less than perfection from Zendaya? Homegirl has then slayed this style even more by putting the dreadlocks in a half updo.
5. Half Up Dreadlock Do
Shakira's hips don't lie. And neither does her hair! Here you can see her sport a cute and simple dreadlocks hairstyle. Her hair has been parted from the middle and an equal number of dreadlocks have been taken from each side and bound together to create this look.
6. Dreadlock Ponytail
A good way to keep your dreadlocks off your face is to do what any other person would do—tie them up in a ponytail. Use some twine or ribbon to gather all your locks and tie them up together in a cute ponytail. This style is especially perfect for working out or hot summer days.
7. Crimped Dreadlocks
Another great texture to try out on your dreadlocks is the crimped look. Yes, I'm talking about that crimped hair look that was so popular in the 90s! You can actually get this effect on your dreadlocks as well to go for a bold and youthful look. Part your hair on one side to finish off this look.
8. Curly Dreadlocks
Ever thought of combining dreadlocks and curls? No?! Girl. You need to right away! The dreadlocks have been parted in the middle and shaped like curls to make them look even more beautiful. Doesn't it make for a totally sexy Medusa look?
9. Dreadlock High Bun
Anyone who says that you can't sport dreads on a formal occasion don't know what they're talking about. All you need to do is style them appropriately to sport them over a gown. Wrapping your dreads in a super high bun at the top of your head is exactly what you need to do in this situation.
10. Dreadlock Mohawk
Dreadlocks are bold and edgy all by themselves. But you know what's a great way to really up the badass factor of your dreads? Tying them up in a mohawk at the top of your head. Sport this look and rest assured that no one will doubt your kickass style.
11. Uneven Dreadlocks
An insanely simple and effective way to shake up your dreadlocks style is to play around with their length. Go for a good mixture of short, medium, and long dreads to create a shaggy and bold look. Accessorize them with some gold beads and threads to add a boho vibe to your look.
12. Dreadlocks Half Ponytail
It's amazing how far a length of twine can get you when styling your dreadlocks. Take this look, for instance. The beauty of these light brown layered dreadlocks is only elevated by the half ponytail that they have been tied up in.
13. Dreadlocks Fishtail
Just because your hair is in dreadlocks now doesn't mean that you have to give up braiding altogether. You can do all the braids with your dreadlocks that you did with your normal hair. In fact, it's much easier to do intricate braids with dreadlocks because all your hair is neatly divided and bound in thick sections. This fishtail braid, for instance, will take less than half the time it would take to be done on normal hair.
14. Ombre Dreadlocks
Ombre hair color style has taken the whole world by storm. So, of course, it had to be done on dreadlocks as well. You could go for a bright ginger shade at the bottom half of your dreadlocks to add a pop of color to your look. Accent your dreads with some sparkle by wrapping some of them up with gold thread and beads.
15. Two Dreadlocks Ponytails
Embrace your inner child and let her out from time to time by sporting these adorable dreadlocks. Simply part your dreads down the middle and tie them in ponytails on either side of your head to create this super cute dreadlock hairstyle.
16. Dreadlock Nest
And I use the word 'nest' in the best way possible. If you're looking to go a bit avant-garde with your hair game, this is exactly the kind of style that you should try out. Pile up half your dreadlocks high on top of your head and pin them up in a disheveled manner to create this right-off-the-runway look.
17. Dreadlocks Ballerina Bun
Imagine a hippie ballerina, and this is the image that is bound to conjure up in your head. Gather all your dreadlocks at the crown of your head, wrap them up in a huge bun, and secure them to your head with some big bobby pins. Don't worry if some of your dreads hang loose, it'll only add softness to the whole look.
18. Two Colored Dreads
If you fear that your hair is not voluminous enough to make many dreadlocks out of, I've got some great news for you! You could always go in for dreadlock extensions. This also gives you the freedom to experiment with a ton of colors! For instance, you could go for some gray dread extensions under your natural hair dreads to create a beautiful contrasting style. Part your dreads down the middle and pin half of them back to add a cute flair to this look.
19. Wavy Dreadlocks
Let out your inner beach bum and sport your dreads in all their beachy waves glory! Try out these texturized wavy dreadlocks to transform yourself into a total babe. Want to take this look up a notch? Then just cut some of your dreads in the front to give yourself bangs.
20. Pin Up Dreadlocks
All you ladies with shoulder length dreadlocks out there, listen up! I have a style for you that will turn you into a gorgeous pin-up girl. And all you need is a bandana to do it! Just gather all your dreads at the crown of your head and tie them up with your red bandana. Fan out your dreads around your head to add fullness to your look.
21. Denim Shaded Dreadlocks
Here's a great thing about dreadlocks—if you don't want to damage your hair by coloring it in bright colors, you can just go for some colorful dreadlock extensions to fulfill your hair color dreams. One of the lovely styles you can go for are these denim blue and gray extensions that are sure to add a cool vibe to your look.
22. Dreadlocks Short Bob
Go chic and pretty with your dreadlocks style by styling them in one of the hottest new trends taking the world by storm right now. Yes, I'm talking about the short bob. Style your short tresses in dreads to be trendy in more ways than one.
23. Sea Green Dreadlocks
Girl, if you wanna rock your mermaid style, you gotta do it right. And you best believe you'll be doing it right with this green dreadlocks style. Color your dreadlocks a vivid teal shade at the roots and a gorgeous sea green hue the rest of the way down to create this beautiful mermaid look.
24. Dreadlocks Half Bun
Let out your inner bohemian freak in all her glory by going for this super chill half-up style. Wrap half your dreadlocks in a bun and secure them at the back of your head. You could also accent this style by wrapping one of your dreads in brightly colored threads to complete that boho chic look.
25. Headband Dreadlocks
No rule that says you need to dreadlock all your hair. There are a ton of ways that you can show off your natural hair while still sporting dreads. You could, for instance, cut your hair in the front short and dreadlock all your long hair at the back. Accessorize with a colorful headband to complete this cutesy look.
26. Dreadlock Bangs And Ponytail
A good way to make your dreadlock style unique and all your own is to experiment with their thickness. If you have short hair, you could go for thinner ones to get the most number of dreads out of your hair. Tie these dreads up in a super high ponytail and go for some straight cut bangs comprising dreads in the front to finish off this innovative look.
27. Dreadlocks Donut Bun
Go for a perfectly circular donut bun right on top of your head to get your dreads off of your neck on hot summer days. Accessorize with a bright headband tied in a cute bow around your head to add a beachy tropical vibe to the whole look.
Infographic: 6 Coolest Dreadlock Hairstyles That Are Easy To Try
Dreadlocks do not have to be boring; this protective hairstyle can keep your hair safe against damage and let you express your sense of style in some really cool ways. Check out the infographic for a more curated selection of the easiest and most amazing dreadlock hairstyles you can try.


Did You Know?
Since 2009, Asha Mandela's hair has held the title of "the longest locks" and it was measured to be 5.96 m long.
Before you read this article, you probably thought that dreadlocks were just that one hairstyle flaunted by Bob Marley, right? Luckily, these hairstyles can inspire you to try your own dreadlock hairstyles. Weave your hair in dreads and get creative! From updos and half top knots to colors and beads, dreads are incredible to play around with. You can use your dreadlocks to make a style statement or let your personality shine through. If you feel inspired, start forming your dreadlocks and give your hair the character it deserves!
Frequently Asked Questions
Are dreads locks unprofessional?
Dreadlocks may be considered unprofessional in some workplaces. It depends on the policies of a particular organization. Also, there are jobs where the dreadlocks can pose a safety hazard.
Do dreads grow your hair?
No, dreadlocks do not help grow the hair, but they may protect from hair damage.
Are locs and dreads the same?
No, dreads and locs are similar but not the same. Dreads form naturally and are considered a lifestyle. However, locs are considered a hairstyle, and one needs to start the locking or twisting process to create locs.
Do dreadlocks damage hair?
No, it is a protective hairstyle that may help reduce hair damage and prevent split ends.
Do dreadlocks cause balding?
Yes, it may cause traction alopecia. Hair loss is caused due to hair being pulled back tightly for a long time.