10 Best L'Oreal Professional Shampoos That Provide Salon-Finish Hair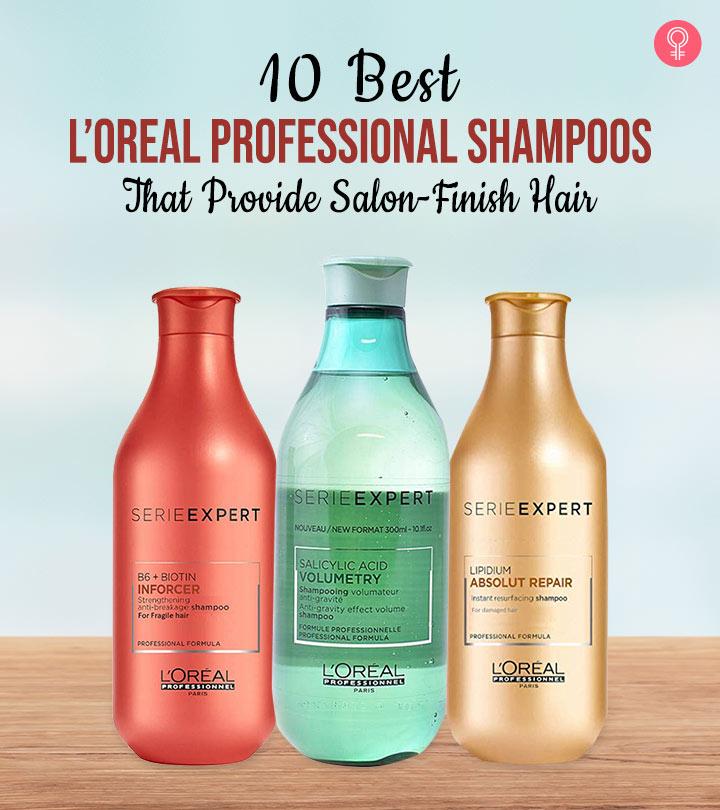 L'Oréal Professionnel shampoos are formulated to curb all the hair issues one could think of. They have an innovative and vast range of hair care products that treat the root of the problem. These shampoos target the hair molecular structure from the core to the surface and deliver high performance to maintain and preserve your hair beauty. We have picked the best of best products from this range to help you revive your hair to its natural state. Take a look at these 10 best professional L'Oréal shampoos you can choose from.
Top 10 L'Oréal Professional Shampoos To Try
L'Oreal Instant Clear Anti-Dandruff Shampoo helps in eliminating flakes caused by dandruff. It is designed for those with intense dandruff problems. Its purifying formula helps combat and control flakiness. The shampoo makes your hair feel light and fresh instantly. It eliminates dirt and grime stuck to the hair follicles.
Pros
Purifies the scalp
Controls dandruff
Mild formula
Very hydrating
Removes flakes
Cons
None
Tired of unmanageable, frizzy, dry, and damaged hair? Use the L'Oreal's Absolut Lipidium Shampoo for repairing and reviving your tresses. It leaves your hair smoother, shinier, and silkier than ever. This product is infused with lipids that help provide essential nutrients and nourish your hair, replenishing damaged shafts at the same time. It leaves the hair feeling fresh, hydrated, and smooth without weighing it down.
Pros
Strengthens hair
Protects hair against breakage
Suitable for weak and fragile hair
Controls split ends
Cons
None
This shampoo is perfect for those with extremely dry hair. It is formulated with anti-dryness properties that help revive dry and lifeless strands. The Nutri-reconstructor technology gently cleanses and restores hair fiber integrity. The Prokeratin-Incell fusion technology recharges depleted moisture levels and controls volume. The shampoo penetrates deep down inside the core of each strand to fill the fragile areas and protect the interior of the hair fiber.
Pros
Controls dryness
Adds shine
Prevents breakage
Strengthens hair
Improves hair texture
Cons
None
Is your hair color fading with every wash? Fight the fade with L'Oreal's Vitamino Color Shampoo. It is formulated with antioxidant technology that protects the color and keeps it radiant for longer. The shampoo also contains UV filters to protect your hair from drying further. This shampoo allows your color of choice to shine more vibrantly, clears residue, and keeps your scalp clean and fresh.
Pros
Protects hair color from fading
Protects hair from UV damage
Enhances shine
Suitable for dry hair
Adds life to dull tresses
Cons
None
Is the volume of your hair deteriorating by the day? Try the L'Oreal Expert Density Advanced Shampoo. It is an anti-thinning, pro-densifying shampoo formulated especially for fine hair. It helps nourish the roots and restore vitality and strength to weak hair follicles. It covers the hair strands in rich lipids to increase their diameter and refine their texture. It leaves your hair bouncy and voluminous with use. 
Pros
Densifies each stand
Builds volume in hair
Nourishes your hair
Protects hair from breaking
Lifts and adds body at the roots
Cons
None
L'Oréal formulated this shampoo for strengthening fragile hair. It is designed to target breakage and split ends to leave you with soft and healthy tresses. With continued use, the Inforcer Shampoo helps your hair become more resistant, flexible, and stronger. The technology in the shampoo is enriched with Biotin and B6, which are known for their strengthening properties. The shampoo targets weak follicles and strengthens the roots for stronger and healthier locks.
Pros
Nourishes and strengthens hair
A little product goes a long way
Imparts shine
Colour-safe
Cons
None
L'Oreal Professionnel Volumetry Shampoo is enriched with salicylic acid that gently cleanses and purifies the scalp. It is a perfect choice for those with fine and fragile strands. This shampoo also claims to refresh the scalp, eliminate oily build-up, and reduce the risk of hair fiber collapse. Hydra Light is an active compound originally used as a skin care ingredient and is known for its intense moisturizing properties. This shampoo ensures your hair remains hydrated, clean, and healthy.
Pros
Suitable for fine hair
Lifts flat hair
Purifies roots
Imparts shine
Adds volume
Cons
None
Are you looking for a shampoo that eliminates scalp product build-up, hard water residue, and any excess oils that clog the hair follicles? Your search ends here! L'Oreal Expert Resource Shampoo can deliver a hydro-lipidic film on your scalp, which leaves it feeling fresh, clean, nourished, and protected. It also contains citramide that eliminates product build-up and rinses away hard-water residues and vitamin E, an antioxidant that prevents itchiness and flakiness, leaving the scalp clean day after day.
Pros
Cleanses hair thoroughly
Nourishes hair
Purifies strands
Suitable for oily and dull hair
Controls dandruff
Cons
None
This sulfate-free shampoo is infused with keratin repair and asta-care and promises to restore strength, flexibility, and vitality to each strand. It adds softness to unruly, over-processed hair and damaged hair and improves hair manageability in a short duration. It adds volume and movement to fine and dull strands. It is a gentle, sulfate-free, and paraben-free cleansing formula for unruly, weak, and over-processed hair.
Pros
Controls frizz
Adds shine
Improves hair texture
Makes hair more manageable and strong
Cons
None
The L'Oréal Professionnel Serie Expert Liss Unlimited is specially formulated to control the frizz, smoothen dry hair, and increase shine and softness. This shampoo is infused with Kukui nut oil and Pro keratin that strengthen the hair structure, minimize the frizz, and make your hair smooth.
Pros
 Suitable for all hair types
 Frizz-free
 Gentle cleansing
Cons
None
That was our round-up of the best L'Oreal Professional Shampoos. Pick one that suits your hair type and issue and say hello to healthy hair.
Recommended Articles: