Relieve Itching With The 8 Best Lotions For Diabetic Dry Skin
Get immediate relief from flaky, dry skin due to diabetes with these mild lotions.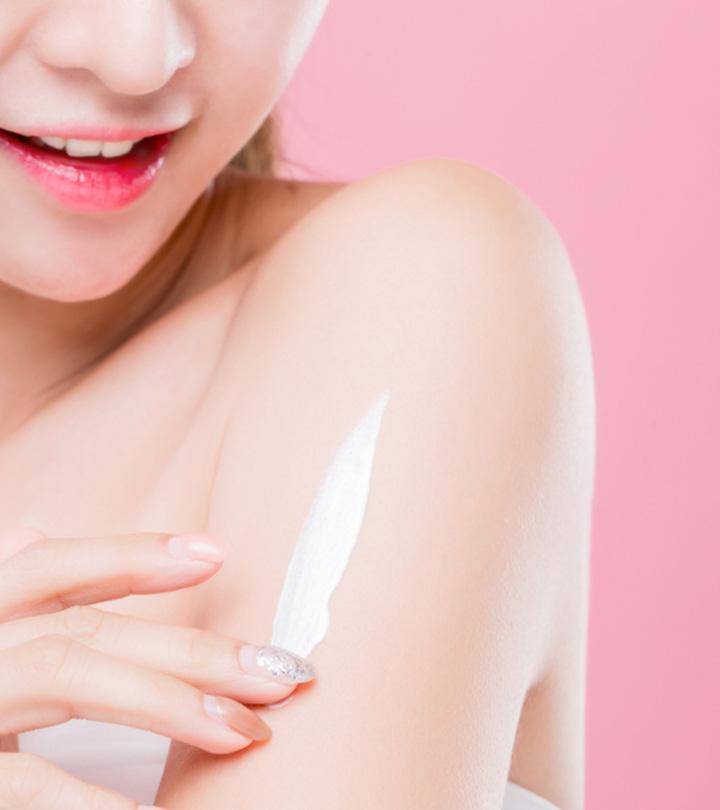 Living with diabetes is difficult enough, but coping with dry and itchy skin makes it even more difficult. Fortunately, the best lotions for diabetic dry skin may provide immediate relief from cracking and flaky skin. The best lotions for diabetic, dry skin often contain mild and hydrating ingredients. The list may include ingredients like oat extracts, aloe vera, and important vitamins that nurture and hydrate dry skin. They are mild on the skin, do not irritate, and keep your skin smooth and silky.
Even though it is not difficult to care for dry skin when you have diabetes, choosing the right lotion might be difficult, given the number of options available on the market. Don't worry. We are here to take care of that. Scroll through our list of the 8 best lotions for diabetic dry skin and say hello to soft and supple skin. Scroll down.
8 Best Lotions For Diabetic, Dry Skin You Need To Try In 2023
Does dry, irritated skin torment you? It would help if you tried this diabetic dry skin lotion for silky smooth, and healthy skin. Enriched with a plethora of skin-loving ingredients like citric acid, macadamia oil, and promega-7, this therapeutic lotion effectively moisturizes your skin and soothes irritation. It clears up skin infections and treats mild breakouts such as spots and blackheads. The macadamia oil in the formula softens skins, regenerates skin cells while other ingredients soothe inflammation. It is non-allergenic, absorbs quickly, and is made of non-GMO ingredients to keep your skin healthy.



Pros
Vegan
Gluten-free
Cruelty-free
Repairs skin tears
Non-greasy formula
Treats distressed skin
Cons
May leave behind a white residue

Did You Know?
The elevated sugar level causes the body to take fluids from the cells to produce excessive urine to get rid of excessive sugar. This leaves the skin dry and patchy.
Price at the time of publication: $9.97
Powered with hyaluronic acid, this is one of the best lotions for diabetics with dry skin in the market. This body gel-cream will instantly quench your skin's need for hydration and leave you with healthy and supple skin. Crafted with hydrating ingredients like glycol and glycerine, it creates a moisture reservoir to replenish your skin and make it smooth. It keeps your skin radiant and helps prevent the development of wrinkles and fills in existing wrinkles, and drastically reduces their appearance. Watch the video to find out the benefitrs of the Neutrogena Hydro Boost Body Gel Cream.
Pros
Non-greasy
Fragrance-free
Lightweight formula
Suitable for sensitive skin
No parabens, mineral oil, or alcohol
Cons

Did You Know?
Apart from dry or itchy skin, other signs such as skin patches, velvety skin, blisters, small, raised, or plain bumps, and scaly skin may also indicate diabetes-related issues.
Price at the time of publication: $10.17
Enriched with the richness of triple oat complex and natural shea butter, this Aveeno diabetic lotion will instantly nourish your skin. Together these ingredients strengthen the skin's barriers and moisturize it intensely, leaving you with a youthful glow. It also soothes the effects of several skin conditions such as psoriasis and eczema-prone skin. It alleviates dry and itchy skin with its unique antioxidant and anti-inflammatory properties that boost your skin's overall immunity.
Pros
Steroid-free
Fragrance-free
Fast-absorbing formula
Dermatologist recommended
Cons
May not be hypoallergenic
Price at the time of publication: $22.5
The Goicoechea Diabetic TX Skin Lotion has a powerful blend of moisturizers and conditioners to hydrate dryness caused by diabetes. It has corn oil, vitamin E, aloe vera leaf juice, dimethicone, and colloidal oatmeal that not only nourish but also soothe your skin. It also helps to minimize the appearance of bruises and varicose veins. You need to apply this lotion daily for visible results.
Pros
 Non-greasy
 Long-lasting
 Fragrance-free
Cons
None
Price at the time of publication: $9.48
Are you looking to hydrate and soothe your damaged diabetics' dry skin? Give this cream for diabetic dry skin a shot. It will intensely hydrate your skin and show visible skin improvement in an hour. Made with oats, ginger, shea butter, and Matricaria flower extracts, this diabetes body lotion will moisturize your skin, delivering a healthy glow. The shea butter provides relief from itchy skin and reduces skin inflammation, while oats strengthen the skin's barrier. It also preserves your skin's collagen and fights early signs of aging.
Pros
Non-greasy
Fragrance-free
Hypoallergenic
No harsh acids
Dermatologist-tested
Cons
May not be best-suited for sensitive skin
Price at the time of publication: $20.58
Need to stop that itch caused by diabetics' dry skin? This one considered the best lotion for diabetics with dry skin may be your best bet. It is clinically tested and formulated especially for itchy skin caused by diabetes. Powered with moisturizers, vitamins C and E, and hydrocortisone, the formula treats skin conditions such as itching, swelling, and redness. It is also super effective in soothing inflammation caused by acne. Hydrocortisone blocks enzymes and mediators that get triggered by skin irritation and offers instant relief. Trust us when we say this is the best thing you can do for your skin!
Pros
Affordable
Calms skin
Fragrance-free
Moisturizing formula
Cons
Some may find that the formula may be a bit too thick
Price at the time of publication: $14
The AMERIGEL Care Lotion Moisturizer is a luxurious, non-greasy lotion that deeply nourishes and hydrates your skin. It is formulated with a blend of natural ingredients that soothe dry, itchy skin caused by harsh weather, environmental factors, and daily stress. Rich in antioxidants and zinc, also known for its anti-inflammatory and healing properties, the formula helps to reduce redness, irritation, and inflammation, making it perfect for those with sensitive skin. The lightweight formula gets absorbed quickly, leaving your skin feeling soft, smooth, and hydrated.
Pros
Hypoallergenic
Quick-absorbing
Non-greasy
Fragrance-free
Oil-free
Dye-free
Preservative-free
Non-comedogenic
Cons
None
Price at the time of publication: $21.49
Are you dealing with painful, cracked skin due to diabetes? This cream for diabetic dry skin will offer you instant relief and rejuvenate your skin's overall health. Enriched with vitamins and active ingredients that efficiently target your skin's gravest issues such as dryness, itchy and irritated skin, this deeply moisturizing formula is a miracle in a bottle. Non-greasy and fragrance-free, this lotion is suitable for all skin types. What's more? It also comes with a lotion for diabetic foot pain that ensures your entire body is refreshed and calm with its soothing and anti-inflammatory properties.
Pros
Non-greasy
Allergen-free
Fragrance-free
No parabens, propylene glycol or dyes
Cons
May take longer than expected to show results
Price at the time of publication: $14.99
Now that you are caught up with the 8 best lotions for diabetic dry skin, here is a look at how to purchase the best one for you.
How to Choose the Best Lotion for Diabetic Dry Skin
Most of the trouble arises from having cracked, itchy, and irritated dry skin during diabetes. Hence, to address these problems, you must look for moisturizing ingredients such as shea butter and aloe vera in your lotion. You can pick between Aveeno Diabetics' Dry Skin Relief Lotion, Solimo Diabetics' Skin Moisturizing Lotion, Gold Bond Ultimate Diabetics' Dry Skin Relief, and DiabetAid Pain & Tingling Relief Lotion.
You must invest in lotions that use organic ingredients to soothe your diabetic dry skin. Ingredients such as hyaluronic acid, oats, and green tea are incredibly significant in soothing and calming your irritated skin. Some of the best products in the market, such as Neutrogena Hydro Boost Body Gel Cream, Aveeno Diabetics' Dry Skin Relief Lotion, and DiabetAid Pain & Tingling Relief Lotion, are rich in these ingredients.
Having sensitive skin means that you must stay off harsh chemicals and toxins in your skincare and therapeutic products. You must take a few minutes and read the ingredient list on the lotion bottle to avoid parabens, phthalates, and other harsh chemicals. Diabetics' Hydrating Lotion Dry Skin Free, Neutrogena Hydro Boost Body Gel Cream, and Solimo Diabetics' Skin Moisturizing Lotion are some of the best lotions for diabetics dry skin that are free of harsh chemicals.
If you are suffering from dry skin due to diabetes or other diseases, there are many ways to improve your skin's health. While your doctor can help you deal with diabetes, you can take up the job of understanding the usefulness of lotions in treating diabetic dry skin. These lotions are made of natural ingredients that can hydrate your skin well while moisturizing the deeper layers of your skin. They can make your skin softer, smoother, and healthier while keeping your skin's texture as gentle as possible. These lotions also treat skin infections while soothing red spots and inflammation. Go for lotions that can blend well and get absorbed into the skin as quickly as possible. However, it is better to avoid lotions that leave white residue while treating dry and distressed skin.
Why Trust Stylecraze?
Kirtana Divakar, the author of this article, loves to keep herself updated about the best skincare ingredients and products on the market. After careful research and referring to different forums and websites, she has compiled this list of the best lotions for diabetic dry skin to help her readers make a good choice. The shortlisted lotions are replete with nourishing ingredients to give your skin gentle moisturization.
Frequently Asked Questions
Is there a difference between a diabetic lotion and a regular lotion?
The only difference between diabetic lotion and regular lotion is that the former moisturizes the skin while the latter helps with skin issues related to diabetes and improves blood circulation. Diabetic lotions also combat dry skin effectively.
Why is diabetic skin so dry?
Diabetic skin is extra dry due to high blood sugar, poor blood circulation, and diabetes-related skin infections.
Is Vaseline good for diabetic dry skin?
Yes, some Vaseline products, such as the Vaseline® Intensive Care™ Advanced Repair Unscented Lotion, are good for dry skin. They relieve your skin of itchiness and discomfort.
Can lotions affect blood sugar?
Yes, some lotions, especially if their formula comprises hydroquinone, can affect blood sugar. They can increase sugar levels, and cause swelling and numbness.
Why is it important to use a moisturizer for diabetic feet?
It is important to use a diabetic-friendly moisturizer for diabetic feet to keep the skin supple and soft. These moisturizers can combat dry skin which becomes an issue due to fluctuations in blood sugar levels caused by diabetes.
Are there any side effects of using lotion on diabetic dry skin?
No, most lotions that are made for diabetic skin do not show any side effects when used by patients of diabetes. Choose a lotion that does not list alcohol as one of its first ingredients. These lotions can actually inhibit moisturizing effects, causing adverse results.