9 Best Lotions For Keratosis Pilaris To Make Your Skin Soft & Smooth
Smoothen the texture of your skin like never before with the most suitable skincare essentials.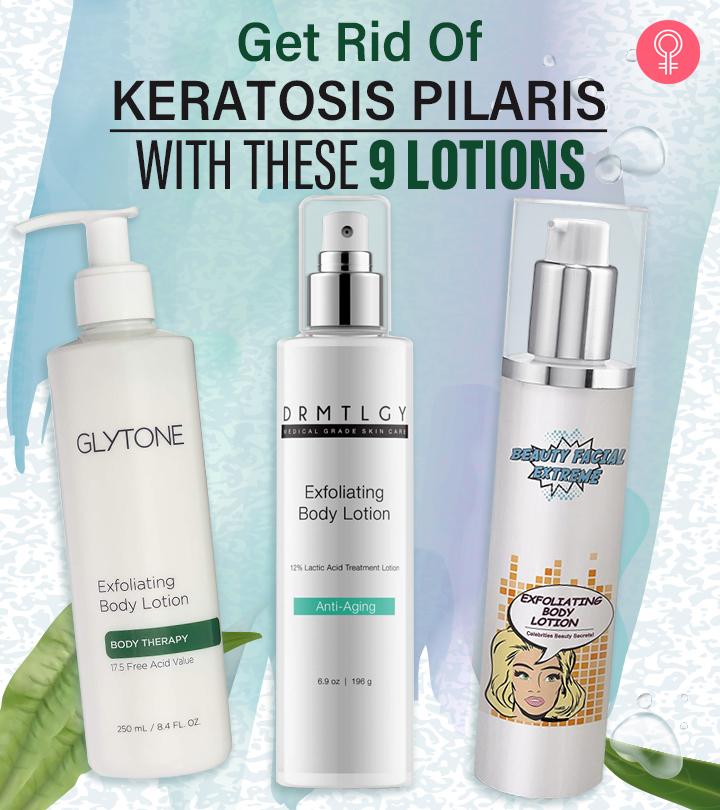 Keratosis pilaris, also called chicken skin, is a skin condition that is characterized by small, rough bumps on arms, thighs, and sometimes on the face. It occurs as a result of the keratin buildup around the hair follicles. This is why you need to land your hands on the best lotion for keratosis pilaris available in the market. We have made a list of the 9 best lotions for this skin condition to control the issue and make your skin soft and smooth.
9 Best Lotions For Keratosis Pilaris
The touch kp Exfoliating Lotion exfoliates and moisturizes the skin to keep it smooth and clear. It contains salicylic and glycolic acids, which reduce dryness, redness, inflammation, and hyperpigmentation while improving the skin texture by penetrating the follicles and pores. They also maintain normal pH levels, increase cell turnover, and boost collagen production to keep acne and dryness at bay. The moisturizing agents like glycine soja oil and coconut oil leave the skin soft and silky. The anti-inflammatory aloe vera soothes the skin.
Pros
Non-sticky
Cruelty-free
Alcohol-free
Phthalate-free
Paraben-free
Dye-free
Suitable for all skin types
Cons
Price at the time of publication: $29.95
This dual-action exfoliating body lotion hydrates and exfoliates keratosis-prone skin. It contains glycolic acid and caffeine that remove dead skin cells to smoothen and polish rough and bumpy skin. This lotion works by increasing collagen production and cell turnover while reversing basal cell atypia to moisturize and treat the skin. It also heals cracked heels, dry elbows, and discoloration to renew the skin.
Pros
Fragrance-free
Suitable for dry to normal skin
Suitable for daily use
Dermatologically-tested
Non-irritating
Cons
Price at the time of publication: $44.0
The DRMTLGY Exfoliating Body Lotion contains 12% lactic acid that treats dry, rough, bumpy skin and other conditions like keratosis and folliculitis. It improves skin texture and is safe for use on areas like the hands, arms, legs, and feet. This lotion rehydrates dry patches and infuses moisture back into the skin to relieve redness and flakiness.
Pros
Dermatologically tested
Cruelty-free
Gluten-free
Paraben-free
Sulfate-free
Money-back guarantee
Cons
Unpleasant smell
May cause a burning sensation.
Price at the time of publication: $21.95
The KP AWAY Keratosis Pilaris Emollient intensely hydrates the skin and restores its natural lipid barrier. It contains the pH-balancing coconut oil that moisturizes, softens, and relaxes the skin to reduce redness and bumps. The ultra-keratin formula restores the skin, while the exfoliating agents eliminate dead skin cells. The plant-based fatty acids enhance skin texture by penetrating deep to repair the molecular structure.
Pros
Suitable for newborns and kids
Non-greasy
Vegan
Cruelty-free
Nut-free
Gluten-free
BPA-free
Fragrance-free
Paraben-free
Phthalate-free
Ideal for combination to dry skin
Cons
Expensive
May irritate the skin.
Price at the time of publication: $38.99
The UREA LABS 10% Urea Cream thoroughly hydrates dry and keratosis pilaris-prone skin. The triple-action formula contains lavender oil and salicylic acid to offer intensive care and healing to rough, dry, and aging skin. It promotes healthy skin by making it soft, smooth, and non-flaky. Urea promotes moisture levels and quick healing. It offers mild exfoliation to remove dead skin while soothing, conditioning, and calming the skin.
Pros
Non-greasy
Absorbed quickly
Money-back guarantee
Cons
Price at the time of publication: $34.99
The Dermlogic Exfoliating Body Lotion protects dry skin from chronic skin conditions by activating cellular regeneration. It helps treat conditions like keratosis pilaris by reducing dryness, redness, acne, and bumps. This body lotion softens the skin and eliminates dryness, flakiness, and stubborn calluses by eliminating accumulated buildup around the skin's follicles or pores.
Pros
Non-greasy
Absorbed quickly
Easy to use
Gentle
Suitable for acne-prone and dry skin types
Cons
Price at the time of publication: $19.98
The KP essentials Exfoliating Cream helps treat keratosis pilaris on sensitive skin by eliminating roughness and redness. The healing ingredients like jojoba oil, aloe vera, AHA, and almond oil unclog pores and prevent keratin buildup. The blend of lactic and glycolic acids gently removes dead skin cells to renew and resurface your skin. These ingredients also prevent irritation by clearing and smoothening the skin.
Pros
Non-irritating
Suitable for sensitive skin
Fragrance-free
Cruelty-free
Paraben-free
Cons
Price at the time of publication: $64.95
The BEAUTY FACIAL EXTREME Exfoliating Body Lotion has 12% lactic acid and fruit acids with rich emollients to smoothen and heal rough and dry skin. This lotion activates cell regeneration and prevents dryness on body parts like the hands, elbows, and knees. Its gentle formula softens calluses, prevents chicken skin, and treats redness, acne, and bumps effectively. The exfoliating properties eliminate dead skin cells and keratin buildup from the skin's surface.
Pros
Suitable for dry and acne-prone skin
Gentle
Pleasant smell
Absorbed quickly
Cons
Price at the time of publication: $17.98
The NEOSTRATA Lotion Plus is an extra-strengthening, multipurpose skin lotion designed to enhance the skin tone and overall texture. It contains 15% glycolic acid that brightens the skin and prevents photoaging that causes wrinkles, fine lines, and hyperpigmentation. This lotion reduces keratosis pilaris and hyperkeratosis while keeping the skin smooth and encouraging cell regeneration. It reduces rough bumps around the pores or follicles and deeply moisturizes the skin.
Pros
Lightweight
Non-greasy
Long-lasting
Absorbed quickly
Oil-free
Fragrance-free
Sulfate-free
Paraben-free
Cons
Price at the time of publication: $44
Why Trust StyleCraze?
The author of this article, Shiboli Chakraborti, is a certified skin care coach. She understands the skin's needs and has expertise in recommending products accordingly. She has curated the list of best lotions for keratosis pilaris after extensive research and reading many online reviews on trusted platforms. These lotions address keratosis pilaris and leave a moisturizing effect on the skin.
Frequently Asked Questions
Should I put lotion on my keratosis pilaris?
Yes, lotions made specifically for keratosis pilaris will help to hydrate the skin and be helpful for the condition.
Does lotion make keratosis pilaris worse?
No, dryness worsens keratosis pilaris, and lotions will help in hydrating, soothing, and retaining moisture..
How long does it take to treat keratosis pilaris?
It can take up to 4-6 weeks to show improvement if you follow a proper treatment.
How do you keep keratosis pilaris under control?
Take shorter showers (15 minutes or less).
Using lukewarm water instead of hot water in showers
Bathe with a light exfoliating soap or body wash.
Use of moisturizers twice daily.
Should you moisturize keratosis pilaris?
Yes, moisturizer relieves itching and dryness caused by keratosis pilaris and is highly beneficial.
Recommended Articles