13 Best Lotions For Eczema To Soothe Inflamed And Itchy Skin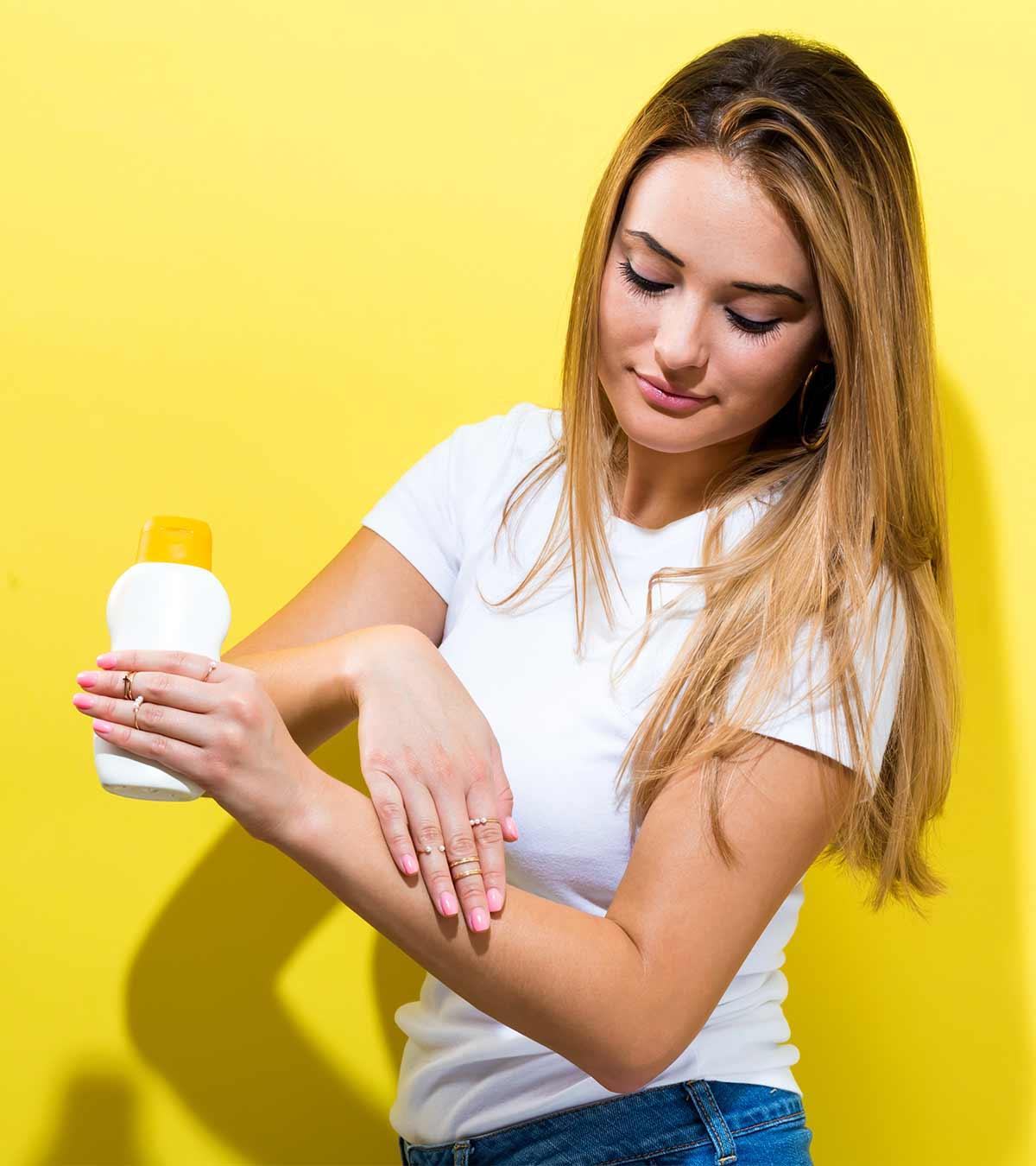 Eczema is a common skin condition that can cause dryness, inflammation, and rough patches. While dealing with it is hard, using the best lotions for eczema can provide considerable relief. Eczema can appear all over your body, including your face, hands, or scalp. The associated itchiness may provoke you to scratch your skin, which may lead to cracks and rashes. This skin condition has many causes, and products with better moisturizing properties work best in treating the symptoms.
Moisturizers provide an ample amount of hydration to your skin, soothe your skin, and strengthen the skin barrier. When your skin's outermost layer doesn't function properly, it leads to breakage and results in moisture loss. The best lotions for eczema are formulated with the right ingredients with skin-soothing and anti-inflammatory properties. While selecting these lotions, pick those that are free from chemicals, additives, fragrances, and preservatives. Use them as directed, and you will notice results with time. In this article, we have curated a list of the 13 best lotions for eczema treatment available on the market. Continue reading to check them out and choose your pick.
13 Best Lotions For Eczema In 2022 You Should Check Out
This can be your go-to brand for an effective moisturizing cream especially when it comes to sensitive skin. That's because it claims to be free of any kinds of dyes, fragrance and parabens. Moreover, it has the approval from the National Eczema Association. A great thing about this product is that it can be used for massage and as a night cream along with being a really good lotion for eczema-prone and inflamed skin. This video review will help you understand more about the product.
Pros
Fragrance-free
Paraben-free
Lanolin-free
Doesn't clog pores
Approved by the National Eczema Association
Cons
Slightly sticky
May not absorb into the skin quickly
If you're looking for a deep hydrating lotion with the delightful fragrance of cocoa then this product is for you. It provides nourishment for all types of skin including those which may be prone to eczema. This body lotion contains vitamin E which may be extremely beneficial for toning your skin and help you deal with scars and stretch marks. Palmer's body lotion is a moisturizer with a plant-based formula that works towards softening and hydrating your skin. It is one of the best natural lotions for eczema available in the market.
Pros
Made with cocoa butter and vitamin E
Provides 24-hour moisturization
Only uses natural ingredients
Improves scars and stretch marks
Tones your skin
Cons
Some may find the formula too thick
The scent may be too strong for some.
Looking for good lotions for eczema? You're in luck. This product has a special formula for dealing with skin types that are prone to eczema. It is a cream approved by the National Eczema Association and claims to provide instant relief to dry-skin conditions. It's a special formula made with colloidal oatmeal and ceramide not only comforts the skin during rashes but also softens it. This makes it a good eczema relief lotion. The product is not only free of paraben and fragrance but is also tested for allergies. This moisturizing cream can last up to 6 hours after use.
Pros
Non-greasy formula
Free of paraben and fragrance
Allergy-tested
Lasts up to 6 hours
Cons
The formula may be too thick for some.
This body lotion not only provides relief from dry, itchy skin but is a great product for most skin types. Made with advanced ceramide Complex, pro-vitamin B5 and shea butter, It can also be used for infants who are 6 months old and above. What the advanced ceramide complex within this body lotion does is that it works on skin repair. So the moisturizer restores moisture levels, pH levels and nourishes the weakened skin barrier to prevent flare-ups.
Pros
Helps control flare-ups
Can be used on infants 6 months and above
Approved by the National Eczema Association
Rebalances ceramide levels, pH levels and moisture levels.
Cons
People with sensitive skin may find the scent overpowering.
Eucerin Eczema Relief Body Cream is composed of colloidal oatmeal, licochalc one and ceramides. Its special formula is designed to soothe dry, itchy skin and provide hydration. Its claims to deliver 24-hour hydration upon use. This Eucerin lotion for eczema can be used on infants who are 3 months+. What makes this moisturizing cream a good alternative for people with sensitive skin is that this product not only helps in clearing up flare ups but also reduces redness on the face. If you are still unsure, check out this honest review.
Pros
Provides 24-hour hydration
Contains colloidal oatmeal, ceramide 3, and licorice root extract
Can be used on babies as young as 3 months
Dye and steroid-free
Cons
May not easily soak into your skin
One of the best things about this skin repair body lotion is that it provides protection against irritated skin for 48 hours and even lasts through showering. It soothes and nourishes dry, itchy skin which is very common in people struggling with eczema. This moisturizing lotion contains aluminum starch octenylsuccinate which helps to balance out the greasiness of other ingredients, which are needed to nourish and hydrate your skin. And that is how you get a body lotion that absorbs quickly into your skin.
Pros
Non-greasy
48-hour protection against dryness
Helps prevent flare ups
Effective for skin struggling with diabetes and eczema
Absorbs easily into your skin
Cons
This moisturizing lotion is enriched with two key ingredients. The first is pramoxine hydrochloride 1% which provides instant relief to dry, irritated skin. And secondly, it contains three important ceramides that are useful for intense skin repair and maintain your skin's natural barrier. This body lotion can also be used to provide a soothing effect during insect bites and sunburn. It has been approved by the National Eczema Association. This product can be used on children above the age of 2.
Pros
Steroid-free
Fragrance-free
Non-comedogenic
Sulfate-free
Cons
Contains pramoxine hydrochloride which may cause swelling, redness, and itching in rare cases
Another great product among the best natural lotions for eczema is Mustela's Hydra Bébé Body Lotion. It is based on a formula that contains 97% plant-based biodegradable ingredients. These include jojoba oil, sunflower oil, vitamin E, vitamin F, sweet almond oil, shea butter and glycerin. It is a non-greasy body lotion that absorbs quickly into the skin and provides long-lasting hydration. Since this product is based on natural ingredients, it reduces the risk of skin irritation and allergic reactions. This moisturizer prevents dryness and deeply nourishes the skin.
Pros
Paraben-free
Phthalate-free
Phenoxyethanol-free
Hypoallergenic
Made with natural ingredients.
Cons
This product provides relief against the dry, itchy skin caused by eczema. It nourishes and improves your skin's ability to retain moisture and this way it helps in keeping your skin hydrated and healthy. Enriched with colloidal oatmeal, this body lotion is based on a special formula created to soothe irritated skin. This healing lotion for eczema contains vitamins E, B5 and B3 as well as a unique combination of filaggrin and ceramide complex to ensure soft, smooth skin. This creamy moisturizer absorbs quickly into your skin making it a good hand lotion for eczema.
Pros
Non-greasy
Contains vitamins E, B5, and B3
Hypoallergenic
Won't clog pores
Fragrance-free
Cons
Some may find it slightly sticky
This skin repair body lotion consists of 7 intensive moisturizers & vitamins A, C & E as well as aloe. It is a great and nourishing moisturizer for sensitive skin types that struggle with irritation and dryness. This is a non-greasy moisturizing lotion for eczema that keeps the skin hydrated 24 hours. Apart from providing relief from eczema, it can also be used as a normal body lotion for dry skin. This moisturizer absorbs easily without having to put in a lot of time and effort on rubbing it in. One of its greatest benefits is quick and long-lasting moisturization.
Pros
Contains vitamins A, C, and E
Absorbs easily
Provides 24-hour moisturization
Hypoallergenic
Non-greasy
Cons
Some may find the formula too thick
If you're looking for an anti-itch cream for eczema, this over-the-counter lotion for eczema is for you. Approved by the National Eczema Association, Sarna Sensitive Anti-itch moisturizing lotion provides relief for dry, itchy skin caused by eczema and other skin conditions. It has been made keeping in mind people with sensitive skin and allergic reactions and so this product is free of steroids, parabens and fragrances. It helps to retain your skin moisture and can be brought under daily use as a body lotion.
Pros
Approved by National Eczema Association
Free of steroids, parabens and fragrances
Gentle on sensitive skin
Can be applied directly to the site of the itching for targeted relief
Cons
The scent may be too strong.
This moisturizing cream provides relief from skin irritation, redness and itching caused by dermatitis and eczema. It can be used by people of all age groups from infants and children to adults. This product is suitable for sensitive skin as it does not contain any preservatives, parabens, dyes or fragrance. The key ingredient of this lotion, avène thermal spring water nourishes the skin and reduces skin sensitivity. With these varied features, this product has easily found its place among the list of best lotions for eczema.
Pros
Approved by the National Eczema Association
Free of preservatives, parabens, dyes or fragrance
Can be used by people of all ages
Helps to maintain a well-balanced microbiome.
Cons
The scent may be too strong for some.
This body lotion helps moisturize and soothe dry and irritated skin. Approved by the National Eczema Association, this product can also be used for eczema prone skin. It contains microdroplets of vaseline jelly that retain moisture and helps your skin's weakened natural barrier to recover which makes it a great face lotion for eczema. Apart from this, the lotion is also packed with glycerin and dimethicone, which help in hydrating dry skin.
Pros
Heals dry skin in 5 days
Contains microdroplets of Vaseline Jelly to lock in moisture
Non-greasy
Absorbs easily into your skin.
Cons
While it's not sticky, the lotion tends to accumulate and create a slippery layer.
Now that you've taken a look at the best lotions for eczema, here are some things to keep in mind while looking for an eczema treatment lotion.
Choosing The Right Lotion For Eczema
Ingredients
When it comes to deciding which body lotion may suit your skin the best, the first step is to check the ingredients to pick lotions that help with eczema. Different products use a variety of ingredients ranging from plant-based formulas to including different kinds of chemicals. Body lotions that contain dimethicone, glycerin, lanolin, proteins, and mineral oil are great for healing dryness. When it comes to moisturizers based on natural ingredients, products enriched with coconut oil, avocado oil, and shea butter can be really good for dry, itchy skin. Especially if you have eczema or really sensitive skin in general, going through the list of ingredients before using a product helps prevent any sorts of allergic reactions that may result in rashes or inflamed, itchy skin. Make sure to check whether the ingredients used in a lotion are non-comedogenic and hypoallergenic.
Skin type
The best lotion to nourish your skin can only be selected based on what your skin type is. For instance, body lotions with a heavy formula help to retain moisture when it comes to dry, itchy skin. For non-greasy skin, moisturizing creams which are thinner may be a better option if you're not looking for intense repair but would like to keep your skin hydrated and smooth. Lastly, water-based lotions work best for people with sensitive yet oily skin.
Skin conditions
It is important to observe your skin conditions before choosing a body lotion. If you have oily skin that is acne-prone, it's best to opt for moisturizers that are non-comedogenic and do not clog pores. On the other hand, if you have especially sensitive skin, make sure that your body lotion is free of dyes and fragrance. For people dealing with eczema, moisturizers with low water content work best. Products with a thick formula can help retain moisture and protect your skin's natural barrier.
Why Trust StyleCraze?
The author, Vaishnavi Kothuri, is a skin care aficionado and loves trying out different products in the segment. She has compiled this list of the best lotions for eczema following a thorough screening of various products and their reviews posted online. These lotions hydrate and soothe the skin besides strengthening the skin barrier. Moreover, they are free of additives, harmful chemicals, and preservatives.
Frequently Asked Questions
Does a lotion help with eczema?
Yes! Since eczema does not have a clear and fixed list of causes, it may be hard to suggest something as a cure. But body lotions that are sensitive to dry, itchy skin can really help in soothing the irritation caused by rashes.
Can a lotion cause eczema?
It is possible that a product which is unsuitable for you may do you more harm than good. For example, if a moisturizer contains an ingredient that you may be allergic to, the chances are that it might lead to some side effects such as redness and irritation.
Recommended Articles
Best Eczema Creams To Heal Itchy Skin And Rashes
Best Eczema Creams & Over-the-Counter Treatments
Best Eczema Skin Care Products To Keep Flare-Ups At Bay
Best Anti-itch Creams To Soothe Your Skin