10 Best Lotions For Peeling And Sunburned Skin – 2023
Soothe peeling, sunburnt, and irritated skin with moisturizing and protective lotions.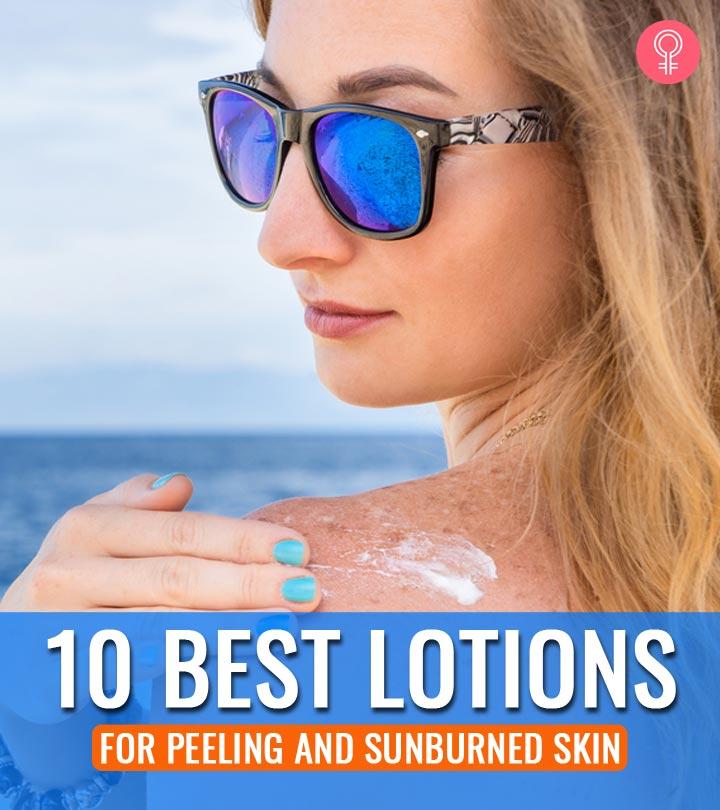 We often forget to put sunscreen on before going on a beach vacation. And this may result in painful sunburns and skin peeling. Enter the best lotions for skin peeling!
Skin peeling is a condition where the upper layer of your skin or the epidermis gets damaged and starts to come off. It can be caused by various factors like immunity disorder, infections, or the harmful rays of the sun. If you are suffering from this skin issue and do not know its cause, consult a dermatologist. Until then, you can use the lotions mentioned in our article to subdue the pain and irritation. Swipe up for more details.
Top 10 Lotions For Peeling And Sunburned Skin
Are you searching for a lotion that revives and refreshes your skin instantly after an outing in the sun? Then, Burt's Bees Aloe & Coconut Oil After Sun Soother is the perfect product for you. It replenishes moisture in sunkissed skin with its intensely hydrating formula. It contains soothing and hydrating ingredients like aloe vera and honey that help transform dry and dehydrated skin into healthy and soft skin. It conditions your skin from within after sun exposure. This lotion gets absorbed quickly and retains the skin's natural moisture.
Key Ingredients: Coconut oil, aloe, honey, and lemon peel extract.
Pros
Non-greasy formula
Paraben- and SLS-free
Contains natural ingredients
Soothes and hydrates your skin
Suitable for sensitive skin
Cons
None

Price at the time of publication: $20.82
As the name suggests, this luxurious lotion is like a breath of fresh air for your skin. It gets absorbed into the skin instantly, without leaving behind a greasy residue. This weightless lotion is blended with exotic island botanicals like shea butter, papaya, mango, and orange extracts. Its light and therapeutic aroma enthralls your senses and relaxes you instantly. It claims to provide 24-hour moisturization and leave your skin feeling soft, refreshed, and protected from the sun. This unique formula is water-resistant for up to 80 minutes. Click on the video to check out an honest review of the Hawaiian Tropic Silk Hydration After Sun Ultra Hydration Lotion by a customer.
Key Ingredients: Shea butter, mango seed butter, cocoa seed butter, aloe leaf juice, and papaya fruit extracts.
Pros
Long-lasting effect
Rich and creamy consistency
Lightweight
Pampers and nourishes your skin
Ultra-moisturizing
Soothes dry and irritated skin
Cons
Not suitable for people who are allergic to artificial fragrance
Price at the time of publication: $10.88
After a day in the sun, your skin needs a touch of rejuvenation and hydration. For that, you need a perfectly soothing and invigorating product. To give your skin a boost, try Hampton Sun Hydrating Aloe Continuous Mist. It is a hydrating after-sun mist that is perfect for sunkissed skin. It replenishes moisture and soothes your skin with a refreshing spray. It contains natural aloe and menthol that give your skin an instant cooling sensation. It is a water-based formula and, hence, gets absorbs into your skin quickly without leaving any sticky residue.
Key Ingredients: Aloe leaf juice.
Pros
Oil-free formula
Prevents sunburn pain
Soothes dry and irritated skin
Reduces skin redness
Contains powerful antioxidants
Moisturizes your skin deeply
Cons
Price at the time of publication: $18.54
Coola Radical Recovery Moisturizing Lotion delivers powerful antioxidants and nourishing ingredients that help revive your skin after a day in the sun. It soothes sunburned peeling skin. It has a natural lavender fragrance. The ingredients used in this formula are of natural origin. It contains anti-inflammatory ingredients that help reduce redness and itchiness to give you soft and hydrated skin. It is also an excellent anti-aging moisturizer.
Key Ingredients: Aloe leaf juice, sunflower seed oil, lavender flower oil, rosemary leaf oil, and sweet orange peel oil.
Pros
Vegan
Cruelty-free
EcoCert-certified
Heals and repairs over-exposed skin
Heals chapped and peeling skin
Delivers quick results
Cons
None
Price at the time of publication: $32.0
Australian Gold Moisture Lock Tan Extender is an extremely potent formula for peeling skin. It is a hydrating lotion that helps extend your tan without causing skin irritation or a burning sensation.
The formula contains powerful antioxidant-rich ingredients like tea tree oil, sunflower seed oil, olive oil, and aloe vera. These ingredients gently moisturize your skin and leave it feeling smooth and soft. This lotion provides a natural soothing and conditioning effect to your skin for hours.
Key Ingredients: Sunflower seed oil, olive oil, and tea tree oil.
Pros
Alcohol-free formula
Paraben-free
Free of artificial dyes
Non-greasy formula
Gluten-free
Long-lasting effect
Cons
Price at the time of publication: $7.49
This luxurious after-sun skin balm has a moisturizing formula with soothing aloe that helps soothe sun-exposed skin. It protects your skin from peeling and minimizes visible photodamage. It can be used daily as it is an oil-free and non-comedogenic formula.
Key Ingredients: Aloe leaf juice, wheat germ extract, and barley extract.
Pros
Combats dry skin
Soothes the skin instantly
Lightweight
Eliminates blisters and breakouts
Suitable for all skin types
Cons
Price at the time of publication: $32.0
Deluvia Miracle Aloe Cream is enriched with organic aloe to moisturize your skin deeply. It is an effective hydrating formula for dry, irritated, and flaky skin. It contains a combination of premium botanicals like organic Hawaiian aloe, herbal extracts, and vitamins that improve the overall appearance of your skin. This lotion is ideal for irritated skin, eczema, psoriasis, burns, dry and cracked skin, bug bites, and sunburns. It also helps reduce fine lines and wrinkles.
Key Ingredients: Aloe leaf juice, organic sunflower oil, organic coconut oil, cocoa butter, jojoba oil, shea butter, tamanu oil, macadamia nut oil, kukui nut oil, avocado oil, borage oil, flax seed oil, evening primrose oil, organic rosehip seed oil, vitamin B5, vitamin E, organic green tea, noni extract, organic passionflower, organic calendula, chamomile, lavender extract, organic arnica montana, organic gotu kola, horsetail extract, wild geranium extract, and organic dandelion.
Pros
l Makes your skin softer and smoother
l Prevents scaling skin
l Unscented
l Hypoallergenic
l Cruelty-free
l Paraben-free
l Suitable for sensitive skin
Cons
None
Price at the time of publication: $39.95
Triswim Citrus Grapefruit Lotion moisturizes and soothes sunburned skin. It contains aloe and vitamins A, B5, and E that help hydrate and protect your skin from the harmful UV rays. This lotion forms a protective barrier on your skin to prevent it from peeling or burning. It also nourishes and rejuvenates dry and flaky skin. If you are heading to the beach, slather it on your body to protect your skin from the harsh sun rays.
Key Ingredients: Aloe vera leaf juice, vitamin E,  and vitamin B5.
Pros
Moisturizes the skin
Cruelty-free
Prevents sun damage
Justa little product required per use
Suitable for dry and sensitive skin
Cons
Price at the time of publication: $15.48
Mario Badescu Aloe Lotion is a mild astringent. It is formulated for all types of skin to soothe and refresh your skin and reduce redness. It contains 2% alcohol, which helps disinfect the skin's surface and remove the residue that causes irritation and clogs pores. It deeply cleanses your skin from within. The soothing aloe vera refreshes and rejuvenates your skin.
Key Ingredients: Aloe leaf juice.
Pros
Hydrates your skin
Contains potent ingredients
Removes impurities
Improves the skin tone
Soothes inflamed skin
Cons
Price at the time of publication: $15.0
Is your skin peeling due to the harsh sun rays? If so, try Origins Modern Friction Nature's Gentle Dermabrasion lotion. It is a smoothening, hydrating, and exfoliating cream that softens your skin without causing irritation. It contains skin-refining rice starch that helps remove dull skin cells, uneven patches, and the signs of skin damage and discoloration. It also contains lemon oil to illuminate your skin and aloe vera to soothe redness. Watch the review of the Origins Modern Friction Nature's Gentle Dermabrasion to better understand the product.
Key Ingredients:  Lemon peel oil, cucumber oil, peppermint oil, and aloe leaf juice.
Pros
Eliminates flaking
Imparts a natural glow
Natural botanical fragrance
Improves the skin tone
Suitable for sensitive skin
Cons
Price at the time of publication: $19.9
Sunburned skin can be very painful and irritating. In severe cases, one needs to visit a doctor, but in mild cases, it can be treated at home. Keeping the skin hydrated, cool, and moisturized with specific lotions is the best way of treating mild sunburns. How do you choose from the array of lotions available? Below are some guidelines that help you choose the best lotions for peeling and sunburned skin.
Things To Consider While Choosing The Best Lotions For Peeling And Sunburned Skin- Buying Guide
Must-Have Ingredients
Aloe vera: It soothes your skin, minimizes redness, and stimulates collagen production. Aloe vera contains salicylic acid, which is also known for its anti-inflammatory qualities. It also helps lock the moisture in the skin.
Vitamin E:It is the natural content of our sebum. Sunburns affect the natural sebum content. Therefore pick a lotion with vitamin E to combat free radicals. This fat-soluble antioxidant heals dry skin and reduces peeling by hydrating the skin.
Shea butter: It keeps the skin moisturized and minimizes peeling and burning. It cools the skin and keeps it hydrated.
Oatmeal: It acts as a mild exfoliator and helps remove dry, dead cells from the epidermal layer of the skin.
Coconut oil: It is an antiseptic, anti-fungal, and anti-inflammatory ingredient. It dries the wounds faster while keeping the skin moisturized.
Scent: Synthetic fragrances in lotions may trigger allergies and irritation in sensitive skin. Sunburned skin may be extra sensitive to artificial fragrances. So, pick a fragrance-free lotion.
UV protection: Use a lotion with SPF 50+ for maximum protection from harmful UV rays. Additionally, pick a broad-spectrum formula to prevent UVA and UVB damage.
Ingredients To Avoid: Avoid lotions containing irritants like sulfate, silicone, paraben, mineral oils, alcohol, and phthalates, to avoid irritating your skin and aggravating the sunburns further.
Dermatologists-Recommended: In case of severe sunburn, visit a doctor who can prescribe some effective medicated lotions which are available readily. Or, you may opt for dermatologist-recommended formulas to steer clear of side effects.
Wondering how these lotions prevent your sunburned skin from peeling? Find out how in the next section.
How Do Lotions Prevent Your Skin From Peeling?
Most of these lotions have mild skin-friendly exfoliants and replenishing, rejuvenating, hydrating, and skin-revitalizing properties that help in the renewal of skin cells. When applied regularly, these lotions remove blotchy and flaky skin to reveal fresher and younger-looking skin.
How To Apply Skin Peeling Lotion
Before using a skin peeling lotion, here are some important tips to keep in mind.
Cleanse your skin thoroughly.
Apply the lotion on clean and fresh skin.
Massage the lotion on the affected area gently until it is fully absorbed.
Re-apply after 10 minutes.
Apply at least three layers of lotion.
Do this for a week to get clearer skin.
Why Trust Stylecraze
The author, Pooja Karkala, is an avid skin care enthusiast with a penchant for discovering effective skin care solutions. She recommends using the above solutions to soothe and care for your sunburnt and peeling skin. These products and their reviews were studied and investigated thoroughly by the author, for your benefit. She selected these products based on their key ingredients, lack of harmful elements, skin care benefits, and formula consistency.
Frequently Asked Questions
Is Vaseline good for peeling skin?
Yes, Vaseline helps heal minor sunburns and peeling skin by creating a barrier that seals in moisture. This prevents further damage and irritation.
Does sunburned skin always peel?
Yes, dry and peeling skin is a sign of damage to the epidermis caused by sunburn.
Recommended Articles
Essential Oils For Sunburn Relief