The 10 Best Lotions For Psoriasis That You Must Buy In 2023
Cool your skin and hydrate it to manage and prevent unpleasant psoriasis flares.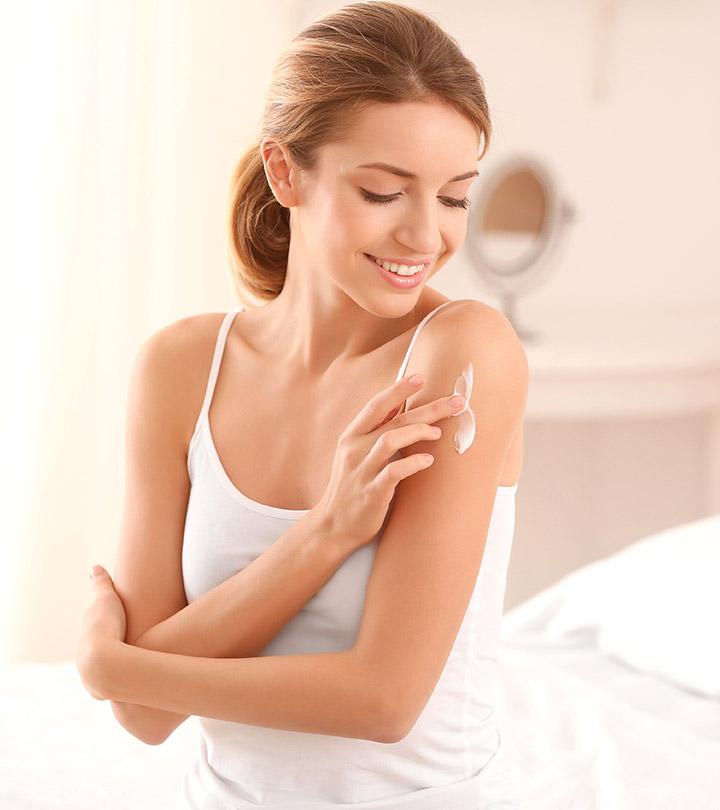 If the surface of your skin has thick patches that occur due to the overproduction of certain skin cells, the chances are that you might have psoriasis, a skin condition that requires special care and attention. To treat this condition, you need the best lotions for psoriasis. These lotions are safe to use, effective and show promising results to soothe this skin condition.
Many skin care brands have now come up with lotions comprising varied ingredients to treat this skin condition. So, to help you choose the one that will deliver quick results, we have rounded up the best lotions for psoriasis. Go ahead and pick your favorite now. Keep scrolling!
The Top 10 Lotions for Psoriasis of 2023
The fragrance-free and gentle formula of this lotion soothes your skin and prevents itchiness. This lotion is developed by dermatologists and provides complete hydration and nourishment. It is composed of hyaluronic acid and other ingredients to retain moisture in the skin and eliminate dryness. It is packed with essential nutrients that are mild and leave your skin feeling soft and supple. This video takes you through this product's details.
Pros
Composed of ceramides to maintain the natural moisture balance
Dermatologist-recommended
Mild and safe on skin
Cons
Price at the time of publication: $14.99
This lotion offers 24-hour moisturization without clogging the pores while also feeling light on the skin. Composed of ceramides and hyaluronic acid, this lotion protects the skin from photodamage and nourishes it. It also features the patented MVE controlled-release technology that ensures lasting hydration. The lotion is very gentle on the skin and doesn't feel greasy or irritating even on sensitive skin. For a more detailed review of this product, here's a video.
Pros
No added fragrances
Non-comedogenic
Hypoallergenic and safe for sensitive skin
Loaded with hyaluronic acid and ceramides
Lightweight and oil-free formula
Cons
Price at the time of publication: $12.74
If you are looking for a soothing and moisturizing lotion for sensitive skin, this one is worth giving a shot. This 7.3-ounce tube is loaded with colloidal oatmeal and ceramides to provide nourishment to your skin. The lotion is dermatologist-recommended and clinically proven to relieve dryness, itchiness, and irritated skin. It is also allergy-tested and free from fragrances, so you don't have to think twice before applying it!
Pros
Fragrance and steroid-free lotion
Dermatologist-recommended
Loaded with colloidal oatmeal and ceramides
Relieves symptoms of eczema, dryness, and itching
Cons
May not work for severe skin issues
Price at the time of publication: $11.99
Some of the symptoms of psoriasis are itching and skin irritation, and this hydrating and budget-friendly cream will help provide relief quickly. This lotion is enriched with the goodness of aloe vera gel, which is considered to be one of the most hydrating and nourishing remedies for the skin. Apart from this, the lotion is formulated with seven potent moisturizers and vitamins to moisturize your skin. Its non-greasy and hypoallergenic formula makes it safe to apply to your skin regularly.
Pros
Dermatologist-tested
Hypoallergenic lotion
Non-greasy formula
Fresh and rejuvenating fragrance
Works on irritated skin, psoriasis, and eczema
Cons
Price at the time of publication: $9.99
When you have psoriasis, it is essential to hydrate your skin. Cetaphil Rejuvenating Cream is formulated with a deep absorption formula that keeps the skin nourished for a long. The ultra-hydrating shea butter penetrates deeper layers of your skin and prevents itchiness, redness, and skin irritation. Within 24 hours of use, you'll be able to witness your skin getting smoother, and you'll also notice a reduction in irritation. It is curated for sensitive skin and is non-greasy and fragrance-free.
Pros
Consists of 5 key moisturizing ingredients
Dermatologist-recommended
Instantly rejuvenates and hydrates irritated skin
Recommended for sensitive skin
Cons
Price at the time of publication: $21.49
If you are suffering from flaky, itchy, and extremely dry skin due to psoriasis, this calming cream from Eucerin features a formula that keeps the skin hydrated with natural ingredients like oatmeal. Oatmeal is gentle on the skin and provides instant relief from symptoms of psoriasis. Keeping in mind the nature of sensitive skin, the cream is carefully curated to be fragrance-free, dye-free, and a non-comedogenic product.
Pros
Non-greasy formula
Offers 24-hour moisturization
Composed of oatmeal and natural emollients
Suitable for sensitive skin
Cons
Doesn't get absorbed easily into the skin
Price at the time of publication: $9.19
If you are looking for a lotion that can alleviate the symptoms of psoriasis, then this is the cream you must try as it consists of 3% salicylic acid. The lotion is also enriched with avocado oil, bisabolol, shea butter, pro-vitamin B5, aloe, panthenol, and allantoin that is effective in treating dry and irritated skin. The tropical cream is also recognized by National Psoriasis Foundation and is thus, safe to use.
Pros
Controls flaky skin and recurring symptoms of psoriasis
Consists of salicylic acid and other ingredients for deep moisturization
Free from fragrances and harmful chemicals
Offers relief from psoriasis and eczema symptoms
Cons
Might take a while to observe visible results
Doesn't provide desired results if not applied as suggested
Price at the time of publication: $8.99
What makes this cream unique is its ingredients that can relieve the severe symptoms of psoriasis such as itchiness, redness, flaky skin, etc. This advanced therapy moisturizing lotion is enriched with vitamins and nourishing ingredients that help in eliminating dry skin by hydrating the skin from deeper layers. It is clinically proven to show effective results in just 24 hours of use. The lotion will transform your dry and irritated skin into healthy and supple skin within a few applications!
Pros
Infused with vitamins E and B5
Shows results within 24 hours of use
Transforms dry skin into supple and healthy-looking skin
Dermatologically approved
Cons
Feels a little greasy on the skin
Price at the time of publication: $15.28
Curél is a very well known brand, and this lotion helps combat psoriasis symptoms. It is formulated to provide deep nourishment within 24 hours of use. The lotion restores the natural moisture and ceramide levels of your skin with regular use, thereby preventing dryness and irritation. The formula consists of a ceramide complex and shea butter that hydrate psoriasis-affected skin. The most appealing part is that it comes with a mild and pleasant fragrance and works well on sensitive skin.
Pros
Non-greasy and fast-absorption formula
Dermatologist recommended
Ceramide complex for intense nourishment and moisture retention
Cons
Price at the time of publication: $9.77
The Cortizone 10 Anti-Itch Lotion For Psoriasis provides long-lasting relief from itchiness, rashes, and irritations caused by psoriasis. It contains 1% hydrocortisone that soothes itching and skin inflammation. This cream is formulated with seven moisturizers and two vitamins that moisturize the skin and prevent irritations.
Pros
Recommended by doctors
Provides quick relief
Long-lasting
Value for money
Cons
Not suitable for all skin types
Price at the time of publication: $8.77
Why Trust StyleCraze?
Vaishnavi Kothuri, who wrote this article, is a skin care enthusiast with a continuous zeal for finding products that best suit your skin needs. She researched many products and read online reviews from trusted platforms to compile this list of the best lotions for psoriasis. She picked these products based on the ingredients and their visible results. They are long-lasting and a perfect fit for daily use.
Frequently Asked Questions
Do moisturizing lotions help in treating psoriasis?
Hydrating lotions, gels, and creams are often used to fight symptoms of psoriasis. The primary signs of psoriasis are itching and dehydrated skin and the moisturizers can help nourish your skin. However, if you are looking to treat or reduce the symptoms of psoriasis, it is recommended that you choose moisturizers that are specifically designed for this. It will usually consist of ingredients like salicylic acid, coal tar, etc. that are proven to provide the best results.
How long does it take for psoriasis to clear up?
Psoriasis is a skin condition that can last anywhere from months to years, and in some cases, it may be chronic. Psoriasis can also recur. There are several triggers such as stress, climatic changes, infections, medications, etc. that can cause psoriasis to return. If you have psoriasis or if your psoriasis has cleared up, you should keep using the gels and lotions that prevent psoriasis from recurring.
Can lotions make psoriasis worse?
Yes. If your lotion contains alcohol, it can dry out the skin even more and worsen the condition.
Can you use eczema lotion on psoriasis?
Yes, eczema lotions can help combat psoriasis flare-ups by keeping the skin hydrated.
How often should you use lotions for psoriasis?
Use psoriasis lotions twice daily for the best results.
How quickly does psoriasis lotion work?
You can see noticeable changes in 1-2 months of regular use of a psoriasis lotion.
What lotions to avoid with psoriasis?
Avoid using antiperspirant soaps, lotions with alcohol, and glycolic, salicylic, and lactic acids. These products can irritate your delicate skin and aggravate the condition.
Recommended Articles: