The 11 Best Lounge Bras That You Will Want To Live In Forever!
Soft, comfortable, and sturdy bras that keep you cool and dry & offer support and full coverage.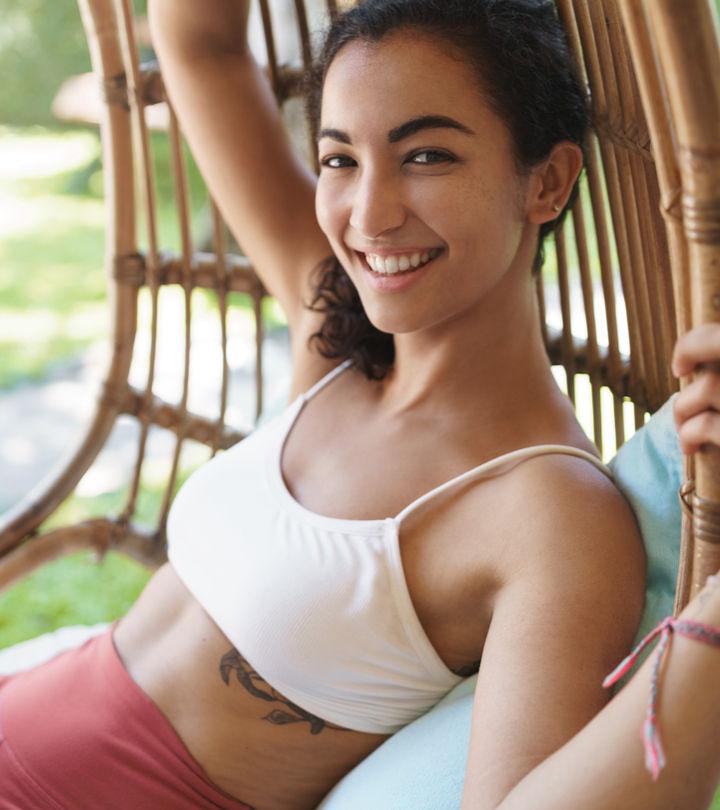 Wearing a bra all day is no one's favorite thing to do. But wearing the best lounge bra, you can stay comfortable throughout the day without feeling sweaty, itchy, tight, and pesky. While everyday bras give you an urge to run home and unhook from time to time, these attractive lounge bras are designed for loungewear comfort all day long, no matter where you are. You can wear them for long hours without having pinch marks and digging sensations.
If they sound boring to you, well, you are in for a surprise. These lounge bra recommendations are available in lacy forms, peppy colors, and sports styles. So, basically, for every mood, you have a lounge bra to back you up to enjoy a breezy time. Now move away from the dread of wearing wired, prickly bras and embrace the comfortable era of soft and sturdy lounge bras. Scroll down to discover the 11 best lounge bras with amazing reviews that you would never want to take off.
Here Are The Best Lounge Bras For Comfy Times In 2023
This cotton lounge bra from a widely trusted brand comes in a range of pretty colors to brighten your lounging times. Designed with 2 plies (cotton and lycra), it gives you enough support and coverage to feel tucked in without that irksome feeling of being constricted. This lounge bra comes in various colors and a strappy cotton design that looks sporty yet sensual – a great buy for active women on the go. Whether you're chasing fitness goals or simply searching for a cozy alternative to conventional bras, this pack of 3 cotton lounge bras helps boost your body confidence and supports you all day long.
Pros
 Available in a variety of colors
 Made of comfy cotton
 Comes with one set of pads
Cons
Searching for the perfect lounge sports bra? Lemedy is the answer. This bestselling stylish athletic bra is not only designed for everyday lazy times but has you covered for gym, yoga or any type of fitness session. This stylish lounge bra is made with a lightweight, powerful moisture-wicking material (87% nylon and 13% spandex), this lounge sports bra is highly elastic, breathable, and oh-so-comfortable. The longline design gives it a more risqué crop top appearance, and since the pads are conveniently removable, you can increase the coverage and wear it as a tank top too!
Pros
 True to size
 Range of colors available
 High quality elastic band
 Full coverage lounge bra
Cons
 May give some side boob spillage
A plus-sized girl can't feel any more supported than with the full support lounge bra from Just My Size. Made with 95% nylon and 5% Spandex, the lounge bra is supremely elastic— stretching four ways for a fancy, flexible bra fitting. This lounge bra brand is also extremely efficient at wicking away moisture, so you don't have to deal with unsightly pit stains, and can remain cool and dry all day long. The fuller back and wide, cushioned straps provide a gentle yet complete smoothing, whilst the thick bottom band is designed to prevent that tiresome rolling up and digging in we constantly fight in traditional bras.
Pros
 No wires
 No seams
 No foam padding
Cons
Sporty, stretchy, and super soft, this supportive lounge bra from Dragon Fit is comfortable and athletics-friendly. Designed with not single but double straps, it gives your girls medium support and keeps you in style whether you're lunging or lounging. The plunge lounge bra design has an alluring V-neck front while the wide U-back gives you extra support and keeps you cool. Bonus? These lounge bras feature a range of stunning pastel and bold colors as well as gorgeous prints like tie dye, camo, denim, and graffiti – Dragon Fit has you covered for every mood! As per reviews, these are quite suitable for summer days or for intense workout sessions.
Pros
 Medium support
 Good for low to high impact activity
 Fashionable racerback bralette design
Cons
 Crop top style may not be for everybody
If you're looking for a comfy but sensual time, it doesn't get any hotter than with a lounge bralette. And the Adella Bralette from Free People is the perfect kind of lace lounge bra. Made with seductive guipure lace detailing, this sheer design is one to set hearts racing whilst keeping you very, very cool. This lounge bra for women has a bralette shell that is built with 60% cotton and 40% nylon, providing a good mix of breathable comfort and stretchy support. Meanwhile, the delicate double shoulder straps along with the cut-out floral motifs make for a delightfully daring look. making it fit to join your bridal lingerie collection. Hello, femme fatale!
Pros
 Lacy sheer design
 Pull on closure
 Range of bold colors
Cons
These lounge bras are perfect for a lazy yet luscious look. The fabric is a good mix of nylon, polyester, and spandex, which makes for a stretchy but supportive fit, be it low to high impact activities. The lounge bra fashion comes with a scoop neck design uses sensual fabrics and the knitted weave design gives a rustic lounge vibe. Made without any wires, this lounge bra is all soft, seamless comfort. This one is perfect if you are into luxury undergarments and, of course, the iconic Hilfiger logo along with the color block styles are timelessly chic.
Pros
 Pull on closure
 Machine washable
 Super comfortable yet stylish
Cons
Fit tends to run loose, need to size down
Are you tired of reaching at the back to clasp your bra every day and simply aren't a fan of pull on bras? If so, we've got the perfect solution for you! Meet the Front Closure Lounge Bra by Rolewpy— a seamless silky fabric that is light and breathable, but most importantly – clasps in the front to make your life oh-so-much easier. This is a lounge bra for everyday wear, and it has a clasp and a set of 3 hooks for a secure, complete closure, and is designed to give your chest enough support that you avoid the dreaded disaster of a uniboob. Made with 90% nylon and 10% Spandex, the fit has good stretch and comes in shades of nude and black to complement your everyday wear clothes.
Pros
 Full coverage lounge bra
 Front clasp system
 Makes you look slimmer
Cons
 Comes in only 2 neutral shades
If you're searching for a wireless, everyday lounge bra that is stylish and supportive, then this Tommy Hilfiger logo lounge bralette is for you. Designed with the iconic red, navy blue and white color block style of Hilfiger (and, of course, the timeless logo), this bra provides the ultimate loungewear comfort and is a treat to the eyes. It's lightly lined and possesses no wire, so you no longer have to put up with that awful digging and stabbing sensation in your ribs.
Pros
 Adjustable shoulder straps
 Iconic logo
 Machine washable
Cons
This lightweight, soft bra by Eleplus is the perfect lounge bra for home and taking a cozy nap. The longline design with camisole inspiration is chic enough to wear alone when you're off running errands or attending weekend yoga classes. Its wireless design ensures optimal comfort and the option of removable pads provides extra support and convenience. This comfortable bra has a U-back design and V-shaped neckline are sensual and suitable to wear beneath shirts or dresses with plunging necklines. Reviewers have discovered that it also functions exceptionally well as a sports bra.
Pros
 Pull-on closure
 Range of assorted colors
 Convertible straps
Cons
 Not recommended for camisole anti-fans
A full-coverage lounge bra made for comfort and convenience, this piece from Vince Camuto is all sleek style! Made of 90% nylon and 10% spandex, the lounge bra material is highly elastic and soft so as not to punish the delicate skin of your chest. The pullover style allows you to slip in and out easily, and the wireless design ensures your ribs can take a sigh of relief. Another bonus is the heat sealing of the Vince Camuto's label in gold on the under belt of the lounge bra. This ensures you don't have to put up with pesky tags that play peek-a-boo between your breasts.
Pros
 Machine washable
 Pull-on closure and full-coverage bra
 Range of attractive patterns and colors
Cons
 Removable cups are made of foam
This seamless lounge bra is the softest cradle for your breasts. Made with 95% nylon and 5% elastane, the fit is silky smooth and velvety to touch. Mae's V-shaped neckline is flattering to all sizes and body shapes, and the thick under-band gives your bust some (always welcomed) extra support. Additionally, the pullover style is very convenient, especially for those who aren't a fan of struggling with hooked clasps. Coming in a range of beautiful neutral shades like Mocha, Bright White, and Shifting Sand, they make the perfect undergarments for everyday shirts. Reviewers have found that the product is particularly well-suited for people with small bust sizes. We're particularly fans of their gorgeous Black lounge bra!
Pros
 Padded adjustable straps
 Seamless bra
 Machine washable
Cons
With our pick of the best lounge bras trends that the internet has to offer this 2023, work from home just got a whole lot more comfortable, and stylish to boot! But before you free yourself from the constraints of the conventional bra, take a quick peek at some of our lounge bra-buying guide tips.
A Lazy Girl's Buying Guide To The Best Lounge Bra!
Before purchasing a lounge bra and parting with your hard-earned money, consider the following points:
1. The Function Of The Lounge Bra
The lounge bra is typically used for…. well, the spoiler is in the name— lounging. Whilst a lot of designs do accommodate the support your breasts will need during higher impact activity, the most comfortable lounge bra is one that you'll ideally like to toss on after a long, harried day at work. Or on a lazy Sunday. Or even while running small errands. Do you sense the common theme? Lounge bras are designed primarily for comfort. And if you have high-intensity activities to perform, you may have to compromise on the non-constricting promise of the lounge bra.
2. Lounge Bra Or Bralette?
A lounge bra tends to possess lightly padded or lined cups and is more likely to have separated cups, unlike a bralette. Whilst most of the lounge bras that saturate the market tend to be wire-free, you may always find the odd lounge bra, occasionally, that is equipped with the underwire technology to provide extra support. They also tend to come in less fancy, and more simplistic designs as lounge bras need to remain faithful to their purpose of simply lounging at home. However, their more sensual sisters— bralettes, never possess a wire and are typically meant for outings; ergo, they come with more ornate detailing, luxury lace detailing and eye-catching straps. If you're opting for pure comfort, a lounge bra is your best bet. But if you're looking for a less constricting (yet embellished) alternative to the traditional bra, which will likely be seen – the bralette is your girl.
3. Which Is The Right Lounge Bra For Me?
If you have smaller breasts, you may find that unlined and wire-free bras seem to work just fine. However, if you happen to possess a fuller bust, you may want to choose a lounge bra with some extra support features like wire, lining, wider banding or double straps, etc. To get that flawless fit, you also need to assess adjustability. A one-size-fits-all pull on lounge bra may not give you all the coverage or enough push and support that you need. In such a case, look for adjustable straps or replaceable cups and read the lounge bra reviews before making a selection.
Why Trust StyleCraze?
Srijani Roy Chowdhury is a fashion enthusiast and has curated this list of the best lounge bras to provide you with the utmost comfort. These bras have been carefully chosen after considering your comfort and their quality and referring to several online reviews and product listings. We have also included a buying guide and the pros and cons of each product to help you choose the right bra.
Frequently Asked Questions
Are loungewear bras good?
Lounge bras are the perfect compromise for those struggling between wearing a traditional bra and not wearing one at all. These unique undergarments give your breasts just enough support without the constraints and pinching discomfort of a regular bra.
Are Lounge bras supportive?
Most lounge bras come with sufficient support. But if you seek more or have a fuller bust, opt for an underwire bra.
Can I wear them during pregnancy?
During pregnancy or even post-surgery, breasts can often become sore or tender. A lounge bra for breastfeeding is a more comfortable alternative to conventional bras in such times. But always consult your physician first.
alternative to conventional bras in such times. But always consult your physician first.
How do you know if a bra fits well?
In order to determine whether your bra fits you properly, keep an eye out for the following things.
• The entire breast should be covered by the bra cup.
• The bra should not let the breasts hang out.
• The breasts should not feel like they are being forced toward your armpits.
• There should not be much room within the cup.
How often should bras be replaced?
Good quality bras can last you a very long time. However, since you wear and wash bras every day, replace them within 6-8 months.
Is it ok to wear a bra while sleeping?
No. Since you wear a lounge bra all day, it is recommended to remove them while sleeping, or you may feel itchy, sweaty, and tight.
Is a lounge bra machine washable?
Yes, most lounge bras are machine-washable. However, it is a good idea to read the instructions on the tag before washing your bra.
Recommended Articles