30 Heartfelt Love Poems For Your Husband To Keep The Spark Alive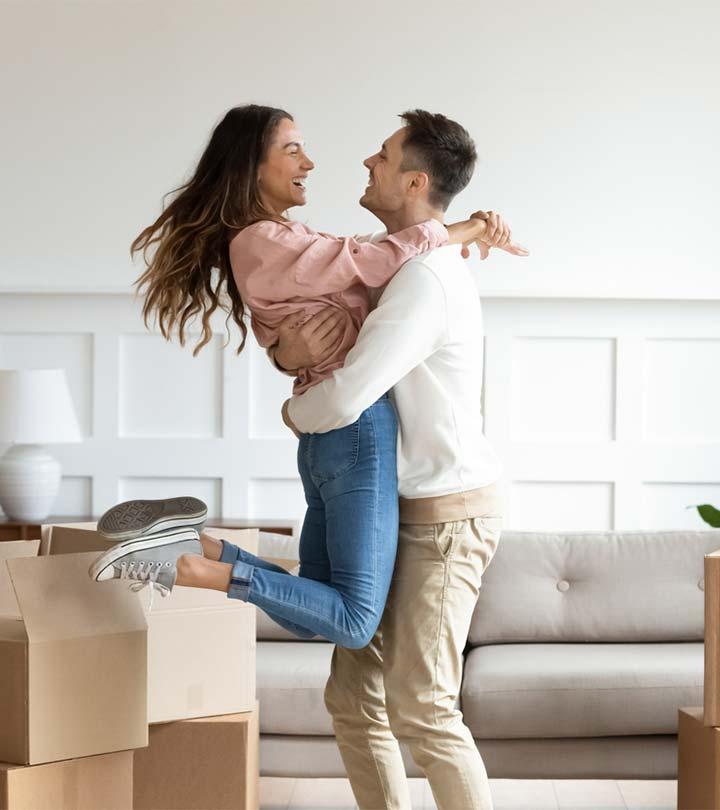 Love has no season, and you don't need a special day to shower your love on your husband. However, it might be challenging to express affection or put your feelings in words. Worry not! We have got you covered. If you are falling short of expressions and apt words, check out our list of heartfelt poems for your husband. Pick your favorite verses to make your husband feel loved, appreciated, and cared for. Take a look!
I Love You Poems For Your Husband
1. You Are My Everything – Jetem Westbrook
"When you were my friend
You were amazing
When you were my boyfriend
You were outstanding
When you were my fiancé
You were commendable
As my husband now
You are incredible
You have been the perfect lover
At every juncture of life
Of such a loving husband
I am a proud wife
I love you."
2. Light To My Soul – Anonymous
You gave light to my soul
You helped me to be whole
I have felt love for you before
And it will be more and more,
You are mine, my dear
You are the angel from above
Who taught me how to love.
Please, forever keep me near.
3. SunShine – Donna Donathan
You brought me sunshine
when I only saw rain.
You brought me laughter
when I only felt pain.
Romantics at heart?
Love at first sight?
Have I known you before?
God! This feels so right!
Have I met you before?
Another time, another place?
If it's only one night,
will it bring us disgrace?
What are these feelings?
Must they be temporary?
Just to make you happy
seems so necessary.
I want you to know,
'cause I'll never forget –
knowing your smile,
your kisses and yet…
Dreams are something,
that can't always come true,
nothing more we can say,
nothing more we can do.
4. I Will Wait For You Forever – Diana J. Briones
"The days are cold, the nights are long,
but my love for you stays strong.
I hold you in my heart
and have you on my mind.
I'll wait for you; however long,
my love for you is blind.
You are my lover and my friend,
you are my everything.
I shall remain here waiting,
even if for eternity."
5. For My Husband – Lisa
You are my first thought in the morning
My last thought at night
For you, I have always been longing
You bring me so much delight
You have changed my life so much
You have a special kiss
And a special touch
Forever we will be like this
We met over 8 years ago
A brilliant 8 years it has been
Oh…where does the time go
There was such a big space in between
But we came through it
Although it always seemed mean
It was well worth it
Being able to get a cuddle from you
Makes me so happy and feel wanted
Everything you do
Some I may take for granted
But nothing can be stronger than my love for you
What we have is bliss
Even though we have ups and downs
Nothing can come between this
We have our smiles and our frowns
But when we kiss and cuddle
All the frowns seem to drown.
6. Apple Of My Eye – Anonymous
"The apple of my eye
The gem of my heart
Nothing in the world
Can ever keep us apart
The feather in my cap
The reason for my heartbeat
My dear husband
You make my life complete
I love you."
7. Guitar Poem – Mary Helen McNally
Strumming melodies, again and again
Mellow rhythm overcomes confusion
And solidifies my heart on solid ground
Familiar tones of the old guitar
Coming from a nearby armchair
Home is where he is
And he is always with me
Vibrations echo in my chest
Guiding my heartbeat
With every flick of his fingers
The next section is a collection of heart-melting, romantic poems for husband. Send them to your significant other and express all that you have in your heart. Let him know that you feel lucky to have a caring and loving husband.
Romantic Love Poems For Your Husband
8. To My Loving And Caring Husband – Anne Bradstreet
"If ever two were one, then surely we.
If ever man were loved by wife, then thee.
If ever wife was happy in a man,
Compare with me, ye women, if you can.
I prize thy love more than whole mines of gold,
Or all the riches that the East doth hold.
My love is such that rivers cannot quench,
Nor ought but love from thee give recompense.
Thy love is such I can no way repay;
The heavens reward thee manifold, I pray.
Then while we live, in love let's so persevere,
That when we live no more, we may live ever."
9. My Amazing Man – Anonymous
"Sharing my fantasies and fears
My happiness and my tears
Sharing gossip and fun
And all the things that I have done
Sharing my troubles and delights
Even after all our fights
Sharing thoughts about my roadblocks
Over our lengthy talks
Leaves me without a single worry
Only because I have a wonderful hubby
I love you."
10. The love of my life – Anonymous
"You're my best friend and my lover
I know this to be true
For I wake every morning
Thinking solely of you
Your tender touch and gentle kiss
A feeling no words can describe
Something I yearn for
When you're at my side
A beauty that radiates
From both inside and out
A heaven-sent gift
No question about
A passion that penetrates
As deep as a knife
I'm happy I found you
The love of my life."
11. Wish – Christina Rossetti
I wish I could remember that first day,
First hour, first moment of your meeting me,
If bright or dim the season, it might be
Summer or Winter for aught I can say;
So unrecorded did it slip away,
So blind was I to see and to foresee,
So dull to mark the budding of my tree
That would not blossom yet for many a May …
12. Love – Sean Short
I promise to Love you through the good times and bad
I'll Love you when I'm angry, hurt and mad
Love is a choice I've made to devote my life
To making you, my world, my wife
Nothing will ever change that choice that I've made
Even when we feel our Love start to fade
It's inside my soul, and nothing can shake
My Love for you, that's a promise I won't break.
13. If Only You Knew – Rahik Thamir
"In the darkness of the night, there is only me and you,
We are woven together in our very own cocoon.
I feel your heartbeat against my chest,
I hold you tight as we both rest.
I start to drift off to sleep,
And think of how I turned complete.
I am only complete when you are near,
To lose you someday is my biggest fear.
It takes two halves to make a whole,
My heart and yours, we make one soul."
14. When You Come – Maya Angelou
When you come to me, unbidden,
Beckoning me
To long-ago rooms,
Where memories lie.
Offering me, as to a child, an attic,
Gatherings of days too few.
Baubles of stolen kisses.
Trinkets of borrowed loves.
Trunks of secret words,
I CRY.
15. Love Is Patient – Haileigh B. Johnston
You tell me every day
How much I mean to you.
Now it's time for me to say
What I know is absolutely true.
I know how much you love me
And just how much you care.
You don't always have to say it
Because you do just by being there.
I know you really worry
Every time my mood seems to change.
I want you and only you,
No matter how often I act strange.
I may not have life figured out,
But trust me, that's okay.
Because with you, no matter what,
I have the strength to make it through each day.
You love me on my bad days
More than you do the good ones.
You love me more when you've had enough
And think that you should run.
You always know when to hold me down
But never hold me back.
I know I fail at tasks a lot,
But you always pick up the slack.
Don't ever doubt yourself
On if what you're doing is right.
Just know that I am so thankful
To have a man like you in my life.
I know I'm not always the best
When it comes to getting things done,
But that is why I have you
And how I know you are the one.
16. My Blessings In Life – Jessica L. Newsome
Every morning I wake up and see
The most handsome man lying next to me.
He's the one I cherish and love,
A blessing sent from Heaven above.
I will love him as a faithful wife should
And do everything for him I could.
I would let him know every day
That I love him more than words can say.
For the two children we have together
And the love for God in each other,
It will keep our love for each other strong,
And the Lord will guide us away from all wrong.
17. For My Husband – Susan Loughlin
"Loving you has no end and no beginning
Loving you is everything
It is infinite in time
And limitless in magnitude
Beyond even my own comprehension
Your love brings me home
Enfolds me and warms me
In its eternal embrace
Endless and palpable
Beyond all life's storms
A connection like no other
Twenty years long
But timeless in our hearts
Deep and true
Till' death us do part."
Get inspired with these short verses and appreciate your husband for who they are. Borrow an apt love poem and show him some affection. You can write it on a card, send a text, or read it over a dinner date.
Short Love Poems For Your Husband
18. Love Comes Quietly – Robert Creeley
"Love comes quietly,
finally, drops
about me, on me,
in the old ways.
What did I know
thinking myself
able to go
alone all the way."
19. Close Your Eyes – Elizabeth Smith
"Close your eyes and think of me
Close your eyes and try to see
Our hearts together and what could be
Our love forever as destiny."
20. For Him – Rupi Kaur
"no,
it won't
be love at
first sight when
we meet it'll be love
at first remembrance
'cause i've recognized you
in my mother's eyes when she tells me,
marry the type of man you'd want to raise your son to be like."
21. It's All I Have To – Emily Dickenson
It's all I have to bring today—
This, and my heart beside—
This, and my heart, and all the fields—
And all the meadows wide—
Be sure you count—should I forget
Some one the sum could tell—
This, and my heart, and all the Bees
Which in the Clover dwell.
22. Jealous – Anonymous
I'm jealous of the morning sun
That gets to be the first to see you
Or the coffee cup
Who gets to kiss your sleepy lips awake
23. Love In Your Eyes – William Butler Yeats
Wine comes in at the mouth
And love comes in at the eye;
That's all we shall know for truth
Before we grow old and die.
I lift the glass to my mouth,
I look at you, and I sigh.
24. Love – John P. Reid
L is for 'laughter' we had along the way.
O is for 'optimism' you gave me every day.
V is for 'value' of being my best friend.
E is for 'eternity,' a love that has no end.
25. If Ever – R.M. Broderick Poetry
If ever we shall perish
and become but specks
of dust, I hope the wind
carries us away to that
place you've always loved.
Check out our next section for some funny, witty love poems. Express your emotions, gratitude, and feelings to your husband with sweet words. Write your poem on a card, slip it into your man's pocket, and watch him laugh out with love.
Funny Love Poems For Your Husband
26. Stuck On You – Kenneth J. Miller
You're sucrose, you're glucose,
You're fructose and more,
From your head to your feet…
Which are stuck to the floor.
You're Hershey's, you're Snickers,
You're sweet English Toffee.
If you spit in my cup,
You'll just sweeten my coffee.
I love you so much
That I'm getting frenetic,
But I can't even kiss you,
'cause I'm diabetic.
27. You Are The Best – Anonymous
How did you get to be such an amazing man?
Never have I seen someone who can do all you can.
I look at you and gasp in awe,
You are the best that I ever saw.
You are the perfect man for any woman,
You're just so good at making me grin.
Everything you do is so perfect for me,
You are precisely my cup of tea.
Now I suppose I should give credit where credit is due,
And remind myself that I did a great job re-training you!
28. I Tried – Anonymous
I tried to write funny love poems for you,
I attempted as well some cute and silly ones too.
But it seems I haven't yet learned how to rhyme,
So, I beg of you honey, please give me some time.
One of these days I will figure it out,
Until then I hope that you will not pout.
Trust me, my man, you really do inspire me,
I'm just not good with words, as you can plainly see.
It's not that easy to come up with love poems, you know,
So for now I'll just find another way for my love to show.
29. You Are – Anonymous
My love, you are the yin to my yang,
You're the ice to my cream,
You are the pop to my corn,
You're the day to my dream.
You are the honey to my bee,
You're the sugar to my spice,
You are the sweet to my heart,
You're the white to my rice.
Oh shoot, I'm so sorry!
I forgot you switched to a brown rice, low-carb, sugar-free diet!
30. You Are So Perfect – Anonymous
I love you so much, you're so perfect to me,
You're gorgeous and smart, you make me happy.
Your talent amazes me, you're so good at all things,
You're better than anyone at plucking my heart strings,
And now that you know and you're in a great mood,
Please do me a favor and make me some food!
That was our list of sweet and romantic love poems for your husband. Write some poems on a greeting card or read them out during a candlelight dinner to reignite the spark in your marriage. Express your love and care for him in poetic words and be the reason for that smile on your husband's face.
Recommended Articles
The following two tabs change content below.