35 Best Love Tattoo Designs That Showcase Your Love
Some creative takes on your regular heart tattoos that will surely impress anyone.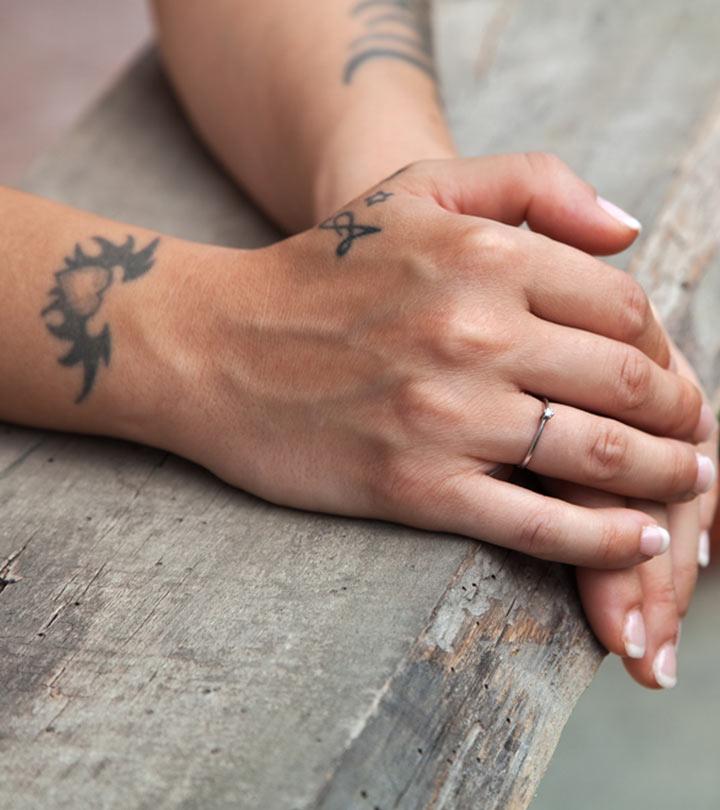 If you have immense love for someone, but do not know how to be vocal about it, look for love tattoo designs. Your love can be conveyed in various ways, but tattooing is a cut above the usual ways of expression.
Love tattoos can wonderfully portray emotions like desire, faith, belief, trust, devotion, friendship, and motivation. Remember, these tattoos need not be for your life partner or lover alone; you can dedicate them to your family, friends, and even your idol. In this article, we have come up with 35 cute tattoo ideas to showcase your love for someone. Remember that in tattoo culture the emphasis is on self-expression so pick the one that resonates with your style and personality. Keep scrolling to check them out.
35 Best Love Tattoo Designs With Meanings
1. Faith Love Tattoo
Faith tattoos portray the trust in the bond you share with your special one. This type of love tattoo on the hand consists of a cross (faith), a heartbeat (hope), and a heart (love). The design is gender-neutral, and you can get it done as a couple tattoo to spice up your love life. You can get this done on your wrist, shoulder, forearm, or back.
2. Love Infinity Tattoo
Infinity loop tattoos are meant to tie your love forever and never let it fade away. The heart is encircled with an infinity loop, and the black border around the lines makes the tattoo look appealing. You can get this tattoo inked on your wrist.
3. Heart Name Tattoo
Inking a name inside a heart symbolizes your love for the person. This tattoo is done in red and yellow with delicate frills that lend it a feminine touch. You can sport in on your shoulder, back, or bicep.
4. Family Love Tattoo
If you are a family person, this beautiful colored scenery tattoo with a heart border is the perfect design to remind you of the people who mean the world to you. You can get the background of a place you enjoyed the most with the silhouette of your family members on your forearm.
5. Dog Love Tattoo
A dog symbolizes unconditional love and unwavering loyalty. If you are a pet or dog lover, you can get this cute dog and girl tattoo on your upper arm. The simple design and color choice help show your sweet and loving personality.
6. Devil Heart Tattoo
This miniature heart tattoo with little horns looks super cute. You can opt for this design if you are a first-timer. You can get it done on your shoulder and flaunt it in off-shoulder and deep-neck tops and dresses.
7. Burning Heart Tattoo
What could be a better way to show what a person means to you than this tattoo that depicts that they set your heart on fire? If you have a special someone who makes your heart beat like crazy, opt for this tattoo design of a black heart with blazing fire. You can get it done on your bicep, shoulder, back, or wrist.
The Sacred Heart tattoo is a variation of this theme. Although it's based on a heart with flames, the Sacred Heart also typically includes thorns or a crown, and a cross. In this type of flaming heart tattoo, the wearer is showcasing Jesus' love for humanity.
8. Heartbeat Love Tattoo
This tattoo of a heart and heartbeat signifies that the person is your lifeline – they not only have the most important place in your life but are also your reason to live. You can get this done on your forearm and surprise your partner with this declaration of love.
9. Jewel Heart Tattoo
If you are a fan of realistic tattoos, consider getting this jewel heart tattoo done. It shows your special someone that they are precious to you. The intricate design and colors used make this tattoo a masterpiece. You can get it done on the thigh, shin, or bicep.
10. Miniature Finger Heart
If you are not a fan of big designs and want to keep it subtle, or you have a low pain threshold, you can get a miniature heart done on your finger.
11. LGBT Love Tattoo
If you want to stand in support of acceptance and gender neutrality, this rainbow heart with a pixel border is the perfect design for you. You can get it done on your wrist. This tattoo is suitable for lighter skin tones like ivory and beige.
12. Love Waist Tattoo
The waist is an interesting place to get a tattoo. You can choose to cover it or flaunt it, depending on the occasion and choice of outfit. This tattoo includes a quote that says, 'It's ok, it's ok.' The 'o' is replaced with a heart symbol. It serves as a reminder that everything will be alright and motivates you to keep going on.
13. Love Tattoo On The Upper Arm
If you are unsure about getting a detailed design but still want a tattoo, you can get this simple heart outline done on your upper arm.
14. Fingerprint Love Tattoo
This fingerprint tattoo is unique and personalized. You can help your tattoo artist study the fingerprint of your special person and design it in the form of a heart on your side rib. The location of the tattoo makes it intimate and special for both of you.
15. Floral Love Tattoo
Flowers are the best way to add a feminine touch to ordinary tattoos. This wreath heart formed with tiny grass flowers is a simple yet appealing tattoo design. The light shade of the grass blades and the white petals make the design look attractive and graceful. You can get it done on your forearm in remembrance of someone you loved.
16. Animal Love Tattoo
If you are an animal lover, this paw and flower heart tattoo is sure to grab your attention. The tender pink shade of the flowers is in contrast with the tiny paw marks in black. You can get this tattoo on your wrist or shoulder.
17. Love Peace Design
This tiny tattoo is formed by combining the world peace sign with a heart and stands for negotiating peace and spreading love. This tiny piece of tattoo art looks perfect on every skin tone and can be done on your finger, wrist, or forearm.
18. Love Quote Tattoo
This tattoo says, "Love me for who I am." At the end of the day, all we want is acceptance, and this tattoo embodies that need beautifully. The butterflies around the quote enhance the cuteness quotient of the tattoo.
19. King And Queen Tattoo
If you have found your special someone and want a tattoo that matches his, get these king and queen crown tattoos. You can get these matching tattoos done on your wrists.


StyleCraze Trivia
Typically, crowns represent mutual respect, authority, and understanding. These are ideal for partners who share great camaraderie.
20. Dotted Love Tattoo
Dotted designs look unique and classy. This dotted heart on the back of the neck falls in perfect symmetry with the spine. If you want to make the design more personalized, you can add the initials of your special person inside the heart.
21. Heart Neck Tattoo
This intricate tattoo design of a heart surrounded by flowers looks uber cool and chic. The colors lend allure and charm to the tattoo.
22. Love Shoulder Tattoo
This tattoo shows printed hearts flying from a pair of hands. It depicts the strength of love and affection in bringing about a change in the world. The light shade work makes the tattoo ideal for all skin tones.
23. Heart Ankle Tattoo
You and your friends can get this cute tattoo done on your ankles to symbolize your undying love for each other. Wear a pair of sandals or flip-flops and/or colorful anklets to make the tattoo stand out.
24. Rose Love Tattoo
Roses symbolize beauty and grace. This simple lined rose love tattoo can serve as a reminder of the happy times you have had with your significant other. A sensational red rose is the most iconic subject in the tattoo trends of all time.
25. Anchored Love Tattoo
The anchor stands for stability. Teaming it up with a little heart adds permanency to your love life. You can get this delicate design done on the back of your neck. Make sure to tie your hair up in a bun if you want to flaunt the tattoo. Your tattoo symbolism can make the highly meaningful for you despite the tattoo being minimalistic.
26. Disney Love Tattoo
You can also turn to your favorite cartoon and characters for your tattoo inspiration. If you are a true-blue Disney fan, this tattoo design will delight you. These cute birds holding out a pink ribbon that forms a heart bow look super cute. The vibrant colors make this tattoo quite eye-catching.
27. Jesus Love Tattoo
Shout out to all Christ lovers who want to spread the love! This tattoo of a three-dimensional cross with a red heart in the middle looks adorable. You can get it done on your bicep or forearm.
28. Zelda Heart Tattoo
Videogames have always been an inspiring source of design for tattoo artists. The lifelines of the players in a game are denoted by pixelated hearts. This Zelda tattoo with three hearts shows the three stages of life. If you want a meaningful tattoo but prefer to keep the design small and cute, get this tattoo done on your calf or forearm.
29. Knife Through The Heart Tattoo
Love can withstand the wrath of all pain and suffering that feel like piercing spears and knives. This dramatic design shows a red heart pierced with a sword and arrow and bearing a ribbon that says, "True forever love." It is perfect to be etched on your foot.
30. Believe Tattoo
Loving yourself is the first step before loving someone else. Believing in yourself is crucial for self-motivation. This word tattoo with 'Believe' written in a delicate font covering the wrist looks elegant. Teaming it up with a small crown lends it a  feminine touch.


StyleCraze Trivia
It symbolizes a deep love for oneself and others. This simple tattoo looks fantastic on any body part and you can get it in any size and font.
31. Couple Love Tattoos
If you have found your special someone, we have the perfect couple tattoo idea for you. Get your wedding date or the date you both met inked. The heartbeat is complete only when both partners join their hands. This symbolizes that it takes two to tango, and both of you are equally invested in the relationship.
32. Sibling Love tattoo
This adorable sketch of elder and younger siblings sitting side by side will bring back lovely childhood memories not only for you but also for others who look at your tattoo. You can get it done on the back of your neck.
33. Love Heart Lock And Key Tattoo
This tattoo of a heart lock and key symbolizes that all the answers you are seeking are within you. All you need is some introspection to open up your heart to the possibilities that life offers. The deep shade and dark color of the lock make it look realistic and beautiful. You can get it done on your shoulder or back.
34. Music Love Tattoo
The love for music transcends all boundaries. This unique design of a blue inverted treble clef and a pink bass clef forming a heart is apt if you are a music lover. You can get it done on the back of your neck, shoulder, or wrist.
35. Abstract Love Tattoo
This heart design is simple yet eye-catching. The multi-layered border forming a heart in crayon texture is unique. The small size makes it suitable for your upper arm.
Infographic: Most Amazing Love Tattoos To Showcase Your Love
Tattoos have emerged as an endearing way of showing your special people and the world how much you love them. Meaningful tattoos are even considered a heartwarming present you can give yourself and others.
Check out the infographic below to draw inspiration to get inked by some of the best love tattoos.


Love tattoos are one of the best ways to express your love for your beloved. Most of these tattoos are small and dainty, and you can get them on your wrist, forearm, or shoulder. Consider the colors and intricate designs before you get your tattoo. Tattoo meanings can differ from person to person, so if you are getting a love tattoo for your partner, make sure that it makes sense for them too. Also, when planning to do body art it will be a good idea to get them done by a seasonal artist who maintains good hygiene. In addition, you should take proper care before and after getting the tattoo. So, wait no more. Choose the tattoo design that resonates with you and your personality, and get inked!
Frequently Asked Questions
Can love tattoos be designed in various styles, such as minimalist, traditional, or abstract?
Yes. For the minimalist design, a miniature finger tattoo, devil heart tattoo, or a simple heart outline is the best. For traditional tattoo, one can choose faith-love tattoo, king and queen tattoo, rose-love tattoo or Jesus-love tattoo. For abstract tattoos, one can choose anchor love tattoo, dotted love tattoo, animal love tattoo or fingerprint love tattoo are ideal.
How do people choose the design and placement of their love tattoos?
Tattoo changes the overall look so choose the design that suits your personality the most or the one that describes your innermost feelings. For your tattoo placement, try to decide by taking a print of the tattoo and placing it in various places of the body or where it will hurt the least.
How do couples often choose to express their love through tattoos?
Couples generally sit together and ponder on the kind of tattoo they want like matching tattoos or king and queen tattoos, or name tattoos.
What are the pros and cons of getting a love tattoo? What should someone consider before getting one?
To list pros, I would say getting inked together is a very symbolic and significant step in a relationship. Getting inked together shows commitment. Some undefinable feelings are expressed through ink art.
To list cons, there are still some arenas in the professional sector that do not encourage tattoos. These are permanent so unthoughtful decisions might be risky. Relationships may change any day.
How have love tattoo designs evolved over time and what are the latest trends in love tattoos?
Earlier the tattoos used to be bold with clean black outlines, vivid colors, and minimal shading. Now the tattoo styles that are trending are usually minimalist and abstract like faith love tattoo, love infinity tattoo, dog love tattoo, heartbeat love tattoo, LGBTQ love tattoo, miniature finger heart, and many more.
Are there any cultural differences in the way love tattoos are designed and perceived around the world?
Different religions and cultural sects have different opinions about tattoos. Hinduism and Buddhism use tattoos extensively for devotion and protection whereas Islam, Judaism, and Christianity forbid the use of tattoos.

Discover the beauty of simple love tattoo designs, mesmerizing love heart tattoo designs, and enchanting couple tattoo designs in the following video. Unleash your creative side and find inspiration for your next meaningful ink.

Key Takeaways
Love tattoos are a bold and fitting way to express your love for your significant other.
With tattoos, you and your partner can treasure your memories and relive the emotions you both feel when you are together.
Although getting a tattoo might put your pain tolerance to the test, proper care will help keep it in good condition and prevent infection.
The following two tabs change content below.