15 Best Low pH Cleansers for Clearer Skin – 2023
A skincare staple that balances, nourishes, and protects your natural skin barrier.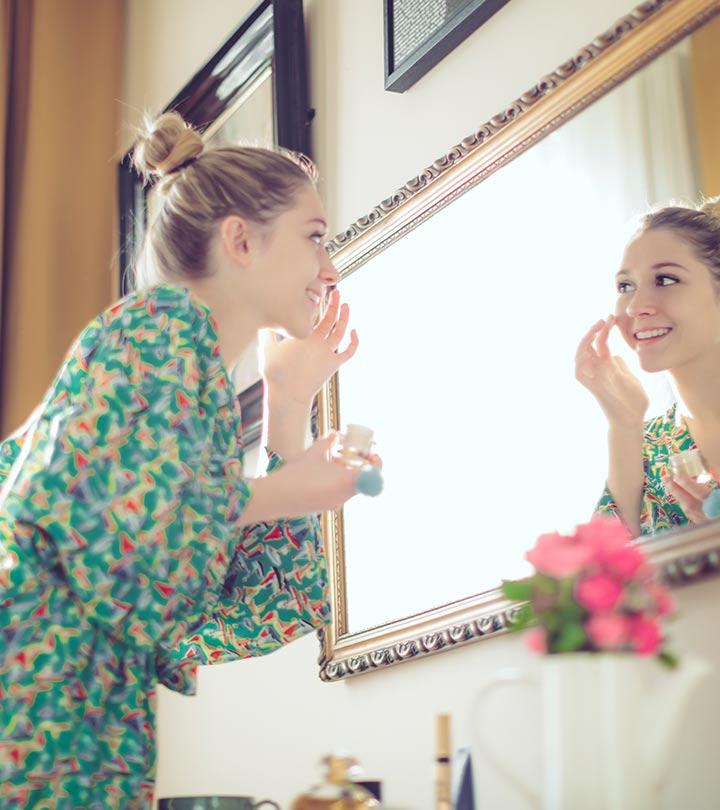 Following the right skin care routine and paying proper attention is very important because your skin is constantly exposed to dust, dirt, UV rays, and pollution. All these external aggressors make your skin lifeless and dull. If you are concerned about the health of your skin, then you need to start using the best low pH cleansers.
They help alleviate multiple skin care concerns and help you achieve your desired skin care goals without disturbing your skin's naturally acidic pH balance. These facial cleansers can change and upgrade your skin care routine to a different level. In this post, we have rounded up the best low pH cleansers that you can try. Keep reading and make your best pick now!
Why Do You Need A Low pH Cleanser?
Olunife Ofomata, a Licensed Esthetician & Makeup Artist, explains, "Healthy skin has a pH level between 4.5 and 5.75, which is considered acidic. When your skin's pH balance is at the right levels, it allows for better absorption of the topical products you apply to your face after cleanser. So picking the right cleanser sets the stage." A low pH cleanser is necessary for your skin as it helps remove excess impurities without affecting its natural balance. Additionally, cleansers with low pH are formulated to clean makeup and excess skin oil effectively. The formulation of a low pH cleanser can help reduce outbreaks and other skin issues such as skin sensitivity and dehydrated skin. So now you know the secret to achieve perfect looking and healthy skin.
Top 15 Low pH Cleansers Of 2023
[2]
10 Low pH Cleansers For Healthy & Balanced Skin. Thebeaulife. https://thebeaulife.co/beauty-guides/best-low-ph-cleansers-singapore
Pros
Maintains the natural pH balance
Suitable for all skin types
Cons
Could cause an allergic reaction on contact with hypersensitive skin
Price at the time of publication: $7.0
Pros
Perfect for oily and acne-prone skin
Eliminates excess oil without making your skin too dry
Cleanses skin gently
Cons
Heavy fragrance
If you have sensitive skin, you must do a patch test before using this cleanser
Price at the time of publication: $20.99
Pros
Removes dirt, excessive oil, and makeup from skin
Calming effect on skin
Cons
The texture of the product is similar to a lotion
Suitable only for normal to dry skin
Price at the time of publication: $14.57
Pros
Removes grime and makeup effectively
Cleansing ingredients maintain the moisture and pH levels of your skin
This facial cleanser is SLS-free
Cons
Some people might find the fragrance unpleasant.
Might irritate sensitive skin types
Price at the time of publication: $32
Pros
Effectively reduces acne
Eliminates grime and impurities from skin
Cons
Price at the time of publication: $33.59
The Makeprem Hydrating Cleansing Foam is a low-irritant and mild acid foaming cleanser with a low pH of 5.5. It gently removes pollutants and makeup and cleanses clogged pores. The formula hydrates and moisturizes the skin, leaving the skin soft and smooth. It is a fragrance-free formula that suits sensitive skin types as well.
Pros
Vegan
Cruelty-free
Gluten-free
No artificial colorants
Cons
Price at the time of publication: $26.99
Pros
Gentle
Lightweight
Non-drying
Pleasant fragrance
Has a low pH
Suitable for sensitive skin
Lathers well
Cons
Price at the time of publication: $24
Pros
Cruelty-free and eco-friendly product
Deep cleansing face wash
Suitable for both sensitive and dry skin
Cons
This herbal formulation might not suit all skin types
Price at the time of publication: $19.99
Pros
Infused with rich natural ingredients
Suits all skin types
Ideal for daily use
Fragrance-free
Sulfate-free
Paraben-free
Phthalate-free
Long-lasting hydration
Travel-friendly
Cons
Price at the time of publication: $9.49
Pros
Hydrating effect on the skin
Offers deep-cleansing
Fragrance-free, paraben-free product
Cons
Tube-based packaging might be inconvenient to use
Price at the time of publication: $17.79
Pros
Suitable for sensitive skin
Soothes and cleanses skin
Skin looks and feels healthy and nourished
Cons
Price at the time of publication: $19.99
Pros
Non-comedogenic
Improves skin tone
Vegan
Skin-friendly
Contains AHA
Suits sensitive skin
Dermatologically tested
No harmful ingredients
Lightweight texture
Cons
None
Price at the time of publication: $13.99
Pros
Deep-cleansing action without irritating skin
Formulated using natural ingredients
Cons
The applicator is not very convenient to use
Price at the time of publication: $18
Pros
Balances pH level of skin after cleansing
Mild and safe formula
Prevents acne
Cons
May have a drying effect on sensitive skin
Price at the time of publication: $16
Pros
Removes excessive oil and impurities
Specialized in pore cleansing
Imparts a soft and healthy glow to skin
Cons
Not suitable for sensitive and dry skin
Strong scent
Price at the time of publication: $6.99
To maintain the health and glow of your skin, adding the best low-pH cleansers to your skincare regime is vital. There are some essential factors that you must consider while choosing the best cleanser for your skin. For your guidance, we are providing a brief buying guide for low-pH cleansers.
Things To Consider Before Buying A Low pH Cleansers For Clearer Skin
For any skincare product including cleansers, it is very important to know your skin type for the best results. For dry skin, you must go with a cleanser that has hydration-rich ingredients such as hyaluronic acid. If you have oily skin, then go with a cleanser that is oil-free and contains oil-controlling ingredients, for example- a cleanser with clay. For, sensitive skin, you can go with mild or low pH cleanser formulated with shea butter. For acne-prone skin, then you can use non-comedogenic cleansers.
You should look for the cleanser's ingredients according to your skin type. If you have oily skin, then a cleanser that has oil-controlling ingredients such as alcohol, witch hazel, jojoba oil, and alpha hydroxy acids will be best for your skin. If you have dry and sensitive skin, then go with cleansers that include moisturizing ingredients such as glycerin or hyaluronic acid, and anti-inflammatory ingredients, such as sunflower or coconut oil.
If you are in your 30s then you should look for antioxidants including vitamins C and E as they will offer you protection by UV and help in reducing wrinkles. However, if you have dry or sensitive skin, you should take retinoids and alpha hydroxy acids with caution for anti-aging.
For oily skin, avoid cleansers that contain mineral oil, silicones, and petrolatum as they can clog your pores and make acne worse. If you have dry or sensitive skin then avoid cleansers that include alcohol, dyes, and fragrances.
You should choose a cleanser with a low pH because our skin has a slightly acidic (low pH) pH. Low pH levels are ideal for the health of our skin. The shield function is impaired if the pH rises (or becomes more alkaline), which can result in water loss, skin dryness, and the entry of harmful bacteria. Avoid using bar soap and go for a liquid cleaner with a low pH instead because bar soap is known for having a high pH.
We will now see how you can pick a low pH facial cleanser.
How To Pick A Low pH Facial Cleanser?
As we all know, a good skin care regime can go a long way in ensuring that your skin is flawless. We will now discuss how you can pick a low pH facial cleanser:
The basic step is to check whether the cleanser tube states the pH balance or not. Since low pH is healthy for the skin, brands prefer to advertise it. The shorter the ingredient list, the easier it is to choose the right cleanser with low pH. Remember not to get tempted by fancy herb names.
If you have dry skin, you must choose a cleanser that has ingredients that hydrate your skin. For instance, hyaluronic acid content can be beneficial as it has great moisturizing benefits.
If you have oily skin, you must opt for a low pH cleanser as it can remove excess oil from the skin. Picking a cleanser with clay is advisable as it is an excellent oil-controlling ingredient.
For sensitive skin, a mild or low pH cleanser is ideal. These have a protective effect on delicate skin and prevents it from harm caused by chemical irritants. A cleanser formulated with shea butter can reduce skin irritation.
Why Trust StyleCraze?
A cleanser with a low pH can help you maintain your face's natural pH. Vaishnavi Kothuri is a skilled product writer specializing in writing skin and hair care articles to guarantee that her readers receive the latest and most relevant product recommendations. She curated a list of the best low pH cleansers for clear skin after carefully examining customer feedback on numerous websites. She also included a shopping guide and answers to some common queries to assist you in selecting one of the best cleansers for your skin.
What pH should a cleanser be?
The pH of a facial cleanser should be between 4.5 and 7, as it can help maintain the good health of your skin. The pH level of your skin is between 4.5 to 5.5, so the pH of the cleanser must be within this range so as to not affect the microflora of the skin.
Does Cetaphil cleanser have low pH?
Cetaphil is pH balanced as the value of the cleanser ranges from 6.3 and 6.8. Since our skin has low pH, the use of a pH-balanced face wash for a prolonged time is not advisable.
What is the low pH Good Morning gel cleanser?
The low pH Good Morning Gel Cleanser is a mild and effective cleanser that helps remove impurities from your skin without causing any irritation. COSRX Low pH Good Morning Gel Cleanser is the perfect skin care product with great value for money.
How can you naturally balance the skin pH?
There are many ways to keep your skin pH naturally balanced. Here are some of them:
• Avoid using harsh chemicals-based skin care products.
• Use ACV that naturally regulates the pH balance of your skin.
• Do not step out into the sun without sunscreen.
• Have a balanced diet.
What pH will burn skin?
The pH value of adult skin in their faces and bodies ranges between 4.7 to 5.75. The best skincare products are made with a pH value of 5.5, although, a range of 4.5 to 7 is the most common. Any value above or below that will cause irritation to the skin. The further the pH value goes from the optimal range, the more irritation it will cause. At the extremes values of 1 and 14, your skin will suffer from severe burns.
Do you need a toner if you are using a low pH cleanser?
Yes. Toner is a part of the CTM routine; even if you use a low pH cleanser, you should also use a low pH toner. Cleansers and toners complement each other and provide the best results.
Is a low pH cleanser good for itchy, dry skin?
Yes. Low pH cleansers are suitable for dry, itchy skin as they provide an extra boost of moisturization and retain the skin's moisture. In addition, they help in soothing irritation and maintaining the skin's barrier.
Recommended Articles
Best Face Washes And Cleansers For Acne
Best Facial Cleansers
Best Drugstore Face Cleansers & Face Wash
Best Korean Cleansers