15 Best Products For Low Porosity Hair To Retain Moisture – 2023
Bring luster back to your less porous hair with these amazing moisturizing conditioners.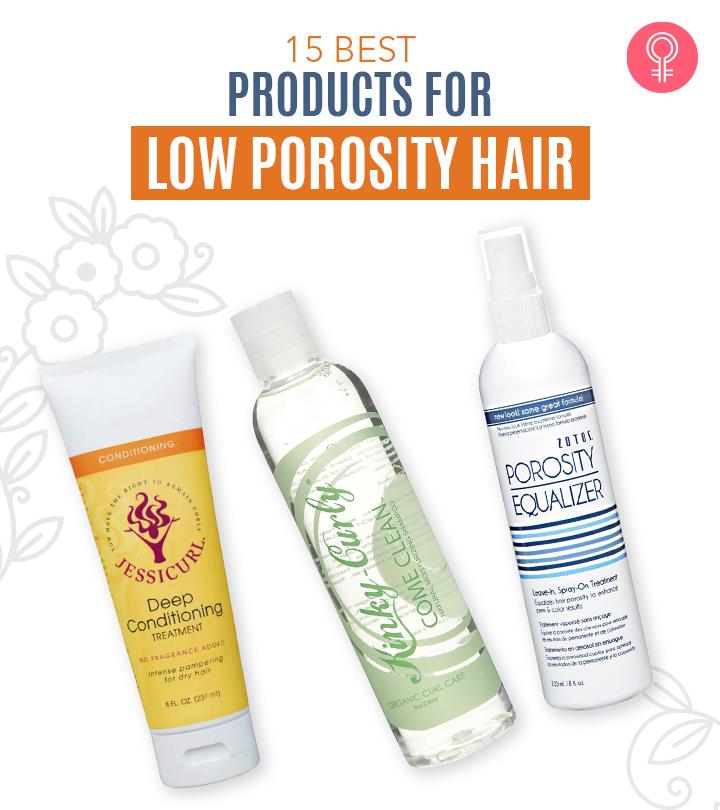 Does your hair refuse to take all that moisture and nourishment, regardless of what shampoo and conditioner you use? If yes, girl, you have low porosity hair. The only solution to beat this pesky problem is using the best low porosity hair products. Why? Let us explain. Low porosity products penetrate your pores, allowing your hair to absorb moisture while making it soft and shiny. We have carefully handpicked a list of low porosity hair products to help you get your soft and smooth hair. Scroll down to know more!
What Is Low Porosity Hair?
Understanding the porosity level of your hair can be challenging. If your hair has low porosity, it means your hair bonds are tightly packed and resistant to moisture. If you take the strand test, your hair strand will float on the top due to its incapability to absorb water. This shows that low porosity hair cannot absorb hair care products easily. To get the best of your hair care products, use shampoos and conditioners that are alkaline to lift the hair cuticles.
What Causes Low Porosity?
1. Blame It On Your Genes!
If low hair porosity runs in your family, there is a high chance that you inherited it. But taking good care of your tresses at the earliest will prevent hair issues.
2. Not Cleansing Your Hair Properly
Make sure to cleanse your hair thoroughly, as that can be a significant reason for low porosity. The presence of residues in your hair will not let even the fast-absorbing products do their job. If you notice residue buildup on your scalp, use a clarifying shampoo once a month to deep clean your hair and scalp.
Here are a few symptoms of low porosity hair.
How To Tell If Your Hair Has Low Porosity?
The hair does not absorb moisture readily and repels water in the shower.
The hair takes a long time to dry.
Products sit on the surface of low porosity hair instead of getting absorbed and tend to build up.
The hair takes time to absorb chemical treatments and hair dyes.
The hair lacks elasticity.
You need steam to activate the effects of the products you use.
To know more about different porosity tests that can help you understand your hair's porosity, check out this article.
Take a look at the list of the 15 best low porosity hair products available on the market right now!
Top 15 Products For Low Porosity Hair
The Jessicurl Deep Conditioning Treatment is a daily, thick conditioner that claims to moisturize and strengthen the hair in just one use. It contains cocoa and shea butter that intensely nourish damaged locks. This product adds volume to your hair and creates bodacious, bouncy spirals. This hydrating conditioner repairs damaged cuticles and promote healthy and shiny hair. It also does not have any synthetic fragrances that might irritate your senses. This video review of the tester's experience with the product will help you understand the product more closely.
Pros
Lightweight
Suitable for all hair types
Hydrates the hair
Non-greasy
Does not weigh the hair down
No added fragrances
Travel-friendly packaging
Affordable
Cons
None
Price at the time of publication: $16.95
This moisture-rich shampoo is created specifically for natural hair. The unique formula is enriched with coconut and amla oils that gently cleanse your hair and reduce breakage by increasing moisture retention. It removes dirt and product buildup from your hair and scalp. This sulfate-free formula is infused with pro-vitamin B5 that smoothens the cuticle surface to give you healthy, silky, and shiny hair. It is perfect for low-porosity curly and coily hair types, especially if the hair is moisture-resistant. These nourishing ingredients calm unruly, frizzy hair and make it more manageable. If you are still unsure, check out this honest review about the product to know more about the reviewer's experience.
Pros
Hydrates the hair
Softens the hair
Tames frizz
Makes the hair manageable
Lathers well
Paraben-free
Sulfate-free
No artificial colors
Cruelty-free
Petrolatum-free
Lanolin-free
Cons
None
Price at the time of publication: $14
Want to get rid of the product residues on your scalp? Use the Kinky-Curly Come Clean Natural Moisturizing Shampoo. Its new and improved formula contains phytic acid that acts as a natural cleansing agent and clears hard water minerals from your scalp. It also includes extracts of soy and corn that soften the hard water residues, rinse your scalp, and prevent buildup on your hair. The exclusive blend of mandarin orange extract and sea kelp helps balance the moisture levels of your scalp and soften the hair. Click this video to learn more about the product and what reviewer have to say about it.
Pros
Ideal for dry and damaged hair
Suitable for daily use
Balances moisture levels
pH-balanced
Paraben-free
Sulfate-free
Cruelty-free
Cons
Not suitable for all hair types.
Price at the time of publication: $15.45
Want to hydrate your strands using natural ingredients? Check out this conditioning cream! The Camille Rose Naturals Curl Love Moisture Milk is a softening, leave-in conditioner cream that helps you get soft and defined curls. It is made with macadamia oil, vanilla, organic avocado, and castor oil. These ingredients improve the health of your scalp and prevent hair fall. They are whisked along with rosehip, aloe, and green tea extracts to form this milk-cream mixture. This conditioner protects your strands, prevents breakage, and gives you soft, silky, and smooth hair instantly. Learn more about the product and the tester's experience in this video.
Pros
Suitable for all hair types
Prevents tangles
Moisturizes the hair
Adds shine and bounce
Paraben-free
Sulfate-free
Cruelty-free
Cons
Might make your hair greasy.
Price at the time of publication: $13.96
Try the Aunt Jackie's Natural Growth Oil Blend Balance pre-shampoo treatment to improve your hair's porosity level and moisture balance. The product is enriched with coconut, grapeseed, and avocado. Using natural oil treatment on hair textures that are brittle, moderate to chronic dry, or lifeless can be beneficial. In order to treat specific, common hair issues, Aunt Jackie's Natural Growth Oil mixes essential and penetrating oils, giving your hair an incredible shine and significantly enhancing its overall appearance and feel. The product is very effective in improving porosity levels and offering intense moisturization.
Pros
Lightweight
Moisturizing formula
Improves porosity levels
Encourages hair growth
Improves tensile strength
Pleasant fragrance
Budget-friendly
Suitable for fine hair
Cons
Price at the time of publication: $7.49
This SheaMoisture Intensive Hydration Conditioner offers deep nourishment while instantly detangling damaged tresses. The formula helps restore and smooth out dry, damaged hair for a calming hair care experience. The formula comprises restorative oils along with manuka honey, mafura oil, shea butter, and fig extracts. For the best result, use this hair conditioner through hair from root to end and leave it on for 3 minutes. After rinsing, you will feel the softness of shea butter instantly. The conditioner is not tested on animals and will leave your hair soft, shiny, and easy to style.
Pros
Hydrating formula
Sulfate-free
Paraben-free
Phthalate-free
Mineral oil-free
Petroleum-free
Vegan
Cruelty-free
Suitable for curly and textured hair
Cons
None
Price at the time of publication: $17.99
Is your hair damaged beyond repair? Don't lose hope yet! Here's a product that can help reverse the damage and restore life to your shriveled hair. This hair mask is specially made for extremely damaged and over-processed hair. It nourishes your hair and repairs each strand from within to make it soft, silky, and healthy-looking. This rejuvenating mask contains nourishing ingredients like almond oil, aloe butter, shea oil, coconut oil, shea butter, rosemary leaf extract, sweet almond protein, and olive oil that curb damage to give you gorgeous and luscious hair. Also, several reviewers have noted that their hair appeared noticeably softer and healthier after using this formula.
Pros
Strengthens the hair
Protects against future damage
Softens the hair
Tames frizz, artificial colors
Paraben-free
Mineral oil-free
Silicone-free
Petroleum-free
Cons
Price at the time of publication: $27.99
The Mielle Organics Mongongo Oil Hydrating Conditioner is protein-free and formulated for every hair type, especially for protein-sensitive 3A to 4C hair types. It helps in improving the softness and silkiness of your hair. It is formulated for those looking to hydrate, repair, and protect their tresses. It offers intensive moisturization and frizz-free conditioning while providing a healthy shine to your tresses.
Pros
Moisturizing formula
Offers intense heat defense
Curl pattern protection
Paraben-free
Sulfate-free
Protein-free
Suitable for color-treated hair
Cons
None
Price at the time of publication: $7.97
The Roux Anti-aging Porosity Control Corrector & Conditioner is designed to balance the porosity of chemically treated hair. It adds a protective barrier on the hair strands to guard them against the potential damage from heat and chemical treatments. It restores your hair balance, making it smooth and shiny. The corrective treatment helps prepare your hair for any chemical treatments and minimizes the chances of causing damage. Also, this formula received multiple positive reviews on Amazon for its efficacy.
Pros
Safe for color-treated hair
Does not weigh the hair down
Paraben-free
Sulfate-free
Affordable
Cons
May not work on all hair types.
Price at the time of publication: $12.99
This deep conditioner softens your curls by imparting moisture to them. It is powered with a Triple Treat Deep Conditioner that infuses intense moisture and nourishment into your curls. It contains coconut, avocado, and grapeseed oils that hydrate your hair without weighing it down. These emollients restore natural ceramides to retain the moisture and strength of your hair. Also, this brand steers clear of cruelty practices that test on animals.
Pros 
Safe for color-treated hair
Moisturizes the hair
Prevents breakage
Adds shine
Restores natural curl formation
Cruelty-free
Paraben-free
Cons
Price at the time of publication: $38.0
The Qhemet Biologics Burdock Root Butter Cream moisturizes 4A to 4C hair types, while strengthening fine and thin low porosity tresses. It also works excellent for 3C hair that is thick and has high porosity. The product is enriched with pure mediterranean olive oil that helps in adding softness and emollience. Its moisture-rich formula makes your hair more manageable. The formula also comprises burdock root along with nettle leaf which help in nourishing the scalp and adding shine. This product initially has a light-cream consistency, but it thickens over time. The formula offers lasting nourishment, promotes healthy hair growth while reducing hair shedding.
Pros
Nourishing formula
Offers lasting moisture
Lightweight consistency
Sulfate-free
Paraben-free
Phthalate-free
Mineral oil-free
Petroleum-free
Vegan
SLS-free
Fragrance-free
Cruelty-free
Cons
None
The Senscience Cuticle And Porosity Reconstructive Treatment are also called C.P.R for severely damaged hair. The package contains two tubes for the dual steps of this treatment – a porosity reconstructor and cuticle repair. This restorative care product from Shiseido contains silk amino acids and keratin that reach deep within the damaged cuticles of your hair and provide lasting protection. It softens dry hair and allows you to try versatile hairstyles.
Pros
Repairs damaged hair
Adds shine
Pleasant fragrance
Makes the hair healthy
Replenishes vital nutrients
Seals damaged hair cuticles
Cons
Expensive
Not suitable for all hair types.
Price at the time of publication: $69.99
This detangling conditioner is perfect for dry and frizzy, kinky, natural hair. It is infused with hydrating emollients like aloe vera, argan, olive, jojoba, and virgin coconut oils. These nourishing ingredients moisturize dry and depleted hair and provide a glossy look too dull and lifeless hair. It provides long-lasting moisture with no product buildup. This conditioner claims to add volume to hair, defining your fine and fragile curls. It fights breakage and makes your hair frizz-free, silky, and soft.
Pros
Suitable for all hair types
Lightweight
Pleasant tropical fragrance
Provides intense hydration
Paraben-free
Cons
Expensive
Insufficient coverage
Price at the time of publication: $29.72
The Natural Rizado Creme Brulee Melting Moisturizer Hair Mask is a deep conditioning treatment for low-porosity natural hair. It is lightweight and penetrates easily into protein-sensitive curls to keep them smooth, soft, and well-defined. This hair mask is infused with organic ingredients and botanical extracts, helping your low-porosity hair regain its health. It detangles, hydrates, and conditions your curls while eliminating frizz and making your hair manageable. It is made especially for textured and relaxed hair to nourish the curls and elongate kinky coils.
Pros
Silicone-free
Alcohol-free
Protein-free
Paraben-free
Sulfate-free
Coconut oil-free
Protein-free
Detangles the hair
Softens the hair
Cons
Not suitable for all hair types.
Price at the time of publication: $24.99
This serum contains coconut and shea, which is a perfect combination for overworked and frazzled hair. This invigorating blend makes your hair and scalp healthier than before. The 100% pure coconut oil is an excellent emollient that smoothens and softens your hair. It is powered with fatty acids and has antibacterial and antifungal properties that soothe your scalp. It adds intense moisture to dry and damaged hair. It also repairs breakage and mends split ends. This styling serum claims to restore moisture and alleviate dryness and itchiness of the scalp. Also, this formula has received positive reviews on Amazon as it was found to make the hair shiny and healthy.
Pros
Suitable for 4B and 4C hair types
Prevents frizz
Adds shine
Makes the hair healthy
Pleasant fragrance
Paraben-free
Sulfate-free
Cons
Very thick consistency
Expensive
Price at the time of publication: $8.99
If you have low porosity hair, you know how frustrating it can be to try to retain moisture. Your hair may feel dry and brittle, and no matter what products you use or test, it always seems to fall flat. But do not worry! There are plenty of great products out there that can help you get the moisture your hair needs. Here are some things to keep in mind when choosing products for low porosity hair.
Things To Look For In Products For Low Porosity Hair
Ingredients: Avoid products with alcohol or other drying ingredients. These will only make your hair more dry and difficult to style. Instead, choose products that are rich in moisturizing ingredients like olive oil, shea butter, or coconut oil.
Shea butter is an excellent natural moisturizer for low porosity hair. It is thick and creamy, which makes it ideal for coating the strands and helping them retain moisture. Therefore, go for certified organic shea butter and argan oil that provide your hair with much-needed hydration. Coconut oil can penetrate into the hair shafts while hydrating the scalp and strands from within. Olive oil is another good option for moisturizing low porosity hair. It is packed with nutrients that can help repair damage and make your hair look healthier. Apply a small amount of olive oil to your hair and massage it in. You can leave it on for a few hours or overnight, then shampoo it out.
Budget: While there are some great high-end products available for low porosity hair, you do not necessarily need to spend a fortune to get good results. There are plenty of drugstore brands that offer effective products for this type of hair. Just be sure to read the ingredients list carefully before making your purchase.
Reviews: Before you purchase any products, be sure to read reviews in different e-commerce websites from people with low porosity hair. Reading about people's experiences about the product will help you figure out how it works on different hair and scalp types. And if you are still not sure which product is right for you, ask your stylist or another expert for their opinion and opt for dermatologically-approved products.
Now that you know which products to look for to treat low porosity hair, here are a few tips on caring for this hair type.
How To Care For Low Porosity Hair
Look for products with the right formulation. They should contain nourishing ingredients that penetrate into your hair easily.
Apply products on warm and wet hair for the best results. Heat lifts the hair cuticles, allowing better penetration of moisture and oils.
Shampoos with honey or glycerin work better than the ones with oils, as these ingredients penetrate your hair cuticles more easily. Avoid products that may leave a residue.
While applying conditioner, dilute it with a little water to make it more absorbable. You can also look for lightweight conditioners with a thin consistency.
A weekly deep conditioning treatment with a steamer or hooded dryer can help open the cuticles for intense nourishment.
Avoid protein treatment conditioners as protein might dry out your hair and lead to breakage.
Equalize your hair porosity level before a perm or dye treatment. It will provide uniformity to your hair and enhance the quality of your hair color and perm results.
Use a leave-in spray-on treatment that has a nourishing blend of sunscreen, thermal protectants, and moisturizers to prevent dryness and frizziness.
Why Trust StyleCraze?
The author, Sakshi Bahal, is a hair care expert and loves experimenting with different hair care products. She has carefully researched and gone through brand websites to compile the list of the best products for low porosity hair. Additionally, she has considered the needs of this hair type and reviewed feedback from several users to shortlist the best ones. These products can allow your hair to absorb moisture and leave it shiny and soft.
Frequently Asked Questions
How long does it take for low porosity hair to grow?
Low porosity hair experiences dryness and breakage more than any other hair type, which leads to thinking that it takes time for this hair type to grow. However, it is not true. Low porosity hair takes the same time to grow as any other hair type.
How often does low porosity hair be washed?
Use a moisturizing shampoo to wash low porosity hair twice a week.
How often should low porosity hair be moisturized?
Low porosity hair has difficulty absorbing moisture due to the closed cuticles. Therefore, they should be moisturized very often. So, moisturize low porosity hair whenever they feel dry, even though it is twice a day. Make sure to incorporate moisturizing shampoos, deep conditioners, leave-in treatments, and creams in your hair care routine.
Can low porosity hair use rice water?
Yes, low porosity hair can use rice water treatment. Rice water adds moisture and does not dry out the hair. However, use it not more than once a week in moderation.
Is coconut oil good for low porosity hair?
Yes, coconut oil is great for low porosity hair. It hydrates the hair and keeps the moisture sealed for a long period.
Recommended Articles