10 Best Back Braces For Pain Relief (2023) + Buying Guide
Comfy, soft & elastic braces that provide strong support to your lower back problems.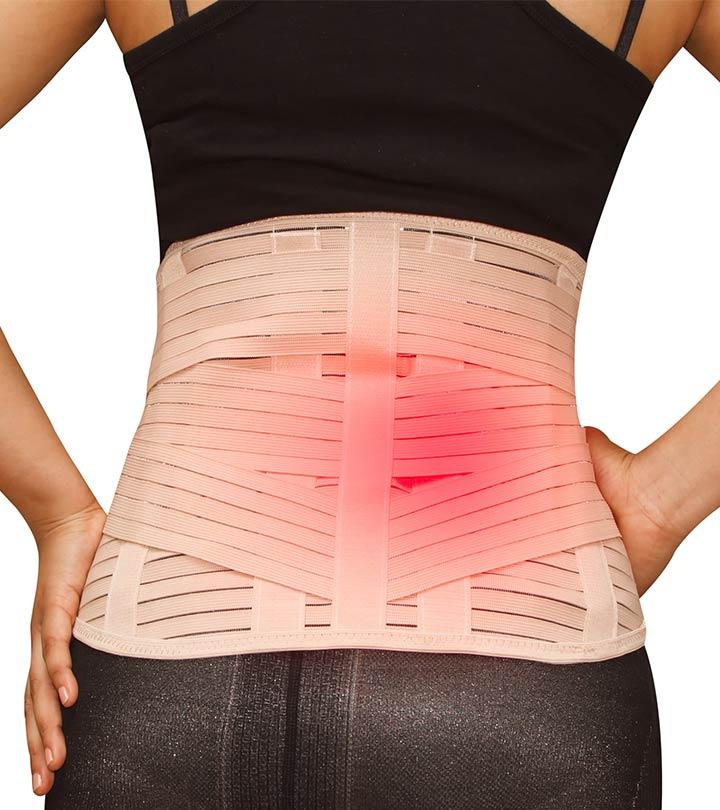 Back pain can be weakening, and therefore preventing it is key to staying healthy and active. The best back braces for lower back pain can help relieve excess pressure on your back while working out, sitting in front of your work desk for long periods, or driving for an extended duration. These belt-like devices prevent the back muscles from becoming stiff and weak, thus preventing back pain. You can wear them comfortably, and they don't restrict the movement of your spinal cord. What's more? You can sport these braces anywhere and anytime — while you are at home, have gone out for a walk, cleaning, lifting weights, or even while driving. In this article, we have reviewed some of the best back braces for lower back pain. Keep scrolling to check them out!
10 Best Back Braces For Lower Back Pain
This premium back brace for lower back pain is available in two sizes: regular 28"-50" (71-127 cm) and plus size 50"-70" (127-178 cm). It relieves lower back pain from strains and muscle spasms. The best part is, the double layer design allows for custom use. The unique feature of this back brace is that it has removable lumbar pad cushions that support your back and prevent the brace from moving. This product claims to provide relief from injuries and keep you active all day long. Since the fabric is light and breathable, it can be worn all day comfortably. Check this video out to learn more about the Mueller 255 Lumbar Support Back Brace with Removable Pad.
Pros
Provides custom fitting
Corrects your posture
Offers relief from osteoarthritis/arthritis pain
Has supportive steel strings for stability
Provides support during lifting and other activities
Affordable
Cons
None
Price at the time of publication: $20.97
Put your lower back pain to rest by using AidBrace's Back Brace Support Belt. It provides maximum support to the lower back, hip, and abdomen. While relieving pain, this belt also corrects posture, improves body language, and prevents you from hunching. The belt has a removable cushioned lumbar pad that provides extra protection and lower back support. It prevents injuries while walking, lifting heavy objects, and exercising. The unique curved side design contributes to incredible comfort and additional support. Hence AidBrace is the best back support belt for lower back pain.
Pros
Comes in 3 sizes
Provides support around the clock
Decreases pressure on the abdomen
Relieves chronic lower back pain
Breathable, vented mesh provides comfort in daily activities.
Cons
Velcro doesn't hold the belt together for too long.
Price at the time of publication: $34.99
This premium quality back brace offers maximum support for people with chronic lower back pain. The removable lumbar pad cushion prevents the belt from slipping or bunching. It also has comfortable grip handles for extra support. This double pull compression band gives you firm support without restricting your movements. The belt claims to relieve lower back pain caused by conditions like sciatica, osteoporosis, nerve injuries, and muscle spasms. The best part about this product is that it can be worn during your daily activities like exercise, heavy lifting, and other outdoor activities.
Pros
Easy to put on
Durable
Washable
Provides therapeutic relaxation
Available in regular and large sizes
Cons
The supported string can be a little too tight.
Price at the time of publication: $34.95
This is one of the most popular lower lumbar back brace support belts available in the market. It has breathable side panels, and elastic side pulls that provide compression and support, which help relieve back pain instantly. The design allows you to engage in full-body motions without any discomfort. This back brace is ideal for sports use and heavy lifting. The deluxe mesh, combined with high-elasticity nylon fabric and PP stripes, distributes the force evenly undertaken by the lumbar vertebrae. It has detachable and adjustable suspenders for correcting your posture. The best part about this back brace is that it comes in six inclusive sizes.
Pros
Breathable design
Long-wear
Provides relief from conditions like scoliosis and other back issues
Prevents you from hunching
Stays firm without slipping
Cons
XL is a little too small.
This crisscross back brace has double layer elastic straps that support your lower back by applying compression to the affected area. It is ideal for relieving pain in your lower back and lower left and right abdomen. It relieves pain from spinal arthritis, back muscle weakness, tears and pulls, and lumbar sprains. The lightweight elastic material will conform to your curves while providing compression to the lower back to help reduce the pain and inflammation. It also improves blood circulation to your lower end, which helps in quick healing.
Pros
Can be worn underneath your clothes
Has adjustable velcro straps
Comfortable fit
Treats acute, chronic back pain
Provides instant relief
Cons
The size 'small' is too tight.
Price at the time of publication: $39.99
This compression back brace provides adequate support for abdominal and lower back muscles. It relieves pain from chronic conditions like scoliosis, lordosis, and kyphosis. This back brace is designed to train your muscles and spine to return to their natural alignment. It also protects your lower back from further injuries. The soft and streamlined material with the perforation structure is easy and comfortable to wear. The unique, breathable, and adjustable design is suitable for long time wear. This belt improves your posture over time. compression back is the best lower back brace for reducing back pain
Pros
Premium quality material
Reduces strain and pain
360-degree protection for the waist
Available in two colors
Inclusive sizes available
Cons
The belt can lose elasticity over time.
This back brace and waist trainer stabilizes the lumbar spine, relieving muscle stress, and lower back pain. It has an adjustable strap with double compression that offers support to your lower back while doing strenuous activities. This back brace can also be useful for weight loss. It can be used as a postpartum waist trainer, as well. The fabric is light and breathable. The fully elastic structure is easy and comfortable to wear. This back brace is ideal for someone who has sprains, strain, muscle spasms, and arthritic conditions.
Pros
Available in 4 inclusive sizes
Long-wear
Durable
Relieves pain immediately
Affordable
Cons
Price at the time of publication: $9.99
This compression back brace provides optimal support and comfort to your lower back. The high-quality material is incredibly breathable and elastic. The adjustable velcro straps and neoprene wrap give a custom fit and double compression. It features two removable curve PP for maximum support. It also supports the lumbar system and heals disc protrusion quickly. The outer elastic velcro straps enhance the compression, support the waist, and relieve pain.
Pros
Perforated neoprene helps evaporate sweat
Has a 3D lumbar pad
CoolMax fiber lining absorbs moisture
Custom-fit
Durable
Cons
Price at the time of publication: $28.95
RiptGear Back Brace supports your back and alleviates pain in the affected area. It is comfortable and easy-to-wear. It is made of neoprene, spandex, and elastic so that you can wear it all day long. This back brace supports your back and core muscles, allowing them to heal quickly from an injury, strain, or muscle catch. It provides the perfect amount of adjustable compression to help you feel comfortable all day. It offers support when your muscles are strained and tired. The best part about this lower back brace for posture is that it is equipped with ultra flex stabilizers that provide additional stability to your lower back.
Pros
Available in 6 sizes
Provides relief from chronic back pain
Suitable for heavy lifting and other outdoor activities
High-quality material
Cons
Price at the time of publication: $34.95
This back brace supports sore muscles and joints without restricting your natural movement. It has two outer elastic straps that fit any body type. It claims to relieve lower back pain caused by sciatica, degenerative disc disease, strains and sprains, osteoporosis, and ligament tear. The comfortable fit provides compression and anti-inflammation. The durable and breathable fabric allows natural movement while giving incredible support. It improves posture and helps contour curves.
Pros
Available in three sizes
Helps in weight loss
Supports your lumbar system
Cons
Price at the time of publication: $34.94
Back discomfort may be debilitating, so avoiding it is essential for keeping healthy and active. The finest back braces for back problems can help relieve extra strain on your back when working out, sitting at your desk, or driving for long periods. This buying guide will assist you in understanding all of the crucial elements to consider before purchasing a back brace.
Things To Look For Before Buying Back Braces For Pain Relief
Support
Back braces come in three different levels of support. Depending on your requirements, select the appropriate option.
Rigid kinds provide stability to people suffering from moderate to acute pain and fragility, fractures, or health difficulties caused by traumatic events.
Lighter support braces help lessen motion and give pressure while providing more mobility and flexibility.
Semi-rigid braces merge the two, with a flexible body brace and hard panels around the device.
Material
For flexible braces, seek cotton, canvas, or neoprene. Metal, leather, or moldable plastic are good choices for rigid types. Look for sports belts that often retain heat to stimulate sweating for athletes. If you want to use the brace regularly, a washable material might help with cleaning. If you have any fabric allergies or sensitivities, make sure to read product labels with them in mind to avoid responses.
Size
Measure the diameter of your waistline around your belly button. If your measurement falls between sizes, you'll probably want to go with the larger size, as most braces have a lot of adjustabilities.
Durability
Most back braces are constructed with nylon, spandex, and velcro, while others use hard-plastic for increased strength. Some are breathable, while others intentionally trap heat to help keep muscles flexible. Opt for a back brace that is machine washable, as you will undoubtedly sweat in it. You will typically want a lightweight brace that allows for the complete range of motion while providing enough support.
Adjustability
Finding an adjustable back brace is essential since it may assist in targeting a specific region of discomfort while staying versatile. To achieve a personalized fit and support, opt for braces with adjustable straps or belt systems.
Irrespective of the kind or degree of discomfort you have, always visit your doctor before wearing a back brace and selecting the best one for you.
Living with back pain can be quite challenging, but braces can help you fight the pain like a pro. If you need a quick solution to reduce lower back pain, check out these back braces that can help you manage and treat your pain effectively. Pick your favorite product, try it out, and tell us how it worked for you by commenting below.
Why Trust StyleCraze?
Aditi Naskar has a Health & wellness diploma and loves to review fitness, health, and related products. She has exhaustively researched the available options in back braces designed to help with lower back pain to curate this list of the top products in this category. She has considered the material, design, durability, and what user reviews say about them. She has also provided feature details and pros and cons for each of the shortlisted options to make it easier for our readers to pick the most appropriate option for them. The back braces listed here can help relieve excess pressure on your back, prevent the back muscles from becoming stiff and weak, and are comfortable for extended wear.
Frequently Asked Questions
Is it OK to wear a back brace all day?
No. You should wear a back brace only for up to two hours per day. Overuse of a back brace can cause severe core weakness and muscle atrophy.
How tight should my back brace be?
Your back brace should not be very tight. It should just fit your body without over-pressurizing the muscles.
Can you drive while wearing a back brace?
No. Wearing a brace while driving will result in more muscle stiffness due to a lesser range of motion.
Should you wear a back brace at night?
If your doctor advises you to wear a brace at night, you can wear it. But always look out for discomfort and use it accordingly.
Does a back brace help a herniated disc?
Yes.Back braces can benefit herniated discs by supporting your spine. They help enhance the body's healing process.
Recommended Articles: