The 11 Best Lululemon Leggings Of 2023, As Per A Fashion Designer
Don't compromise on comfortable fit and style as you head out to workout or run.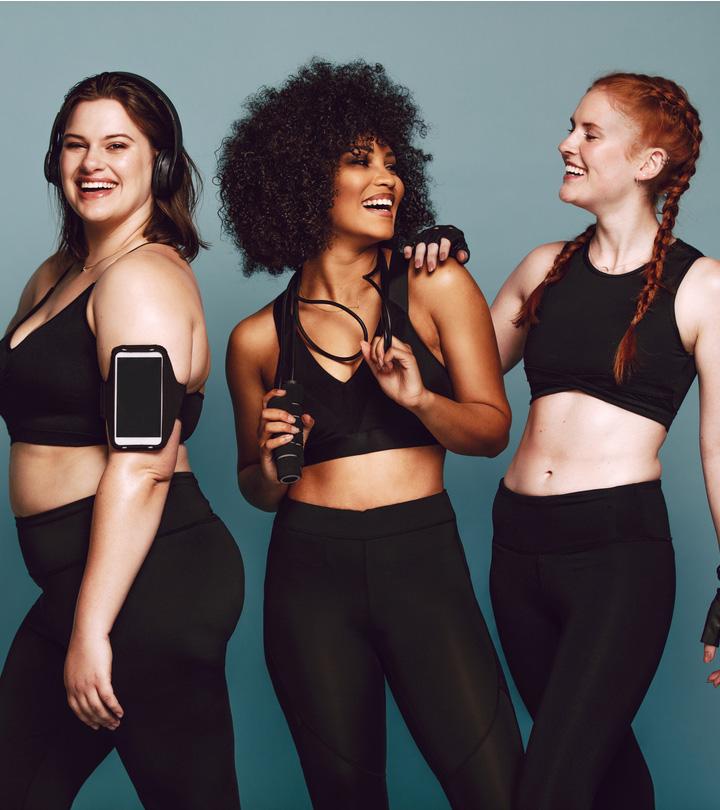 While some of us have used this pandemic to get to our ideal body weights and fitness levels, most of us have slacked back in our pajamas. It is time to get moving, ladies! The best Lululemon leggings can be your perfect trusted companions while you sweat it out. These are comfortable, stylish, and have the best fits. A good pair of leggings plays an integral part in your workout session as it helps you move effortlessly and keeps you irritation-free.
So, when life gives you lemons, you turn them into Lululemon! The brand caters to all your needs, whether you are running marathons, hitting the gym, taking laps around the park, or practicing your yoga asanas. In this article, we have tested and reviewed the 11 best Lululemon leggings for all occasions. From fabrics to fit, colors to feel, we have discussed all features in detail. So, go ahead and choose your favorites based on your needs and stay worry-free through your workouts.
11 Best Lululemon Leggings For All Activities
Lunge, train, flow, or run in this Luxtreme fabric. These Lululemon Wunder under leggings are the ones that started the rave. A staple in the athleisure shelf, these Lululemon high-rise leggings are slick and breathable. Say goodbye to chafing with these leggings as they feel cool to the touch with its specifically-designed Lycra fiber. The leggings are made from a special performance fabric that stretches with you, so forget about them ever running loose as they retain shape. These Lululemon leggings with pockets are made to lay flat against your skin and not dig in. The waistband too comes with a storage pocket to hold smaller things like a key or card. The reviews mention the product is highly stretchable and comfortable and keep the legs warm.
Keicia Shanta, a fashion, beauty, & lifestyle expert says, "Women love pockets on a great pair of leggings. Love all the cooling elements of these leggings."
Pros
 Lycra fibre
 Does not lose stretch
All-season wear
 Breathable
 Has pockets
 High-waisted
Cons
Good luck trying to get out of these once you're in the Align Lululemon leggings as these will feel like nothing and everything at once. Powered by Nulu lightweight fabric, these leggings are so soft they're even smoother than butter! Designed specifically for yoga or low-intense exercises, these pairs come with a 4-way stretch and kick away sweat. Arguably one of the best Lululemon leggings for everyday wear, it boasts of extremely comfortable and breathable texture along with a hidden waistband pocket that won't get in your way.
Pros
 Lycra fibre
 Designed for yoga and everyday wear
 Sweat-proof
 Softer than butter
Odor-resistant
Butt-lifting design
Cons
 Could be better at moisture wicking
Without a doubt, you can opt for these pants, as the Luon fabric technology adds just the right amount of cotton to these nylon and Lycra-heavy leggings. These leggings were designed to help you be on the move — indoors or out. The fashionable leggings are endowed with a no-roll-down high-rise waistband for your desired activity. Luon fabric provides a 4-way stretch, sweat-wicking support, and coverage. The Lycra fiber is sewn to help you flaunt your figure without losing shape or elasticity. The length of the pants is not only trendy but is also a good choice for bikers. Multiple reviewers mention the product has a snug fit and flatters the body silhouette.
Pros
 Breathable cotton
Compression fit
 Flat waistband
 Luon mixed with Lycra and elastane
 Pocket for your miscellaneous items
 Cut right above the ankle
Cons
 Some may find the leggings too short
These Lululemon cropped leggings are versatile, high-rise cropped leggings that were designed to fit like second skin. Perfect for yoga or the gym and made from Luxtreme fabric, these thigh-slimming leggings are lightweight and sweat-proof. Show off your calves with these leggings and continue to feel 4-way stretch fabric. The body-hugging nature of these high-waisted Lululemon leggings could make you question its comfort level, but this is where the added Lycra plays the role of being extremely stretchable and breathable so you won't feel too sucked in.
Pros
 Crop leggings at 21 inches
 Waistband lays flat and doesn't roll down
 Pocket in the waistband
 Breathable
 Four-way stretch
Cons
 Pants could run a bit small
Run errands or sprints with these lightweight crops to minimize worries of discomfort. Made of Nulu fabric and one of the most popular Lululemon leggings, this bestselling pair feels like butter and you'll probably want to live in them. The high waistband covering your core supports tummy control and is soft against your skin and refuses to soak in sweat. As you're on the move, the Lycra fibre in these Lululemon running leggings will make sure you get the best stretches in as you flow through your workout. Multiple reviewers agree the pair feels light and allows easy movement. The entire collection's ideal for low-impact workouts like yoga or low-impact activities.
Pros
 Ideal for low-impact workouts
 Everyday wear
 Flattering fit
 High coverage
 21-inch cropped leggings
Cons
Not the best bet for short people
If you thought athleisure wear couldn't level up anymore, think again because these lounge tights are definitely the opposite of what you're used to. These Lululemon winter leggings are utterly soft and comfy with its plush velvety exterior. The leggings also offer a sculpting effect that makes you appear leaner and taller. You can actually create tons of different looks with these leggings as they surely stand out of the rest. Keicia says, "This plush texture is a twist on athleisure leggings and I can see these styled in so many ways." Of course, the OG Wunder features still remain like the hidden pocket in the waistband to stash your key or card. The fabric is made with the same 4-way stretch mechanism but in velvet. The sheen however, is pretty luxe to look at and feel.
Pros
 Perfect for commuting
 Can be paired up and worn as normal leggings outdoors
 Retains the default Wunder features
 Luxe velvet sheen
Cons
 May not be the best choice for workouts
Show off those pretty ankles with these buttery soft, weightless, and exceptionally thick waistband. The Align II as it is so colloquially called, in 25 inches is the perfect middle ground between a capri and a full-length legging. They feel like you have another layer of skin on your body and that's about it. It is so weightless but sturdy you can not only workout in them, but do everything in them without a worry. One of the most beloved Lululemon leggings, they will never give you a reason to be upset in them as they stretch as much as you want without losing any of the elasticity.
Pros
 25 inches long
 Weightless
 Breathable
 Highly stretchable
 Soft fabric
 Non-see-through material
 Ideal for yoga and everyday wear
Cons
 Might be too longer for short people
As if Luxtreme wasn't already the staple need for a full body workout routine to swat away sweat, now we have the Full-On Luxtreme design. Its sleek and low to no friction support and 4-way stretch makes this pair more breathable and cool to the touch. The added Lycra in the texture as is with Lululemon leggings provide a cool feeling so you will never feel too hot from your workout sesh. These Lululemon camo leggings too come with a flat and thickened waistband that simply refuses to roll out or down.
Pros
 Full-on Luxtreme
 Sweat-proof
 Cool to the touch
 Supportive design
 Ideal for yoga and other forms of training
Cons
 Could slip a bit during workouts
Headstart your workout sesh with this pair of leggings. Designed with Full-On Luxtreme technology, these pants are rip-proof as well as sweat-wicking. Cropped leggings give you the benefit of working out seamlessly as well as make a fashion statement. They will feel snug and snatched at the same time with these cropped Lululemon black leggings. With their texture so smooth and comfy, you'd definitely want to give them a fair use all throughout the year as they'll keep you nicely tucked in.
Pros
 21-inch cropped leggings
 Perfect for biking, hiking, or other activities
 Breathable
 Waistband pocket
Cons
 Quality might not feel as soft as others
On a more wearable side, we have the 28-nch Full-on Luxtreme leggings that give you the same amount of slick, low-friction support. Its breathable fabric will help you relax, stretch, rest, nap, jump, whatever it is you find your piece of dopamine; these leggings are an added bonus. Aside from the technical factors that go into the making of these leggings, they also come in various colors and designs you can choose from. Since it falls on the lengthy court, these leggings can easily be worn outdoors while you're running errands and not just the treadmill. Keicia says, "I love that they come in different colors and styles, camo is one of my favorite designs."
Pros
 Replaceable with usual trousers or leggings
 Wide range of colors
 Sweat-proof
 Full-on luxtreme fabric gives extra sleek, anti-friction
 Breathable
 Best Lululemon leggings for running
Cons
 Waistband may roll in some instances
Be it training or bootcamp, this versatile pair of leggings got you covered. The waistband of the leggings is a new trendy design that's cut on the edge, which will prevent any sliding or digging in. The leggings also come with a back pocket to hold your essentials. You will find this more breathable as compared to the other leggings as its mesh fabric venting allows proper air flow, especially in sweaty areas. This also helps you keep cool as well as comfortable. The waistband is also accompanied with a drawcord that remains flat.
Pros
 Great support and coverage
 Activewear for high-intense workouts
 Sweat-wicking
 4-way stretch
 Naturally breathable mesh
Cons
There isn't one version of Lululemon leggings that has gone unnoticed or unloved. Because they give so much thought into what buyers want, their approach to curating flawless athleisure clothing is not a surprise. However, from a buyer's perspective, knowing what legging will give you the maximum amount of comfort and wearability is a plus considering Lululemons are anything but budget-friendly. These leggings are an investment, so to know more about Lululemons and how to select the perfect leggings based on your preference, read along.
How To Buy The Best Lululemon Leggings For Yourself
Types of Lululemon Leggings
Before selecting a pair of leggings, know the types of leggings Lululemons provide. As of now, they have 6 collections based on specific needs namely: Base Pace, Align, Wunder Train, Wunder Under, Power Thru, and Swift Speed.
 What to Look for in Lululemon leggings
Well, like most cases, leggings too should be bought based on the kind of activities you're into. Lululemons divide their collections further by breaking them into the kind of fabric quality that is deemed ideal for a particular activity. Luon and Nulu are best for less intense exercises like yoga or pilates. Whereas, Nulux and Everlux are great for when you want to get into the groove and move your body during spin classes, while running, or simply dancing your heart out. If you're into high intensity workouts or strength training programs, consider getting ones that are labelled Luxtreme or Full-on Luxtreme, they are long-lasting, breathable, and anti-friction.
 Pair your Lululemons leggings
With a cute pair of leggings comes the responsibility of pairing them with something cute! You can either choose to go monochromatic, or high contrast with these. Since most Lululemon leggings come in beautiful colors, you could also pair them up with a similar colored sports bra or a cropped sweatshirt. And hey, you can never go wrong with a good ol' t-shirt.
Why Trust StyleCraze?
Our author, Srijita De, is an avid fashion enthusiast who enjoys reviewing products for her readers. She has curated a list with the best Lululemon leggings for women after researching use reviews online. Her list is perfect if you're keen on using premium-quality leggings that are made with breathable material, are sweat-proof, and have pockets. The leggings are durable and available in different colors.
Frequently Asked Questions
Do Lululemon leggings make you look skinny?
Instead of looking skinny, these leggings will tuck in any extra fats that could bulge out from the waistband. So, you would look fit and put-together.
Should I size up or down for Lululemon leggings?
Always opt for the size that is true to your size, however, these leggings tend to run a tad bit small so you could decide to size up.
How can I wash Lululemon leggings?
Wash them with similar colors and in cold water. You could machine wash them and tumble dry.
Can you put Lululemon leggings in the dryer?
You could tumble dry low but avoid dry cleaning them.
How long do Lululemon leggings last?
Lululemon leggings last anywhere around 4 to 10 years, this of course depends on how much care is being put into these pants as well.
Are Lululemon leggings squat-proof?
Absolutely! These leggings are made with added Lycra, nylon, and elastane majorly. Along with these, the Luxtreme, Align, and Luon come with their own version of stretch resistance.
How can I get rid of pilling on Lululemon leggings?
Though it is highly unlikely that your Lululemons will have any pilling, you could opt to get a fabric comb or battery-operated pill and fuzz remover to remove pilling.
Recommended Articles