7 Best Lush Shampoo Bars For Gorgeous Hair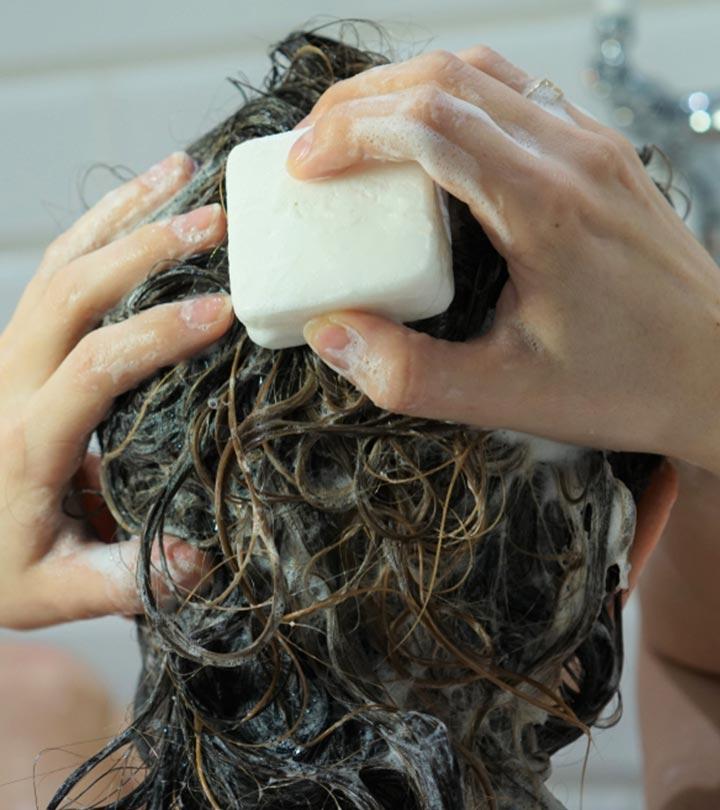 It's time to be aware of what's best for your hair and the environment! Curious to know how? Well, we are talking about lush shampoo bars. Convenient to use and extremely handy, these pocket-friendly shampoo bars are equivalent to three large bottles and last up to 80 washes, depending on your usage. It not only helps you maintain clean and luscious hair but it also is a great benefit to the environment. These hair shampoo bars are packaged in a way that produces very little wastage when compared to liquid shampoos in plastic bottles. It is like a bar of soap but for your hair!
How To Use Lush Shampoo Bars?
Wondering how to use a shampoo bar? It is just as easy as using a bar of soap! For those of you who are new to the concept of shampoo bars, here is a quick guide on how to use it for your hair.
Wet the shampoo bar
Rub it in between your palms till it lathers and apply the lather on your hair and scalp
You can also rub the shampoo bar on your wet, damp hair directly until it lathers
Massage your scalp well to remove the dirt and oil
Wash it off with water
Now that you are well-equipped on how to use a shampoo bar, let's dive right into it and go through a list of 7 of the best shampoo bars you must try.
One of the best shampoo bars for dry, damaged, and dandruff prone hair, Ofanyia Jasmine Shampoo Bar lathers up well for effective cleansing and oil control. It's rich and delicate foam provides deep nourishment and repairs damaged hair and itchy scalp. What's great about this product is that it is made from all-natural ingredients and is devoid of any chemicals. The lush shampoo bar has the two-in-one benefit of shampoo and conditioner and can be used by both men and women. It makes your hair soft and shiny while retaining the moisture. It is a good shampoo bar for oil control, scalp and hair nourishment, and effective cleansing.
Pros:
Made with natural plant ingredients
Possesses anti-microbial properties
Repairs dry and damaged hair
Keeps hair strong and moisturized
Environment-friendly product
Cons:
May irritate the eyes if it enters
May not be suitable for kids
For all you folks who deal with untameable frizzy hair, the best shampoo bar for you is Zoe Keratin Shampoo Bar. It repairs dull, dry, and frizzy hair leaving you with shiny and silky tresses. The lush shampoo bar is suitable for all hair types and balances the pH level of your hair. A shampoo bar specially curated for you, the goodness of keratin helps rebuild hair protein giving you stronger hair with easy manageability. Free from parabens and animal testing, this shampoo bar ensures hair that is smooth and luscious. Handcrafted in Los Angeles, the Zoe Keratin Shampoo Bar is an amazing shampoo bar that boosts shine and adds body to your hair.
Pros:
Keratin content helps build protein structure
Suitable for all hair types and restores pH balance
kes hair frizz-free and manageable
Balances hair moisture and repairs damage
Free of paraben and animal testing
Cons:
Strong fragrance which might not be appealing to all
The goodness of lavender infused into a lush shampoo bar, the Angmile Shampoo Bar is perfect for strengthening the roots of your hair. It enables better growth and nourishes your hair, making you want to flaunt it all the more. Made from natural ingredients, plant and bark extracts, and safflower oil, this shampoo bar is one of its kind. The lavender extract aids in oil control, conditioning, and gently cleansing the hair. Being a silicone-free product, the lush shampoo bar does not irritate the scalp or block hair follicles allowing it to grow healthily.
Pros:
Oil control
Refreshing feel
Makes hair soft and smooth
Two-in-one: shampoo and conditioner
Safe for skin because it is chemical-free
Cons
Smaller than most shampoo bars
May not suit very dry hair
All you travel buffs who've looked for a travel-friendly hair care solution, here is a great shampoo bar for you. Lightweight, pocket-friendly and beautiful, the Ofanyia Shampoo Bar is your one-stop solution to travel light and enjoy shiny hair! It comes in a packaging that appeals to the environmentally conscious and is one of the best gifts to give your friends and family. Made exclusively from natural plant ingredients, it forms a delicate and rich texture while lathering up your hair. It has strong cleansing properties and is best suited for dry and damaged hair. The specialty of this lush shampoo bar is its antimicrobial properties that help in effective oil control, keeping pesky dandruff at bay.
Pros:
Made from natural plant extracts
Lightweight and travel-friendly
Retains moisture and keeps hair shiny
Helps control dandruff and reduces scalp itchiness
Contains antimicrobial properties
Cons:
Fragrance fades with time and usage
Known for its wide range of products, D.R.Harris & Co add another one to their list— shampoo bars! Tired of looking for a product that adds volume to your hair? Well, look no further because D.R.Harris & Co Shampoo Bar is your solution. A shampoo bar for hair that has lost its volume, the D.R.Harris & Co Ocean Shampoo Bar is packaged in an aluminum tin and has the goodness of sea salts. It provides a seaside freshness to your hair and gently cleanses it. Best suited for thinning hair, this shampoo bar produces a rich lather for the perfect cleansing of hair and scalp. It has a mild, pleasant fragrance which makes you miss the ocean!
Pros:
Contains sea salts
Economical and eco friendly
Travel-friendly packaging
Gently cleanses hair and scalp
Cons:
Fragrance might not be strong enough for some
Are you someone who likes the soothing and delicious smell of coconuts? Well, this product is especially for you. Created in a way that it produces a voluminous lather quickly, D.R.Harris & Co Coconut Shampoo Bar is one of the best shampoo bars for sensitive skin and dry hair. The benefits of coconut are numerous and this shampoo bar captures the essence of coconut extracts. It aids in healthy hair and stimulates the scalp to promote hair growth. Coconut helps prevent breakage of hair and boosts shine and luster. The lush shampoo bar is packed in an aluminum tin making it suitable for travel. What's more, is, it is eco-friendly and very economical.
Pros:
Goodness of coconut extract
Pleasant, mild fragrance
Suitable for sensitive scalp
Makes hair shiny and luscious
Color from vegetable or food coloring sources
Cons:
Fragrance might be too mild
Another one from D.R.Harris & Co, this amazing shampoo bar focuses on healthy hair growth. It contains rosemary extracts that are known to strengthen blood circulation in the scalp and promote hair growth. It is also known to prevent premature graying of hair. Also, the sweet fragrance of rosemary leaves your tresses smelling great. One of the best shampoo bars to help keep a check on dandruff and itchy scalp, this cream-colored sweet-smelling goodness lathers up quickly and effectively. It makes you never want to run out of the product. Lucky for you, it's just one click away from being yours! It comes in a travel-friendly aluminum tin packaging and is also environmentally-friendly.
Pros:
Helps cleanse hair and scalp
Sweet-smelling fragrance
Travel-friendly packaging
Promotes hair growth
Economical and eco friendly
Cons:
Color of shampoo bar might not be appealing
Conclusion
We live in an era where we have to make conscious purchase decisions. Shampoo bars are gaining a lot of popularity not only because of their great benefits to the hair but also because of their contribution to the reduction of waste in the environment. What do you think of the list we specially curated for you? Comment below and let us know which is your favorite product from our list.
Recommended Articles
The following two tabs change content below.

Latest posts by Bency Sebastian (see all)

Bency Sebastian
Writer, dreamer and a moon child. Bency believes that music, words, and little precious moments of life add color to a world that is black and white.