10 Best Lush Shampoo Bars For Glorious Hair – Top Picks Of 2023
Organic and eco-friendly products that help you achieve strong and luscious hair.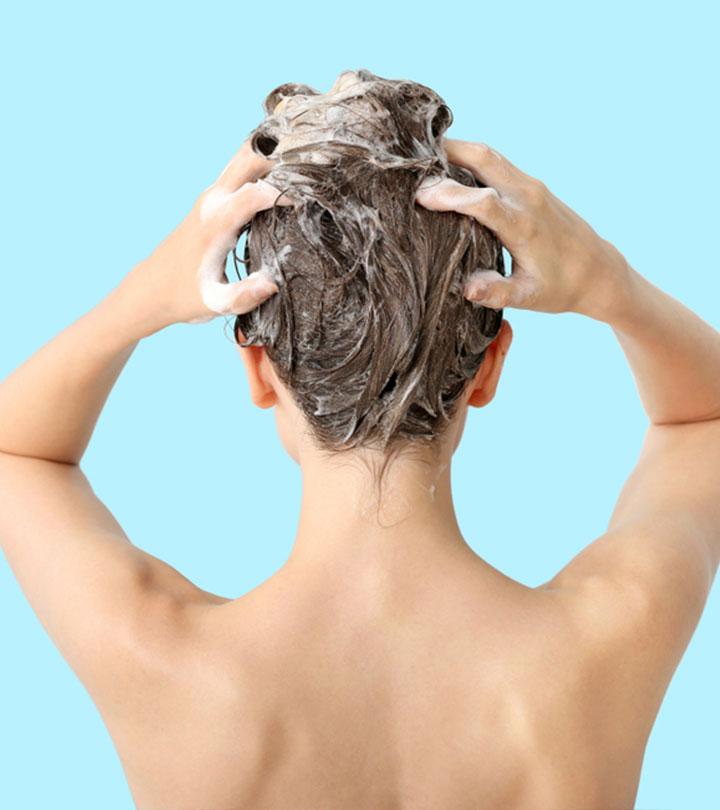 Have you ever used a shampoo bar? If you haven't, you need to own the best lush shampoo bar, and once you do, there is no going back! Even though the idea of rubbing a bar of shampoo on your hair seems odd, it does better cleaning and nourishing than liquid shampoos. The biggest bonus of using these bars is, they are entirely eco-friendly and use natural and organic ingredients to cleanse your hair. They are also made cruelty-free and come in plastic-free packaging to do your part for saving the environment. No matter what essence and fragrance you want, your shampoo bar comes with it. So, sounds like a win-win situation, doesn't it? If you are unsure what to buy and which one is made specially to compliment your hair needs, we have it right here. Go through our list for reviews on the popular shampoo bars that have revolutionized the haircare industry. So, ready to transform your hair while going green?
10 Best Lush Shampoo Bars For Gorgeous Hair In 2023
Made with natural ingredients, this product is one of the best lush shampoo bars if you're someone with sensitive skin. It has no artificial dyes, harsh chemicals, and other hair damaging substances. Its 100% organic and gentle formula ensures that this sulfate-free lush shampoo bar is just the right product for people belonging to all age groups from infants to small children and teens to even women who are expecting. This shampoo bar not only cleans your hair but also provides it great conditioning, which leaves you with nice, soft and shiny hair after every wash. Its key ingredients shea butter and nut oils make this product one of the most moisturizing lush shampoo bars on the market. The plant oil ingredients also help soothe the scalp and contribute to the rejuvenating aroma of this shampoo bar. Packaged using recycled and recyclable materials, this product is certainly a great choice if you're looking for an eco-friendly approach to selfcare. Have a look at this video to learn more about the product.
Pros
Free of sulfates
No artificial dyes
Eco-friendly
Paraben-free
Can be used on babies and by pregnant women
Cons
Effects may not be long lasting
Price at the time of publication: $9.99
Are you looking for an intense repair lush shampoo bar? Here's an amazing brand that can restore your hair naturally. One of the best lush shampoo bars for damaged hair, it keeps your hair strong, shiny and happy. Enriched with high-quality organic ingredients such as shea butter, olive oil, ginger oil and ginseng extract, it provides you with deep nourishment and moisturization, while also balancing oil secretion. What sets this product apart as a great lush shampoo bar for hair growth, is that it works on 2 levels. It repairs and improves hair follicles while also preventing hair loss.
Pros
Promotes hair growth
Prevents hair loss
Repairs and improves hair follicles
Balances oil secretion
100% natural.
Cons
Many not be best suited for very curly hair
Price at the time of publication: $16.99
If you are looking for a cost-friendly alternative to expensive lush shampoo bars but do not wish to compromise too much on the quality, the DLuxSpa lemon solid shampoo bar is for you. This shampoo bar lathers quite well and washes out just as neatly, giving your hair a deep cleanse. Made with sweet almond oil and lemon essence, this product has eco-friendly, plastic-free packaging and is cruelty-free. One of the most distinguishing features of this lush new shampoo bar is its refreshing lemon fragrance. This product has a delightful scent that leaves you feeling clean and rejuvenated without seeming overly-perfumed.
Pros
Lathers well
Mild lemon fragrance
Eco-friendly
Cruelty-free
Cost-effective
Cons
Contains sodium lauryl sulfate
Price at the time of publication: $5.48
Made with a host of natural ingredients, this shampoo bar gives your hair a nice, cleansing wash and restores its natural, healthy shine. Enriched with coconut oil, cocoa butter, and hemp seed oil, it cleanses and nourishes all hair types. Its gentle and natural formula makes this product a great lush shampoo bar for colored hair and to be used on children. The tangerine, orange. and vanilla essential oils in this lush shampoo bar leave your hair with a sweet and stimulating aroma.
Pros
Gluten-free
Cruelty-free
100% organic
Suitable for color-treated hair
Cons
Price at the time of publication: $27.95
This lush anti-dandruff shampoo bar uses a plant-based formula to strengthen your hair and fight dandruff. This product has a rich and delicate lather as well as a deep cleaning power, which makes it a great lush shampoo for oily hair while at the same time catering to people struggling with an itchy and dry scalp. Ingredients like shea butter, coconut oil, olive oil, and chamomile in the soap gives your hair intense nourishment, helps retain hair moisture and offers antimicrobial benefits, making it one of the most moisturizing lush shampoo bars.
Pros
Anti-dandruff shampoo bar
Provides intense moisturization
Eco-friendly
Antimicrobial properties.
Cons
If you're looking for a lush shampoo bar for greasy hair, here's an organic shampoo bar that meets the requirements of different hair types as well as hair concerns. Enriched with organic cocoa butter, extra virgin olive oil, green tea oil, and lemon essential oil, this lush shampoo bar provides intense repair to damaged hair and helps soothe your scalp. Its silicon-free formula is equally effective in both hard and soft water. This earth-conscious shampoo bar is available in sustainable packaging, which can be reused and recycled endlessly.
Pros
100% organic
Paraben-free
Phthalates-free
Silicone-free
Never tested on animals
Cons
Price at the time of publication: $11.5
Here's a great shampoo bar for oily hair and a sensitive scalp that does not strip your hair of its natural luster. Made with the obroma cacao seed butter and infused with the alluring scent of grapefruit, this natural shampoo bar can also be used as a body soap, hand soap, and face wash. This product is safe for color-treated hair and dyed hair. This solid shampoo bar revitalises your hair and also doubles up as a lush dandruff treatment for hair.
Pros
Eco-friendly
Suitable for color-treated hair
Anti-dandruff shampoo bar
Lathers well
Cons
Price at the time of publication: $12.9
This pH-balanced soap is an ideal soap for all hair types and leaves your hair feeling soft and silky after every wash. It also works on smoothing and strengthening your hair. The key ingredient of this sulfate-free lush shampoo bar is keratin, which is a type of protein that rebuilds the protein structure of your hair and over time, helps repair hair damage. Another important ingredient is silk protein, which plays a role in balancing the hair moisture and also adds lustre to your hair.
Pros
Paraben-free
Phthalate-free
Contains vitamin B5
Never tested on animals
Contains keratin
Handcrafted
Cons
Some might find the smell too strong.
Price at the time of publication: $14.99
This lush shampoo bar comes with a delightful and sweet strawberry scent. Its small and compact size makes it the ideal travelling hair care system. Its key ingredients include sweet almond oil and olea europaea fruit oil. This eco-friendly product is sustainably packaged and is also cruelty-free. So, if you're looking for a shampoo bar with a fruity fragrance, Douce Nuit strawberry shampoo bar offers you just that.
Pros
Eco-friendly
Strawberry fragrance
TSA-friendly
Cruelty-free.
Cons
Here's one of the best lush shampoo bars for fine hair. The D.R. Harris & Co. Shampoo Bar adds volume to thinning hair and gives your hair a fresh, seaside fragrance. Enriched with Dead Sea salts, what makes this product a great lush shampoo for thinning hair is that it adds volume to your hair in a few simple steps. All you need to do is gently rub the bar between your hands and it takes no time in producing a rich lather that deeply nourishes your hair and scalp. Packaged in a travel-friendly aluminum tin, this is a wonderful lush shampoo bar for people who wish to achieve beachy waves effortlessly.
Pros
Eco-friendly
Travel-friendly
Volumizes thin hair
Lathers easily
Contains Dead Sea salt.
Cons
Price at the time of publication: $13
Now that we've looked at some great lush shampoo bars available at the click of a button, here are a few things that can help you pick the right shampoo bar as per your requirements.
How To Choose A Lush Shampoo Bar?
Ingredients
Each shampoo bar comes with its unique combination of ingredients. So, it is important to understand the ingredients before buying it. If you are struggling with a dry scalp and itchiness, shampoo bars that soothe irritated skin might be right for you. The rich moisturizing properties of shea butter make it an important ingredient to look out for. Other great moisturizing agents are honey, coconut oil, avocado oil, and olive oil. Not only do these ingredients fight dryness but also help in preventing hair damage. The secret to keeping your hair happy is to keep it hydrated and nourished. If you are looking for a big, beachy look or you just want to add some volume to your hair, you should look for shampoo bars with citrus ingredients or sea salts.
Hair types and hair conditions
If you have color-treated hair or a sensitive scalp that might react to chemicals, you should opt for p- balanced shampoo bars and products that claim to be safe for use on colored hair. It is also usually recommended to opt for products with a gentle and plant-based formula if you have sensitive hair. In case you're struggling with dandruff and require deep hair conditioning, look for shampoo bars that offer an intense repair formula. Keratin is an ingredient that rebuilds the protein structure of your hair and is essential in reversing hair damage.
Organic shampoo bars
Many people like to opt for lush shampoos that are 100% natural, if you're one of them, ensure that the shampoo bar is free of sulfates, parabens, artificial dyes, and other such harmful ingredients. You will also find quite a few vegan and cruelty-free shampoo bars.
Fragrances
Sometimes you just can't use a product because the smell is too strong or overpowering. If you're a person who is sensitive to strong fragrances, it is important to look out for the kind of scent your shampoo bar is offering. If you want to feel fresh and ready, a nice lemon fragrance might just be for you or you want your hair to smell nice and fruity, look for products that offer strawberry or cherry fragrances.          
How To Use A Lush Shampoo Bar?
Lush shampoo bars are not only great for the environment but are also convenient to use and carry. All you need to do is rub the bar between your hands and until it produces some lather. Gently massage your hair and scalp with this soap and rinse out the shampoo from your hair.
Why Trust StyleCraze?
The author, Vaishnavi Kothuri, is a hair care enthusiast who loves trying and reviewing new hair care and styling products. Here, she has reviewed the best Lush shampoo bars. She has carefully gone through user reviews, feedback, and product formulations before picking the best ones for the list. These shampoo bars are suitable for all hair types and concerns. They keep your hair smooth, silky, and nourished.
Frequently Asked Questions
Are shampoo bars sulfate-free?
While a lot of lush shampoo bars are free of sulfates, there are still some brands that use SLS and other chemical substances. So, it is recommended to go through the list of ingredients before buying a shampoo bar and check if the product claims to be SLS-free.
Are shampoo bars color safe?
Not all shampoo bars are color-safe.
Can you use a lush shampoo bar on the body?
While these shampoo bars are primarily for your hair, a lot of these products can alternate as hand soaps and body washes.
Is a shampoo bar good for your hair?
Yes, lush shampoo bars cleanse your hair and scalp and also help repair hair damage. A lot of products are great for moisturizing your scalp and also adding volume to your hair. If you are looking for an anti-dandruff shampoo, certain lush shampoo bars cater to just that requirement of yours.
How long does a lush shampoo bar last?
Most lush shampoo bar products mention the average period for which they claim to last. But it also depends on the length of hair, your hair condition and other such factors.
How many washes does a Lush shampoo bar last?
A Lush shampoo bar lasts 80-100 washes which is approximately two to three months of use.
Recommended Articles