12 Best Luxury Hand Soaps In 2023 To Make Your Hands Feel Silky Soft
Organically formulated products that keep your skin feeling smoother than ever.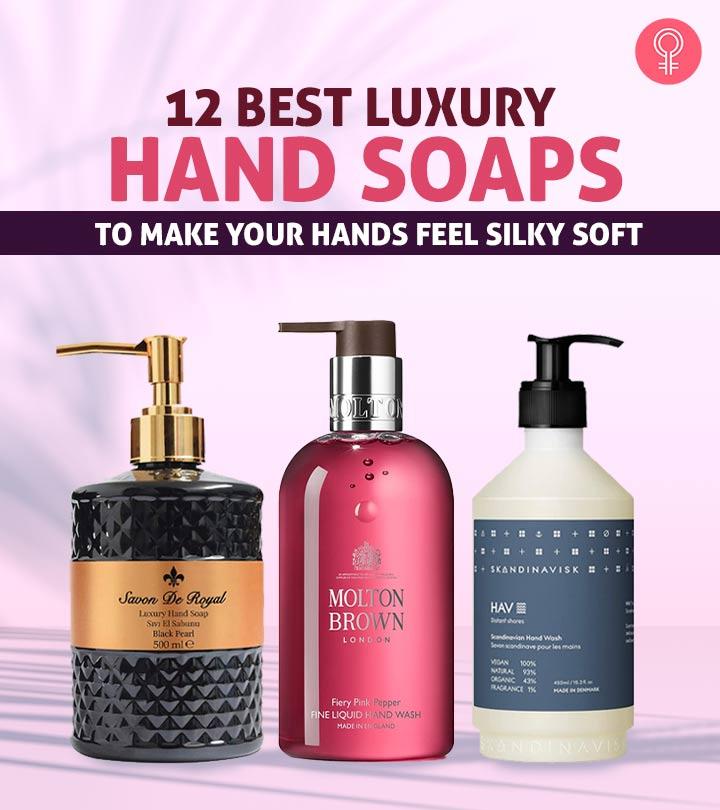 Washing the hands regularly using hand soap or hand wash has become necessary to keep ourselves safe and healthy from quickly spreading viruses and harmful diseases. But the regular hand soaps may give you the unpleasant feeling or the feeling that you may be working in a pharmacy store because of the chemical scent. Thus the best luxury hand soap comes in handy. These premium hand soaps cleanse thoroughly and keep your skin soft and nourished.
Hand soap is must-have – whether in the kitchen, bathroom, or near a sink. This is why to prevent hand dryness and to add a feel of refreshing luxury to your every routine, add luxury hand soaps in your life. This post discusses the best luxurious hand soaps and a buying guide that assists you in easy picking the product. Keep scrolling!
12 Best Luxury Hand Soaps To Make Your Hands Feel Silky Soft (Top Picks Of 2023)
Enjoy the elegant and stylish look of Molton Brown Delicious Rhubarb and Rose Fine Liquid Hand Wash. This luxury hand wash has a nourishing formula with a heavy scent that makes you feel fresh all day. It is a sweet moisturizing wash with a blend of rose extract and yuzu fruit accord. This scented hand soap comes with top notes of grapefruit and lemongrass, mid notes of rose and spearmint, and base notes of vanilla, musk, and spun sugar. Its amazing fragrance is one of the reasons why it's so popular amongst several reviewers.
Key Specification
Pros
Vegan
Cruelty-free
Phthalate-free
Gluten-free
Paraffin-free
Nut-free
Cons
None
The stylish black and white pattern of the Michel Design Honey Almond Shea Butter Hand Soap bottle makes it appear elegant wherever placed – in the kitchen, bathroom, or near the sink. The luxurious shea butter and aloe vera infused in the hand wash keep your skin smooth and hydrated. In addition, the hand wash comes with the fresh fragrance of sweet almonds muddled with cherry, honey, and vanilla. This product has garnered praise from reviewers due to its wonderful fragrance and formula that keeps your hands from feeling dry.

Key Specification
Pros
Pleasant fragrance
Thorough cleansing
Cons
For an indulgent cleanse and exfoliation treatment, use the Aesop Reverence Aromatique Hand Wash. It contains botanical extracts and finely milled pumice that make the hands smooth, purified, and refreshed. The handwash is infused with vetiver root, petitgrain, bergamot rind. It makes your skin clean, supple, and polished. In addition, the hand wash has a woody, earthy, and smoky fragrance. It has an opaque and gel-like texture. This hand soap with natural fragrances comes in recyclable plastic bottles. You can also check this video out for a brief review of the product.
Key Specifications
Pros
Cruelty-free
Vegan
Paraben-free
Cons
May experience thin consistency
The luxury Molton Brown Fiery Pink Pepper Fine Liquid Hand Wash has a reviving formula with a woody fragrance that keeps you refreshed all day. It effectively makes your skin cleansed and revived. This wash comes with the top notes of pink pepper, tangerine, and elemi, mid notes of nutmeg, jasmine, and ginger, and base notes of patchouli, oakmoss, and cedarwood. Multiple reviewers report that they feel refreshed and uplifted after using this fragrant product.
Key Specifications
Pros
Vegan
Gluten-free
Paraben-free
Phthalate-free
Cruelty-free
Cons
May experience the strong ginger smell
The La Chatelaine Luxury Soap Collection kit includes six soap bars uniquely crafted with the wellness of natural ingredients. These luxury hand soaps are formulated to cleanse, moisturize, and nourish while washing your hands. In addition, the soaps are enriched with argan oil, calendula, organic shea butter, and vitamin E that not only give you pampering moments but also keep your hands soft and hydrated. If you need more convincing, feel free to take a look at this YouTuber's video review on the merits and demerits of the product.
Key Specifications
Based on natural ingredients
Pros
Phthalate-free
Plant-based
Cruelty-free
Paraben-free
SLS-free
Hand wrapped soaps
Cons
The Molton Brown Orange & Bergamot Fine Liquid Hand Wash is enriched with bright Seville orange, fragrant neroli, and mandarin. The top notes include the fragrance of orange oil, bergamot, lemon, and mandarin; the middle notes include petitgrain, cardamom, and galbanum; and the base notes consist of cedarwood, ylang-ylang, and musk. This hand soap is suitable for all skin types, so why not test it yourself?
Key Specifications
Pros
Suitable for all skin types
Vegan
Gluten-free
Paraben-free
Nut-free
Paraffin-free
Phthalate-free
Cruelty-free
Cons
None
Prevent the feeling of dryness with the L'Occitane Mousse Ultra Riche Wash. This hand wash is formulated with 5% shea butter, making your skin silky soft. The goodness of shea butter keeps your hands moisturized all day. In addition, the foaming cream thoroughly cleanses your hands and is easy to rinse. Reviews on Amazon recommend this product for sensitive skin due to its gentle formula.
Key Specifications
Pros
Dermatologically tested
Pleasant fragrance
Cons
May have a thin consistency
Now you can transform your regular hand washing routine into a meaningful moment with this hand wash from The Ritual Of Sakura. The formula is enriched with rice milk that makes your skin soft and supple. It also has cherry blossoms to add a refreshing scent to it. The soap-free formula hydrates and protects your hands. Combine it with a hand balm from the same range for the best results. This hand soap with a refreshing scent is also available in our eco-chic refill option.
Key Specifications
Hydrates and protects your hand
Pros
Pleasant fragrance
A little goes a long way
Cons
None
Clean your hands without drying them out with the Cucina Fruits & Passion Purifying Hand Wash. This hand wash makes your hands delicately fragranced. It comes with the top notes of lemon zest, middle notes of cypress, and base notes of citrus. The hand soap is rich in oleic acid that enhances the skin's protective barrier, preserving the skin's natural elasticity.
Key Specification
Has anti-aging properties
Pros
No animal testing
Reusable and refillable bottle
The bottle is made of glass.
Long-lasting fragrance
Cons
Keep your hands hydrated with the wellness of aloe vera extract in the Skandinavisk HAV Hand Wash. This handwash effectively cleanses your skin by keeping it moisturized. It is formulated carefully with the goodness of natural ingredients. In addition, the hand wash has a fresh fragrance of salt, seaweed, hawthorn, and beach rose. This is one hand wash that deserves all the rave reviews for its amazing smell and feel.
Key Specifications
Has the goodness of natural ingredients
Pros
Recyclable bio-plastic bottle
Vegan
Cruelty-free
Gentle fragrance
Cons
None
Nourish your hands while cleansing with the OUAI Hand Wash. This exfoliating hand soap is packed with powerful ingredients that remove all the dirt and impurities from your hands. Jojoba infused in hand wash effectively exfoliates your skin, while castor oil creates a moisturizing lather. In addition, this hand soap with soothing properties is made with a blend of rosehip and avocado that soothes and replenishes your skin. This is one luxury hand wash that you must put to the test!
Key Specifications
Soothing and replenishing
Pros
Cruelty-free
Vegan
Paraben-free
Sulfate-free
Cons
Give your bathroom or sink a sophisticated look with the textured bottle design of the Savon De Royal Luxury Hand Soap. This hand soap is formulated to clean your hands effectively and keep them soft and moist all day. The soap is compatible with the pH value of all skin types. Additionally, it has a pleasant smell of sweet orange and galbanum at the top and patchouli and vanilla at the base which has multiple reviewers go back to this product again and again.
Key Specifications
Long-lasting moisturization
Pros
Vegan
Paraben-free
Cruelty-free
Long-lasting
Alcohol-free
Cons
May experience a strong smell
If you are wondering which luxury hand soap will be a good fit for you, keep reading about the buying guide and the relevant factors below.
How To Choose The Best Luxury Hand Soap
Below mentioned are some important factors to consider before choosing the right-hand soap.
Texts like "Organic", "pure", "natural", and "gentle" may be misleading sometimes. So, ensure that your soap has ingredients that match the label mentioned on the bottle.
You don't want to smell your hands in a chemical factory. And, a strong fragrance might make you uncomfortable. If you are sensitive to strong smells, you may even experience allergies. So, pick a hand soap with a mild fragrance or the fragrance you like.
Hand soaps made of nasty chemicals like PEG, SLS, Triclocarban, Triclosan, Propylene Glycol, and artificial colorants may make your hands dehydrated. Find a formula that is crafted without these chemical monsters.
If you opt for liquid hand soap, select a hand soap that comes with medium consistency. A very thick consistency makes hand washing difficult or might be too strong for your hands. A thin or liquid consistency may not help eliminate the germs from your hands.
Why Trust StyleCraze?
The author of this article, Shiboli Chakraborti, is a certified skin care coach. She believes that using hand soap is a must to maintain proper hygiene. After conducting in-depth research and going through multiple online reviews, she has curated the list carefully. It includes some of her top picks too. These hand soaps are free from synthetic chemicals and will keep your hands refreshed all day long.
Frequently Asked Questions
What Is The Best Way To Wash Hands With Luxury Hand Soap?
WHO recommends the following steps for cleaning your hands:
Wet your hands using running water.
Cover your hands and wrists with enough hand soap.
Now, rub your hands together thoroughly, scrubbing the fronts, backs, and in between your fingers. Ensure that you are also cleaning your fingertips and wrists.
Scrub for at least 20 seconds.
Next, rinse thoroughly with clean water.
Allow your hands and wrist to air-dry, or use a clean towel to dry your hands.
Which hand soap is the most moisturizing?
Soaps that have hydrating agents like aloe vera, shea butter, etc. are good moisturizing hand soaps. Try the L'Occitane Mousse Ultra Riche Wash formulated with 5% shea butter for a moisturizing cum luxurious experience.
What makes a good hand soap?
If your hand soap both moisturizes and effectively kills germs then it's a good soap.
What is the shelf life of hand soap?
A bar of hand soap is good for 2-3 years. After 2-3 years your hand soap will lose its effectiveness to clean and moisturize your hands.
What kind of hand soap do doctors and nurses use?
Doctors use antibacterial hand soaps that have a more antiseptic effect.
Does foam hand soap dry out the skin?
No, foam soaps do not dry your skin. They are more moisturizing than bar liquid soap.
Is Dove a good hand soap?
Yes. The pH of Dove hand soap is neutral and will help you to kill germs while keeping your hands soft and moisturized.
Recommended Articles