13 Best Luxury Skin Care Products For Women Are Worth Every Penny
Indulge yourself by pampering your skin with premium quality skincare essentials.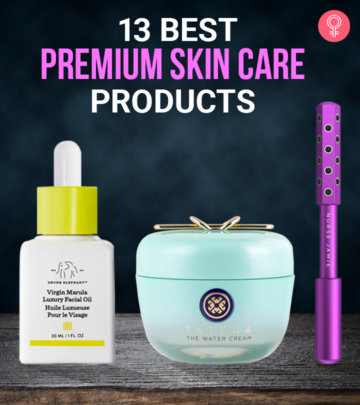 If you have been wanting to add some of the best luxury skin care to your vanity, we've got you covered! While there are many drugstore brands that meet your skin needs, sometimes you need to splurge a bit on yourself, especially when it is skin care. These luxurious products are enriched with exotic ingredients and premium oils that are worth every penny. They are formulated after tons of research and raved by celebrities all over the world. Well, you also deserve to treat yourself to some indulgence to feel like a goddess! With so many brands available, we have curated a special list of the 13 best luxury skin care products to help you choose the one you fancy. Check them out below!
From the house of Estee Lauder, the Advanced Night Repair Serum is the most comprehensive serum. It comes with the Chronolux™ Power Signal Technology that restores the skin's ability to naturally repair the signs of aging caused by environmental stresses. This fast- and deep-penetrating day and night serum offers 8-hour antioxidant protection from everyday pollutants and harmful sun rays. It leaves your skin hydrated and smooth for 72 hours and strengthens the skin barrier in just 4 hours of application. The active ingredients promote cell renewal and collagen production to reduce the appearance of wrinkles and lines. In three weeks, it makes all skin types look radiant, healthy, plump, and youthful. Need more information about the product? Watch this video.
Key Ingredients: Baobab seed extract, Kola seed extract, Chamomile flower extract, Sodium hyaluronate, Pantethine
Pros
Suitable for mature skin
Mineral oil-free
Recyclable packaging
Paraben-free
Phthalate-free
Dermatologist-tested
Non-comedogenic
Ophthalmologist-tested
Sulfate-free
No synthetic fragrance
Cons
None
Price at the time of publication: $57.5
The Water Cream is a best-selling anti-aging cream from TATCHA. It harnesses the benefits of powerful Japanese botanicals. This oil-free, non-sensitizing cream releases a burst of hydration for clear, poreless skin. It contains Hadasei-3™, an anti-aging trinity of green tea, rice, and Mozuku algae that restores youthful radiance in mature skin. Pure extracts from Japanese wild rose and leopard lily plants visibly tighten pores, control sebum production, and boost cell renewal. This non-comedogenic cream suits normal to oily skin and leaves it with a subtle, shine-free 23-karat gold glow. This video will give you a better insight into the qualities of the cream.
Key Ingredients: Rice ferment filtrate, Green tea extract, Mozuku algae extract, Gold, Leopard lily extract, Japanese rose extract
Pros
Oil-free
Non-sticky
Paraben-free
Non-comedogenic
Sulfate-free
Cruelty-free
Non-sensitizing
Dermatologist-tested
No synthetic fragrance
Phthalate-free
Urea-free
Cons
Not suitable for dry skin
Contains alcohol
Price at the time of publication: $123.0
The Drunk Elephant Virgin Marula Luxury Facial Oil is a pure, raw, untouched, unprocessed extract from the marula fruit pip. It is extracted using Drunk Elephant's proprietary raw, cold-press extraction and filtration process. What you see in the bottle is the purest and most concentrated form of the marula kernel oil, rich in critical antioxidant polyphenols and omega fatty acids.
This fast-absorbing oil deeply nourishes your skin, restores its glow, and softens the look of fine lines and wrinkles. The omega fatty acids repair the skin barrier to fighteveryday pollutants and stresses. To keep it unrefined, this facial oil is formulated without allergy-causing essential oils, silicones, parabens, paraffin, mineral oil, fragrances, sulfates, and animal products. Watch this YouTuber's honest review to get a better idea about the product and its functions.
Key Ingredients: 100% Unrefined marula kernel oil
Pros
Mineral oil-free
Vegan
Suitable for sensitive skin
Silicone-free
No artificial fragrances
Cruelty-free
Paraben-free
Sulfate-free
No paraffin oil
Cons
None

Price at the time of publication: $58.0
The NuFACE® Mini is an FDA-approved at-home facial toning device that uses Microcurrent Skincare™ to improve the facial contours and tone. It is a clinically-tested travel-size device that helps you achieve professional results in softening the appearance of fine lines and wrinkles on the go. NuFACE® Mini gently stimulates the larger surface areas of your face and neck using microcurrent pulses to boost blood circulation and skin elasticity. When used regularly with the hyaluronic acid-rich NuFACE® Hydrating Leave-On Gel Primer, this facial tool makes your skin look younger, brighter, and tighter.
Its simple and compact design and high-quality standards make NuFACE® Mini a worthy investment to look your best every day. Recommended use is about 5 minutes per day for 5 days/week for the first 60 days. You can dial down to using it 2-3 days/week after that. If you have a pacemaker and/or electromagnetic implants, consult your doctor before using this tool.
Key Ingredients: Hyaluronic acid, Snow ear extract, Betaine
Pros
Travel-friendly
Convenient to use
Non-invasive
Safe for all skin types
Clinically-tested device
FDA-approved technology
Paraben-free
Primer included in pack
Cons
Frequent breakdown issues
Price at the time of publication: $209
The Keomi Skincare All Natural Handmade Soap Gift Set is made by artisans in the USA using 100% pure raw materials. Each soap in this set is scented with aromatherapy-grade essential oils and individually wrapped with Japanese handmade paper to maintain its unique scent. All the soap bars come tucked snugly into an attractive natural colored box with dried flowers, making it ideal for gifting to your loved ones or for a self-care indulgence. These soaps are eco-friendly and sustainable. They are made to cater to the needs of all skin types, especially sensitive skin. Thus, they are gentle, non-irritating, and cruelty-free. Choose from subtle and seasonal fragrances like Luscious Lavender, Sea Breeze, Golden Crown, and Green Tea Goddess.
Key Ingredients: Safflower oil, White tea, Avocado oil, Dead Sea clay, Sea salt, Cocoa butter, Rice bran
Pros
Vegan
Cruelty-free
No artificial dyes
Preservative-free
Sulfate-Free
Nut-free
Gluten-free
Contains organic ingredients
Suitable for all skin types
Hypoallergenic
Cons
None

Price at the time of publication: $39.97
The Nurse Jamie UpLift™ Massaging Beauty Roller is a new-age, battery-free beauty tool for the face and body. It has a unique hexagon shape that holds 24 massaging stones to temporarily energize, revive, and uplift your skin. It is famous for its ease of use, portability, and quick results and relief. This mechanical beauty tool utilizes the innovative rhythmic rolling action that replicates the spa-style facial massage techniques. It promotes collagen production and diminishes the lines and wrinkles on your face and neck. This face roller is designed and built to suit most skin types and ages with no side effects.
Key Ingredients: Battery-free massaging stones
Pros
No batteries required
Portable
Suitable for most skin types
Easy to use
Simple design
Long-lasting
Lifts and de-puffs the face
Sturdy
Cons
May feel rough on sensitive skin
Price at the time of publication: $69
The AMOREPACIFIC Treatment Cleansing Foam removes impurities and makeup residue without drying out normal or oily skin. It delivers a burst of freshness and moisture through vitamin E beads. Along with vitamin E, this cleaning foam contains the BioGF1K Complex™ and amino acids that purify and protect the epidermis. The BioGF1K Complex™ is made up of active compounds of red ginseng which provides antioxidant protection against free radical damage. It also offers anti-aging benefits and boosts elasticity and firmness with the help of algae and licorice extracts.
Key Ingredients: BioGF1K Complex™, Amino acids, Licorice extract, Vitamin-E, Algae extract
Pros
Gentle action
Long-lasting
Lathers well
Rejuvenating scent
No residue
Ideal for winter
Cons
Price at the time of publication: $52.0
SK-II Facial Treatment Essence features the signature PITERA Essence for crystal clear skin. It blends vitamins, amino acids, minerals, and organic acids to promote your skin's natural renewal process. It also gently exfoliates your skin while balancing sebum production and essential hydration. This water-based facial treatment can be used every morning and night after cleansing and toning your face and neck. A unique, science-backed composition makes it suitable for all skin types and skin needs in all seasons.
Key Ingredients: PITERA Essence
Pros
Water-based formula
Lightweight
Suitable for all skin types
Easy to use
Gets absorbed quickly
Hypoallergenic
Mildly scented
Long-lasting
Cons
May cause dark spots
Expensive
Price at the time of publication: $53.46
With 100% natural ingredients from organic farms in Vermont, the Rejuvenating Serum from TATA HARPER is a show-stopper. This award-winning serum is a savior for sensitive skin and mature skin with visible signs of aging. It minimizes the appearance of wrinkles and tightens and brightens the skin for a healthy, youthful-looking appearance. Its all-natural formula includes exotic organic extracts from mango, barley, safflower, calendula, jojoba, seaweed, arnica, and borage. It also has essential oils from several medicinal herbs and flowers that soothe your skin and leave a subtle lingering scent. Anti-aging components like hyaluronic acid form the base of this best-selling serum and bring about quick and visible results on all skin types.
Key Ingredients: Mango seed butter, Barley leaf juice, Safflower oil, Jojoba seed oil, Hyaluronic acid
Pros
Long-lasting
Lightweight
Pure organic ingredients
Certified by Ecocert Greenlife
Ideal for mature skin
Rejuvenating fragrance
Suitable for sensitive skin
Chemical-free
Cons
Price at the time of publication: $146
The Creme de La Mer Moisturizing Cream is a luxurious revitalizing face moisturizer enriched with marine properties and ingredients. It contains high-quality extracts of algae (seaweed), lime, sweet almond, sunflower seed, sesame seed, alfalfa, eucalyptus leaf oil, and sesame seed oil. This exotic moisturizing cream also has active antioxidants that dissolve quickly into the deepest layers of your skin. These ingredients deeply nourish and lock moisture in the layers of your skin. The antioxidants reduce the signs of aging caused by free radicals, sun exposure, and stress to reveal younger-looking skin.
Key ingredients: Seaweed extract, Marine properties, Vitamins C and E
Pros
Spreads well
Subtly scented
Suitable for mature skin
Dissolves instantly
Suitable for dry skin
Long-lasting
Non-greasy
Cons
Price at the time of publication: $260.0
The Rose Gold Brightening Facial Treatment Mask by 111SKIN is what your face needs when you're running late to a party. This hydrogel formula infuses the skin with radiance-boosting ingredients for a glowing complexion. The sheet mask contains 24k gold and hydrating rose extracts. Nourishing and anti-aging additives like locust bean gum, apricot oil, licorice root, and Argireline extract work both to illuminate and calm the skin for a party-ready glow. Other antioxidants protect your skin from external stresses and soften wrinkles and fine lines. This mask almost instantly repairs the moisture barrier and brightens the complexion to reveal a supple, lifted, and well-rested face.
Key Ingredients: Locust bean gum, Apricot kernel oil, Licorice extract, Guar gum, Rose extract
Pros
Quick-absorbing formula
Leaves a refreshing sensation
Convenient to use
Contains real 24K gold
Easy to remove
Fast-acting formula
Softens the signs of aging
Adds instant radiance
Cons
Price at the time of publication: $30
The Skinesis Overnight Facial Night Elixir by Sarah Chapman is a multi-award-winning, skin-transforming serum-oil that lifts, firms, and rejuvenates your skin overnight. It recreates the skin-perfecting benefits and glow of a deep facial while you enjoy your beauty sleep. This silky, lightweight formula comes with Renovage that helps to extend the lifespan of the skin cells, while the Dermaxyl technology boosts collagen production to help reduce signs of aging. This elixir also contains antioxidant vitamins A and C and fatty acids that protect your skin from a variety of stresses. A blend of essential oils helps soothe and brighten the complexion, leaving a mild, lingering aroma around you.
Key Ingredients: Vitamins A, C, E, Renovage, Dermaxyl Oligopeptide, Abyssinian oil, Meadowfoam seed oil, Baobab oil
Pros
Silky texture
Ideal for all skin types
Weightless serum-oil
Quick-absorbing formula
Plumps up the skin
Makes skin firm
Long-lasting
Mildly scented
Adds radiance
Cons
None
Price at the time of publication: $79.95
La Maison's Valmont Prime Renewing Pack is a powerful anti-aging mask-cream that restores and renews mature and/or stressed skin. These effects are brought about by the active ingredients in the formula, including the anti-wrinkle peptides, ginseng extracts, and liposome RNA as part of the Cellular Prime Complex. The liposome RNA activates cell division in the skin layers while the Triple DNA deeply hydrates and enhances the moisture-retaining capacity. This weightless, silky mask softens the signs of aging, fatigue, and fine lines in just minutes. It refreshes the complexion and texture of all skin types when used regularly.
Key Ingredients: Cellular Prime Complex with Triple DNA, Liposome RNA, Peptides+
Pros
Non-greasy
Fast-acting formula
No residue
Quick-absorbing formula
Ideal for mature skin
Softens fine lines and wrinkles
Lightweight
Cons
Price at the time of publication: $120
Skin care is a necessary part of our daily life and hygiene. While you can absolutely achieve an effective skin care routine with drugstore products, indulging once in a while on luxury skincare products can also be quite a good investment both for yourself as well as for your skin. So, read the guide below in order to know how you can choose a luxury skin care product that will be worth your money.
What To Consider While Purchasing Luxury Skin Care Products
Skin Type – It is very important to know what your skin type is and what works on it. Knowing your skin will help you to understand it better and choose products that will prove effective on your skin without causing any irritation or breakout. If you have oily skin, choose skin care products that can control excess sebum and keep your skin rejuvenated. People with dry skin should opt for ultra-hydrating skin care items. If you have sensitive or acne-prone, go for dermatologist-tested skin care products to keep your skin free from damage.
Ingredients – After knowing what your skin type is, the next step is to look for the ingredients in the product that you intend to buy. Understanding the purpose of each ingredient will make sure you pick up a product that will help you in addressing any skin issues.
Choose formulas with alpha-hydroxy acids (AHA), hyaluronic acid, benzoyl peroxide, niacinamide, and salicylic acid for oily or combination skin. If you have dry skin, choose ingredients such as lactic acid, shea butter, glycerin, hyaluronic acid, and vitamin E.
Skin care is meant to nourish and soothe your skin and choosing products that contain harmful and harsh ingredients defeats the purpose. Avoid choosing luxury skin care products with parabens, sulfates, phthalates, fragrances, formaldehyde, petroleum, and alcohols.
Consistency: People with dry skin should choose luxury products with thick consistencies in order to keep their skin as hydrated as possible. However, people with oily skin should avoid thick creams and serums. Choose lightweight products that can easily balance the excess oil and sebum in your skin.
Perform a patch test – No matter how clean or natural the ingredients list of a product is, perform a patch test before buying any skin care item, especially if it is an expensive one. Performing a patch test will help you determine if the product is safe to apply on your skin without causing irritation or any allergic reaction.
Read customer reviews – Luxury does not equate to better. No matter how expensive a skin care product is or how popular the brand is, it may still not be worth the money. If you are shopping online, it is a good idea to read customer reviews, look for past customers' experiences, and conduct self research before committing to a luxury product.
Why Trust StyleCraze?
The author, Oyendrila Kanjilal, is a certified skin care expert who loves finding products that enhance skin quality, texture, feel, and appearance. She recommends using the above-mentioned premium skin care products because they contain skin-enhancing and enriching ingredients. She spent many hours researching and investigating each product and their reviews to deliver this handpicked list. She chose each of these products based on the ingredients used to make them, skin care benefits, and more.
Frequently Asked Questions
Are high-end skin care products worth it?
High-end skin care products are worth it since they are manufactured using premium-quality ingredients and use special tried and tested formulations for their products.
Why would we go for luxury skin care brands?
Luxury skin care brands use lab-tested premium-quality ingredients, confirming their effectiveness and having high-quality standards.
Do expensive face creams make a difference?
Not necessarily. An expensive moisturizer and a drugstore moisturizer perform the same functions and may show similar results on your skin. It depends on which product suits your skin better.
What is the difference between a "luxury" skin care product and a "standard" skin care product?
Luxury skincare products are lab tested with active components and their own formulas, using natural, plant-derived extracts, and come in high-quality and excellent packaging. In contrast, most standard products do not have premium-quality ingredients or world-class labs to check product effectiveness.
Is Organic Skin care a necessity or a luxury?
Organic skin care is now a necessity since the products have all-natural, gentle formulations that are safe and effective for the skin.
Recommended Articles