12 Best M.A.C Eyeshadows Of 2022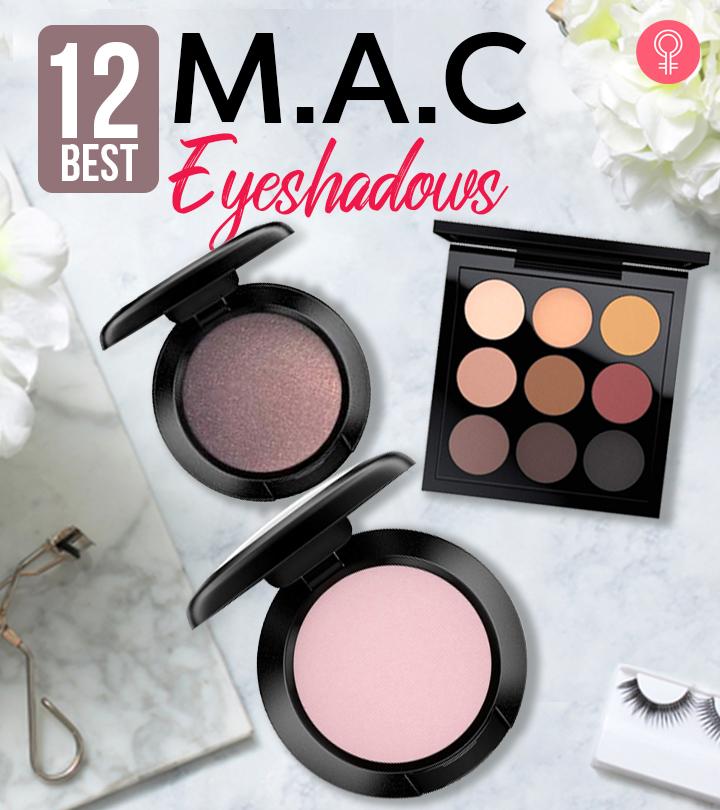 The best M.A.C eyeshadows are highly pigmented, easily blendable, and extremely long-lasting. M.A.C has been a leading cosmetic brand that caters to various skin tones and types. Their eyeshadows are well-liked by consumers all over the globe. They cater to the needs of a large group of people, irrespective of skin color, age, or gender. These versatile eyeshadow palettes are used by professionals and amateurs alike. What's more? The brand is cruelty-free too. So, go ahead and check out the best M.A.C eyeshadows available right now.
12 Best M.A.C Eyeshadows
The M.A.C Eye Shadow X 9: Amber Times Nine is a compact palette with nine different shades in neutral colors. From matted dull gray and frosty peach to velvety bronze, this palette covers basic colors with luxurious finishes, such as frosty, matte, and satin. It is suitable for daily wear or office makeup. This palette fits in the bag easily for touch-ups throughout the day. The pigments are intense, blendable, and vibrant for a night out or a party. If you are an absolute beginner, this video review might be useful.
Pros
Travel-friendly
Suitable for daily wear
Cons
None
The M.A.C Eyeshadow – Brun is a gorgeous shade of medium to dark brown with a matte finish. It goes well with both neutral and cool undertones and lasts up to 8 hours without fading. This versatile color can be used to create all kinds of looks – be it a simple nude look or a dramatic smokey eye. Its smooth texture blends well without streaking or creasing. This eyeshadow can be used both wet or dry and is safe for people who wear contact lenses.
Pros
Matte finish
Lasts up to 8 hours
No fading
Streak-free
Crease-proof
Safe for contact lens wearers
Cons
None
This shimmery champagne shade of peach imparts a dewy, luminous look. The warm-toned, neutral peach has a frosty finish that lasts for 8 hours with minimal fallout. This eyeshadow blends well and gives a subtle sheen that makes your eye color pop. The highly pigmented powder formula can be used either wet or dry for a refined and sophisticated look. This eyeshadow is a popular staple among makeup artists for its versatility.
Pros
Lasts up to 8 hours
Minimum fallout
Frosty finish
Can be used wet and dry
Cons
From creamy beige and mocha brown to matte pink and intense black, this eyeshadow palette from M.A.C has it all. This travel-sized palette is definitely a keeper. The eyeshadow is soft, blendable, super-pigmented, and easy to apply. It can be used both dry or wet and lasts up to 12 hours. The light corduroy beige shade in this eyeshadow palette is quite popular. Check out this review for a detailed understanding about the product.
Pros
Lasts up to 12 hours
Travel-friendly
Can be used wet and dry
Cons
None
This powder-based eyeshadow from M.A.C in a lovely grayish purple shade is a must-have in your collection. Satin eyeshadows in semi-matte or frosty finishes are stylish and versatile. This eyeshadow is long-wearing and has a soft texture. Its crease-free color is universally flattering for most skin tones. The mauve undertone is a show-stopper without being too dramatic or glaring.
Pros
Cons
None
The M.A.C Dusty Rose Times Nine in nine different shades can be used to create endless looks. This pocket-sized palette is super handy and refillable. The colors are in different finishes – satin, frost, and matte. These pigments are well saturated and can be used both wet or dry.
Pros
Refillable
Revel-friendly
Can be used wet and dry
Cons
None
The M.A.C Eye Shadow in Vanilla is a staple favorite among makeup enthusiasts. This beautiful light beige with a hint of pink has a soft, delicate texture. It is buildable and has good pigmentation that complements warm tones. The satin finish is flirty and feminine – perfect for a romantic date night. This eyeshadow gives a luminous effect without being too shimmery.
Pros
Cons
None
The M.A.C Eye Shadow in Charcoal Brown is well pigmented and has a smooth texture. This muted brown shade blends effortlessly without creasing. The matte finish is suitable for yellow undertones. This eyeshadow is a great base for a sultry brown smokey eye, which is mildly dramatic but as effective as the intense dark smokey eye. You can use this product to line the upper eyelid for a defined look.
Pros
Matte finish
Crease-proof
Cons
None
This chalky pink shade is suitable for light skin tones. The matte finish lasts for up to 7 hours without fading or creasing. The neutral base can be used for creating cute and playful looks. This eyeshadow works well with most colors and blends easily. It highlights the eyes, making them look big and bright.
Pros
Matte finish
Lasts up to 7 hours
No fading
No creasing
Cons
None
If you want to try the plum smokey eye, this eyeshadow is your best bet. The medium-dark brownish burgundy shade has a royal feel. The eyeshadow has a satin finish, is super blendable, and offers rich coverage that lasts for 8 hours. This product can be used on the crease but works best as the outer corner color for that classic look.
Pros
Rich coverage
Lasts up to 8 hours
Satin finish
Cons
None
This sheer metallic eyeshadow lasts up to six hours and gives you a soft, peachy nude look with a hint of shimmer. It works for well on the inner corners of the eyes. This liquid-powder eyeshadow with prismatic reflections has high color payoff and blends smoothly. It complements warm undertones and offers versatile effect – from sheer crystallized light to polished metallic.
Pros
Lasts up to 6 hours
Contains prismatic reflections
Cons
None
The M.A.C Eye Shadow in Espresso is a dark brownish shade with a matte finish. It works well for smokey eyes as it is well pigmented and blends seamlessly. This eyeshadow is super versatile and can be used as an eyeliner for everyday looks. Its smooth texture is a suitable base for a nude makeup look. This warm-toned eyeshadow doubles as a brow filler as it blends well without being glaring. It lasts up to 8 hours without creasing or fading.
Pros
Lasts up to 8 hours
No creasing
No fading
Matte finish
Cons
None
Why Trust StyleCraze?
Baishali Bhattacharya is a certified makeup techniques guide and has compiled this list of the best MAC eye shadows to enhance your makeup game. These eye shadows are highly pigmented and blend smoothly for a professional look. These products have been handpicked after carefully analyzing their user reviews and suitability for different skin tones. A buying guide has also been prepared to help you choose the best product.
Recommended Articles