11 Best Magnesium Lotions For Your Fatigued Muscles
Gently massage and unwind your tensed muscles with these refreshing, relaxing lotions.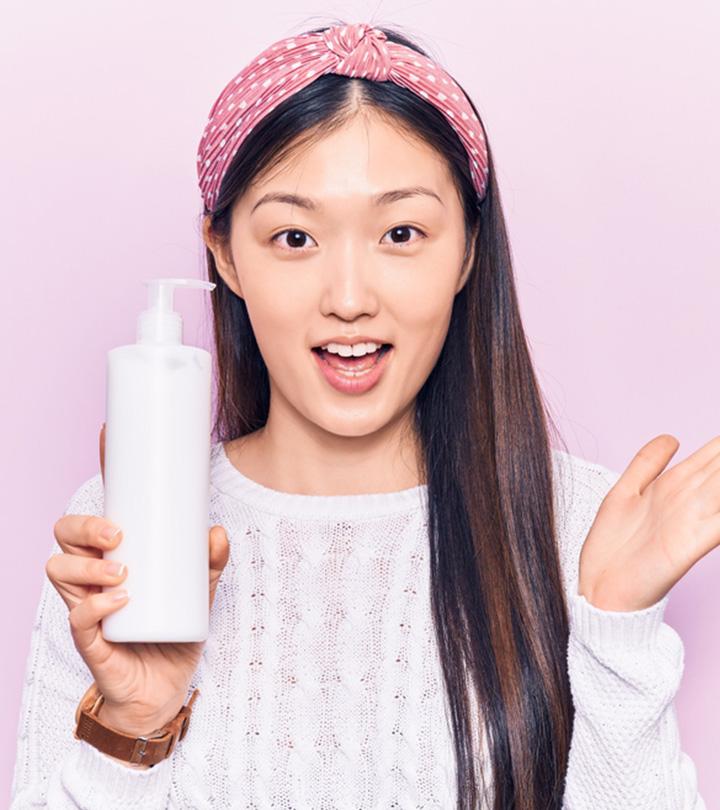 It is not always possible to have a massage from a professional or go to the spa whenever you are in pain or fatigued after a long day. The best magnesium lotions provide a more effective answer to this problem. You have probably heard about the numerous health benefits that magnesium provides. This important ingredient is integrated into lotions to produce a soothing effect.
You can simply apply magnesium lotion to your skin to feel instantly relaxed and comfortable. It not only relieves pain but also has a relaxing effect. It may also benefit people who have a magnesium deficiency but don't want to use supplements or medications. Furthermore, magnesium lotions have no drug interactions and contain no dangerous chemicals, making them gentle and safe enough for pregnant women to use. Scroll down to check out the 11 best magnesium lotions for fatigued muscles.
Top 11 Best Magnesium Lotions For A Relaxed Sleep
Your skin deserves to be nourished and pampered, so we are here with the Life-Flo Magnesium Lotion as it provides a soothing effect to your skin. This product has impressive absorption qualities and gives an enhanced look to your face. It does not clog your pores, nor does it trap dirt and impurities. This product comprises shea butter and coconut oil that moisturize and strengthen your skin's protective barrier. This product, when massaged well gives a relaxing and refreshing feel to your muscles and joints. Here is the best way to feel at ease after a long day at work or after an intense workout.
Pros
No paraben
No dye
No fragrance
No greasiness
Cons
Some may find the sweet fragrance too overpowering.
Price at the time of publication: $12.19
Like every other aspect in life, your skin also deserves luxury, not in terms of money, but in terms of the nutrients it requires. The Mo' Maggie Magnesium Lotion gives your skin a soft and smooth feeling. It is made of argan seed, hemp seed, prickly pear seed, and many other healthy ingredients. This non-comedogenic product gets absorbed in your face completely and restores its moisture level. It helps balance your skin tone, regulate your skin's blood flow, and bless you with a smooth and calm complexion. You no longer have to struggle with sagging skin, dark circles, and blemishes as this lotion helps you get clear skin and firm skin in no time.
Pros
Paraben-free
Formaldehyde-free
Petro-chemical -free
Cruelty-free
No dyes, scents, or colors added
Cons
Some may find the formula slightly sticky.
Price at the time of publication: $19.95
Maintain the balance of your skin with the Ancient Minerals Magnesium Lotion, which is highly effective and works well on sensitive skin. This product gets easily absorbed and does not leave any oiliness on your face. It also helps in maintaining the balance of your skin and provides relief from stressed and tired muscles. It improves your sleep patterns, making you feel fresh every morning. It contains shea butter, coconut oil, jojoba oil, and olive oil to name a few. You can make use of this lotion after a workout session to get instant relief from cramps.
Pros
Fragrance-free
Suitable for sensitive skin
Smooth application
Encourages healthy skin
Cons
Price at the time of publication: $22.95
Here is the easiest and the best way to relax your muscles. Try the Better You Magnesium Sleep Body Lotion, which helps improve your sleep and makes you feel fresh and ready for the next day! This lotion is a blend of chamomile and lavender that prevents muscle spasm and joint pain and leads to a comfortable sleep. This nourishing lotion replenishes your body with the essential minerals that prepare your body for a workout or a long day at work.
Pros
Suitable for pregnant women
Vegan
Instant results
Great effectiveness
Immediate absorption
No drug interaction
No dye or fragrance
Cruelty-free
Prevents magnesium deficiency.
Cons
Price at the time of publication: $14.07
Hydrate your skin with this fast-absorbing, non-comedogenic lotion and rest assured that it does not leave any greasy or waxy residue on your face. It makes your skin feel soft and smooth by providing a soothing effect with the infusion of argan oil, aloe vera, shea butter, safflower oil, and glycerine to name a few.  This product offers anti-inflammatory properties to your skin and helps it stay relaxed and calm all day long. It also improves the moisture level of your skin and allows it to feel refreshed and stress-free. This lotion also helps lower your blood pressure and no longer have to rely on medicines for your high blood pressure!
Pros
Paraben and formaldehyde-free
Cruelty-free
No fragrance
Improves sleep
Cons
Some may find the consistency to be thin.
Price at the time of publication: $16.99
We're well aware that magnesium has a nourishing and relaxing effect on the skin, but when combined with other nutrients, it can further enhance the effect on your skin. Try the  Seven Minerals Rejuvenating Magnesium Lotion blended with avocado butter as it makes your skin feel smooth and creamy. It also contains royal jelly, which provides an anti-aging effect and shea butter that gives your skin a silky feel. Enriched with lavender oil and lemon oil along with beta-glucans and other essential ingredients, this non-toxic product is one of the best magnesium lotions you can buy.
Pros
No fragrance
No color
No cancer-causing ingredients
No endocrine disruptors
Cons
The product may leave a film on the skin.
Put yourself at ease and calm yourself with the Elepure Magnesium Sleep Body Lotion, one of the best lotions with a blend of magnesium and melatonin. Magnesium alone can relax your muscles and help you get good sleep, but the addition of melatonin in the product makes it even better. This product has lavender oil that adds a pleasant fragrance to the lotion, and aids in providing you better sleep. This product also has the essence of argan oil, aloe vera juice, and glycerin to enhance its effects on your skin.
Pros
Lightweight
Suitable for pregnant women
Fragrance and formaldehyde-free
No paraben
Cons
Some may find the consistency too thick.
Price at the time of publication: $19.99
Melt away your stress and worries with the ASUTRA Melt Pain Away Magnesium Body Butter Lotion that acts as a pain reliever. It reduces the stiffness of your joints and deeply penetrates your skin. It is infused with shea butter and vitamin A and E that act as antioxidants and provide healing properties. This product has the essence of sweet almond oil that allows your skin to relax and prevents it from drying. The lemongrass oil in this magnesium lotion helps in making your body feel calm and at ease. No more anxiety or pain, bid goodbye to muscles soreness and joint pains with this nourishing lotion made just for you.
Pros
Suitable for sensitive skin
Promotes healthy sleep
Smells great
Relieves period cramps
No artificial color or fragrance
Cruelty-free
Non-toxic
Cons
Price at the time of publication: $25.99
Here is an incredibly effective magnesium lotion, which is lightweight and can be used daily to nourish your skin like never before. It locks in moisture to maintain your skin's hydration level, thus preventing it from drying. This product is dermatologically tested and provides glowing and healthy skin without any harsh chemicals. It is suitable for pregnant women, breastfeeding mothers, and people of all ages.
Pros
No allergens
No parabens
No pollutants
No synthetic fragrance or colors
No palm oil
No allergic reactions
Cons
Price at the time of publication: $16.08
Buy the nfuse Ultra-Nourishing Magnesium Lotion for a non-greasy and soothing effect for your skin. This lightweight lotion is gentle on your skin and makes it smooth and soft. It is infused with shea butter and cocoa butter that enhances the nourishing effect of the product on your skin. Magnesium in the product helps relax the muscles and improve overall skin health. This product has the essence of lavender oil that allows you to feel calm and get a restful sleep. No more body aches, cramps or discomfort, when you have this amazing product by your side as it heals your skin and repairs it too.
Pros
Cruelty-free
Silicone and sulfate-free
No artificial fragrance
Gluten-free
Vegan
No paraben, phthalate, and petroleum-free
Lightweight
Cons
Some may not like the scent.
Price at the time of publication: $14.99
Have you tried a lotion that not just hydrates, replenishes, and softens the skin but also relaxes your muscles? If no, try the OM Botanicals Rejuvenating Magnesium Lotion, which is nourished with aloe vera, dead sea magnesium chloride, shea butter, and mango butter to name a few. It helps heal your skin and is ideal for those who are athletic and involved in many other physical activities. It does not cause any itchiness, stickiness, or a burning sensation. It provides instant relief for leg cramps and migraines and also helps you sleep well.
Pros
Vegan
Cruelty-free
Gluten-free
Paraben-free
Perfume and alcohol-free
Cons
Some may find the consistency thick.
Price at the time of publication: $24.99
Here is a buying guide that will help you understand how to use the magnesium in a lotion, why the body requires it, and the benefits you get from it.
Why The Body Requires Magnesium
Magnesium is an essential nutrient that is required in our body as it helps in regulating a lot of biological functions such as protein synthesis, blood pressure regulation, blood sugar control, and the optimum functioning of the nervous system. It also helps in maintaining muscle contraction and regulating a healthy heartbeat. It is also highly effective for pregnant and breastfeeding women, as most face a magnesium deficiency.
How To Choose A Magnesium Lotion?
Here are a few parameters that can be considered when choosing a magnesium lotion for yourself:
A magnesium lotion provides instant relief from pain and stiffness in joints and muscles as it provides a calming and soothing effect. Magnesium infused with other ingredients such as lavender and chamomile oil enhances the relaxing property of the lotion.
The dose of magnesium varies from person to person, and can also be responsible for providing a calm and good sleep. When combined with melatonin, magnesium body lotions can increase a person's comfort level when trying to sleep, especially for insomnia.
Calcium-infused magnesium lotions are ideal for those who have weak bones as these lotions can help in strengthening the bones and provide healthy-looking skin.
Some essential ingredients such as coconut oil, vitamin E, and cocoa butter are responsible for increasing skin elasticity, making it soft and nourished. Hence, many solutions can provide a repaired and replenished skin when combined with these ingredients within no time.
What Are The Benefits Of A Magnesium Lotion
Magnesium has several health effects. Some of them include stress relief, where magnesium plays a vital role in making your muscles feel relaxed and keeping your body stress and tension-free. It prevents you from feeling weak and tired and improves your muscles contraction and relaxation, taking good care of your muscular health. Those suffering from menstrual cramps and spasms can also find relief with these lotions. It also plays a vital role in reducing migraines and provides a soothing effect to your skin. It fights against skin-related issues such as eczema, dermatitis, acne, and dryness too.
Why Trust StyleCraze?
Vaishnavi Kothuri is a skin care enthusiast who loves to review and recommend the best skin products to her readers. In this article, she has reviewed the best magnesium lotions that work best to relieve pain by relaxing the muscles. She has conducted thorough research to understand the efficacy of the products and checked online reviews and user feedback on trusted platforms to ensure she picks only the best for her readers.
Frequently Asked Questions
Is magnesium lotion safe during pregnancy?
Magnesium is essential for pregnant women as they need to meet their daily requirements. Magnesium is necessary for the child's growth, and these lotions can easily penetrate the skin and provide the required dose to the body.
Do magnesium body lotions work?
Yes, magnesium body lotions are great for soothing and relaxing your muscles.
Where do you apply magnesium lotion to promote good sleep?
You can rub magnesium lotion on your hands, stomach, chest, and back 30 minutes before going to bed to promote sound sleep
Can you absorb magnesium through the skin?
Yes, magnesium lotion gets absorbed through the skin to give the desired relaxing effect.
Can you use too much magnesium lotion?
Yes. Overusing magnesium lotion will result in the following side effects:
• Decreased blood pressure
• Confusion
• Muscle exhaustion
• Hypothermia
Recommended Articles