10 Best Magnolia Perfumes Of All Time – 2021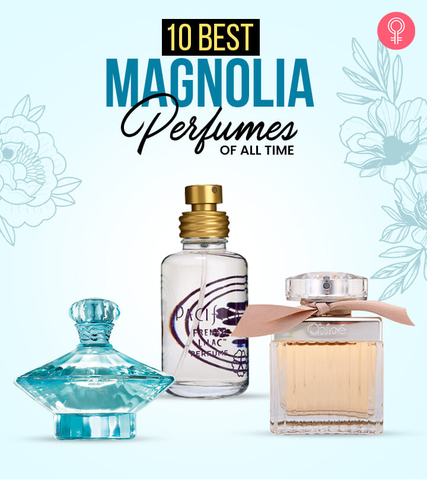 The magnolia flower represents purity, spirituality, and peace. And when the magnolia note is combined with other fragrances, it feels like heaven on earth. The magnolia perfume adds a magical touch to your feminine grace. It is a sweet, creamy fragrance, unlike other floral fragrances, that evoke the feeling of sensuality and refresh your mood. Most of the magnolia perfumes are a unique mix of tender and intense scents suited for diverse occasions.
In this article, we have enlisted 10 best magnolia perfumes of all time in 2021. Scroll down to have a look.
10 Best Magnolia Perfumes
The Pacifica French Lilac Spray is a bouquet in a bottle and smells like spring. If you are someone who loves light, fresh, and sweet fragrances, you will love this. It opens with the top notes of lilac, hyacinth, ylang-ylang, magnolia, and heliotrope for an intoxicating scent that lasts long. Natural oils and nectarine in the formula make this perfume skin-friendly. This product is free from chemicals like paraben and phthalate. It is 100% vegan, not tested on animals, and cruelty-free. This floral scent is perfect for making your mood ecstatic and euphoric.
Wear the famous celebrity-endorsed Britney Spears Curious Eau de Parfum and channel your inner pop star. It is a blend of fruity and floral scents and is perfect for the free-spirited and adventurous souls. It opens with the exhilarating fruity-floral accents of magnolia, lotus, and pear fragrances, which dries down to reveal the sweet but intense base notes of musk, vanilla, and sandalwood scents. The perfume is long-lasting, suitable for all occasions, and leaves a lingering hint of sensual woody scent.
The Chloe Eau De Parfum Spray has an enticing scent. Its top notes contain peony, litchi, and freesia fragrances, while the heart notes include a floral blend of rose and magnolia fragrances. The base notes have a refreshing blend of Virginia cedar and amber. Overall, the perfume has a soothing and sophisticated fragrance and is perfect for non-traditional and free-spirited souls.
If you are looking for a fragrance that accentuates your femininity, the Versace Bright Crystal Eau De Toilette Spray is for you.  It opens with magnificent, long-lasting pomegranate notes. The heart is a sweet blend of floral peony, magnolia, and amber notes, which slowly evaporates to reveal the intense base of redwood and musk fragrances. This perfume is versatile and can be matched with all outfits and occasions.
The Good Chemistry Magnolia Violet Eau De Parfum is vegan and free from chemicals like paraben and propylene glycerol. It has a rich floral fragrance with warm undertones. The top notes of magnolia, peony, amber, and violet ensure a refreshing start. This perfume is long-lasting and can uplift your mood during a hectic workday. It is the best choice for the graceful, modern women out there.
A mixture of subtlety and seductiveness invoked by the Philosophy Amazing Grace Magnolia perfume makes you smell delicious. Its top notes have a hint of citrus with bergamot and nectarine fragrances, while the floral blend of magnolia and violet in its heart note adds a tinge of freshness.  The base note has musk and amber fragrances. This perfume gives a blissful fragrance that makes you the center of attraction and is perfect for formal and casual occasions.
The Jennifer Aniston J Spray has a captivating, feminine, and graceful fragrance. It has a soft and fresh scent that makes you fall in love with it. The top floral and citrusy notes of water lily and bergamot give a cozy feeling, while jasmine, magnolia, and freesia in the middle notes make this scent attractive. Its base notes include vanilla, musk, and sandalwood that generate a truly long-lasting impact.
Add charm to every occasion with the A-Scent Romantic Magnolia Eau De Parfum. This scent creates a feeling of spontaneity to carry yourself with confidence. Its top notes include the refreshing mandarin, magnolia, and nectarine scents, and the heart notes of violet leaf, rose, and jasmine fragrances feel soothing and intoxicating. The base notes of cashmere wood, musk, and sandalwood leaves behind an intense and long-lasting impact.
Unleash your sensual side with the Bvglari Splendida Magnolia Sensuel Eau De Parfum. It is a long-lasting fragrance ideal for regular use. This scent opens with the rich top notes of refreshing orange blossom and jasmine scents. The heart notes of floral magnolia and jasmine scents deliver an invigorating aroma, while its sensual and woody vanilla and musk scents in its base leave behind a lingering sweet and musky delight.
The main accord of the Moschino Women Eau De Toilette Spray is fresh, spicy, warm, and sweet, making it the best of all. It has a spicy-oriental fragrance that opens with a sophisticated blend of yuzu, bergamot, and rosewood scents. Once the top notes fade, its heart slowly reveals a floral blend of water lily, jasmine, and peony scents. The base note smells slightly smoky and musky – all because of the rich and intense iris, musk, and sandalwood notes.
These are the 10 high-rated perfumes with delicate magnolia notes. All these options are extremely feminine and slightly refreshing that warms up your senses no matter what. So, what are you waiting for?  Pick any of the perfumes from our list and indulge your senses.
Recommended Articles