The 15 Best Makeup Bags To Carry All Your Beauty Essentials – 2023
Carry all your palettes, brushes, and beauty essentials together in these stylish bags.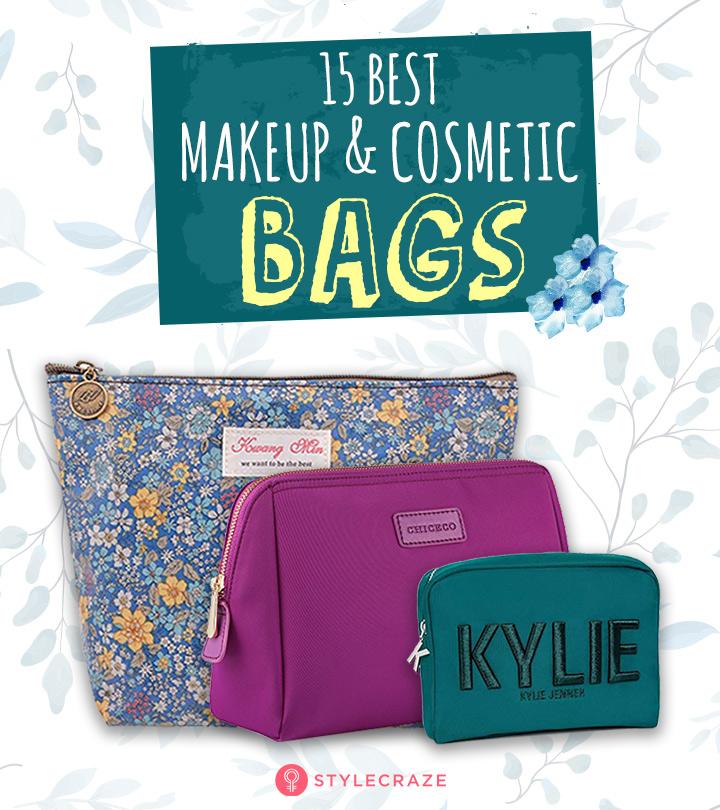 If you are a makeup lover, keeping all your makeup essentials organized is what you love doing. And seeing your makeup messed over a chaotic counter is probably the last thing you want to see. The best makeup bags will help to store all your essentials right. A good makeup bag has multiple compartments so that you can keep your precious palettes and brushes in place after use. These bags come in various sizes, styles, colors, and patterns. Whether you plan to go for a long vacation or a weekend getaway, you should always keep a makeup bag handy. In this article, we have rounded up the best makeup bags available online. Scroll down!
Top Picks
15 Best Makeup Bags That Will Keep You Organised
Review
This makeup bag is the perfect travel companion for long trips. It is made with high-quality water-resistant material and has multiple compartments to store all your cosmetics with ease. It comes with one hook to hang it on the wall while you do your makeup.  If you're looking for something spacious, this clutter-free organizer will make you very happy.
Pros
Spacious
Multiple compartments
Thick polyester mesh
Rounded zippers
Hook for hanging
Cons
None
Price at the time of publication: $12.99
Review
This cosmetic bag is a roomy option that holds everything from your makeup to toiletries. It is sturdy yet lightweight, with hard sides to protect your makeup from the bumps of travel. Its floral pattern also adds a touch of pretty to all your beauty essentials.
Pros
Spacious
Functional structure
6 adjustable dividers
Affordable
Cons
None
Price at the time of publication: $15.99
Review
The Gravel Clear Travel Toiletry Bag features multiple compartments and is perfect size to fit all your essential items. The bag is constructed with durable and clear PVC material that offers a spacious feel. The sturdy zipper closure keeps your belongings safe. The sleek and transparent design allows easy visibility. The durable handle makes it easy to carry and the water-resistant feature ensures the items stay dry even in the event of a spill or accidental splash.
Pros
Spacious design
Multiple compartments
Thick polyester mesh
Water-resistant fabric
Stable non-slip hook
Cons
None

Quick Tip

Keep your makeup bottles or tubes in small ziplock bags in the cosmetic pouch to keep it clean from any leakage.

Price at the time of publication: $14
Review
This gorgeous makeup bag is the perfect way to organize your makeup and toiletries. Its quilt pattern looks super classy, and it is made with high-quality fabric. Inside its spacious main compartment are several compartments for organizing beauty tools and cosmetics. It's perfect for long vacays.
Pros
Large storage capacity
Lightweight
High-quality
Value for money
Cons
None
Price at the time of publication: $32.95
Pros
Available in pretty prints
Water-resistant
Easy to clean
Durable
Cons
None
Price at the time of publication: $9.99
Pros
Hanging hook
Water-resistant
Available in 2 sizes
Attractive
Well-finished
Cons
Price at the time of publication: $24.99
Review
Whether you want to carry makeup or a full-sized bottle of shampoo, this bag will make storing and traveling with your stuff incredibly easy. It is made of a waterproof fabric that is a breeze to clean, and it includes double zipper heads for quick access. Its removable inner dividers help to keep all your products organized.
Pros
Spacious
Good protection
Affordable
Available in several designs
Cons
None
Price at the time of publication: $13.98
Pros
Great quality
Easy to clean
Fits in your purse
Affordable
Cons
None
Price at the time of publication: $14.99
Pros
High-quality
Low-maintenance
Available in several designs
Affordable
Cons
None
Price at the time of publication: $30
Pros
Waterproof
Easy to clean
Great quality
Value for money
Cons
None
Price at the time of publication: $13.99
Review
If you are looking for something a little more compact, this cosmetic bag is going to be your favorite. It comes with multiple compartments, so you can store all your basic essentials with a whole lot of ease. Your makeup is organized beautifully without taking too much space in your handbag.
Pros
Lightweight
Handy and compact
Easy to clean
Available in 7 colors
Cons
None
Price at the time of publication: $10.99
Pros
Can store up to 30 makeup brushes and other essentials
Easy to clean
Sleek and compact
Value for money
Cons
None
Price at the time of publication: $7.99
Review
This super large travel bag has an extra-large main compartment that can store your full-size skincare products or a regular-size hairdryer. It has a separate brush compartment, detachable and adjustable padded dividers, and pockets to fit most of your makeup palettes and other essentials.
Pros
Very spacious
Detachable and adjustable dividers
Value for money
Padded for protection
Cons
None
Price at the time of publication: $18.99
Review
This set consists of a makeup pouch and a rectangle makeup bag to hold your makeup and toiletry essentials effortlessly. These water-resistant bags are made of PU leather of high quality that lasts long with easy to use and clean qualities. This portable and lightweight bag is multipurpose and perfect to be your travel buddy.
Pros
Water-resistant
Set of two bags
Multipurpose
Easy storage
Cons
None
Price at the time of publication: $6.99
Review
If you have a thing for all things floral and vintage-looking, this makeup bag is for you! It is super-spacious and will store a whole bunch of makeup with a whole lotta style. The bag is made with high-quality polyester and is built to last. It is also available in three different designs.
Pros
Durable
Spacious
Easy to clean
Value for money
Cons
None
Price at the time of publication: $7.99
Makeup bags are must-have accessories where you can keep and organize your beauty essentials. These come in a variety of types, sizes, and designs. There are multiple brands offering various types of makeup bags on the market. Given below is a buying guide with some important features to consider while buying makeup bags.
Things To Keep In Mind While Buying A Makeup bag
First, decide whether you're going to carry your cosmetic bag or store it in your purse. You can purchase smaller cosmetic bags with only one compartment in both situations. On the other hand, if you want to carry your entire cosmetic routine, you will need a bag that is slightly larger in size and has more than one compartment. Professional makeup artists need larger bags that can hold their full makeup collection.
It's crucial to have a travel cosmetic bag with several pockets or compartments for arranging your makeup. This makes it simpler to apply makeup quickly by separating your face products from the rest of your makeup. To keep things like tissues or cotton swabs apart from your makeup, you might want to include a few compartments with sturdy dividers to hold all your makeup and skin care products.
No matter what kind of bag you buy, be sure the interior includes a waterproof liner. Clearly, you would love to organize all of your cosmetics perfectly, but what if there are any leaks? It might spill on anything else you're carrying. In these circumstances, a waterproof makeup bag will be convenient as it can be wiped easily.
If you travel frequently, choose a portable design with enough space to carry all your essential makeup products. There are various sizes and variations available for traveling makeup bags. When looking for travel makeup bags, take into account how long your regular trips are, for example, you may need to bring more makeup if you travel for a week or more. Look for lightweight, sturdy bags with comfortable hand-held designs.
A bag with a hard exterior is advised as a travel bag. This can protect containers from breaking inside if they are jiggled while being carried on a vehicle. There are huge makeup bags for professional makeup artists that have hard exteriors comparable to baggage or roll-aboard style suitcases.
Why Trust StyleCraze?
Esha Saxena is a makeup enthusiast who believes that all makeup lovers should own makeup bags to store their essentials right. The list includes some of her top picks of the best makeup bags, chosen after thorough research and perusal of reviews. She loves using makeup bags because whether you plan to go for a long vacation or a weekend getaway, these durable and sturdy bags always come in handy.
Frequently Asked Questions
What are makeup bags called?
Makeup bags are called cosmetic bags or vanity kits.
What do you call a small makeup bag?
Small makeup bags are known as makeup kits or pouches.
Do makeup bags have to be clear?
Not necessarily. You can carry makeup in opaque bags, but clear makeup pouches help locate items faster. It also lets you see if it has gone dirty and allows you to easily clean the bag.
Can I travel with a makeup bag?
Yes. You can travel with a makeup bag containing liquid, powder, or solid makeup products.
What else can you use makeup bags for?
Use makeup bags to store your toiletries or skin care products. You can also keep your medicines in a makeup bag.
How do you travel with a lot of makeup?
Invest in travel-size makeup products, opt for multipurpose products to save space, use scotch tapes for protecting liquid products, and place cotton balls in between to restrict the movements of the cosmetics in your makeup bag.
How can I pack my makeup without breaking it?
Invest in padded makeup bags and switch to plastic makeup containers to minimize the risk of breaking. While packing, arrange items according to size and insert sponges or cushions between the products to prevent friction. Finally, place the makeup pouch in the center of your suitcase for added protection.