15 Best Makeup And Cosmetic Bags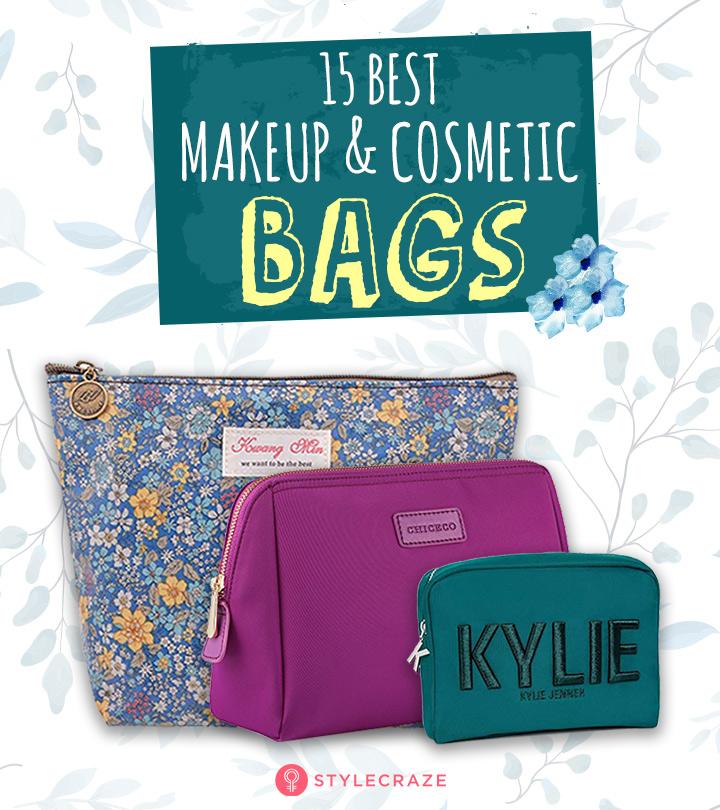 Ladies, if you buy all that expensive makeup and don't store it right, you're only inviting a sad, cluttered mess into your life. Besides, why would you house your precious palettes and brushes in a lousy old bag that came free with a gift set? Whether you're going away for a little weekend getaway or on a long vacation, it's essential to invest in a makeup bag that suits your style and fits all your makeup. We've rounded up the finest makeup bags that you can buy online. From smaller sizes for your daily essentials to proper kits, you'll find them all below.
15 Best Makeup Bags That Will Keep You Organised
Review
This makeup bag is the perfect travel companion for long trips. It includes a removable mirror, adjustable dividers, and a special holder for your brushes. If you're looking for something spacious, this clutter-free organizer will make you very happy. You can choose between two sizes: large and extra large.
Pros
Spacious
Good quality zippers
High-density protective walls
Built-in mirror
Value for money
Cons
None
Review
This cosmetic bag is a roomy option that holds everything from your makeup to toiletries. It is sturdy yet lightweight, with hard sides to protect your makeup from the bumps of travel. Its floral pattern also adds a touch of pretty to all your beauty essentials.
Pros
Spacious
Functional structure
6 adjustable dividers
Affordable
Cons
None
Review
This cute makeup pouch is a must-have for your daily essentials. It is big enough to hold a bunch of stuff and compact enough to carry in your purse. It is made of water-resistant nylon and padded with foam to keep your makeup safe. It is also a great gift or souvenir idea for your friends and family.
Pros
Compact
High-quality
Available in various designs
Budget-friendly
Cons
None
Review
This gorgeous makeup bag is the perfect way to organize your makeup and toiletries. Its quilt pattern looks super classy, and it is made with high-quality fabric. Inside its spacious main compartment are several compartments for organizing beauty tools and cosmetics. It's perfect for long vacays.
Pros
Large storage capacity
Lightweight
High-quality
Value for money
Cons
None
Review
If you're looking for a chic makeup bag that can hold all your daily essentials, this one from Sleeko is an excellent option. It is not only extra roomy, but it is also designed with thoughtfully laid out compartments for easy access to your stuff. It is also easy to maintain as it is made of waterproof, high-quality nylon. Even if it gets dirty and soaked, the goodies inside will stay dry and good as new.
Pros
Easy to clean
Compact dimensions
Available in various colors
Value for money
Cons
None
Review
Bagsmart Cosmetic Travel Bag is specially designed with water-resistant polyester material. It has 4 separate main compartments and inner pockets with elastic straps. The non-slip metal hook provides a good grip in hanging the bag comfortably. The 2-way zipper closer allows better accessibility of cosmetics. It has an easy-open front pocket for accessing products quickly.
Pros
Hanging hook
Water-resistant
Available in 2 sizes
Attractive
Well-finished
Cons
Review
Whether you want to carry makeup or a full-sized bottle of shampoo, this bag will make storing and traveling with your stuff incredibly easy. It is made of a waterproof fabric that is a breeze to clean, and it includes double zipper heads for quick access. Its removable inner dividers help to keep all your products organized.
Pros
Spacious
Good protection
Affordable
Available in several designs
Cons
None
Review
If you like to keep it minimal, give this cutesy makeup bag a shot. It will fit daily essentials like compact, lipstick, and eyeliner with ease. It also serves as a pouch for items like your headphones, sunglasses, cell phone, and keys. Looking for a gift idea? This pouch would make the best utility gift!
Pros
Great quality
Easy to clean
Fits in your purse
Affordable
Cons
None
Review
This makeup bag has three zipper compartments and is ideal for both daily use and travel. It comes in a bunch of seriously cute designs. Made with 100% cotton, it's a breeze to clean and maintain. The more stuff you put in it, the bigger it gets! Magical, right?
Pros
High-quality
Low-maintenance
Available in several designs
Affordable
Cons
None
Review
Looking for something incredibly trendy yet handy? This makeup bag from Chiceco is a winner in terms of both design and utility. Its shell shape makes it perfect for things like your makeup, passport, sunglasses, keys, and the rest of your essentials. It also comes in 10 gorgeous colors.
Pros
Waterproof
Easy to clean
Great quality
Value for money
Cons
None
Review
If you are looking for something a little more compact, this cosmetic bag is going to be your favorite. It comes with multiple compartments, so you can store all your basic essentials with a whole lot of ease. Your makeup is organized beautifully without taking too much space in your handbag.
Pros
Lightweight
Handy and compact
Easy to clean
Available in 7 colors
Cons
None
Review
Say you're taking a short trip for your friend's wedding, and you want to take all your precious makeup brushes. This makeup brush organizer can come in very handy. With a whole bunch of compartments, you can neatly store all your brushes in one place. Save yourself from the hassle of dirty brushes with this makeup case.
Pros
Can store up to 30 makeup brushes and other essentials
Easy to clean
Sleek and compact
Value for money
Cons
Review
If you are into bling, you absolutely need to add this rose gold holographic bag to your collection! It is super shiny, spacious, and water-resistant. You can store anything from your daily makeup essentials to makeup brushes and eyeshadow palettes in this pouch, thanks to its length.
Pros
Great quality
Spacious
Lightly padded for extra protection
Value for money
Cons
None
Review
This multipurpose bag allows you to store all your makeup and toiletries in one place easily. You can also hang it for easy access, making it the perfect travel companion. It is made of water-resistant nylon, with thick inner padding for support and protection.
Pros
Versatile
Spacious
Easy to clean
Affordable
Cons
None
Review
If you have a thing for all things floral and vintage-looking, this makeup bag is for you! It is super-spacious and will store a whole bunch of makeup with a whole lotta style. The bag is made with high-quality polyester and is built to last. It is also available in three different designs.
Pros
Durable
Spacious
Easy to clean
Value for money
Cons
None
Whether you carry makeup in your handbag for touch-ups or travel often, you need a solid makeup bag to carry all your essentials. It will not only help preserve your makeup better but will also keep your brushes clean. Besides, you don't have to spend a bomb as there are a bazillion reasonably-priced options out there that are of high quality. Which makeup and cosmetic organizer are you looking forward to buying? Let us know in the comments section below.