8 Best Makeup Blenders Available In India
Get a seamless, perfect finish with these incredible, high-quality, and affordable blenders.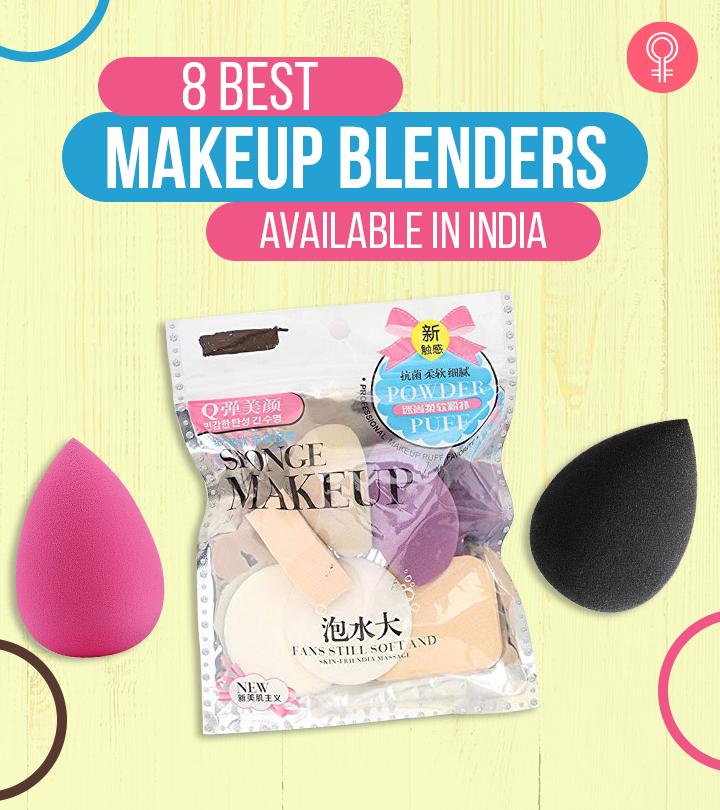 Applying makeup evenly with brushes is quite hard. They often tend to leave lines or tiny brush hair on your face, giving you botched and patchy coverage. For flawless and even makeup applications, it is always preferable to use a beauty blender. These multipurpose sponges let you create a flawless base, contour your cheekbones, and highlight your nose effortlessly.
We have put together a list of the 8 best makeup blenders available online that let you apply your makeup seamlessly. Check them out!
8 Best Makeup Blenders Available In India
This beginner-friendly soft and bouncy makeup sponge from Colour Blast is suitable for both wet and dry applications. The angled end lets you apply makeup around the corners of the eyes, while the rounded end is great for blending makeup on your cheeks. The flat end is suitable for contouring around the nose and eyes, ensuring maximum coverage for a completely flawless appearance. This beauty sponge is latex-free, vegan, and cruelty-free.
Pros
Non-latex foam
Washable
Recyclable
Suitable for wet and dry use
Does not absorb too much makeup
Soft material
Seamless coverage
Non-allergenic
Cruelty-free
Cons
Each pack of Spanking Makeup Sponges comes with makeup blenders in three shapes –drop, oblique, and gourd. The edgeless design gives you maximum coverage and seamless application. You can use this multifunctional blender to apply concealer, foundation, BB cream, and powder. These incredibly soft sponges are made from high-quality non-latex polyurethane, making them odor-free and eco-friendly. They are easy to clean and convenient to maintain.
Pros
Odor-free
Eco-friendly
Latex-free
Easy to clean
Soft material
Seamless coverage
Cons
This value-for-money pack of six beauty sponges is perfect for makeup lovers looking for high-quality products. Each box comes with one drop sponge, one oblique sponge, two square sponges, and two powder puffs. You can use them for blending BB creams, foundation, concealer, or blush. This makeup blender sponge set is soft and convenient to use.
Pros
Multifunctional application
Six different sponges
Super soft
Good quality
Value for money
Cons
KylieMakeup Beauty Blender is a versatile makeup sponge with twisting and stippling action. It is suitable for both wet and dry application, giving you an effortless and perfect finish. You can use the pointed end around the eyes, nose, and mouth, while the round base can be used to apply foundation and blush. This beauty blender comes in a set of six reusable, recyclable makeup sponges. The non-latex foam body reduces the chances of allergic reactions in sensitive skin. Plus, these sponges are vegan and cruelty-free.
Pros
Vegan
Cruelty-free
Easy to clean
Reusable
Recyclable
Suitable for wet and dry use
Cons
Large pores on the surface
The Hydro-Activated Beauty Blender by Techicon grows two times its size when dipped in water. It absorbs very less product and gives you a smooth finish. This beauty blender is made of non-latex foam that does not trigger allergies. This sponge is easy to clean, reusable, recyclable. This multifunctional blender is also vegan and cruelty-free.
Pros
Vegan
Reusable
Recyclable
Suitable for wet and dry use
Smooth application
Cons
The beauty blender by Miniso is a solid sponge with a double-sided design neatly packed in a transparent tube. It is perfect for touch-ups and blending makeup seamlessly. This blender is easy to hold, durable, and suitable for both wet and dry application. The material is made of high-quality polyurethane and is extremely soft to touch.
Pros
Double-sided
High quality
Suitable for wet and dry use
Smooth finish
Blends well
Does not absorb too much product
Easy to wash
Cons
WISESHE Tear Shape Beauty Foundation Sponge is a game-changer for beginners when it comes to applying foundation. It expands up to 50% of its original size when wet and soaks a small amount of product, giving you a flawless and neat appearance without wasting anything. This blender is suitable for both wet and dry application. The blender comes with a mini teardrop sponge to apply makeup around your eyes and mouth conveniently. These blenders are latex-free, vegan, and allergy-free.
Pros
Latex-free
Suitable for wet and dry use
Durable
Blends easily
Doubles in size
Value for money
Does not absorb makeup
Cons
Bleeds color when dipped in water
The Original Beauty Blender, the OG of all makeup sponges, is a super soft sponge that lets you contour your face and effortlessly apply a killer base. The edgeless design ensures smooth and precise application. The high-definition sponge doubles in size when dipped in water and absorbs just enough product to make your makeup natural-looking.
Pros
Latex-free
Easy to use
Washable
Absorbs very little product
Value for money
Suitable for wet and dry use
Cons
Now that we have looked at the best makeup blenders available in India, let's go deeper and understand the benefits of using a beauty sponge for makeup.
What Are The Benefits Of Using Beauty Blenders?
Accurate Application: Beauty blenders offer more precise and accurate application as compared to other applicators.
Hygienic And Washable: Makeup blenders are easy to wash and dry after every application. That is why they are a more hygienic option.
Lightweight And Portable: Beauty blenders are small in size and do not weigh much like makeup brushes. You can carry it along with you in your makeup pouch.
Now, let's take a look at a simple guide to using a beauty blender.
How To Use A Beauty Blender
Place your beauty blender under running water until it is fully soaked.
Once it plumps up, squeeze it well to remove all excess water.
Pour some foundation on your makeup palette or hand, dab the sponge's damp round end into the product, and gently press it on your face. For eye makeup and contour, use the pointed end.
Dab it gently on your face to blend the makeup evenly.
Make sure to wash and dry your makeup blender after each use.
With so many options available online, here is an easy guide to choose the best beauty blender for your needs.
How To Choose The Best Beauty Blender
Beauty blenders come in various shapes and sizes. There are thick ones, thin ones, edgy ones, and plump ones. Choose the makeup blender depending on your makeup needs. Thin beauty blenders are ideal for compacts, while thicker blenders are ideal for a foundation. You can also trim your makeup sponge to create edges for your convenience. If you are a beginner, you can start by using the tear-shaped design.
You can opt for a latex-free or a silicone sponge if you have sensitive skin. These blenders are easy to wash but do not provide sheer coverage. Look for a sponge with small pores as large pores tend to leave tiny patches on your foundation.
There are two types of beauty blenders–dry and wet. A dry blender can be used for applying powder-based makeup, while a wet blender is ideal for liquid-based makeup.
Make sure the beauty blender you opt for is reasonably priced. A good-quality beauty blender price can cost anywhere between ₹250 and ₹500.
Branded beauty blenders may be quite expensive, but they work more efficiently and last much longer than cheap ones.
Finding the right kind of beauty blender to match your makeup application needs and skin type is important for a flawless makeup finish. Take your pick from the 8 best makeup blenders from the above list and create gorgeous makeup looks!
Frequently Asked Questions
How to clean a beauty blender?
You can clean your beauty blender by applying a little bit of shower gel or soap and scrubbing it gently under running water till the water runs clean.
How long does a beauty blender last?
If you clean it regularly and use it properly, your beauty blender can last for several months.
Which is better: a smaller beauty blender or a bigger one?
A smaller beauty blender helps you reach the nooks and corners, like under your eyes, and helps in contouring. A bigger blender is used to apply foundation and powders on the larger areas of your face.
Are all makeup blenders the same?
No, makeup blenders come in a variety of materials, sizes, shapes, and colors. They may perform differently depending on the size and material.
How often should I replace my makeup blender to maintain hygiene and performance?
Wash your blender after each use to keep it clean, and replace it every 1-3 months, depending on its usage and condition.
What are some common mistakes people make while using makeup blenders?
Using a makeup sponge in its dry state is one of the most common mistakes to avoid. This causes the sponge to absorb more product, resulting in a dry and cakey layer on the face. Pouring the product directly onto the sponge and dragging it across the skin is also not a good idea. For best results, use a damp sponge in dabbing motion.
Can I use a makeup blender for applying skincare products like serums or moisturizers?
Yes, beauty blenders are used for more than just applying makeup. They can also be used during skin preparation when applying serums, oils, and moisturizers.
How do I store my makeup blender to keep it clean and in good condition?
After each use, wash the beauty sponge and thoroughly dry it before storing it. Store it in a clean, dry place with proper ventilation to prevent moisture buildup.
Recommended Articles