11 Best Makeup Blushes Available In India
Be the diva and attract attention with stunning cheek colors in town.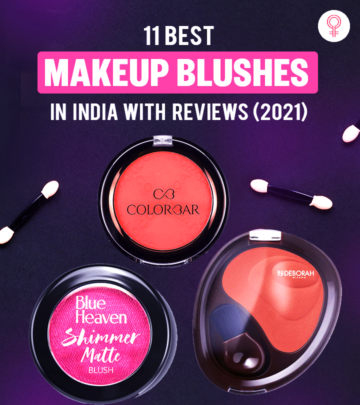 No makeup look is complete without some blush on your cheeks. Blushes not only brighten up your cheeks but also define your facial structure. They also mattify the skin to give it a clean, glam finish. These products are widely available in plenty of shades and as powders and cremes. However, it is necessary to choose the one that complements your skin tone and undertone. Scroll down to check out the 11 best makeup blushes in India for that extra pop of color.
11 Best Makeup Blushes In India
The Maybelline New York Fit Me Blush offers an even finish and imparts a radiant glow to your skin. It works great for pale and dark skin tones, including every skin tone in between, to provide a natural look. The smooth powder formula is long-lasting and blends flawlessly without making the skin cakey.
Pros
Lightweight
Blends well
Smooth finish
Long-lasting
Buildable
Cons
The Blue Heaven Blush has a lightweight formula that glides effortlessly onto your cheeks to offer a smooth and natural finish. It is highly pigmented, suitable for all skin types, and also highlights the cheekbones. This blush is available in six different shades to match every skin tone.
Pros
Lightweight
For all skin types
Available in 6 different shades
Highly pigmented
Cons
This long-lasting and lightweight blush from SUGAR Cosmetics comes in five different shades to flatter all skin tones. The soft and powdery formula blends into the skin to provide an evenly radiant finish. The buildable formula adds a natural glow to the cheeks with a flush of bright color.
Pros
Long-lasting
Travel-friendly
Lightweight
Buildable formula
Even application
Cons
None
The Lakme 9 to 5 Pure Rouge Blusher is a powder-based blush with a lightweight formula that provides a soft and natural finish to the cheeks. The blendable matte shade is easy to apply and offers a smooth and even look. This blush is available in six shades to suit all Indian skin tones.
Pros
Lightweight
Comes in 6 different shades
Highly blendable
Matte finish
Easy application
Travel-friendly
Cons
The Wet n Wild Color Icon Ombre Blush adds a soft radiance to your cheeks. Its silky smooth and lightweight formula is easily blendable and gives a natural tint to your face. This powder blush is enriched with soft gradient ombre hues that pop out on the skin. Use it on your cheeks or eyelids to get defined and highlighted look.
Pros
Lightweight
Long-lasting
Blends well
Smooth texture
Works as a highlighter
Cons
Not suitable for dusky skin tones.
The Lakme Absolute Face Stylist Blush Duos has a silky formula that effortlessly blends into the skin to provide a naturally illuminating radiance. This twin shade powder blush comes in four different shades to complement different skin tones. It is long-lasting, and its smooth and soft texture adds a shimmery glow to the cheeks.
Pros
Dual shade
Long-lasting
Smooth application
Adds a luminous glow
Cons
The Palladio Matte Blush has a smooth texture that glides seamlessly on the cheeks. It offers an even and matte finish with a shimmery touch that hides wrinkles and fine lines. It contains herbal additives like aloe vera, apricot oil, chamomile, ginseng, and kaolin clay that condition the skin and protect it from free radical damage.
Pros
Hides wrinkles and fine lines
Comes in multiple shades
Hypoallergenic
Cons
Not long-lasting
Too powdery
Price at the time of publication: ₹7.99
This blush from e.l.f. Cosmetics has a soft texture that provides a silky finish to your cheeks. It also highlights the cheekbones while adding a subtle and healthy glow. You can wear it alone or combine it with a cream blush for extended stay.
Pros
Easy application
Blends well
Smooth finish
Cons
The Colorbar Cheekillusion Blush has a feather-light formula that blends easily into the skin. This powder blush has a silky texture that offers a subtle and soft shadowy effect. The formula has high adhesion, meaning it offers a lasting stay with no smudging. This highly pigmented blush works well on all skin types. It does not contain artificial fragrances, parabens, and mineral oils.
Pros
Blends well
No smudging
Long-lasting
Highly pigmented
Paraben-free
Mineral oil-free
Artificial fragrance-free
Cons
The Deborah Milano Natural Blush has a soft and silky-textured formula that blends well into the skin to offer a smooth finish. It is hypoallergenic and made with skin-friendly additives that do not irritate the skin. This makeup blush offers a matte finish that looks natural on all skin types.
Pros
Skin-friendly
Lightweight
Blends well
Smooth application
Highly pigmented
Cons
The Swiss Beauty Professional Blusher defines the face and adds a shimmery finish. Its lightweight formula blends easily without looking cakey or greasy. This is a great blush for a natural, subtle look.
Pros
Lightweight
Non-cakey
Easy application
Blends well
Highly pigmented
Cons
Now that we know about the best makeup blushes to buy, let's understand the types of blushes available online.
What Are The Different Types Of Blushes Available?
There are mainly three types of blushes:
Powder Blushes: These work best for normal to oily skin types. They are the most widely used blushes and make an excellent choice for summers. Powder blushes are applied using a brush and offer normal to high coverage.
Cream Blushes: Cream blushes suit dry skin due to their creamy formula. These highly pigmented blushes can be applied with a makeup blender or your fingers.
Stick Blushes: These are very thick and take time to blend. These blushes are mostly used by professional makeup artists or those with very dry skin.
Before applying any blush, ensure that your foundation base has completely settled. Apply some loose powder over the area where you need to apply blush. Follow the below steps.
How To Apply Blush
Step 1: Using an angled brush, pick up the desired amount of blush.
Step 2: Tap the brush gently to shrug off the excess amount.
Step 3: Gently apply the pigment on your cheeks using gentle strokes.
Step 4: Blend in the powder for an even coverage.
Step 5: Diffuse the color using the brush to get a subtle look.
Here are the things to keep in mind while looking for a blush.
How To Choose The Best Blush
Always buy a blush that goes with your skin type. If you have dry skin, cream blushes make a suitable choice, while powder blushes work well on oily skin.
For fair skin tones with cool undertones, blushes with pink tint work the best. For those with warm undertones, shades of coral and peach are best. For medium skin tones with cool undertones, shades of rich pink are recommended. In contrast, people with warm undertones can go for dark peach hues. Those with dark skin tones and cool undertones can opt for light berry shades, and those with warm undertones can go for warm brown.
The right kind of makeup blush makes a significant difference to your overall makeup. Hence, it is essential to choose one that offers a flawless finish and stays intact all day long. So, what are you waiting for? Pick your favorites and give your skin a pretty flush of color.
Frequently Asked Questions
How can I make the blush last all day long?
There are many ways to make your blush last longer. However, the key is to let your foundation blend in completely and then apply compact or loose powder over the cheeks before putting the blush on.
Which is better – powder or cream blush?
Powder blushes are widely used for all skin types. They work amazingly well for oily skin, while cream blushes are best suitable for dry skin.
Recommended Articles