15 Best Makeup Brush Cleaners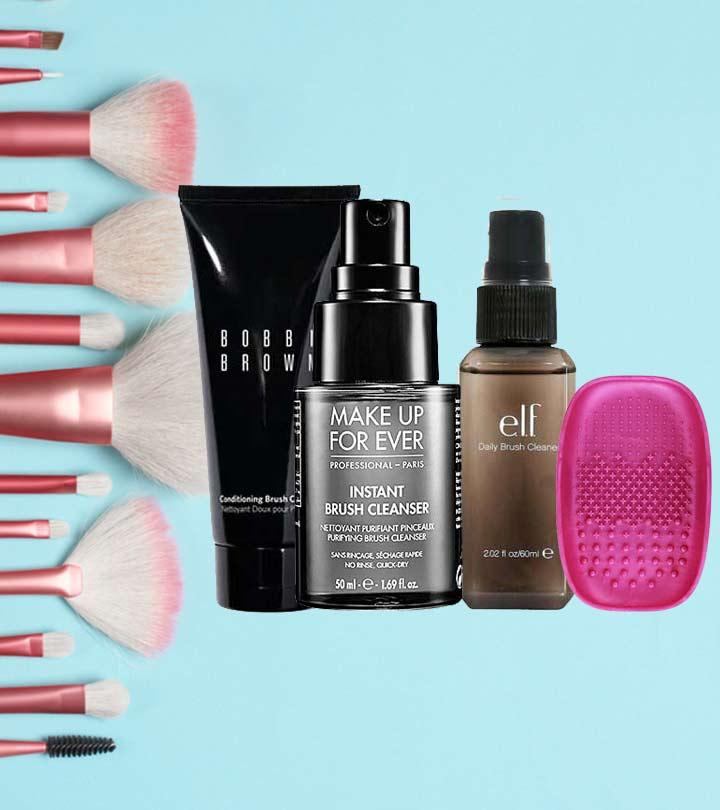 Just like you brush your teeth, take a shower, and look after yourself, taking care of your makeup brushes is that basic a step. They're a breeding ground for dirt and spot-inducing bacteria. I know every one of us is guilty of neglecting our beloved brushes at some point and not taking the time out to get the gunk off of them! I know I am. However, I'm done with skipping the regular cleanups. I tried some of the most incredible makeup brush cleaners and you should too! It's time you make cleaning your brushes a part of your beauty routine.
Top 15 Makeup Brush Cleaners That You Should Try
Pros
Instantly cleans and dries your brushes
Easy to use
Great quality
Value for money
Cons
Leaves the bristles of brushes slightly splayed
StylPro Makeup Brush Cleaner And Dryer Review
This revolutionary product uses high-tech centrifugal spin technology to give your brushes the equivalent of a trip to the dry cleaners. I like the StylPro Makeup Brush Cleaner and Dryer because it gets my job done rather quickly. It is particularly fantastic for eyeshadow brushes as it absolutely gets brushes that use powder products squeaky clean. This is an amazing innovation, and you can avoid wasting a lot of time in the bathroom sink cleaning and then waiting for your brushes to dry.
Pros
Great packaging
Gentle on the brushes
Easy to use
100% natural and free of parabens, sulfates, and fragrance
Cons
Takes a good amount of product to clean
Sigma Beauty Sigmagic Brushampoo Review
This brush cleaner by Sigma comes in a sleek, white bottle with a pump applicator that prevents spills and wastage. It comes out like a light liquid with a foamy texture. It contains ethically sourced ingredients like virgin coconut and palm oil, but it's not sticky or heavy. It also happens to be antimicrobial, so if you're a germaphobe, this is perfect for you. Also, it cleans your brushes very gently and does not ruin the shape or the softness of your brushes. I was also impressed by how affordable this product is and how quick of a solution it is for my dirty brushes. Do give this a shot!
Pros
Easy to use
Compact and great design
Functional
Effectively removes dirt and grime
Cons
e.l.f Daily Brush Cleaner Review
The e.l.f. Cosmetics Daily Brush Cleaner is great for quick cleaning in-between makeup applications. This cruelty-free and vegan spray helps provide a fresh and clean brush application each time. However, this is not meant for deep cleaning. You can use it on a daily basis and even when you want to switch colors on your brushes. This does an incredible job of spot cleaning! It's also great to travel with as the bottle has an impressive leak-proof design.
Pros
Alcohol-free
Odorless formula
Non-greasy
Dissolves even waterproof and high pigment products
Cons
The packaging is slightly problematic
Make Up For Ever Instant Brush Cleaner Review
This Instant Brush Cleaner from Makeup For Ever quickly cleans your brushes without rinsing and dries on the spot so that brushes are ready for immediate reuse. This is not one of those cleaners meant for deep cleaning in any way. It's a handy way to clean and remove dirt and color from your brushes. You can incorporate this into your daily brush cleaning routine for healthy skin and a flawless makeup application.
Pros
Easy to use
Effectively removes all traces of makeup from your brush
Cleans and disinfects
Value for money
Cons
Cinema Secrets Makeup Brush Cleaner Review
This makeup brush cleaner by Cinema Secrets makes cleaning your brushes a super simple affair. You get this in two sizes – the regular and a travel size which is a good choice to have. It works well on all kinds of brushes and cleans off powders, creams, and even those shimmery highlighters that are hard to clean. It does not replace soap and water, but this sure is a sanitary way to spot clean and maintain your brushes.
Pros
User-friendly packaging
Easily removes the product from brushes
Gentle on bristles
Anti-bacterial
Cons
Sephora Collection Purifying Brush Shampoo Review
This is a great drugstore option for a makeup brush cleaner. It's affordable and does a great job with only a few sprays. It's also gentle on the brushes and removes most of the makeup quickly. I am also quite fond of its smell, texture, and consistency. My brushes never shed bristles when I clean them using this product. Definitely give this a try!
Pros
Stiff bristles
Bowl shape with edges helps avoid water dripping from its sides
Easy to clean and store
Travel-friendly
Cons
Its grip can get slippery
Real Techniques Brush Cleansing Palette Review
The Real Techniques brush cleaning palette comes with two sample sachets of its Brush Cleaning Gel. It's really easy to use, and I strongly feel that this has made cleaning my brushes a much quicker and simpler task. If you are looking to deep clean or thoroughly clean out dirt and grime from your brushes, just give this a go (accompanied with some shampoo or brush cleaning gel) and you won't be disappointed. Also, this is a great value for money.
Pros
Safe and gentle
Does not damage brushes
Easy to use
Does not leave a residue
Cons
Bobbi Brown Conditioning Brush Cleaner Review
Bobbi Brown's Conditioning Brush Cleaner is one of my favorites! Anyone who wants their brushes to last long in great condition must check this product out. You only need to rub a small amount of the cleaner on your brush, and the makeup just melts right off. It also softens the bristles of your brushes. It also has a pleasant, subtle fragrance that leaves your brush feeling brand new!
Pros
High-quality
Easy to use
Cruelty-free
Soft and gentle on your brushes
Cons
Clinique Makeup Brush Cleanser Review
This makeup brush cleanser from Clinique thoroughly cleanses brushes and removes makeup residue build-up. It keeps the bristles of the brushes in optimal condition and is great for deep cleaning. The makeup just melts out of the brushes, leaving them squeaky clean. It's gentle enough for weekly deep cleaning for your high-end brushes. I highly recommend trying this cleanser!
Pros
Easy to use
Lightweight and gentle
Leaves no residue
No fragrance
Cons
Watery consistency, which leads to wastage
M.A.C Brush Cleanser Review
This cleanser by M.A.C is very effective for those in-between deep cleanings. It removes every last bit of product, dirt, and other substances from your brushes to return to you, clean, pristine brushes. The only issue I have with it is its terrible packaging. It does not have a pump or spray, and the lid on the bottle leads to sheer wastage of cleanser. Besides that, I like the way my brushes feel after using this. Do try it!
Pros
A unique idea that's well-executed
Instantly removes pigment/color residue from powder brushes
Easy to use
Sturdy packaging
Cons
Not meant for deep cleaning
Sephora Collection Color Switch By Vera Mona Brush Cleaner Review
This brush cleaner is basically a sponge that can be used to clean your brushes in between applications of different products and colors. If you don't have a huge collection of brushes for every product, this is something that will work well for you. This is quite a savior when you need to use the same brush again while doing your makeup. I also felt that the best part about this sponge is that it's so quick and easy to use besides being low maintenance.
Pros
Alcohol-free
Gentle on your brushes
Effectively removes near all makeup residue
Easy to use
Cons
Takes a lot of product to clean out waterproof makeup
Real Techniques Deep Cleansing Gel Review
This cleanser is like a clarifying shampoo for my makeup brushes. It has a gel-like consistency with a light scent, and you need to mix a tiny amount of gel with water and swirl your brushes around on your hand or cleaning glove. It cleans quite thoroughly and also conditions the bristles of your brushes. It's great for deep cleaning and giving your brushes a spa-like experience.
Pros
Cruelty-free and vegan brand
Cleans effectively
Easy to use
Cons
BeautyBlender Blendercleanser Solid Review
This one's to clean out your beauty blenders and sponges. That's perhaps the primary rule of owning a beauty blender – give it a daily clean! This cleanser does a great job at making your blender feel as good as new again. It does not cause the dye to run and allows your blender to stay in a proper condition for much longer (as opposed to using soap). Most importantly, it keeps your blender free from bacteria!
No products found.
Pros
Easy to use
Available in varied sizes
Removes all grime, dirt, and product with ease
Cons
Leaves behind a strong citrus scent
Parian Spirit Professional Makeup Brush Cleaner Review
This is one of the most efficient makeup brush cleaners available in the market. You can use it once every week to deep clean your brush set. Also, I feel it's a great value for money for the way it works! Definitely grab this one when you have the chance!
Pros
Free of parabens and phthalates
Dermatologist tested
Easy to use
Cons
Not meant for deep cleaning
EcoTools Makeup Brush Cleansing Cloths Review
Are you going to be on the move? These cleansing cloths from EcoTools are a convenient and quick option to wash away surface makeup, oil, and impurities from your brushes. They are made out of plant-based ingredients like cucumber and aloe and leave your brushes feeling soft and clean. They also don't deposit any residue on them once used!
*Subject to Availability
How To Choose The Best Makeup Brush Cleaner? – Quick Tips
Now that you have a bunch of effective options to choose from, let me give you a few tips on what to keep in mind before you pick a makeup brush cleaner.
Since brushes are usually very expensive, pick something gentle. Your makeup brush cleaner should form really gentle foam to clean away dirt and residue.
Use a cleaning pad along with your cleanser so you can scrub your makeup brush on the mat and get into some deep cleaning.
Your makeup brush cleaner should be easy to rinse off because if it leaves any residue on the brush, it may just accumulate more dirt.
Make sure you purchase a travel-friendly cleaner because if you're likely to take your makeup brushes with you, it should be convenient to store and carry as well.
There are so many options to instantly freshen up your brushes and keep them clean. I can guarantee that this tiny step will have a tremendous impact on the overall health and appearance of your skin. That was my roundup of the 15 best makeup brush cleaners in the market. Let me know what's your favorite product that you use to clean your brushes in the comments!
Recommended Articles