6 Best Makeup Colors For Blue-Green Eyes
Make heads turn and steal the limelight with these best eye makeup hacks.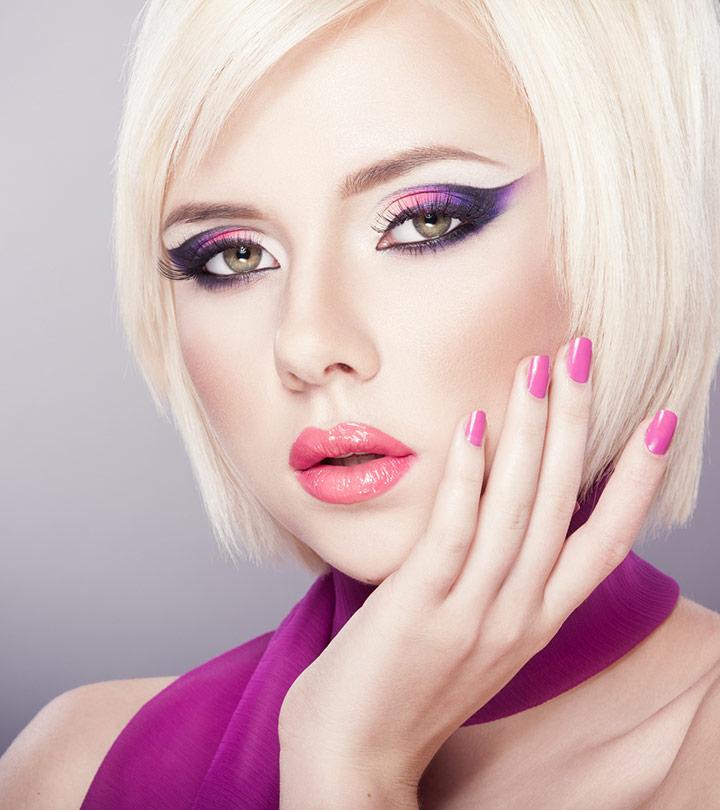 Choosing the best eye shadow shades for your beautiful eye may be a daunting task, especially if you have blue-green eyes. But the good news is: this not-so-common eye color is a striking hue, and the right shade of eye shadow can make it even more captivating. From blue to brown color, eye makeup for blue green eyes has got the best palettes.
Read on to add extra depth to your gaze…

Keep In Mind
Eyeshadow Shades: Go for warm pink, red, and plum hues to bring out the green tone in your eyes. Gold, brown, orange, and copper shades enhance the blue specks in your orbs.
Lipstick Shades: Choose deep purple, rose pink, nude brown, or cranberry red lipstick shades to make your blue-green eyes stand out.
Hair Color: Opt for cool shadow shades to make your blue-green eye pop if you have darker hair and warmer eyeshadow hues for lighter hair.
Attire: Warm shades of brown are perfect for formal and daily wear, while bold and vibrant pinks and purples gel well with party attires.
Best Makeup For Blue Green Eyes:
1. Va-Va Voom Violet:
Blue-green eyes look great with any deep shade of purple, so create a really elegant effect by sweeping a bolder, light or romantic hue of purple just on the centre of the eyelid (which means, choose the shade depending on your intended look.) Our favourites are Tarina Tarantino's Jewel Eye Shadow Palette In Fantastical and Guerlain Ecrin 6 Couleurs eye shadow palette. They have a highlighter-like shimmering satin finish that is pigmented and long-lasting. With the extra warmth, both the colours make a huge difference when it helps you pop your eyes without being too loud.


Trivia
Alice Eve is a British actress known for his beautiful blue-green eyes. She has heterochromia, due to which her left eye is blue, and her right eye is green.
Tip:
 For best results avoid smoky effect and keep your eye shadow limited to your eyelid.
2. Pretty Pink:
Ladies, if you are looking for a subtle look for your eyes, then play with the pink eye shadows. The super-femme tone deepens your blue-green eyes beautifully, and if blended right it can look refined and flawless. This pink shade also looks great as a blush and can be applied on your cheekbones for a natural flushed look.
Tip: Swipe a bit of Maybelline Color Tattoo Pure Pigments in Pink Rebel across your eye sockets and blend the pretty monochromatic shade well. The look is both smoky and bright, which adds up to a glamorous, ethereal look.
3. Go Bold:
There's something magical that happens to blue-green eyes when blue hues come into play. Daunting? Well, read us out! Contrary to the rule, you can go wild with blue eyeshadow on your blue-green eyes – provided that you create the right combination. That means even if you are using a color from the same family as your eyes, you could still play around by blending it with a lighter shadow!
A perfect tone that goes well with your stunning eye color – we love Urban Decay Kiddie Pool In Ocean Blue– which is a cruelty-free formula and will further accentuate your features. Just add different textures to both the shades. If one is glitter, shimmer, or metallic pick the other in matte, this will always make your eyes stand out.
4. Delicious Bordeaux:
If you are bored of the same old, heavy dark effects that can look severe on your dreamy eyes, then we would suggest you to opt for a bordeaux tone. Classy, daring and interesting in shade, bordeaux works great on blue-green eyes since it adds immense warmth and creates a softer look. Not only that the color has the same glistening effect as brown, but less darker than your black – a color that is so played out by everyone around! We recommend Estée Lauder Pure Color Envy Sculpting Eyeshadow Palette in Currant Desire for you to create the look of the day: be it sophisticated, dramatic, or bold.


Trivia
Paris Jackson is an American model and musician. She is the daughter of Michael Jackson and has beautiful green eyes.
5. Beautilicious Brown:
Simplicity can be beautiful. So for the more versatile and flattering look, brown eye shadow is the key. A dash of warm Urban Decay Naked Eyeshadow Palette shade of brown can make you look edgy, but still pretty, and the color isn't too out there! Pair the sexy eyeshade with minimal makeup and a strawberry lip.
6. Daring Berry:
For a high-voltage look, make those blue-green eyes glisten by enhancing the red undertone with a wash of cranberry on lids and a smoky black contour in the crease.
For a lovely day to night look, take this warmer undertone, like the blendable MAC Cranberry — medium-dark burgundy with a frost finish, and smudge the color evenly around the eyes. Wiggle two coats of mascara, and you're ready to go!
Even if you have unique blue-green eyes, there are plenty of options where you can find cool-toned and warm toned eyeshadows that look fantastic. You can also find vegan, hypoallergenic, waterproof, paraben-free, and fragrance-free options without the fear of being limited.
Infographic: Simple Yet Stylish Makeup Colors For Blue-Green Eyes
Blessed with blue-green eyes but no time to go all-out in creating eccentric eye makeup looks? Don't worry because we can help find you some of the simplest colors to try. These colors can lift your face instantly, and you wouldn't even have to put in much effort. Scroll down to find them in the infographic below.



Blue-green eyes are relatively rare and can look striking with the right eye makeup. As it can be a little challenging to find the most appropriate colors to use in makeup for blue-green eyes, you can follow the guidelines and tips here to make the best choice. Any shade of purple that is deep, electric, or intense blues, pink, cranberry red, brown, and Bordeaux are the best colors to make blue-green eyes stand out. Do not forget that the right shade of lipstick, foundation, mascara, and dark liner are needed to help you create the required contrast in your makeup.
Frequently Asked Questions
What color mascara is best for blue eyes?
For blue eyes, it is best to use rich, deep colors like purple, brown, or burgundy.
What color eyeliner is best for blue-green eyes?
Colors like navy, dark brown, copper, and purple look best on blue-green eyes.
Can you wear bold or dramatic makeup with blue-green eyes?
Yes, you can wear bold colors that will make blue-green eyes pop. But pair it with a dark eyeliner so it does not look over-the-top. Try complementary colors like orange and red. Warm earthy makeup tones and bold eyeshadows can also give the desired highlight to blue-green eyes.
How can you use complementary colors in your makeup to make blue-green eyes stand out?
The complementary colors, opposite to the blue-green spectrum on the color wheel, consist of red and orange shades. Magenta, fuchsia, and pink can make the green tone stand out, while purple shades elevate the blue hue.
What are some makeup mistakes to avoid with blue-green eyes?
Matching shades of blue or green can wash out your skin tone and make your eyes look smaller. If you are warm toned, avoid using cool-toned makeup shades and vice versa.
Are there any specific makeup products that work well for blue-green eyes?
A good quality mascara and eyeliner are essential makeup products for blue-green eyes. Choosing the right eyeshadow palette can enhance your eye color. A shimmery or golden highlighter and neutral lip shades work great for blue-green eyes.

This easy eye makeup tutorial teaches you how to make your blue or green eyes pop! Get ready to be amazed at the transformation! Check it out!

The following two tabs change content below.