8 Best Makeup Products For Redheads: Tips And Buying Guide
Skin-loving and gently formulated cosmetics that suit your uniqueness and style.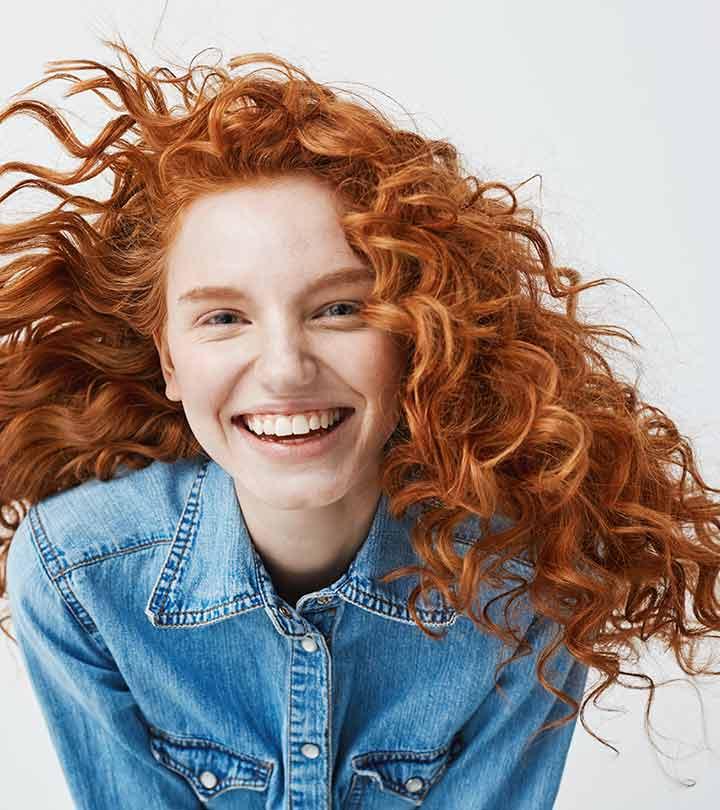 It must feel like royalty having red hair because there are so few redheads in the world! But this uniqueness comes with a price – a highly incompatible makeup market. This is why we bring you the best makeup for redheads with a collection of hues that will complement your skin and hair. Flatter your red mane with cherry lipstick, blendable brow colors, black liner, and much more. Check out our list of the 9 best makeup products that are crafted ideally for people with red hair. Pick all the products that you need and glow like the star you are meant to be!
8 Best Makeup Products For Redheads

If you just got your hair colored to a reddish brown shade and need to match your brows, or if you already had red brown hair but your eyebrows are very thin and scanty, the Etude House Color My Brows eyebrow mascara to complete your look. The result of this eyebrow mascara is a natural look that doesn't look made up and lets you flaunt your redhead style effortlessly. This eyebrow mascara has a soft gel-like texture and it covers every strand of eyebrow hair and fixes it nicely into position. The effect is subtle yet does the job neatly and very quickly. Once you find the right product, makeup for redheads can be a lot of fun given the wide range of shades it is available in. Here's a personal review video to help you get a better understanding of the product.
Pros
Infused with allantoin, carnauba wax and beeswax to provide moisture and nutrition on brow and skin.
Dries quickly on the brow to make a fixed color layer even when re-applying.
Gives a clear and natural brow color and hides its own darker shade.
Cons
The tube may contain a lesser amount of product than advertised.
Price at the time of publication: $7
The L'Oreal Paris Colour Riche Lipcolour in Peach Fuzz is one of the best lipstick colors for redheads. The best lip color for redheads has a rich color payoff and offers maximum hydration making your lips smooth, soft, and colored in such a way that it complements your skin tone. This creamy, peachy lipstick keeps in mind that the shade doesn't wash out your skin, and even lets your teeth look whiter, which is something that most peach lipsticks fail to do. Pair the lipstick with a lip liner for a better pouty experience and enjoy this creamy shade for a day as well as night event. Click here to check out a detailed personal review of this product.
Pros
Makes lips feel smooth, soft, supple and hydrated.
Includes vitamin E, argan oil and Omega 3.
Contains lanolin oil, sesame seed oil and beeswax that never let the lip become dry.
Cons
The lipstick may have to be reapplied every 3-4 hours as it is not longstay.
Price at the time of publication: $5.99
Makeup for redheads just became a fun affair with the monthly subscription of the How To Be A Redhead – Redhead Friendly Beauty Products Subscription Box. Created by real redheads, treat a redhead you know or yourself with these monthly surprise boxes of curated products that include the best makeup options for redheads. Each box has a new set of the best makeup for redheads and not a single product is repeated. Since redhead-friendly makeup is so hard to find, these boxes introduce you to confidence-enhancing products from new as well as existing brands so that you can experience new hair and makeup products in the comfort of your own home. The boxes include 2 full size items along with 5-7 travel-size and sample-size products.
Pros
Each product is tested for 10 days on redheads before it is selected for the beauty box.
Some of the products included in the box are cruelty-free, vegan and organic.
The makeup products in the box are diverse and are not repeated.
Cons
The shampoo and container samples may not have enough product for very long hair.
The Jolie Waterproof Indelible Gel Brow Liner Definer in the shade Redhead is perfect makeup for red hair and green eyes and ideal makeup for redheads with brown eyes. This waterproof gel brow liner defines eyebrows for redheads without making them look artificial or tattooed, as a result of which it can be worn even when you are going for a simple no-makeup look. You can wear this highly-pigmented brow liner to the beach or at the pool without worrying about your eyebrows leaking of color. This gel brow liner is easy to apply and glides on your eyebrows very smoothly in a precise manner.
Pros
Long-lasting, stays all day.
Ideal for auburn and true-red hair.
The gel makes brows look natural and not painted on.
A very small amount of the product is enough to do the job, hence the tub lasts for months.
Cons
The gel may smudge if you brush your brows after applying the product.
Price at the time of publication: $24.99
The SHANY Cosmetics Brow Duo Makeup Kit for redheads is paired perfectly with blendable colors that will bring your eyebrows to life. Made for everyday use, this brow makeup kit lets you fill your brows and shape them to professional perfection. Makeup tips for redheads are not easy to find, but this brow duo makeup kit is so easy to use that all you need is a brow brush or your fingers to achieve a naturally filled look that doesn't give away. The brow powders come in a convenient yet compact package with complementing colors that are the commonly used makeup colors for redheads. The brow colors are resistant to humid climate and are paraben-free. The package size is extremely convenient for carrying in your purse even when you are travelling so that you do not have to compromise on your airport style!
Pros
Can be used as eyeshadow as well.
Cruelty-free product that is not tested on animals at all.
Hypoallergenic brow powder is suitable for all skin types.
Long-lasting formula, does not need a touch-up through the day and looks natural.
Cons
The brow powder may fade soon.
Price at the time of publication: $9.96
The Lime Crime Bushy Brow Gel is your answer to getting natural-looking bushy brows that stay put! Eyebrows should never be ignored or taken lightly, as they can make or break your look. This underestimated facial feature is possibly even more important than eyeshadow for red hair. If you want an everyday look that blends well with your natural eye brow and the color of your red hair, this eye brow gel is just what you need to try. The auburn-tinted gel shapes, lifts, separates and sets the eyebrow in place and creates a voluminous, long-lasting and fierce brow. The brow gel has a flexible hold that keeps your eyebrows soft and doesn't let it look too stiff or artificially created. The mini spoolie brush that comes with the brow gel is custom-designed and coats each strand of hair with a precise amount of brow gel. A single stroke of the brush will show results and add texture to your eyebrows.
Pros
Cruelty-free and vegan.
Flake-free and lasts all day.
Verified by PETA, certified by Leaping Bunny.
Includes a mini brush for ease of application along with precision.
Cons
The red color of the brow gel may be a bit too dark.
Price at the time of publication: $14.99
The MAC Veluxe Brow Liner in redhead is an artist's pencil that can bring perfection to your brows. If you are not a fan of gel brow definers, a brow liner pencil may be a better fit for you. This brow pencil, specially made for redhead brown eyes makeup fills, defines and shapes brows with a formula that is rich and powdery. The result you get are velvety smooth and matte eye brows in high-pigmented color that look precise and defined. The eye brow pencil has temperature stability of the highest degree which makes this makeup perfect for warmer climates. A spoolie is included at the other end of the brow pencil so that you can finish your brows with a single stroke. This long-wearing eye pencil can last for 8 hours at a stretch even if you sweat or are in a highly humid location.
Pros
Cake-free and long-lasting.
Resistant to humidity and sweat.
Suitable to be worn in very hot climates as well.
Cons
The nib of the pencil may break while sharpening.
Price at the time of publication: $41.99
If you have been struggling to find a brow powder that matches your hair, especially if gel brow liners do not work for you, the Jolie Brow Powder Duo in redhead is worth trying. This brow powder duo lets you create natural and beautifully sharp brows within a few minutes. Each compact includes 2 shades that can match most redhead shades of hair. If you have strawberry blonde or auburn hair, this brow powder duo is a perfect match. This lightweight brow powder can also double up as eyeshadow so that you can create a complete and complemented look without having to use multiple products. It doesn't matter what color eyes redheads have, the brow powder should be selected only based on your hair color, and this redhead edition of the Jolie brow powder duo will not disappoint!
Pros
Smudge-proof
Humidity-resistant
Made in the United States
Cons
The product doesn't come with an applicator brush.
Price at the time of publication: $18.4
Here is a buying guide that will help you decide which makeup product goes best with your red hair.
8 Best Makeup Products For Redheads- A Buying Guide

When it comes to being told what makeup works for them and what doesn't, redheads have heard it all! However makeup artists today say that all those rules should be forgotten and the best makeup options for redheads should be unlimited. As long as you know how blue mascara looks on you, or how comfortable you feel wearing cool toned lipsticks, there should be no stopping redheads. Nevertheless there are still a few pointers which you will find very helpful when it's time for you to refurbish your makeup collection.
Makeup Tips For Redheads
Face makeup should be kept to the minimal:
Being a redhead with pale skin means that too much face makeup can make you look too made up. The right face makeup for a redhead is one that doesn't hide the freckles completely and offers a rather translucent coverage along with moisturisation.
When in doubt, say yes to cat eyes:
When it comes to eye makeup for redheads or anyone else for that matter, cat eyes are always a go-to option. Accompanied with some mascara, you will look nothing less than a femme fatale out of a James Bond movie.
Bronzer must be chosen wisely:
Bronzer is a very exciting and fun aspect of makeup, and while it is easy to be carried away when choosing a bronzer, always remember that a very gold bronzer will end up making your pale cheeks look muddy, and that's the last thing we want!
Colorful eye makeup is not scary:
You may have learnt to play it safe with boring old black eyeliner and mascara but a popular trend right now is to wear contrasting eye makeup, and in your case it will contrast with your hair. Blue mascara is a special favorite when accompanied with rich auburn hair.
Pink and red lips are not the bad guys:
There is absolutely no rule that denies redheads from wearing red or pink lipstick. However in order to avoid looking pale and dull, opt for lipsticks that have a warm orange tone to them.
Why Trust StyleCraze?
The author of this article, Chaitra Krishnan, is a makeup enthusiast who loves trying out different beauty products. She has curated a list of the best makeup products for redheads after carefully researching and browsing through online reviews. From lipsticks to mascaras, her list is perfect if you want to impress your friends with makeup products that complement your auburn hair color. The makeup products listed are fade-proof, long-lasting, and cruelty-free.
Frequently Asked Questions
What makeup looks good on redheads?
Yellow and peach foundation shades with pink undertones compliments redheads.
Should redheads use black or brown eyeliner?
Redheads look appealing and bold with black eyeliner.
Should redheads wear brown or black mascara?
Black mascara radiates a face-framing effect on redheads. On the other hand, Brown mascaras enhance the natural lash color and complement redheads. So, wear brown mascara if you want a lifted but natural look, and apply black mascara when you want a more dramatic look.
Should redheads wear red lipstick?
Yes. Red lipsticks look the most appealing on redheads.
Can we do a smokey eye for redheads?
Yes. Smokey eye makeup defines and highlights the eyes of redheads.
Recommended Articles