13 Best Foundations For Oily Skin That Keep You Shine-Free All Day
The best formulations designed to give you a naturally matte, grease-free look all day.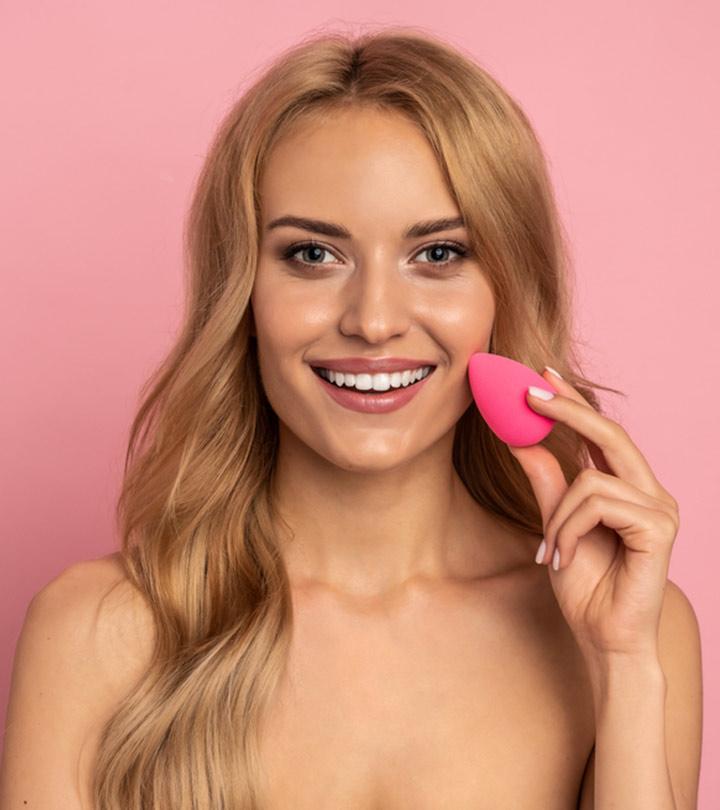 While oily skin comes with its own set of woes, there's no reason you shouldn't be able to flaunt enviably flawless skin all day, every day. A gorgeous even complexion is a perfect canvas for the rest of your makeup, be it a simple mascara and lip gloss duo or full-blown dramatic party makeup. If you're dealing with oily and acne-prone skin, don't despair. Shine-free foundations for oily skin are here to rescue you from blotting paper and a greasy, tired look.
The best foundations for oily skin are designed with pigments and other non-comedogenic ingredients that absorb oil and leave your face with a soft matte finish. They also control excess sebum production and blur imperfections so that you're left with a healthy, glowing complexion that is always camera-ready. It effectively keeps oiliness at bay, so your skin remains oil and shine-free all day long. If you want to bring home the perfect anti-shine foundation for your skin and are sure where to start, we suggest right here! Check our pick of the 13 best shine-free foundations for oily skin that have garnered multiple positive reviews on various e-commerce sites. So get ready to get your glow on.
13 Best Shine-Free Foundations For Oily Skin You Must Grab In 2023
Say hello to a gorgeous, flawless look with this lightweight foundation for oily skin that will transform your appearance in a matter of minutes. This oil-free formula is waterproof and sweat-resistant and also stays intact under your mask. Offering buildable coverage, this oil mattifier glides effortlessly for a smooth, matte finish that lasts throughout the day. Designed specially for combination to oily skin types, this mess-free formula controls excess oil and shine for a look that is even and polished. Check out this video for a tester's experience of using this foundation.
Pros
Broad-spectrum SPF 15 sun protection
Wears up to 24 hours
Medium to full buildable coverage
Oil-free matte finish
Cons
May leave a white cast in photos. It is advisable to avoid wearing this foundation when you're going to take photos or set it with loose powder.
If you're looking for a highly pigmented, long-lasting foundation that keeps your skin looking gorgeous and flawlessly matte all day long, your search ends here. Lightweight and waterproof, this creamy foundation glides effectively to control shine and even out your complexion. The non-comedogenic ingredients and matte coverage make this product popular with those looking for a good foundation for oily skin. Get your hands on this professional-grade matte foundation with shine control technology, and you'll definitely thank us later. For more information about the product, click this video for a reviewer's experience of using this foundation.
Pros
Long-wearing
Waterproof
Lightweight formula
Non-comedogenic
Suitable for oily, combination, and sensitive skin
Cruelty-free
Cons
Might not be best suited for those with very dry skin
Say goodbye to unsightly pores and uneven texture with this top foundation for oily skin, designed to give you a natural, matte finish without looking cakey. This liquid foundation is light on the skin and provides buildable coverage for a flawless finish that blurs out pores and evens skin tone. The Amazonian clay-based formula stops shine and lasts all day long without transferring on your clothes. This sebum-absorbing product is dermatologist- and allergy-tested, making it ideal for sensitive skin. Check this video to get a detailed review of the oil-free foundation.
Pros
Oil-free and non-comedogenic formula
Dermatologist-tested
All-day wear
Natural, matte finish
Cons
Might not be best suited for those with darker skin tones
Get your hands on this ultra-lightweight sebum control foundation for oily skin and say hello to a soft, perfectly matte, natural-looking complexion. Featuring an airy mousse texture, this oil-free formula minimizes the appearance of pores and applies easily onto the skin without feeling heavy or greasy. This long-wear weightless foundation incorporates gel emulsifiers and mattifying powders to create a flawless, shine-free finish that lasts all day long, leaving skin looking fresh and healthy.
Pros
All-day shine control
Minimizes the appearance of pores
Oil-free formula
Airy, lightweight mousse texture
Cons
Some might find the scent of this foundation a bit unpleasant.
If you're looking for a multi-purpose foundation for extra oily skin that doubles up as a protective sunscreen, you're in the right place. Infused with antioxidants and other natural ingredients, this oil control foundation provides broad-spectrum sun protection and prevents further skin discoloration while evening skin tone. Skin appears brighter, younger, and flawless without a heavy, caked-up look.This skin-balancing foundation is developed by dermatologists and is a beauty must-have for the minimalist consumer for a youthful appearance. It is also allergy-tested and safe for all skin types.

Pros
Provides broad-spectrum SPF 15 sun protection
Developed by dermatologists
Medium to full coverage
Prevents skin discoloration
Cons
Some might find the texture of this foundation a bit oily.
Get photo-shoot ready with this lightweight foundation that promises to have your skin looking flawless and glowing in a matter of minutes. Enriched with moisturizing ingredients, this formula covers your imperfections and minimizes pores using light diffusing beads that offer full to medium coverage. Create the perfect canvas for your makeup with this product that will leave your oily complexion looking smooth, even, and natural, and get ready to face the camera with confidence and unmatched oomph.
Pros
Lasts up to 15 hours
Full to medium coverage
Contains moisturizing ingredients
Lightweight formula
Cons
Some might find the texture of this foundation a bit sticky.
Here's a foundation stick that you can throw in your purse and carry along anywhere for quick touch-ups on the go. This must-have makeup essential has a unique cream to matte texture that can be used to conceal, contour, highlight, and cover all imperfections. With a full-coverage formula that lasts up to 24 hours, it can be used all over the face as a foundation, or just under the eyes as a concealer. You can also just apply over dark spots for quick touch-ups. What's more, the bottom of this foundation stick has a precision pointed blender sponge used for a flawless application. Ideal for travel, this all-day foundation for oily skin is suitable for daily use and a natural, polished finish.
Pros
No-mess application
Full coverage foundation stick
Comes with a precision pointed blender sponge
Ideal for travel
Suitable for daily use
Creamy texture
Cons
Some might find that this foundation is a bit difficult to blend.
If worrying about acne and breakouts keeps you up at night, don't despair. This foundation for oily, acne-prone skin controls shine, won't clog pores and blends into the skin effortlessly for a breathable, natural, skin-like finish. Infused with salicylic acid, this multifunctional foundation also prevents and treats acne and breakouts. Clinically tested, this non-comedogenic formula is ideal for oily and sensitive skin and offers a natural-looking finish with a breathable feel. So get your hands on this silky, gorgeous foundation and get ready to sport a beautiful, flawless look all day long.
Pros
Contains salicylic acid
Provides blotting effect
Oil-free, non-greasy formula
Non-comedogenic
Hypoallergenic
Breathable coverage
Cons
Some might find that this foundation has a bit of an orange tint.
Restore and illuminate with this highly buildable shine-free foundation considered one of the best foundations for oily, acne-prone skin. It naturally blends into the skin, improving uneven skin tone and texture and making skin look visibly brighter. This weightless formula goes on smooth as silk and is infused with glycerin to hydrate and intensely moisturize the skin, providing medium to full coverage. Made with skin-loving ingredients and free of nasty toxins, this all-day wear foundation for acne that offers a natural finish is just what you need to add to your makeup bag to perfect your look.
Pros
Lightweight, oil-free formula
Semi-matte satin finish
Medium to full flawless coverage
100% vegan and cruelty-free
Cons
Some might find the scent of this foundation a bit strong.
Get beautiful coverage with this lightweight, long-wearing foundation that feels and looks like a second skin. Designed for normal to oily skin, this must-have makeup product blurs imperfections and mattifies skin for a shine-free, flawless look that lasts up to 24 hours. Featuring a unique dropper applicator that ensures clean and easy application, this foundation can be paired with a finishing mist for a dewy, goddess look. Cruelty-free and made of pure, good-for-you ingredients, this foundation is the ideal choice for the inner skin expert in you.
Pros
Lasts up to 24 hours
Free of parabens and alcohol
Gluten-free
Vegan and cruelty-free
Cons
Some might find the texture of this foundation a bit thin.
If you're having trouble finding the right shade for your skin tone, this foundation for oily skin is sure to blow your mind. Formulated with a unique shade-sensing bead technology, this magic potion goes on white and instantly transforms to your perfect shade when blended into the skin. Get a natural-looking, streak-free luminous glow with this buildable foundation that provides medium coverage and protects against sun damage. This dermatologist-tested foundation is suitable for sensitive and acne-prone skin. The gentle formula is also tested by ophthalmologists to ensure it does not cause eye irritations.
Pros
Broad-spectrum SPF 15 sun protection
Hypoallergenic and fragrance-free
Dermatologist and ophthalmologist tested
Cruelty-free
Cons
Some might find the texture of this foundation a bit thick.
We cannot talk about the best foundations for oily skin and not include this one by Dermablend. It is designed especially for darker skin tones and has high-performance pigments covering uneven skin tone, hyperpigmentation, scars, and bruising. This expertly crafted foundation for oily skin provides all-day hydration and repairs the skin barrier for nourished, healthy-looking skin. It is also tested to be safe for sensitive skin. If this was not all, it provides stellar sun protection against the harshest UV rays, making it the ideal choice for a flawless look when you're out and about.
Pros
Broad-spectrum SPF 30
Non-comedogenic
Dermatologist tested for safety
Fragrance-free
Free of parabens, phthalates, triclosan, and SLS
Cons
Some might find the texture of this foundation a bit greasy.
Designed for the unstoppable woman who is always on the go, this oil-absorbing foundation is sweat-resistant and waterproof. Providing medium to full coverage and essential sun protection, this buildable foundation goes on smoothly to give a fresh, natural-looking complexion that lasts. This fresh wear foundation with a breathable formula comes in 40 shades. There's a really good chance you'll find the perfect match for your skin tone. Get your hands on this mattifying foundation and sport fresh and healthy-looking skin all day long with eye-catching makeup that lasts.
Pros
Dermatologist-tested
Lasts up to 24 hours
Broad-spectrum SPF 25 sun protection
Waterproof and transfer-resistant
Lightweight, breathable texture
Cons
Some might find the fragrance of this foundation a bit strong.
*The prices provided in this article are based on the latest available information. However, they may vary due to changes in pricing by the seller and/or promotional offers.
Now that we've had a look at our carefully curated list of the 13 best shine-free foundations for oily skin in 2023, let us look at some things to consider when picking the perfect foundation shade for your skin.
How To Apply Foundation If You Have Oily Skin
While oily skin requires a little extra tender loving care, it is easily achievable to sport a flawless, oil-free look with a few simple steps.
Step 1 – Prep your skin
Start by prepping your skin well so that your makeup stays on all day without looking sticky or messy. Cleanse and exfoliate with an oil-free cleanser.
Step 2 – Moisturize
Use a gel-based lotion with hyaluronic acid to moisturize your skin.
Step 3 – Apply foundation
Apply your foundation with a brush using quick motions for sheer and natural coverage.
Step 4 – Set makeup
Apply a setting spray and proceed with your eye and lip makeup.
And voila! You're camera-ready with gorgeous, healthy-looking skin!
How To Choose The Best Foundation For Oily Skin
A careful analysis of your skin type is perhaps the most crucial step when picking a product that will keep you looking fabulous all day long. If your skin is oily and prone to acne and breakouts, choose a foundation with oil-controlling ingredients that will keep your pores unclogged and clean and aid in shine reduction. Sensitive skin will benefit from an expert-recommended foundation that is free of fragrances and is labeled as hypoallergenic. These products will ensure your skin remains calm and nourished under a protective layer of makeup.
This is not only a matter of personal preference but can play a significant role in how your oily skin responds to the foundation. If your skin is prone to looking greasy and messy, it is best to pick a foundation with a gel-like texture that controls shine and oil production for a flawless, natural matte finish. Stick foundations are also an excellent choice for oily skin as they keep skin looking clean and fresh all day long. Are you looking for a more dewy finish? Pick a cream-based foundation that keeps the skin hydrated and provides a glossy, goddess glow without feeling heavy or cakey.
Not all foundations are designed to provide sun protection, which is an essential factor to consider when picking the right foundation for your skin. If you're using a foundation designed to last all day, choose one that provides at least SPF 15 sun protection as it will prevent damage and future discoloration. Want stronger sunscreen? If your foundation does not have added SPF, make sure to layer an appropriate sunscreen underneath your foundation for essential protection.
Why Trust StyleCraze?
The author, Srijani Roy Chowdhury, is a makeup enthusiast and loves to review different skin care products. After thorough research and going through numerous reviews and feedback on multiple forums and brand websites, she has compiled this list of the best foundations for oily skin for her readers. The products in this article are made with non-comedogenic ingredients that absorb oil and leave your face with a matte finish.
Frequently Asked Questions
Is using foundation really helping oily skin?
Yes, using a foundation on oily skin can help you achieve a non-greasy matte look. It helps oily skin in reducing the excess shine on the face and gives you a natural look. It provides excellent coverage which lasts long.
Can I use matte foundations for oily skin?
Yes, a matte foundation is considered the best for oily skin. It controls excess oil and shine on the face. Moreover, matte foundations stay put on the skin for a long time.
Is liquid or powder foundation best for oily skin?
Liquid matte foundations are suitable for oily skin. They are long-lasting and do not look cakey on the skin.
What to do after applying the foundation?
After applying the foundation, you can use a concealer to cover the under eye dark circles. Later, you can use a setting powder and spray to set the base and lock the makeup.
How long does foundation last?
A foundation can stay intact on your skin for 6-8 hours without budging. However, if you have oily skin, you may need to use a setting powder every 3-4 hours for a long-lasting effect.
Does foundation expire?
Yes, a foundation does expire. If you have opened a foundation, it may expire within 12 months of opening. An unopened foundation kept safely may last up to 2-3 years.