15 Best Makeup Removers That Will Safeguard Your Eyelash Extensions From Fallouts
Keep your false lashes clean and tidy so that they are safe to wear and also last longer.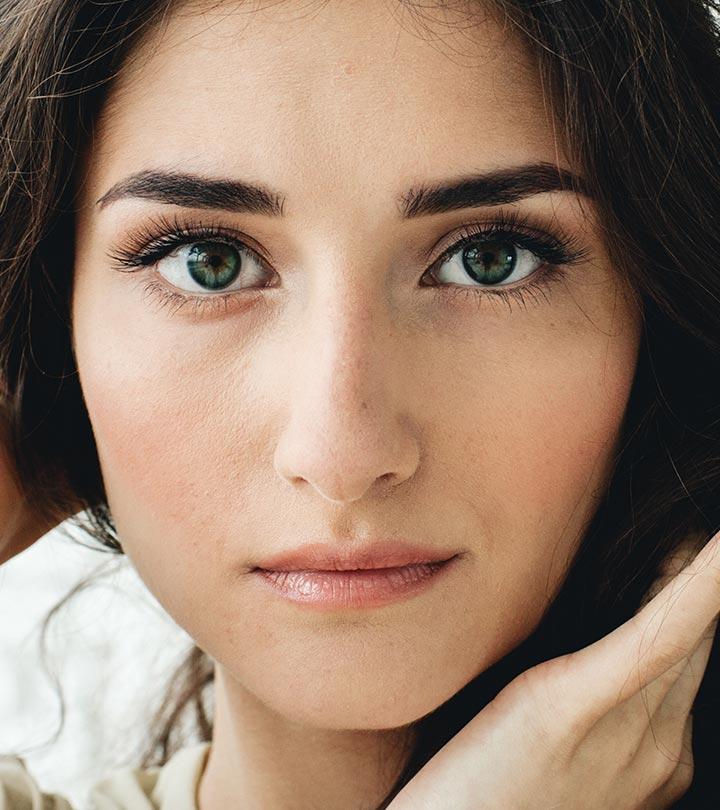 We all love thick and fuller-looking eyelashes, and that's why many of us are so fond of eyelash extensions loaded with mascara. These delicate and soft products can last long if you know the right way to take care of them. This is why you need the best makeup remover for eyelash extensions. Makeup removers specifically meant for eyelash extensions are gentle and keep them in good conditions for you to be able to use them again.
These removers remove makeup effectively from extensions, leaving them clean without a speck of dust, dirt, or makeup formulas. With these cleansers, taking care of your eyelash extensions becomes easier. So, to ensure that your extensions last for long and don't irritate your eyes on your next use, we have listed the 15 best makeup removers for eyelash extensions. Have a look!
15 Best Eye Makeup Remover For Eyelash Extensions In 2020
Stacy Lash Shampoo is designed for two purposes— to clean natural eyelashes before/after wearing extensions and to remove any kind of eye makeup. This foam-based, gentle cleanser has a mild formula that helps you keep your extensions in hygienic conditions so that they can retain the beautiful look you intended. The oil-free formula offers easy removal of makeup around the eye without ever harming the adhesive on the extensions. If you need further convincing, check out this YouTuber's review.
Pros
Vegan and gluten-free
Cruelty-free
It does not cause any irritation or burning sensations.
It comes in a convenient 50 mL size spray and a brush for easy makeup removal and eyelash washing.
Cons
Might not be suitable for sensitive skin.
Price at the time of publication: $21.59
If you are a professional, you know that you need the best products for your clients. This eyelash gel remover from Existing Beauty is sure to help you give your clients the best results. The formula has the capability to remove even the strongest eyelash adhesive glues. Depending on the strength of the eyelash adhesive, it takes just about 2-5 minutes to remove it, which saves a lot of time. The formula is quite strong, so only a small amount of gel is needed to get the job done.
Pros
It has a refreshing scent.
There are no fumes present in the formula.
The gel formula prevents from slipping into the eye.
Cons
It might cause burning or irritation when applied.
Price at the time of publication: $12.99
This is an all-in-one foaming cleanser that is your go-to solution for daily skincare needs. It can either be used as a face wash or as a makeup remover. It is made from a micellar technology— tiny molecules called micelles that are mixed in a purified water solution. These micelles work like a magnet and remove any kind of makeup, dirt, or oil from the skin without needing any vigorous rubbing. Although it has a powerful formula, it is very gentle on the skin and makes sure your eyelashes are intact and in good shape.
Pros
No rinsing is required
Sulfates, paraben, alcohol, and oil-free
It is tested by dermatologists.
It is suitable for all types of skin including sensitive ones.
Cons
The scent might be a bit too strong.
Price at the time of publication: $6.29
Revered by eyelash professionals and DIY-ers alike, Lyon Lash Eyelash Extension Shampoo removes makeup effectively, while keeping your eyelashes safe. It has a sensitive formula that is made from environment-friendly ingredients. Remove eye makeup, oils, or impurities from your extensions with the help of this foam-based formula with ease. Only a small amount of shampoo is required to remove even the most stubborn makeup products. Tested and positively reviewed by over 100 eyelash extension professionals.
Pros
Gentle, lightweight, and oil-free formula
Vegan and cruelty-free
It helps in strengthening your natural lashes.
The kit also includes a mascara brush and a cleansing brush.
Cons
You might feel slight irritation after application.
Price at the time of publication: $15.99
Specifically designed for professional use, this gel remover eases eyelash bonds within 60 seconds. The formula is powerful enough to break down even the strongest types of adhesives with ease. All you need is a small amount of gel to work its magic. It is suitable for all skin types, so don't worry, no matter who your client is, they are sure to get great results. It is tested and positively reviewed by over 50 eyelash professionals.
Pros
Inexpensive
Easy-to-use
There is no risk of the gel slipping into the eye.
It offers a pain-free removal experience.
Cons
It might cause burning if the eyes are not fully closed during application.
Price at the time of publication: $16.99
Keep your eyelashes fresh and clean every day with the help of Lash Shampoo from Beau Lashes. This professional-grade foam wash is explicitly designed to eliminate dirt, oil, and makeup residues stuck in lashes. The special hypoallergenic formula is gentle on sensitive eyes to keep the lashes healthy and long-lasting. It is quick and easy to use, so if you are using it on your clients or on yourself, be worry-free.
Pros
Vegan and cruelty-free
It comes with a cleansing brush.
It has nourishing ingredients that keeps your lashes in good condition.
It is free from alcohol, paraben, sulfate, and harsh chemicals.
It is approved by the ITQA for ensuring the highest level of safety.
Cons
It might cause irritation.
Price at the time of publication: $16.97
Stacy Lash Primer the perfect solution for all your eyelash prep needs. The natural lashes produce oil which might loosen the adhesive on extensions. It gets rid of any oils, make-up residue, and makes it easy to put on extensions. It also helps to keep your natural lashes healthy. The primer has very strong adhesive properties that help the extensions stay for a longer duration and do not cause premature fall offs.
Pros
It comes in a 40 mL spray bottle for comfortable use.
It is made from premium-quality ingredients.
It complies with the standards ISO 9001 and ISO 14001.
Cons
It might have a greasy feel to it.
Price at the time of publication: $16.98
If you are looking for a makeup remover that does more than just removing makeup, then your search ends right here. Lash Shampoo from Quewel can not only remove makeup, but it also relaxes your eyes that are tired from looking at the computer screen all-day long. The formula is made from organic and natural ingredients and is specially designed for your eyelash extensions. The hypoallergenic properties keep your eyes from any irritation or burning sensations.
Pros
Alcohol, paraben, oil, and sulfate-free
It is ideal for both home and salon use.
The bottle is designed for comfortable, one-handed use.
It features conditioning, hydrating, and cleansing benefits.
The kit also includes a foam wash bottle and a soft-bristled brush.
Cons
The brush might shed its bristles often.
Price at the time of publication: $14.99
If you're someone who likes keeping your eyelashes prim and adequately clean, we have got just the right formula for you. This foaming cleanser perfectly cleanses, hydrates, and moisturizes eyelashes. It is an oil-free and lightweight shampoo that removes dirt, oil, and stubborn makeup effectively. The hypoallergenic formula is sulfate-free, paraben-free, and also has the same pH as the eyes to minimize irritation.
Pros
Cruelty-free
Paraben-free
Sulfate-free
Color-free
Hypoallergenic
Suitable for salon and home use
Includes a cleaning brush
Cons
Might cause a burning sensation in some
Price at the time of publication: $9.99
If you are a professional eyelash artist, then you are in for a treat! This Eyelash Extension Glue Remover is sure to get you the praises from all your clients for a job well done. It has a powerful formula that works efficiently even on the toughest adhesives. It takes less than 60 seconds to dissolve the lash adhesives without harming the natural lashes. Work worry-free as the formula has a thick texture that is easy to control and does not slip into your eyes easily.
Pros
It is tested and approved to match medical standards.
You need only a small amount to do the job.
It will last up to 2 years if the bottle is unopened.
Cons
It could cause a burning sensation.
Price at the time of publication: $5.99
Clinique Rinse-off Eye Makeup Solvent removes even the most stubborn makeup products. It does not take a lot of time for it to work and allows for easy makeup touch-ups. If you want a quick makeup change or repairs, this is the one for you. It can effectively remove the makeup from the eye area without disturbing other makeup. It is one of the most trusted brands for eyelash extension makeup remover.
Pros
Blur-free
Sting-free
It does not require any rubbing.
It comes in a 125 mL spray bottle for ease of use.
Cons
You might need a higher quantity to remove waterproof eye makeup.
Price at the time of publication: $23
Every type of eyelash needs daily care and to achieve that Eau Thermale Avene presents the Gentle Eye Makeup Remover. It is a water-based makeup remover for eyelash extensions. No matter the skin type, this ultra-smooth gel will remove makeup, bacteria, dirt, and pollutants from the skin. It helps in keeping your skin hydrated and soothes the sensitive area around your eyes. The gentle formula cleanses thoroughly and leaves no residues behind. It is tested by ophthalmologists to match your safety standards.
Pros
Oil-free
It does not cause any sting or burns.
It is safe to be used by contact lens wearers.
Cons
It might not work well on waterproof makeup.
Price at the time of publication: $21.61
Designed by an ophthalmologist, this cleanser contains Tea Tree and Citrus extracts that are extremely gentle on your skin. It removes makeup and eliminates all impurities, pre, and post using lash extensions. It does not affect your eyelash extensions and keeps them intact. It eases any scratchy, crusty, dry eyes, or other eye irritations that could be caused by allergy or environmental pollutants. After cleansing, it leaves your eyelids feeling cool and rejuvenated.
Pros
Hypoallergenic formula
It is an all-in-one face wash.
It works great on sensitive skin types.
It works on long-wear products as well.
Cons
You might run out of it soon due to less quantity.
Price at the time of publication: $23.99
For someone who uses waterproof makeup, you need a cleanser that removes your makeup effectively, all while being gentle on your lashes. This shampoo from Estetist Professional does just that and more! It delivers deep, refreshing, and gentle cleansing to your natural or eyelash extensions. It can also be used as an aftercare routine that you can use every day.
Pros
Vegan and cruelty-free
Gluten and paraben-free
The kit includes a cleansing brush.
It is formulated to work on sensitive skin as well.
Cons
The shampoo included may not suit all skin types.
Price at the time of publication: $13.99
This high-quality product from BeautyGARDE is an all-around, oil-free makeup remover for eyelash extensions and eyebrows. It comes in a squeeze tube that is fitted with a locking, anti-microbial charcoal brush head that helps is deep cleaning between every eyelash without damaging them. It is completely free from oil ingredients which might cause harm to the lashes. It has the capability of removing waterproof makeup with ease.
Pros
Paraben, cruelty, and fragrance-free
Hypoallergenic and non-toxic
It has a gentle formula that works great even on sensitive skin.
Cons
It might cause irritation and burning.
Price at the time of publication: $24
That was our list of the most trusted brands for makeup removers for eyelash extensions. Investing in a good makeup remover is the best thing that you could do for your eyelash extensions. Veteran or a beginner, there is always something to learn. So, continue reading to know more about them.
Makeup Removers For Eyelash Extensions – Buying Guide
Your eyes deserve the best treatment, so here are a few things that you should know when it comes to eyelash enhancements and maintenance.
How To Clean Your Lash Extensions
If you are someone who uses false lashes regularly, then you understand how difficult it can be to keep them clean. If they are not maintained properly, there are chances that your eyes might suffer from an infection or other kinds of irritation. So, here are the steps that will help you keep lashes clean, all while increasing their longevity:
Remove all eye makeup using one of the products from the list above. They are safe and provide the best results.
You can apply a small amount of the formula on a cotton pad and gently wipe it across the eyelid or away from the lid. Do not use a cotton ball as it might create a mess.
Wet your eyes with some cold water.
Apply a small amount of the lash shampoo/gel on the back of your hand and lather it up.
Using a cleansing brush, apply this foam on your eyes, one eye at a time. You need not rub it vigorously, just a gentle massage.
Repeat the process a few times. This way, all the stubborn residue will loosen up.
Once done, rinse. Use a towel and pat dry.
Lash Cleansing Dos
If you have oily skin or you wear makeup every day, then you should cleanse your lash extensions every day. Otherwise, you could do it 2-3 times a week.
Read the ingredients that go in your cleanser to make sure that they will not harm your eyelashes.
Do not use a cleanser that contains oil for your extensions. But in case you do use an oil-based cleanser, wipe the cleaners off instead of rinsing, this way the residues will not slip into your eyes.
Lash Cleansing Don'ts
Do not use makeup remover wipes while wearing extension as they have oils and other ingredients that might cause your lashes to fall out.
Do not use face cloths, makeup pads, cotton balls, or other rough-textured items that will pull the lashes out.
Do not rub your eyes harshly while cleansing. You should gently rub them with your fingertips or use a cleansing brush.
The Benefits Of Regular Lash Cleansing
A well-formulated cleanser will completely rinse away the oil and residues that are stuck in the eyelash.
The residues are generally not visible to the naked eye, so using a good cleanser will make sure to get rid of these impurities.
A shampoo-based cleanser is low on sulfate ingredients, which helps in retaining the moisture on the extensions.
When Should You Clean Your Lash Extensions?
You can boost your eyelash health by washing them every day or on alternative days depending on how often you put on makeup. Cleansing them every day before going to sleep is suggested as it removes dust and dirt from them. You should also clean them after your activities like gym workouts.
Alternatives To Specialized Eyelash Extension Cleanser
When looking for a suitable cleanser, you need to read the ingredients and make sure that they will not cause any harm to your skin and your lashes. But, if you still do not trust them to not cause allergic reactions, you can always make your own cleanser at home using this simple formula.
There are 3 main ingredients that you need to make a DIY cleanser. Most of these ingredients might already be available in your home. Here is what you need:
Oil and chemical-free baby shampoo
Distilled, filter water
Baking soda
An empty spray bottle (or any other bottle that makes it easy for you)
Steps to make the cleanser:
Add baby shampoo and baking soda, one tablespoon each into the spray bottle.
Add some distilled water to it. Do not fill the bottle completely till the top as you need some space to shake the ingredients.
Now, shake the bottle and mix the ingredients thoroughly.
And that is it! Your home-made eyelash extension cleanser is ready. Pro tip: Make sure to shake the bottle before using it.
Why Trust StyleCraze?
The author, Chaitra Krishnan, is a makeup enthusiast. She has listed the best makeup remover for eyelash extensions after carefully reviewing user feedback from credible sources. These products will extend the life of your lash extensions with minimal effort. The products on our list are selected after extensive research and considering factors such as formula and ingredients.
Frequently Asked Questions
Can you use makeup remover on eyelash extensions?
It is suggested to use makeup removers that are eyelash-friendly. This will avoid any damage to the lashes and extend their health.
Can Vaseline remove eyelash extensions?
Yes, Vaseline has a powerful formula that will dissolve the adhesives on the eyelashes and you can easily remove the extensions.
Does baby oil remove fake eyelashes?
Yes, you can remove eyelash extensions using baby oil since it does not have alcohol-based ingredients.
What oil is best for removing eyelash extensions?
You can either use olive oil or coconut oil to release the eyelash extensions.
Is micellar water safe for eyelash extensions?
Yes, micellar water is safe to use on lashes. Although, you need to clean with utmost care.
Can you put makeup on after wearing eyelash extensions?
The oil from the makeup could loosen the adhesive on the extensions. So, it is recommended to wear extensions after applying makeup.
Recommended Articles: