11 Best Makeup Removers Available In India
Wipe the day off of your face and hit the bed with a clear skin with these makeup removers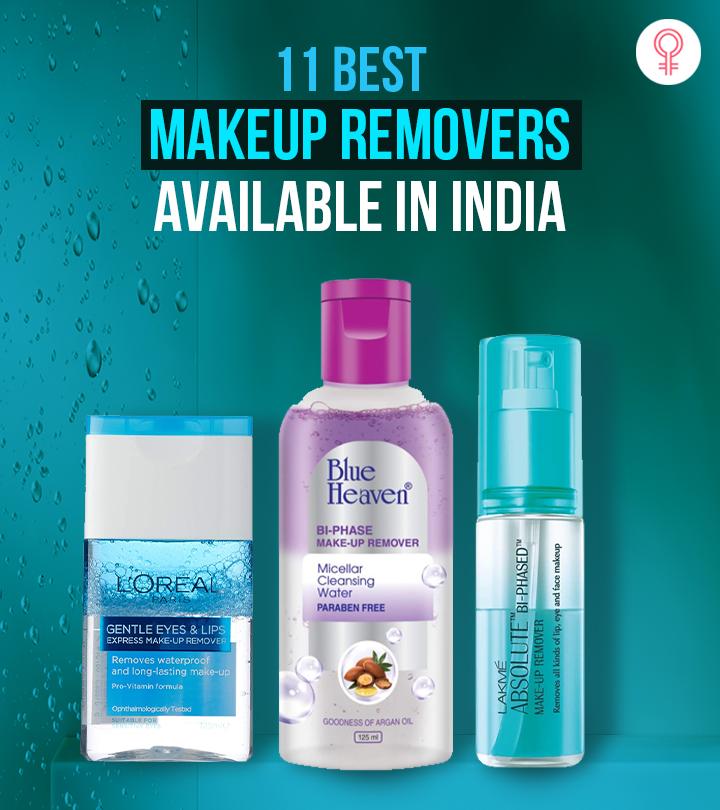 If you are a makeup enthusiast, you know the importance of a makeup remover. Merely washing your face is not the perfect solution to get rid of makeup as it will not clean your pores deeply. Makeup removers are specially designed to remove dirt and layers of makeup from your skin in just one swipe. They suit all skin types and are available in both water-based and cream-based formulas. In this article, we have compiled a list of the 11 best makeup removers available in India. Scroll down and click on a suitable link!
11 Best Makeup Removers Available In India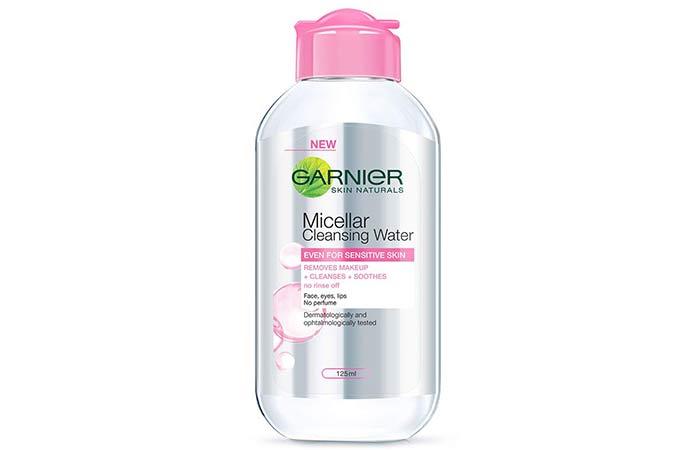 The Micellar Cleansing Water from Garnier is an oil-infused cleanser that removes stubborn makeup. This formula purifies your skin by gently removing makeup in just one swipe. It contains micelles that lift makeup and impurities from the pores and keep your skin clear. You can also use it to remove eye makeup as it is tested by dermatologists and ophthalmologists.
Pros
Non-sticky
Suitable for daily use
Fragrance-free
Alcohol-free
Paraben-free
Cons
May irritate sensitive skin.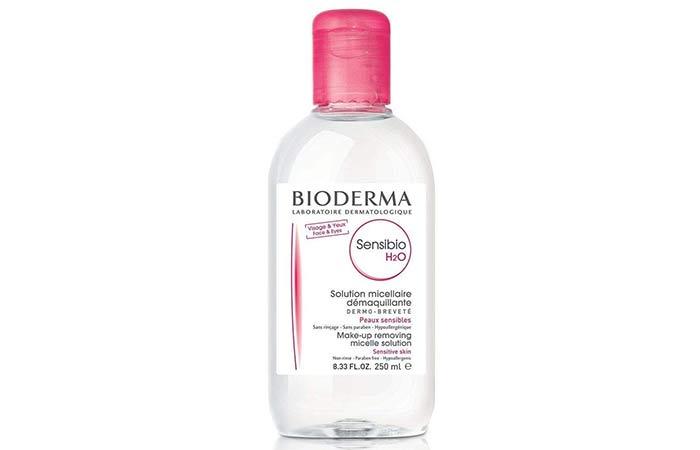 The Sensibio H2O Makeup Removing Micelle Solution from BIODERMAis designed to suit sensitive and reactive skin. The formula deeply cleanses all impurities and pollution from your face. It is fortified with DAF Patented Complex that protects your skin's natural barrier. The fatty acid estermicelles help clean and soothe your skin without leaving it dry and irritated. It also contains cucumber to refresh and soothe your skin.
Pros
Hypoallergenic
Non-sticky
Suitable for sensitive skin
Oil-free
Paraben-free
Fragrance-free
Cons
Expensive
May dry out the skin.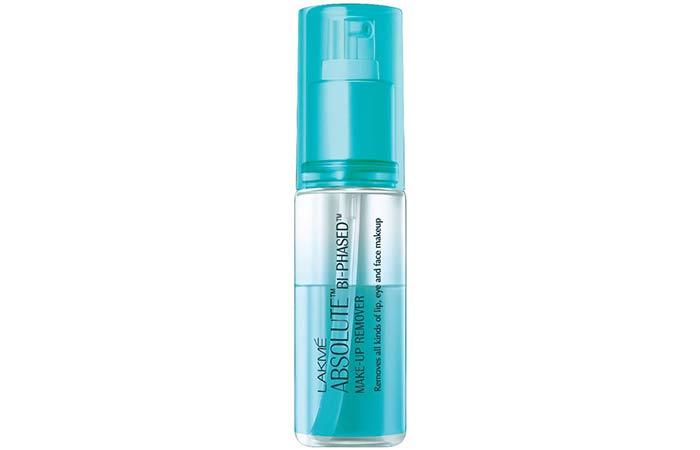 The Lakme Absolute Bi-Phased Make-Up Remover is a unique two-way formula that refreshes and protects your skin. The oil phase removes dirt and impurities from your skin, while the water phase conditions your skin without leaving it sticky. The combination of these two properties gives your skin a purifying experience. The formula can also be used for removing eye makeup.
Pros
Dermatologically tested
Non-sticky
Non-irritating
Suitable for sensitive eyes
Cons
May not suit very oily skin.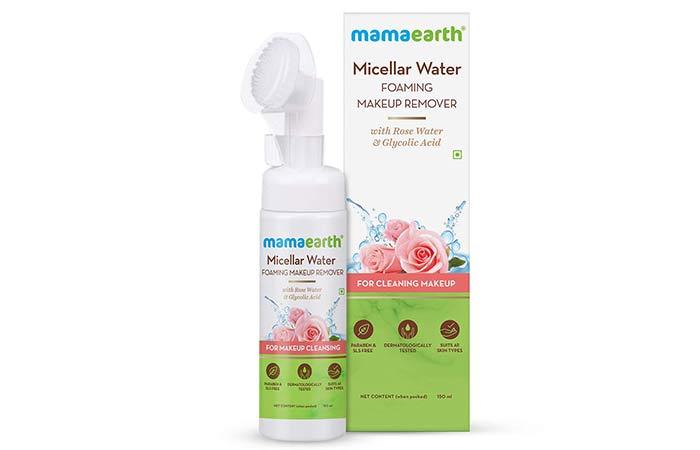 The Mamaearth Micellar Water helps exfoliate dead skin cells to eliminate impurities on your facial skin. The power-packed formula contains glycerin that intensely hydrates the skin and strengthens its moisture barrier to protect it against irritation. It also contains glycolic acid that exfoliates the skin by getting rid of deep-rooted impurities, tightens the pores, and reduces aging signs. The anti-inflammatory properties of rose water prevent redness and maintain your skin's pH balance. The natural formula is suitable for all skin types
Pros
Contains bioactive
Dermatologically tested
Pleasant fragrance
Silicone-free
Paraben-free
Includes exfoliating brush
Sulfate-free
Petroleum-free
No artificial preservatives or colors
 Cons
Do not remove kajal easily.
The Almond OilFace & Eye Makeup Cleanserby Biotique is a nourishing blend of almonds and safflower oil with antioxidant properties that keep your skin moisturized and hydrated. Other ingredients like sesame extracts, neem, and staff tree oils help in dissolving heavy makeup around your face and eyes. The gentle formula is rich in vitamin E and leaves your skin silky and refreshed.
Pros
Ayurvedic formula
Gentle
Smells good
Preservative-free
Cons
May feel greasy.
Not suitable for oily skin.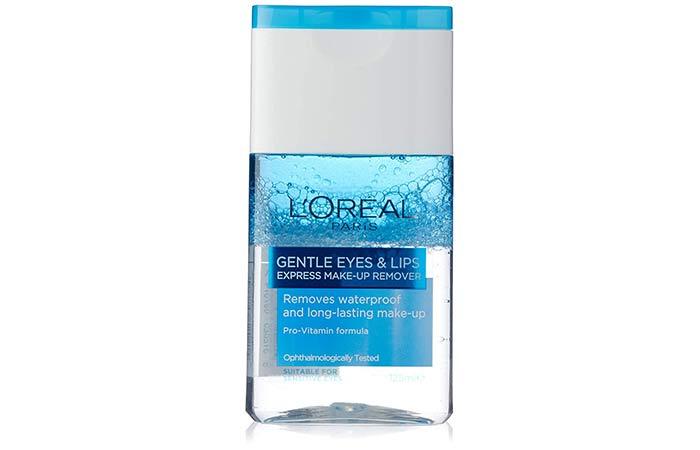 This unique makeup remover from L'oreal Paris helps to wipe off the most stubborn makeup instantly. The formula shields the skin against irritation and enhances its moisture barrier. It is formulated with vital vitamins that remove all the dirt and traces of makeup and leave your skin soft and supple. The gentle formula cleanses even waterproof makeup and is safe to use around your eyes.
Pros
Ophthalmologist-tested
Dermatologist-tested
Non-fragrant
Non-irritating
Works well for waterproof makeup
Cons
May cause breakouts in sensitive skin.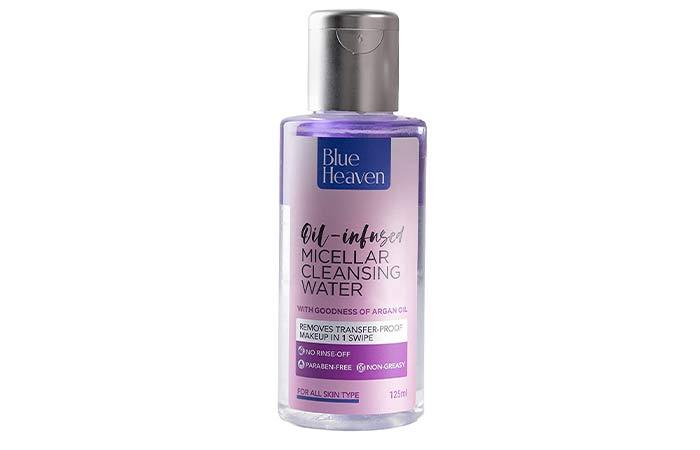 The Bi-Phase Makeup Remover by Blue Heaven is an oil-infused micellar cleansing water that removes smudge-proof and heavy makeup in just one swipe. The bi-phase formula keeps your skin hydrated and nourished. It is fortified with argan oil that keeps your skin soft and supple. The micellar water contains gentle ingredients that rid your skin of the most stubborn makeup and dirt. The formula replenishes the moisture of your skin.
Pros
Suits all skin types
Non-irritating
Travel-friendly
Paraben-free
Cons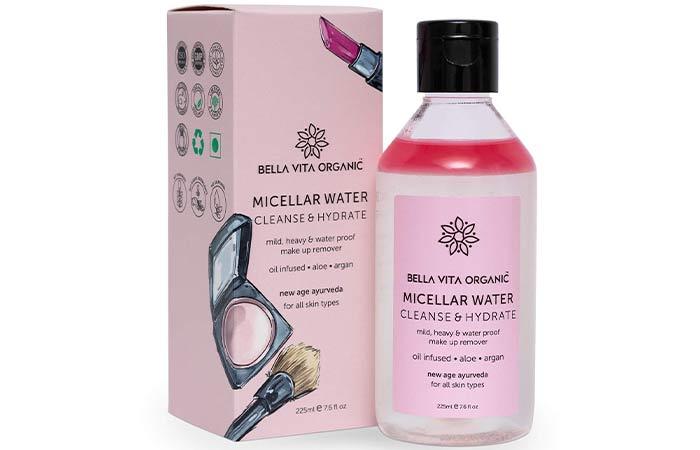 This micellar water from Bella Vita is an Ayurvedic formula that effectively removes mild, heavy, and waterproof makeup. The gentle ingredients in this product cleanse the skin and keep it soft and nourished. It is formulated with aloe vera and cucumber that hydrate your skin and boost collagen production to improve skin texture, while rose water gives a cooling effect to your skin and reduces redness. The argan oil in the formula controls the oil secretion on your face and leaves your skin looking healthier.
Pros
Non-toxic
Organic ingredients
Smells good
Suitable for all skin types
Non-drying
Cruelty-free
Paraben-free
Sulfate-free
Cons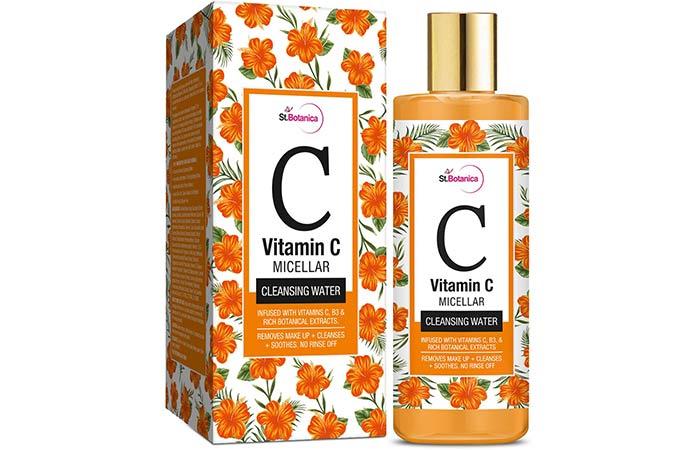 The St.Botanica Vitamin C Micellar Cleansing Water is a potent blend that deeply cleanses your skin. The 3-in-1 formula acts as a cleanser, toner, and makeup remover. It is fortified with vitamins C and B3 that nourish your skin and improve its texture. The formula also contains green tea, glycerin, and chamomile flower extract to maintain the skin's hydration balance. The licorice, rosemary, and lemon in the micellar water reduce blemishes and enhance skin luminosity.
Pros
Non-comedogenic
Gentle
Smells good
Brightens the skin tone
Cruelty-free
A little goes a long way
Cons
Needs 2-3 swipes to remove makeup fully.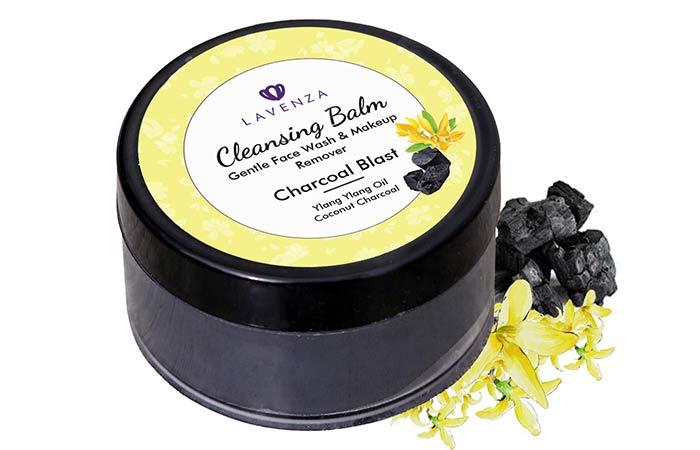 The LavenzaCleansing Balm& Makeup Remover helps eliminate the most stubborn makeup gently without leaving any residue. The soap-free formula is used with water to create a creamy texture for removing all the impurities. It is infused with coconut charcoal that draws out impurities and minimizes pores and ylang-ylang oil that soothes irritation. The plant butter and botanical oils nourish and soften your skin and restore moisture.
 Pros
Suits all skin types
Non-drying
Gentle
Vegan
Artificial fragrance-free
Cruelty-free
Paraben-free
Sulfate-free
 Cons
May not work on waterproof makeup.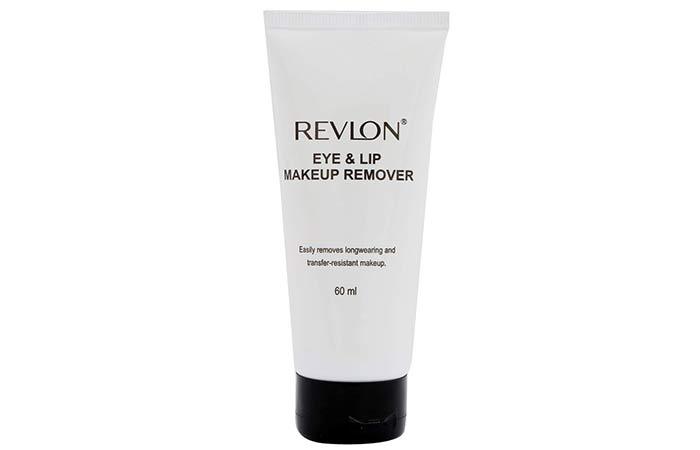 The Revlon Eye &Lip Makeup Remover eliminates long-wearing and waterproof makeup in just one swipe. This cream-based formula minimizes pores and blackheads while retaining the skin's natural moisture. It provides deep cleansing and leaves your skin soft and nourished. The rich ingredients help maintain your skin's youthful texture and radiance for a long time.
Pros
Non-irritating
Ophthalmologist-tested
Lightweight
No residue
 Cons
May sting and burn the eyes.
Now that you know all about the best makeup removers and their benefits, it is time to learn how to use a makeup remover. Follow these simple steps for effective removal of makeup.
How To Use Makeup Removers
Shake the bottle of the cleanser well before pouring some of it on a wipe.
Press the cotton pad gently on your face and around your eyes.
Swipe away all the makeup without harsh rubbing. You will receive all the extra makeup on the wipe.
Moisturize your face well after the removal of makeup.
Makeup removers are must-have skincare essentials. They help eliminate makeup and impurities from the skin after a long day. Here are a few points to consider before buying a makeup remover.
How To Choose The Best Makeup Removers
Skin Type: Makeup removers are of many types – micellar water, balm, cleansing milk, cleansing oil, and lathering cleansers. If you have normal skin, you can use any of these types based on your preference. For oily skin, opt for micellar water and cleansing oils. For dry skin, go for cleansing balms and oils, and for sensitive skin, choose cleansing milk or balm.
Check The Ingredients: Many makeup removers use alcohol as their main ingredient. Avoid choosing such cleansers as regular use of alcohol can damage your skin. Ensure the product does not contain sulfates and artificial fragrances and dyes to prevent skin irritation.
Reviews: Before choosing a makeup remover, always go through the reviews to check if it suits a particular skin type and understands its pros and cons.
No matter how messy the makeup removal process is, it is necessary. The residue left by makeup can clog pores and cause breakouts. Hence, using a gentle and effective makeup remover is essential. Choose one from the above list that is best suited for your skin.

Recommended Articles
The following two tabs change content below.