7 Best Makeup Setting Powders Available In India
Ace the base with setting powders that will make your makeup last forever!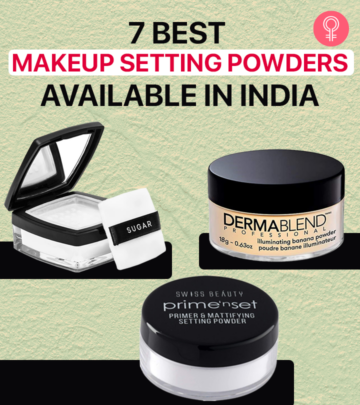 Makeup setting powders are specially designed to hold your foundation in place and prevent your makeup from bleeding. These powders act as shields against excess oil buildup. They are available in different finishes and textures to blend with every skin tone. These lightweight powders blend easily on your face to blur all skin imperfections.
If you are looking for a formula that will make your makeup last long with a translucent matte finish, go through our list of the 7 best makeup setting powders available in India. Scroll down!
7 Best Makeup Setting Powders Available In India
The Fit MeLoose Finishing Powder from Maybelline is a mineral-based formula that absorbs oil and enhances the skin texture. It gives a flawless and natural finish to your makeup and is available in a variety of shades to suit all skin tones. The lightweight powder has a silky texture that creates a smooth base for makeup.
Pros
Does not crease
Non-drying
Non-cakey
Long-lasting
Travel-friendly
Cons
Price at the time of publication: ₹519
This finishing powder from NYX is designed to suit all skin tones. The oil-absorbing formula helps in setting your makeup with a smooth finish. This powder is designed to be undetectable even with the most intense HD cameras. It is formulated with pure mineral silica that gives your skin a nourished and luminous look. The product is long-lasting as you require just a tiny amount for complete coverage.
Pros
Non-irritating
Lightweight
Soft texture
Vegan
Cons
Contains parabens
Not suitable for flash photography.
Price at the time of publication: ₹8.44
Lakme's 9To5 Naturale Finishing Powder is designed to keep your skin oil-free and leave a shimmering effect on your face. It is fortified with aloe vera and green tea extracts that help in keeping your skin hydrated and shielded from dirt and pollution. The universal shade is unique and designed to suit most skin tones. The powder gives you a translucent matte finish and comes with a soft puff for easy application.
Pros
Lightweight
Has SPF 50
Comes with an applicator
Cons
Price at the time of publication: ₹562.5
The Blue Heaven Finishing Powder is designed to give you a natural look with a matte finish. The translucent face powder glides smoothly on your face and leaves your skin looking flawless. The formula helps in controlling excess shine on your face. The oil-absorbing ingredients easily blend with your skin to create a soft and luminous look.
Pros
Lightweight
Lasts all-day
Crease-proof
Sheer coverage
Travel-friendly
Cruelty-free
Cons
May not suit very dry skin.
Price at the time of publication: ₹105
The Illuminating Banana Powder by DERMABLEND is a high-performance makeup essential that provides a gorgeous matte finish. Its non-comedogenic formula is designed for setting and baking makeup. This easy-to-use powder is transfer- and smudge-proof and holds your foundation for almost 16 hours. It is dermatologist-tested and safe for sensitive skin.
Pros
Smudge-resistant
Transfer-resistant
Non-ashy
Long-lasting
Allergy-tested
Cruelty-free
Fragrance-free
SLS-free
Triclosan-free
Phthalate-free
Cons
Expensive
Highlights creases and pores
Price at the time of publication: ₹29.0
The translucent powder from SUGAR Cosmetics is a lightweight formula that makes your skin radiant and luminous. It settles on your skin effortlessly to remove all imperfections and leaves it with an even texture. The long-lasting formula keeps your skin flawless for 8 hours after application. The oil-absorbing powder offers a mattifying finish and suits all skin types.
Pros
Dermatologically tested
Cruelty-free
Paraben-free
Mineral oil-free
Nano ingredients-free
D5-free
Cons
Price at the time of publication: ₹467
Swiss Beauty's Prime'nSet Mattifying Setting Powder is designed to hide imperfections on your skin for a radiant look. The silky formula provides a protective shield to set makeup and does not bleed. The universal shade is formulated to suit all skin tones and imparts a velvety smooth finish. It creates a natural base for makeup and brightens up your complexion.
Pros
Non-greasy
Long-lasting
Skin-friendly
Smooth application
Travel-friendly
Cons
Less quantity
Does not control sweat.
 Apart from making your makeup last long, setting powders have various other benefits. Let's look at some of them below.
 Benefits Of Using Makeup Setting Powders
 1. Help Your Foundation Stay ForLong
The right amount of setting powder can make your foundation stay put for long hours. The oil-absorbing formula of the setting powders does not let your foundation bleed even in hot summers.
2. Absorb Oil
Setting powders are best for oily skin types as they contain oil-absorbing minerals to keep your skin looking fresh and radiant with a matte finish.
3. BlendInBlush And Bronzer
The application of setting powder over the foundation helps you blend your blush and bronzer perfectly.
4. Enhance Makeup Techniques
Setting powders create an oil-free base for the smooth application of makeup. Professionals use this powder to cement makeup for a long-lasting look.
 Now that you know about the best makeup setting powders and their benefits, here are few easy steps to help you apply these powders perfectly.
 How To Use A Makeup Setting Powder
Choose a suitable powder and brush according to your skin type.
Cleanse and moisturize your skin for even coverage.
Flip your case of setting powder upside down so that the product falls into the lid from the sifter.
Dip your fluffy brush into the powder lid and tap excess into the lid.
Apply setting powder in small circles lightly with your brush.
There are numerous makeup-setting powders available on the market today. Here are a few points you need to consider if you want to buy the best product.
How To Choose The Best Makeup Setting Powders
Shade: Choose the right shade that complements your skin tone. If you don't get the right shade, go for universal or translucent colors.
Finish: A subtle finish is best suited to give a natural look to your skin. Matte finish is the ideal option for those with oily skin.
Right Texture: A good setting powder should be lightweight and glide smoothly on your face. It should also be easily blendable and not leave a white cast.
 Setting powders not only hide imperfections but also keep your makeup from melting for a long duration. Don't let the temperature mess with your makeup anymore! Pick any of the makeup setting powders listed above for a flawless look.
Frequently Asked Questions
How often should I reapply makeup setting powder throughout the day?
The frequency of reapplying makeup setting powder throughout the day depends on your skin type as oily skin may need to reapply more frequently. In general, you may want to touch up your makeup every 4-6 hours, mainly in areas prone to oiliness, to maintain a fresh look and control shine.
Can makeup setting powder cause flashback in photographs?
Yes, using a makeup setting powder excessively that has high silica content and light-reflecting particles can cause flashbacks in photographs. It can create a white or ghostly appearance on the skin when the flash from a camera hits the reflective particles in the powder.
Is there a difference between translucent and colored makeup setting powders?
Yes, there is a difference between the two. Translucent powders are colorless and work on all skin tones without adding any coverage. On the other hand, colored powders come in various shades and may provide additional coverage or color correction while setting the makeup.
What are the key ingredients to look for in a good makeup setting powder?
Look for ingredients like silica, talc, and rice powder in your makeup setting powder for effective oil control. These ingredients have oil-absorbing properties and a finely milled texture that ensures your makeup appears smooth and lasts long.
Is it necessary to use a makeup setting powder if I already use a setting spray?
Yes, using a makeup setting powder and a setting spray together can provide optimal makeup longevity and hold. While the powder helps to set the foundation and control shine, the setting spray locks everything in place and adds extra staying power.
Recommended Articles