10 Best Makeup Setting Sprays Available In India
Bid adieu to creasy face with affordable formulas that preserve your makeup look.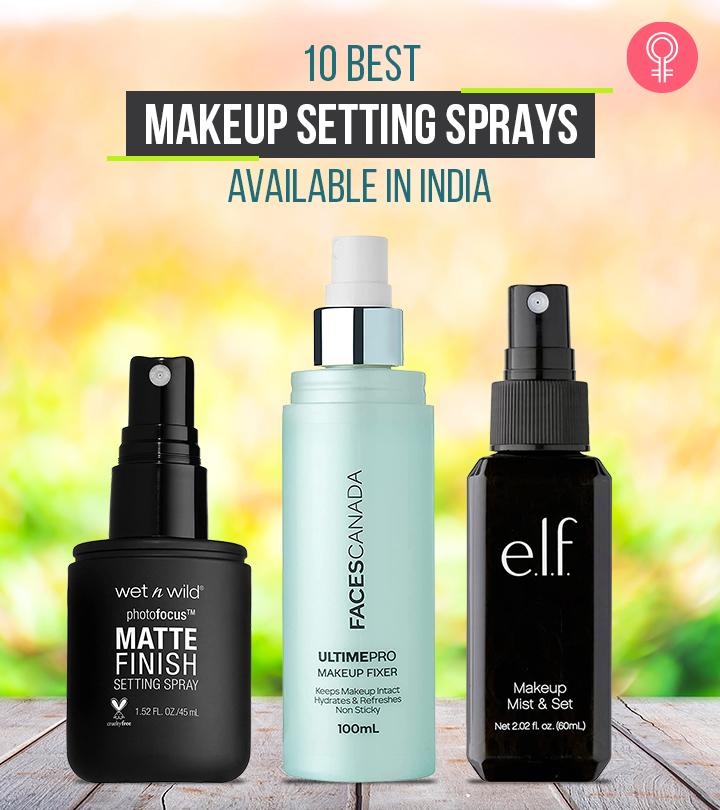 Afraid that the heat outside will melt your flawless makeup? Do not worry! We have come up with an ultimate solution to keep your makeup fresh and intact throughout the day. All you need to do is add a makeup setting spray to your makeup kit. These sprays are to be used at the end of the makeup to set it thoroughly. They prevent smudging and keep your makeup fresh.
If you want to get your hands on one, check out our list of the 10 best makeup setting sprays available in India. Scroll down!
10 Best Makeup Setting Sprays Available In India
The e.l.f. Cosmetics Makeup Mist & Set helps keep your makeup intact while boosting radiance. This makeup mist moisturizes and soothes the skin due to the presence of ingredients like cucumber, aloe, green tea, and vitamins A, C, and E. Its lightweight formula prevents fading and running and improves makeup wearability.
Pros
Lightweight
Non-sticky
Non-sweaty
Alcohol-free
Cons
Swiss Beauty's MakeUp Fixer Natural keeps your makeup fresh and fade-free for several hours. Its non-oily and lightweight formula prevents makeup from fading and melting while eliminating the need for touch-ups. This non-sticky setting spray contains natural aloe vera and vitamins to keep the skin refreshed and hydrated. It works by locking the makeup and prevents it from settling in fine lines to offer an extended stay.
Pros
Travel-friendly
Long-lasting
Lightweight
Non-oily
Non-cakey
Cons
Strong, unpleasant fragrance
The Blue Heaven Mist Spray Makeup Fixer offers a dewy and silky finish to your makeup. It works by ensuring that your makeup stays in place for an extended time while soothing and mattifying your face. Its refreshing formula is packed with the benefits of aloe vera and vitamins B5 and E.
Pros
Long-lasting
Sweatproof
Paraben-free
Cruelty-free
Cons
Sticky
Unpleasant fragrance
The Ultime Pro Makeup Fixer from FACES CANADA has a refreshing and non-sticky formula to give your makeup a smooth finish. It is enriched with natural ingredients like moringa, caffeine, and chamomilla matricaria flower extract that protect the skin from free radicals and environmental pollutants. It also contains hyaluronic acid that keeps the skin hydrated. This spray ensures that your makeup doesn't melt and stays fresh throughout the day.
Pros
Lightweight
Long-lasting
Non-sticky
Cruelty-free
Cons
None
This Aloe Vera Extracts Makeup Fixer from MARS Store protects your makeup and leaves your skin fresh and hydrated. It forms a protective shield against heat and humidity and keeps the makeup from melting. The non-drying formula blends well with the skin and lasts up to 6 hours.
Pros
Suits sensitive eyes
Non-greasy
Long-lasting
Non-sticky
Alcohol-free
Cons
None
The PhotoFocus Natural Finish Setting Spray by wet n wild has a lightweight and hydrating formula that offers extended makeup stay and prevents creasing, cracking, smudging, and fading. It contains aloe vera to condition and soothes the skin. This spray is suitable for all skin types and works with any kind of makeup.
Pros
For all skin types
Long-lasting
Weightless
Cruelty-free
Cons
The Infallible Makeup Extender Spray from L'Oreal Paris has an ultralight and dermatologist-tested formula to keep your makeup fresh and intact. It is oil-free and prevents the makeup from smudging, creasing, and melting, saving you the trouble of touch-ups. This non-comedogenic spray also prevents your makeup from settling into creases and fine lines.
Pros
Long-lasting
Lightweight
Dermatologist-tested
Non-comedogenic
Travel-friendly
Cons
The wet n wild Photofocus Matte Finish Setting Spray extends the freshness and staying power of your makeup. Its exclusive formula is enriched with hydrating aloe vera to soothe and condition the skin. This all-day makeup setting spray prevents smudging, creasing, fading, and cracking of makeup.
Pros
For all skin types
Long-lasting
Lightweight
Cruelty-free
Cons
COLORBAR's Stay The Day Finishing Mist has a dermatologically tested formula that keeps your makeup in place by sealing it. This soothing makeup mist hydrates dull skin instantly with toning effects. It features witch hazel, caffeine, and chamomile that take optimum care of the skin by preventing flakiness and creasing.
Pros
Dermatologically tested
Ophthalmologically tested.
Vegan
Artificial fragrance-free
Mineral oil-free
Sulfate-free
Paraben-free
Artificial colorant-free
Cruelty-free
Cons
This makeup setting spray from Miss Claire fixes your makeup and offers a dewy finish. It is ideal for normal to dry skin types and spray prevents makeup meltdown and smudging. The lightweight formula provides long-lasting stay and keeps your makeup fresh throughout the day.
Pros
Lightweight
Long-lasting
Prevents melting and smudging
Value for money
Cons
Apart from keeping your makeup intact for a long time, these setting sprays offer a number of other benefits. Let's see what they are below.
Benefits Of Using Makeup Setting Sprays
Keep the skin hydrated.
Prevent excess oil production and shine.
Provide a dewy glow.
Extend makeup finish by preventing smudging, creasing, and melting.
Now that you know about the best makeup setting sprays and their benefits, it's time to see how to use them. Follow the below steps.
How To Use Makeup Setting Sprays
Step 1: Once you are done applying all the makeup, hold the setting spray bottle about 8 inches away from your face.
Step 2: Close your eyes.
Step 3: Spray the mist all over your face.
Step 4: Wait for it to dry. Voila! You are good to go!
Here are some essential points to consider while purchasing any makeup setting spray.
How To Choose The Best Makeup Setting Sprays
It is important to choose a makeup setting spray based on your skin type for optimum benefits. If you have dry skin, look for a makeup setting spray with a hydrating formula. For oily and combination skin, go for a mattifying spray.
During summers, the weather is hot and humid, and your makeup tends to melt off and smudge. Hence, look for a sweat-resistant and soothing makeup setting spray for summers. During winters, your skin tends to get drier, and makeup might look cakey. Hence, go for a hydrating spray to lock in moisture and protect your skin from dry air.
The better the stay of the makeup setting spray, the better it can hold makeup from smudging, melting, and creasing. You can check user reviews on multiple websites to know about the longevity of the spray.
Makeup setting sprays offer a great way to keep your makeup fresh and intact for a long period by preventing creasing, melting, and smudging. Don't let the temperature mess with your makeup anymore! Find a suitable product from our list and ensure a refreshing look.

Recommended Articles
The following two tabs change content below.