20 Best Makeup Subscription Boxes To Try In 2022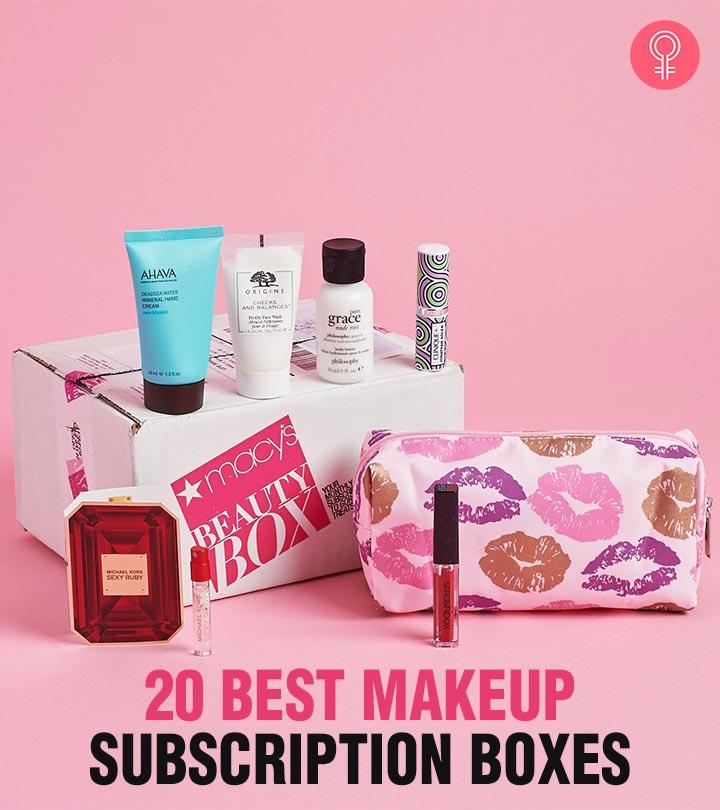 Whether you're a compulsive beauty hoarder or just curious about what's hot on the market, a makeup subscription box is a convenient way to discover new and emerging beauty brands. You get to try both samples and full-size products, so you can find your new favorite must-haves with ease. If beauty is your jam, we've curated a list of the 20 best makeup subscription boxes to treat yourself or someone you love! Want to find one that fits your lifestyle, delivers high-quality products, and is good value for money? Read on to find out more.
20 Makeup Subscription Boxes To Pamper Yourself In 2018
1. Play! By Sephora
Review
If you want to step up your beauty game, there's nothing like this selection of best-selling products by Sephora. You get 5 deluxe samples in this box – which include makeup, skin care, and hair care – along with a collectible makeup bag. You also get access to exclusive tutorials about how best to use those products. At $10 a month, this is the sweetest deal that's delivered right to your door.
Purchase Link
www.sephora.com
2. Ipsy Glam Bag Plus
Review
This beauty box from Ipsy offers 5 full-size products that are personalized just for you. At $25 a month, you receive goodies worth $120 in every delivery! It does not stop there – you get a seasonal bag in your first delivery and a deluxe makeup bag with every third delivery. If you love and breathe makeup, or are a newbie who wants to grow their collection, this is something you can't miss out on!
Purchase Link
www.ipsy.com
3. Boxycharm
Review
Boxycharm gives you 4 to 5 full-size beauty products ranging from makeup and skin care to beauty tools and color cosmetics. You also get exclusive offers from the best beauty brands when you subscribe to its service. For only $21 a month, you receive products worth over a $100 with each delivery. If you live in the U.S., you also get free shipping.
Purchase Link
www.boxycharm.com
4. Allure Beauty Box
Review
Want top-trending, editor-tested makeup and beauty picks? Allure magazine's monthly beauty box brings you the cream of the crop. You get deluxe samples and full-size products from high-end brands like NARS and Hourglass in this box. It costs $15 a month for a box that has a value of over $100 (you gotta agree that is insanely cheap!). You also get a mini-mag with tips, shortcuts, and step-by-step tutorials in this box.
Purchase Link
beautybox.allure.com
5. Birchbox
Review
You don't have to devote your life to finding products that make you feel your best because Birchbox has all your beauty needs covered! At $10 a month, you get a personalized mix of 5 samples tailored to your skin, hair, and style from both prestige and niche brands. You also get a whole lotta info on why these products are great and how you can make the most of them.
Purchase Link
www.birchbox.com
6. Medusa's Makeup
Review
If cruelty-free makeup excites you, this box from Medusa's Makeup is artfully curated by its team just for you. You get 4 full-size vegan and cruelty-free products for only $17 a month. With products for your eyes, lips, and face, this box is a winner in terms of variety and offering clean-conscience cosmetics at a steep discount.
Purchase Link
medusasmakeup.com
7. Macy's Beauty Box
Review
Treat yourself to the Macy's Beauty Box for just $15 a month. This one holds 5 deluxe samples from the best beauty brands along with a chic pouch and a surprise bonus! Whether you want to sample a cult-classic skin care product or achieve that perfect eye makeup look, this box has it all.
Purchase Link
www.macys.com
8. Julep Beauty Box
Review
If you're looking for a K-beauty box, this one by Julep offers a customized selection of K-beauty makeup, skin care, and nail care. You can choose from an assortment of products made with skin-loving, good-for-you ingredients. It costs $25 a month for a mix of all the three categories. Here's the best part – your first box is free!
Purchase Link
www.julep.com
9. Glossybox
Review
This box costs you twice as much as other popular ones (like Allure and Sephora's Play), but here's the thing – you receive only full-size and deluxe beauty products. Subscribers even get exclusive offers and rewards and insider tips and tricks from industry pros. At $21 a month, you can count on this box to recharge your face and body.
Purchase Link
www.glossybox.com
10. Vegan Cuts Makeup Box
Review
To all the vegans out there, this has gotta be the beauty box of your wildest dreams! You get 4 full-size products that can be anything from lip gloss to eyeshadow. All its products are 100% vegan and paraben-free. It costs $25 a month, which is a fair deal for somebody who wants to discover new vegan cosmetics in a world that is still pretty limited in terms of non-toxic beauty products.
Purchase Link
vegancuts.com
11. FabFitFun
Review
This wellness site is doing a great job at offering a simple solution for all your self-care needs. With a four-times-a-year subscription, this box is tailored for each season and includes 8-10 full-size, premium products worth $200 for only $49 each season. You'll receive insanely interesting products like drinkable collagen, a cool water bottle, paraben-free makeup, and dry shampoo.
Purchase Link
fabfitfun.com
12. Honest Beauty Box
Review
Let's take a moment to thank Jessica Alba for her line of botanical makeup and skin care. All its products are safe and free of harmful chemicals. For $50 a month, you get 3 full-size non-toxic and cruelty-free products of your choice along with a bunch of exclusive offers. Honest Beauty's Lip Crayons are ridiculously popular even amongst celebrities! Random trivia: Meghan Markle wore the shade 'Chestnut Kiss' from Honest Beauty on her wedding day!
Purchase Link
www.honest.com
13. Deck Of Scarlet
Review
Are you obsessed with eyeshadow palettes? How does getting a new palette every two months sound? For $29 every two months, Deck of Scarlet provides unique and limited-edition palettes that are made in collaboration with a popular YouTuber. Isn't that an eye makeup lover's dream come true? Moreover, the formulas are 100% cruelty- and paraben-free.
Purchase Link
www.deckofscarlet.com
14. Color Curate
Review
Color Curate is a beauty subscription service with a mission. Each month, carefully hand-picked formulations with the most saturated pigments and luxurious textures are delivered to your door. Each bag also contains a beautifully wrapped surprise to add a special touch. Their formulations are also 100% cruelty-free, vegan, and paraben-free.
Purchase Link
colorcurate.sosusan.com
15. Ethos Beauty Box
Review
Meet the box for women of color. The Ethos Beauty Box strives to represent skin tones and hair textures that fall outside the "traditional" range in other beauty boxes. For $25 a month, you receive 5 personalized samples of makeup, skin care, and hair care products from top prestige beauty brands.
Purchase Link
leethosbox.cratejoy.com
16. ShicaChic
Review
This monthly makeup subscription box is filled with deluxe samples and one or more full-size products to meet all your makeup and beauty needs. It is priced at $14.99 for a month and includes brands like Too Faced, NYX, and Covergirl.
Purchase Link
www.shicachic.com
17. Lipstick Junkie
Review
The name says it all – Lipstick Junkie! If lipstick is your go-to makeup item, this beauty box will fully feed your lipstick addiction. For $18 a month, you get to explore and discover bold and bright lip hues from both popular and new indie brands. They also throw in extra products as prizes in your box!
Purchase Link
https://www.facebook.com/LipstickJunkieBox/
18. Target Beauty Box
Review
Target launches one new themed box of beauty products every month, and it only costs around $7! The value is fantastic, and it comes with Target coupons and a good mix of samples and full-size items. If surprises aren't your thing, you will love this box as you'll always know exactly what you're getting before receiving it.
Purchase Link
www.target.com
19. Beauty Fix By Dermstore
Review
Beauty Fix features a curated collection of professional and innovative makeup, skin care, and hair care products. They are all hand-picked by beauty experts and delivered to you. For $25 a month, you get both full-size and deluxe samples from recognized brands.
Purchase Link
www.dermstore.com
20. Love Goodly
Review
This wholesome box by Love Goodly is filled with a mix of non-toxic makeup and skin care products along with healthy snacks, home accessories, and wellness products. For someone who prefers an organic and eco-friendly beauty regime, this box is a blessing. You also donate to a worthy cause when you hit subscribe.
Purchase Link
www.lovegoodly.com
Whether you are a makeup addict or a beginner in the makeup world, makeup subscription boxes will ease your life. You will always be updated on the latest trends and find an opportunity to groom your makeup skills. From Play! by Sephora to Vegan Cuts Makeup Box, Ethos Beauty Box, and Beauty Fix by Dermstore, we have provided you with a list that will be of great help. All you need to do is choose the one as per your liking. So, no more holding back. Roll up your sleeves and get ready to up your makeup game.
The following two tabs change content below.