15 Best Malin And Goetz Products For All Skin Types
Revive your skin and hair health with the straightforward approach of this no-nonsense brand.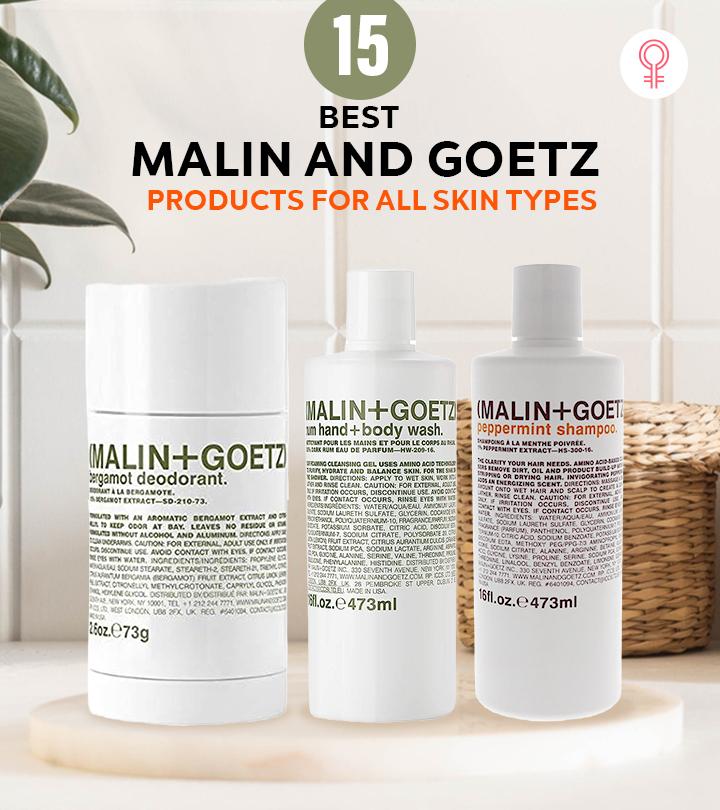 Malin And Goetz is a renowned skin care brand offering natural, vegan, and effective products. The brand uses natural ingredients with a mission to produce clean yet comprehensive formulations. Malin And Goetz also aims to provide customers with quality products that keep their skin looking youthful and clear.
All of Malin + Goetz's products contain essential vitamins, antioxidants, essential oils, and plant extracts, allowing the skin to stay away from chemical formulations. From cleansers to face masks and lotions, their range of plant-based skin care solutions help nourish the skin for long-lasting results. Check out our comprehensive list and guide below to explore the wide variety of Malin And Goetz products to rejuvenate your skin.
What Is Malin And Goetz Best Known For?
Malin And Goetz is best known for their use of high-quality, natural ingredients in their products, while also maintaining a minimalist design choice. Also, their products are mostly gender-neutral and quite affordable even if it is a luxury brand.
Top 15 Malin And Goetz Products For A Luxurious Daily Routine
Looking for a deodorant that provides long-lasting protection from odor, without any synthetic elements? Check out the Malin + Goetz Bergamot Deodorant now! It contains natural ingredients such as probiotic enzymes, corn starch, and bergamot extracts that work together to neutralize body odor instantly while also absorbing underarm sweat and moisture. The botanical formula makes it ideal for all skin types and has a light, citrusy fragrance that feels invigorating and refreshing.
Pros
Suitable for sensitive skin
Opaque formula
Residue-free
Paraben-free
Alcohol-free
Baking soda-free
Cons
Not enough for high-impact activities or who perspire heavily.
The Malin + Goetz Peppermint Shampoo makes hair healthy and manageable from the very first wash. It is formulated with natural peppermint extracts that clarify the scalp along with amino-acid-based cleaning agents. The amino acids thoroughly cleanse and eliminate the oil, dirt, and product buildup from your hair without overdrying it. The addition of peppermint also provides an energizing fragrance.
Pros
Ideal for dry hair
Lathers well
Suitable for daily use
Pleasant scent
Value for money
Cons
May cause hair fall in some.
Finding the ideal body wash that suits your skin type can be a tedious task. Thankfully, Malin + Goetz Rum Hand + Body Wash makes it easier with its gentle and botanical ingredients. The hydrating amino acids and glycerin enhance moisture retention in the skin while the gentle surfactants purify the skin. Your skin feels soft, smooth, and supple after every shower or bath. The light, warm, and seductive fragrance of dark rum lingers on the skin for a while.
Pros
Suitable for all skin types
Pleasant scent
Gentle formula
Hydrating
Cons
If your lips need a hydrating, soothing, and long-lasting lip treatment, look no further than the Malin + Goetz Mojito Lip Moisturizer. The gel formula features absorbent fatty acids that instantly nourish your lips, while also offering a continual layer of hydrating protection. The moisture-rich formula leaves your lips feeling comforted, soft, and soothed. Apply the product at least twice daily for the best results. Learn more about the product here.
Pros
Absorbs quickly
Mild fragrance
Protects the lips from external agents
Value for money
Cons
May cause a reaction in sensitive skin.
The Malin + Goetz Cilantro Conditioner is enriched with natural cilantro extracts that calm the scalp and hydrating fatty acids. The gentle formula effectively balances the hair, hydrating, detangling, and taming frizz for all hair types. This conditioner contains moisturizing shea butter that does not weigh down the hair. However, it is suggested that you leave the conditioner for at least three minutes after application before rinsing to enjoy the best results.
Pros
Non-greasy
Non-sticky
Lightweight
Suitable for all hair types
Cons
The Malin + Goetz Sage Styling Cream is well-known for its versatility, allowing you to use it on all hair types seamlessly. It is enriched with nourishing and natural ingredients such as sweet almond oil, shea butter, and panthenol, and hydrating botanical sage oil and chamomile oil. This styling cream helps in taming frizzy hair, controlling flyaways, and defining curls. The residue-free, lightweight formula is suitable for use on both dry and damp hair for intense shine.
Pros
Enhances hair volume
Easy to use
Suitable for daily use
Natural fragrance
Cons
Not suitable for humid climates.
Declutter your skin care regime and countertop with this multipurpose 3-in-1 product. Deep clean, tone, and hydrate your face using the Malin + Goetz Essential Grapefruit Face Cleanser. It is formulated using grapefruit extracts and coconut-based surfactants that gently cleanse the skin and glycerin, sodium PCA, and amino acids that soothe and hydrate the skin. You can also use the face cleanser as a makeup remover without worrying about drying or irritating your skin. Check out a quick review here.
Pros
Ideal for all skin types
Gentle formula
Non-drying
Value for money
Cons
Not hydrating enough for winter months
The Malin + Goetz Vitamin B5 Body Lotion is a lightweight, deeply nourishing product infused with essential fatty acids and pro-vitamin B5. It also contains avocado and grapeseed oils that retain the moisture levels of healthy skin, making it soft, smooth, and hydrated. The versatile formula soothes and refreshes the skin and is suitable for all skin types.
Pros
Lightweight
Long-lasting hydration
No residues
Quick absorbing
Cons
Fragrance does not last long.
If you are looking for a foaming soap bar that can effectively purify and balance your skin, be sure to check out the Malin + Goetz Lime Bar Soap. It helps in deep cleaning your skin from all types of impurities, without overdrying, stripping, or irritating the skin. The addition of glycerin and lime enhances the overall experience by hydrating your skin and providing a citrusy fragrance.
Pros
Gentle  formula
Pleasant fragrance
Lathers well
Suitable for sensitive skin
Cons
The scent does not linger for long.
Good face moisturizers are hard to come by, but the Malin + Goetz Vitamin E Face Moisturizer with its lightweight and quick-absorbing formula is a crowd favorite. It is formulated using a variety of ingredients such as antioxidant-rich vitamin E, soothing chamomile, and hydrating sodium hyaluronate and panthenol. Additionally, the product is easy to use and a little goes a long way as you only need a pea-sized amount for your face and neck.
Pros
Soothes skin irritation
Does not irritate the eyes
Suitable for all skin types
Lightweight formula
Cons
The Malin + Goetz Hair Pomade is the ideal way to firmly hold your hair and create volume, shape, and texture. It contains ingredients such as natural beeswax, and hydrating fatty acids. The pomade is also enriched with moisturizing meadowfoam seed, cannabis seed, and soybean oil. Additionally, its lightweight and non-sticky formula adds hair volume and definition.
Pros
Long-lasting hold
Natural finish
No residue
Lasting hydration
Cons
Wake up with flawless skin with the Malin + Goetz Acne Treatment. The overnight acne treatment contains active ingredients like salicylic acid that gently exfoliates, 10% active sulfur that absorbs excess oil, zinc oxide that reduces the sign of scars, and camphor that calms the skin. The product not only absorbs excess oil from your skin but also dries out any blemish. Additionally, your skin clarity is enhanced as well since the product exfoliates your skin, calms any irritation or inflammation, and reduces scarring.
Pros
Ideal for all skin types
Suitable for sensitive skin
Calms redness
Easy to use
Cons
The Malin + Goetz Detox Face Mask deeply purifies and locks moisture with its oxygenating gel mask. It is formulated with natural elements such as green tea and vitamin E that provide antioxidant benefits, while squalene, almond oil, and sodium PCA offer moisturizing effects. It also contains cleansing coconut-based surfactants, and vitamin C that smooths and brightens the skin. This potent formula moisturizes, purifies, and balances your face within five minutes.
Pros
Phthalate-free
Gluten-free
Paraben-free
Mineral oil-free
SLS/SLES-free
Fragrance-free
Cons
May irritate sensitive skin.
The Malin + Goetz Strawberry Eau de Parfums is a reimagined interpretation of the common garden strawberry. This helps stimulate your senses through a dynamic blend of bright and fresh notes along with warm musks. The top notes of the perfume are made using bergamot, mara strawberry, and pink pepper, while at the heart lie ingredients such as jasmine petals and woodland greens. Finally, to top it off, the base notes include oakmoss, cedarwood, orris root, and captive musks.
Pros
Refreshing scent
Ideal for summers
Suitable for all ages
Moderate sillage
Cons
The Malin + Goetz 10% Glycolic Acid Pads are the perfect at-home exfoliating treatment for dull skin. Glycolic acid helps remove dead skin cells so that your skin feels soft and smooth. The product also helps promote collagen production and thereby enhances your skin's natural texture and clarity. The potent chemical peel formula works well for your weekly skin care routines.
Pros
Gentle
Ideal for all skin types
Easy to use
Value for money
Cons
May be difficult to remove.
Not all potent skin care ingredients, natural or synthetic, are meant for your skin type and skin concerns. Therefore, read the label and learn more about the ingredient before making a choice when it comes to the right skin care product. Malin And Goetz products are created with several natural ingredients, some of which have been mentioned below.
Some Key Ingredients In Malin And Goetz Products
Essential Oils: These are highly concentrated plant extracts and have a variety of beneficial properties such as antifungal, antibacterial, and anti-inflammatory effects. These provide nourishing, anti-aging, and moisturizing benefits. They are also used in Malin And Goetz products because of their fragrance and their ability to soothe and nourish the skin. However, in its undiluted form, essential oils are very potent and must be diluted to avoid skin reactions.
Plant Extracts: Plant extracts are derived from various parts of a plant, including leaves, roots, bark, fruits, and flowers. They are natural alternatives to synthetic ingredients, are eco-friendly, and provide alternatives to chemical formulations. They are used in Malin + Goetz products for their ability to nourish, exfoliate, moisturize, and protect the skin.
Natural Moisturizers: Some examples of natural moisturizers include hyaluronic acid, squalene, and glycerine. They help hydrate the skin and prevent it from drying out. They also help retain moisture in the skin and protect the skin barrier.
Mineral Sunscreens: Titanium dioxide and zinc oxide, which help in protecting the human skin from the sun's harmful UV rays are the only two FDA-approved mineral compounds used as active sunscreens.
Malin And Goetz offers a myriad of skin care products for all skin types. To select the ideal product for your skin type, follow the tips mentioned in the next section
How To Choose The Best Malin And Goetz Products For Your Skin
Know Your Skin Type: For dry skin, select products that contain hydrating ingredients such as glycerin and hyaluronic acid. Alternatively, if you have oily skin, look for products such as tea tree oil or clay. For sensitive skin, pick products that are fragrance-free and hypoallergenic.
Know Your Skin Concerns: Once you know your skin type, start looking for products that can help address specific skin concerns. For instance, if you have acne, look for products that contain witch hazel, aloe vera, BHAs, tea tree oil, or Retinol. On the other hand, if you have hyper-pigmentation, search for products that contain alpha-hydroxy acids.
Go Through The Product Labels: When you decide to shop for Malin And Goetz products, always remember to read through the product labels carefully. This will help you understand the ingredients and how they can affect your skin. Also, look for ingredients that you may be allergic to and would want to avoid.
Why Trust StyleCraze
Medha Deb, a skin and hair care enthusiast has curated the best Best Malin And Goetz Products after thorough research. She did an in-depth study of the ingredients used in their products and finalized only those that are formulated with safe ingredients. She has also checked the user reviews on several e-commerce sites before preparing the list.
Frequently Asked Questions
How long will it take to see results from using Malin And Goetz products?
The amount of time that will take for you to notice results while using Malin And Goetz products will vary based on the specific product you are using and your skin concerns. However, you can expect to start noticing improvements within 4-6 weeks.
Are Malin And Goetz products suitable for all skin types?
Yes. Malin And Goetz products are suitable for all skin types. However, users are recommended to perform a patch test on a small area, before using the product on their face and/or body.
Can Malin And Goetz's products help with acne-prone skin?
Yes. Products such as the Acne Treatment Nighttime, Calendula Face Cleanser, and Salicylic Acid Gel can help with acne-prone skin.
Are Malin And Goetz products suitable for sensitive skin?
Yes. Malin And Goetz products are certified safe for sensitive skin as well. However, the brand always suggests a patch test before use.
Is Malin And Goetz all-natural?
No. Malin And Goetz is mostly known for their use of natural ingredients. However, not all of their products are 100% natural, because some may contain synthetic ingredients, fragrances, and preservatives.
Is Malin And Goetz a luxury brand?
Yes. Malin And Goetz is considered a luxury brand, known for its high-quality products.
Is Malin And Goetz color-safe?
Yes. Malin And Goetz's products are usually considered to be color-safe because they do not use any ingredients that are known to cause allergic reactions or damage hair color. However, it is recommended that you perform a patch test before use.
Is Malin And Goetz products gluten-free?
The majority of Malin And Goetz products are made gluten-free. However, if you are gluten-sensitive, then make sure you double-check the ingredients of a product before buying.
Does Malin And Goetz have parabens?
No. Malin And Goetz products do not have any parabens.
Does Malin And Goetz test on animals?
No. All Malin And Goetz products are considered cruelty-free.
Are Malin And Goetz products effective for anti-aging?
Yes. Some Malin And Goetz products are indeed very effective as anti-aging formulas for the skin. Products such as the Malin And Goetz 10% Glycolic Acid Pads or the Malin And Goetz Vitamin E Face Moisturizer work wonders to keep the skin youthful.
Where Are Malin And Goetz's Products Made?
Malin And Goetz's products are generally made in a small manufacturing facility in Brooklyn, New York. This allows the company to have close control over the quality of its products and to ensure that they are made with the freshest ingredients possible.
Recommended Articles