7 Best Manual Espresso Machines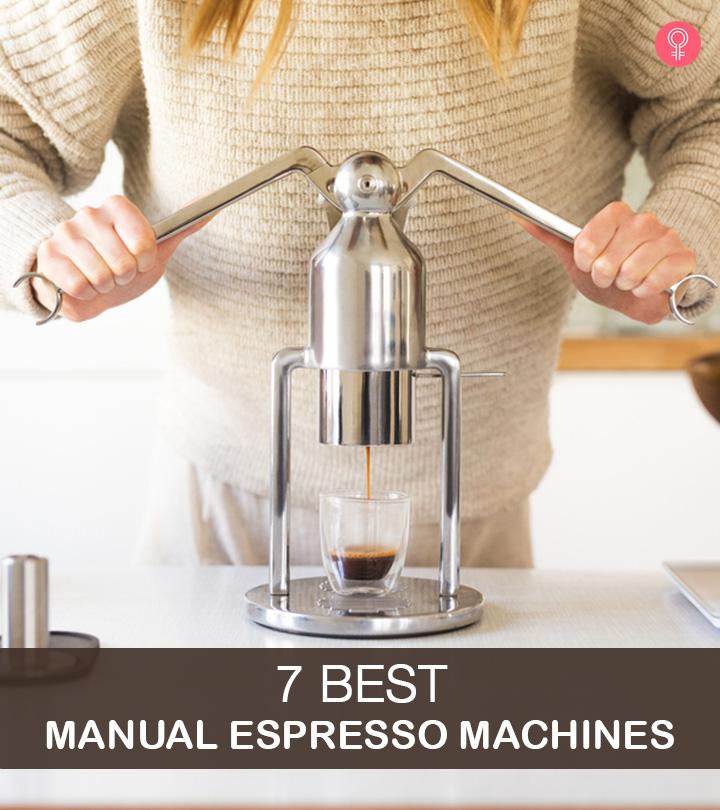 Espresso coffee tastes fabulous and captures the essence of coffee beans. It is luxuriously creamy and provides the right balance of bitterness and sweetness that leads to a lingering after-taste. Investing in an espresso machine can help you make delicious and flavourful shots of coffee.
An espresso machine allows you to grind and brew the beans as per your requirements. Manual espresso machines, in particular, provide you with that flexibility. A manual espresso machine is affordable, portable, functional, and traditionally brews espresso. Here we have listed the 7 best manual espresso machines available online.
7 Best Manual Espresso Machines
Bring home the elegant and functional Flair Espresso Maker and prepare delicious coffee every morning. The manual espresso machine makes professional-quality shots of espresso. Simply add 60ml of boiled water and 18 grams of coffee to prepare a 40ml shot of creamy and mouth-watering espresso. This 100% human-powered espresso maker saves electricity and looks stunning on any coffee station. In addition to this, the espresso maker comes with a detachable brewing head so you can clean all the parts separately.
Features 
12 x 6 x 10 inches in size
9 pounds, lightweight model
Heavy-duty cast aluminum and stainless steel construction
Comes with a custom travel case
Easy to use
Pros
Patented design
Portable
Storage-friendly
5-year warranty
Easy to clean
Cons
Blending power is very low.
 The Staresso Portable Expresso Machine is a lightweight, compact, and portable coffee maker. It allows you to enjoy the espresso either at your home or office. Since the product is highly portable, you can also take it along with you during camping, hiking, or other travel sessions. The device is compatible with Nespresso pods and is quite easy to use. It features an active pumping system (pressure rated at 15-20 Bars) to provide you with manual espresso at zero electricity usage. Furthermore, the device is easy to clean and has been constructed using BPA-free materials. Lastly, the construction of the coffee chamber and pressure pump uses stainless steel.
Features
75 x 2.75 x 9.64 inches in size
Weighs 14.1 ounces
Offers an effective pressure pumping system
Pros
Lightweight
Compact
Portable
BPA-free
Effective pumping system
Ease of use
Effortless cleaning
Cons
For espresso lovers who love preparing coffee manually, the ROK EspressoGC is a perfect pick. The manual espresso maker features an upgraded piston gasket that offers better pressure and makes a creamy and rich espresso by squeezing its two arms in a downward position. It comes with a measuring cup, a detachable plastic double spout attachment, and a single spout portafilter. Additionally, the newly-designed pressure chamber provides better insulation to prepare piping hot espresso while the silicone shower screen provides clean extraction.
Features
1 x 8.63 x 11.75 inches in size
Super lightweight 4.4-pound model
Made using high-quality aluminum
10-year warranty on metal parts
Beautiful design with polished metal finish
Pros
Travel-friendly
Compact
Leak-free
Slip-resistant
Cons
The Moocoo Portable Espresso Machine comes with a 20 Bar-rated advanced pumping system and an in-built leak prevention technology. It has a 2-in-1 extraction design through which you can ground coffee as per your preference. Moreover, you also get multiple rich taste choices such as Cold Brew, Caffe Americano, Ice Cream Coffee, Cappuccino, etc. The device features an ergonomic design and BPA-free materials for its construction. Maintaining the machine is relatively easy. It requires no electricity or battery for its operation. It can be a perfect gift for your loved ones.
Features
Weighs 1.4 pounds
Anti-slip design
Advanced pumping system rated at 20 Bars
Pros
Easy to use
Ease of cleaning
Ergonomic design
BPA-free
Supports different types of coffee drinks
Prevents leakage
Cons
Brewed coffee quality may not always be satisfactory
Start your morning with a refreshing cup of coffee made using the La Pavoni Lever Style Espresso Machine. This machine is ideal for making different types of coffee at home. It is manufactured using heavy-duty steel and features heavy chrome plating. The device comes with a screen, a screen holder, a tamper, a cappuccino attachment, and a measuring ladle. The stylish machine is engineered to make constant and delicious espresso with each pull. It makes 1 to 2 cups of espresso at a time and comes with a measuring spoon, 2 stainless steel filter baskets, and an automatic milk foamer.
Features
11 x 7 x 12 inches in size
Weighs 14 pounds
Long-lasting triple-plated chrome
An internal thermostat always monitors brewing temperature
20-ounce water tank capacity
Pros
Easy to use
Sturdy
Versatile
Leak-free
Removable drip tray for easy cleaning
Cons
The protective plastic is not durable.
Even though the Sweet Alice Espresso Maker comes in a small form-factor, it offers a pressure pumping system rated at 8 Bar.  The device is highly portable and easy to use, mainly because it's neither battery-operated nor operated via electricity. Cleaning the machine is simple and straightforward. The manufacturer provides a 30-day money-back guarantee on top of a 12-month limited warranty period. Furthermore, the device can turn out to be a perfect gifting choice for your family members and friends.
Features
4 x 7.2 x 2.8 inches in size
Weighs 0.84 pounds
Pressure pumping system rated at 8 Bar
12 month-warranty and 30-day money-back guarantee
Pros
Compact design
Easy to use
Effortless cleaning
Portable
Compact
30-day money-back guarantee
Cons
None
A portable espresso machine is all you need if you like to make your coffee while traveling. The WacacoMinipresso Espresso Machine is portable, lightweight, and travel-friendly. The coffee is ground, measured, and tamped in the encapsulated machine with high precision to prepare delicious espresso. Simply add the coffee capsules to the outlet head, add hot water to the tank, unlock the piston, and pump a few strokes to make delicious, creamy espresso. 
Features
95 x 2.95 inches in size
Weighs just 360 grams
Compatible with all coffee capsules
A versatile handheld espresso machine
70ml water capacity
Pros
Mess-free operation
Easy cleaning
Efficient and sleek
Long-lasting
Travel-friendly
Lightweight
Cons
May lose pressure after extended use.
Paying attention to the features an espresso machine offers can help you buy the product. That said, what exactly is a manual espresso machine? How does it work? The following sections answer these questions.
What Is A Manual Espresso Machine?
A manual espresso machine is a human-operated coffee making machine. Unlike electric espresso machines, manual machines are operated manually and without electricity. However, there are several semi-electric manual espresso machines available on the market. The manual espresso machines are compact, energy-efficient, and lighter compared to the other alternatives. The machines allow you to grind and brew the coffee as per your requirements. Thus, if you enjoy aromatic coffee brewed using the traditional techniques, you may like a manual espresso machine.
How Does A Manual Espresso Machine Work?
Manual espresso machine does not work on electricity, so you have to perform the coffee brewing process manually. Some manual espresso machines come with an integrated heating element, while other espresso machines need you to add hot water manually to the water tank.
The machines with integrated heating elements boil the water for brewing coffee. Once the water is ready, you will have to remove the portafilter and load the filter basket filled with coffee beans in the machine. A handle is provided in the device, which you can raise and lower to build pressure accordingly. The pressure you apply forces water through the coffee powder and dispenses hot and creamy coffee.
Manual Vs. Automatic Espresso Machine – Which Is Better?
The manual espresso machine generally features a traditional design and is operated by a human. On the other hand, an automatic machine uses electricity and comes with a control panel with different buttons that can be used to brew coffee.
The manual coffee machines feature a handle using which you can create pressure and push water in the ground coffee to prepare espresso.In the automatic machines, the coffee is ground and brewed automatically with a single touch. You can also froth milk using these machines. If you have enough time to brew your coffee as per your need, you can pick a manual espresso machine. But if you are always running out of time, an automatic machine may be more convenient for you.
The following buying guide can help you make a better purchase decision. Take a look.
What To Look For When Buying A Manual Espresso Machine?
Most of the durable and high-quality espresso machines are made using stainless steel, cast aluminum, and other different metals. Machines made using quality materials last longer and are less prone to wear and tear. Thus, if you want to invest in a heavy-duty machine, go for stainless steel or aluminum espresso makers.
The water tank in an espresso machine holds the water that is used to boil coffee. If you need 1 to 2 cups of coffee, a single-serve machine is an ideal pick. However, if the coffee maker is used by multiple people or multiple times, pick a device with a large capacity water tank that can serve you with fresh cups of coffee throughout the day.
Some manual espresso machines are engineered to steam and brew coffee at the same time. If the temperature gets too high, the machine can make bitter coffee shots. Thus, look for a machine that can overcome the high initial temperature and prevent burnt or bitter shots.  For ideal conditions, the brewing temperature should range from 190oF to 205oF.  
The manual espresso machines are generally portable and lightweight. These appliances do not use electricity. You can carry them with you when you are traveling. Hence, if you are an adventurer and like brewing your coffee manually, pick a lightweight and compact espresso maker. 
Conclusion
Making a perfect cup of espresso is easy when you have the right manual espresso machine by your side. If you want to enjoy and learn the art of preparing the tastiest espresso, a manual espresso machine is for you. Before choosing the espresso machine, consider factors like material, temperature, and portability. Outline your requirements for an espresso machine and pick the one that fulfills all your requirements in a budget. We hope this post helps you make the right choice. Pick your favorite manual espresso machine and start brewing today!
Expert's Answers for Readers Questions
What is the difference between espresso and coffee?
A cup of drip coffee is massively different from espresso, and the preparation method is what makes espresso and coffee different. The coffee beans used for preparing espresso are ground for a longer period than the beans used for regular coffee. Also, the espresso beans are ground finer and have a sand-like consistency while the regular coffee beans are ground coarse.
The dark roasted coffee beans can prepare delicious espresso if you grind and brew them using the right tools and the right pressure. Unlike regular coffee, an espresso shot consists of coffee at the bottom and cream or foam on the top. For regular coffee, you can use the French press method or drip method for brewing. The only difference being the regular coffee prepared using these methods won't have any cream or foam.
Why is an espresso machine so expensive?
An espresso machine is generally more expensive than the regular coffee making machines as the former are made using heavy-duty stainless steel or aluminum material. To prepare an aromatic and tasty cup of espresso, you would have to choose the right beans, roast, and grind the beans in the right way and use the correct tools to brew the coffee.
The tools used for these processes are of high quality and, thus, cost you more than standard coffee makers. However, if you are looking for a budget-friendly espresso maker, a manual espresso machine is a great option.
How long do espresso machines last?
Manual espresso machines are made using high-quality materials, and the metal parts can last as long as 20 years. Some semi-automatic and automatic machines generally last for up to 7 years.
Does an espresso machine need a filter?
Most of the espresso machines come with a built-in filter. They do not need an additional filter.
What is the best espresso machine suitable for making flavourful coffee?
You can use any machine to prepare standard coffee, but to make flavourful and aromatic espresso, you need a traditional manual espresso machine. A manual espresso machine is hand-operated, grinds the coffee beans the right way, and uses the correct brewing consistency to prepare espresso in its traditional style.
Recommended Articles
The following two tabs change content below.

Latest posts by Harini Natarajan (see all)

Harini Natarajan
As Chief Editor, Harini sets the tone and editorial direction for StyleCraze to deliver engaging, interesting, and authentic content revolving around women's health, wellness, and beauty. She has over 14 years of experience in content writing and editing for online media. She specializes in the areas of Beauty, Lifestyle, and Health & Wellness and is proficient in Medical Sciences (Biology, Human Anatomy and Physiology, and Biochemistry). Her background in Biomedical Engineering helps her decode and interpret the finer nuances of scientific research for her team. Harini is a certified bibliophile and a closet poet. She also loves dancing and traveling to offbeat destinations.