13 Best Manuka Honey Creams To Nourish And Heal Your Skin – 2023
Enrich your skin care routine with the powerful healing benefits of manuka honey.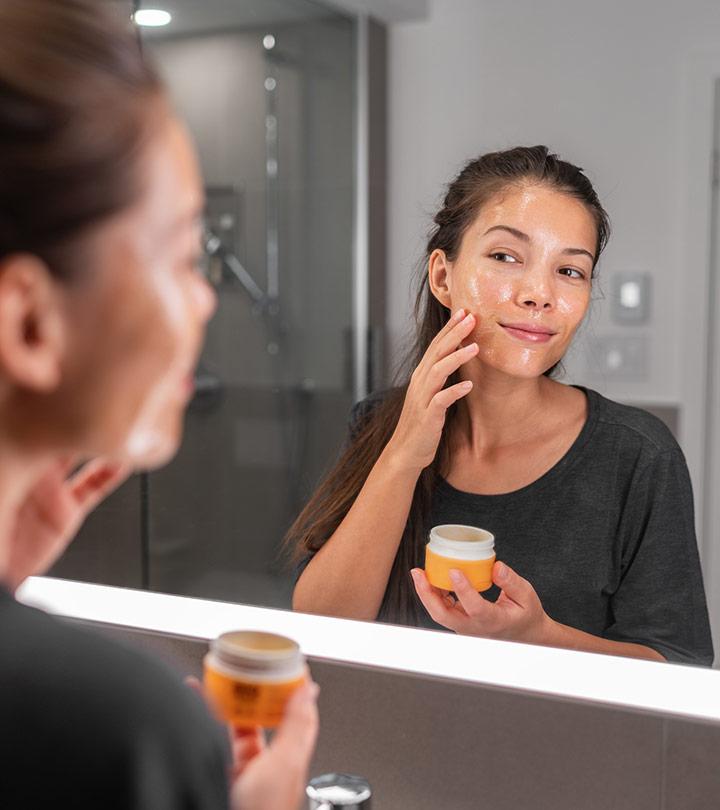 Honey is not just a natural sweetener but also a popular skin care ingredient. Manuka honey is a unique type of honey known for its skin-nourishing and wound-healing properties. Adding the best Manuka honey cream to your skin care kit is a great way to up your skin care game. It provides hydration, soothes skin, and is beneficial for acne, rosacea, psoriasis, dryness, and eczema. The anti-bacterial, antifungal, and anti-inflammatory properties of Manuka honey benefit your skin in many ways. In addition, it fights against free radicals and protects your skin from damage. This article lists the 13 best Manuka honey creams available online. Scroll down and check them out.
Top 13 Best Manuka Honey Creams For A Nourished & Healthy Glow! (With Reviews)
So gentle, it's ideal for babies too! Packed with superfoods such as manuka honey, coconut oil, shea butter, olive oil, blue-green algae, and more, this organic manuka honey cream promises to nourish your skin intensely. Besides this, it claims to go seven layers deep into your skin to fight dryness, puffy eyes, aging lines, dark circles, eczema, rosacea, sunburns, and more. Just what your skin needs to stay naturally moisturized even after constant washing, Honeyskin Ultimate Face & Body Cream would be a great addition to your skincare routine. Also, it's suitable for all skin types!
Pros
Quick-absorbing cream
Leaves skin soft and supple
Balances your skin's natural oils
Encourages collagen production
Locks in natural moisture and stimulates cell regeneration
Unscented, pH balanced, and non-greasy
Gentle and safe to use under and around eyes
Cons
Price at the time of publication: $15.97
Sometimes the food you eat may not be enough to nourish your skin, which is why you need this blend of enriching ingredients! This organic manuka honey skin cream contains vitamins (A, B, C & E), shea butter, cocoa butter, coconut oil, MSM, olive oil, and blue-green algae. And besides penetrating healthy nutrients into your skin, it also protects, repairs, and soothes, all at once! So if you are dealing with dry, rough, and damaged skin or wrinkles and fine lines, then this collagen-boosting cream will be ideal. Try it if you haven't already!
Pros
Protects from free radical damages
Absorbs quickly and leaves no residue
Improves elasticity and blood circulation
Keeps skin moisturized for up to 12 hours
Stimulates new cell growth and repairs skin cells
Non-greasy, non-comedogenic, and non-oily
Free from alcohol, fragrances, parabens, fillers, and more
Suitable for sensitive skin, eczema, dermatitis, stretch marks, psoriasis, rosacea, etc.
Cons
Not ideal if you prefer thin consistency
Price at the time of publication: $27.45
Are you dealing with seborrheic dermatitis? Or severe itchiness? This manuka honey face cream is a must-try for its soothing benefits. Suitable to apply on the body, it relieves itchiness, irritation and is ideal for sensitive skin. So, what makes it a healing and skin-calming solution? Its ultra-nourishing ingredients, of course! This manuka skin-soothing cream contains hemp seed oil, shea butter, coconut oil, aloe vera, and green algae. Also, it is fragrance-free and will not trigger your sensitive nose. Do not skip it!
Pros
pH 5.5 balanced
Gentle and ultra-moisturizing
Sulfate-free and paraben-free
Ideal for applying on face, neck, back, ears, scalp, etc.
Cons
Price at the time of publication: $14.99
Extreme dryness is common amongst aging skin, and so is discoloration, sunspots, age spots, acne scars, freckles, and hyperpigmentation. So if you are dealing with any of these conditions, you must try this manuka honey skin cream ASAP. Formulated to deliver 3 powerful benefits— nourishing, moisturizing, and restoring, this cream is ideal for fighting dryness, improving elasticity, and stimulating cell regeneration. Besides this, it also contains beeswax, royal jelly, and propolis to soothe and heal problematic skin. Give it a try!
Pros
Ensures deep hydration
Exfoliates dead skin cells
Fights acne and blemishes
Non-greasy, paraben-free, and cruelty-free
Suitable to apply on face, body, hands, neck, etc.
Cons
Not ideal if you are sensitive to smell
Price at the time of publication: $14.99
When dryness hits, rescue your skin with this blend of 70% organic ingredients! Yep, no more white patches and cracked skin nightmares to deal with. This intensely soothing emollient guarantees to nourish, soothe, and restore skin to its natural glow. Also, are you using multiple creams to deal with dryness on your face, hands, feet, and body? Stop, and get this all-purpose manuka honey healing cream instead. Fighting dryness and irritation effortlessly, this manuka honey hand cream contains hyaluronic acid, aloe vera leaf juice, beeswax, musk rose seed oil, sweet almond oil, vitamin E, and more. Yep, your one-stop to beautiful skin, bask in ASAP!
Pros
Hypoallergenic formula
Organic-certified ingredients
Hydrates and moisturizes intensely
Suitable for sun-damaged, dry, sensitive, allergic, and irritated skin
Free from SLS, paraben, fragrances, colors, mineral oil, and more
Cons
It may not be ideal for chronic eczema.
Price at the time of publication: $16.4
If aging skin is the problem, then this collagen-boosting radiance cream can be the solution you are looking for! Be it wrinkles, fine lines, age spots, acne scars, hyperpigmentation, dark circles, or puffiness, they stand no chance against this manuka honey day cream. Yep, enjoy the goodness of cocoa butter, Gotu kola, soluble collagen, apricot, vitamin B5, sodium hyaluronate, vitamin E, and Japanese knot root— all in one cream! From improving elasticity, tightening, treating acne to fading spots, and smoothening skin, mature skin users, do not miss this one!
Pros
Creamy and smooth texture
Non-greasy and absorbs quickly
Leaves skin soft, toned, and enhanced
Reduces inflammation and balances oil production
Ensures all-day hydration with skin-plumping peptides
Ideal to use as a night cream and on body and hands
Vegan, cruelty-free, paraben-free, phthalate-free, non-GMO, and BPA-free
Cons
Price at the time of publication: $18.95
Don't curb the urge to itch; banish the itchiness instead with this soothing aloe vera and manuka honey cream. Pure, natural, and like a blessing from Mother Nature, this blend spreads smoothly on the skin to provide instant relief from itchiness, irritation, inflammation, and all other symptoms of eczema and psoriasis. Packed with amino acids, vitamins, and minerals, it acts like a balm that cares for your skin and repairs with every use. Yep, indulge and pamper your skin with this eczema manuka honey cream!
Pros
Absorbs quickly
Nourishes and moisturizes intensely
Alleviates redness, cracking, and flaking
Kosher-friendly and cruelty-free
Free from fragrances, dyes, paraben, and gluten
Suitable to treat dry skin, sunburns, rashes, rosacea, and more
Cons
Price at the time of publication: $24.99
Age gracefully but wrinkle-free with this face moisturizer! Quit thinking wrinkles, age spots, and fine lines are here to stay when you can reverse the signs with this manuka honey blend. Formulated to improve elasticity, reduce scars, minimize pores, stimulate cell regeneration, and leave skin younger-looking, the formula is packed with organic and enriching ingredients. Yep, enjoy the benefits of cehami extract, shea butter, coconut oil, vitamin C, aloe vera, cocoa butter, and more, as it moisturizes and nourishes your skin intensely. And the best takeaway— it's hypoallergenic and suitable for sensitive skin too!
Pros
Tightens and firms skin
Protects against skin-damaging radicals
Improves complexion and reduces stretch marks
Cruelty-free, pH balanced, and vegan
Non-greasy, non-sticky, and non-comedogenic
Concentrated, unscented, and absorbs quickly
Free from mineral oil, parabens, sulfates, gluten, alcohol, and more
Cons
Not ideal for treating dryness
Price at the time of publication: $16.99
Is your skin feeling parched even after moisturizing frequently? If yes, then you need something rich and luxurious like this super moisturizer by Thena. Ideal if you are looking to deep-nourish extremely dry and cracked skin, this one has no less than 29 superfoods in one blend! Also, its spa-like experience will invigorate your skin like no other. Healing, soothing, moisturizing, hydrating, rejuvenating, and balancing your skin, the formula is a must-try for all. Here's what it contains— shea butter, manuka honey, peppermint, rosemary oils, aloe vera, calendula, argan oil, hyaluronic acid, vitamin E, coconut oil, and more. Still, want to miss it?
Pros
Ultra-lightweight moisturizer
Improves the skin's texture
Ensures anti-aging benefits
Cruelty-free and paraben-free
Suitable for mature and all skin types
Ideal for applying during the day and night
Cons
Price at the time of publication: $51.8
Here is a cream that babies love, and so will your skin! This ultra-gentle and safe eczema cream is a must-try if your skin is as sensitive as a baby's. Yep, go on, alleviate the pain, redness, and irritation with this ultra-soothing formula. Packed with aloe vera, cocoa butter, cehami flower extract, hemp seed oil, and manuka honey, the cream will care, and comfort your skin with every use. Still, thinking? Try this godsend gem by Elizabeth Parker Naturals to witness the difference!
Pros
Ensures instant itch-free feeling
Formulated with organic ingredients
Paraben-free and fragrance-free
Suitable for treating eczema, hives, dryness, and irritated skin
Cons
Not ideal if you prefer thin consistency
Price at the time of publication: $15.21
Go classic with this organic cream that guarantees relief from all types of skin woes! Gentle enough for sensitive skin and suitable for babies, it is ideal for treating eczema, psoriasis, rosacea, scrapes, wounds, and cuts. Plus, the infused beeswax and organic nut-free oils claim to form a protective layer on the skin to protect against bacteria and other skin-damaging radicals. And the best part— it won't sting! Sweet and soothing therapy, anyone?
Pros
Moisturizes intensely
Encourages cell repair
Ensures anti-aging benefits
Treats sunburns and insect bites
Alleviates soreness and boosts moisture
Free from paraben, paraffin, silicones, non-GMO, and more
Cons
Price at the time of publication: $29.95
Plumping your skin where you need it, this bee venom-infused cream will make you fall in love with your ageless glow. Formulated with pure manuka honey, bee venom from New Zealand, cocoa butter, vitamin E, hyaluronic acid, jojoba oil, and shea butter, it stimulates collagen and elastin under your skin. This means it will not only slow down the aging signs but moisturizes and nourishes intensely too. And also, are you wondering if it is cruelty-free? Absolutely! The brand assures no bees were harmed while making this cream. Try it!
Pros
Improves elasticity
Treats blemishes and acne
Refreshes tired and dull skin
Reduces pigmentation and scars
Suitable to apply on face and neck
Free from parabens, petro-carbons, and artificial fragrances.
Cons
Slightly greasy for oily skin
Price at the time of publication: $11.25
Lastly, this blend of vitamins and collagen nourishes, hydrates, and will beat aging signs effortlessly. A must-try for mature skin dealing with dryness and dullness, Lanoline Manuka Honey Skin Renew Firming Creme will moisturize, tone, and strengthen skin tissues, all at once. Want more? Its formula contains manuka honey, vitamin C, E, propolis, royal jelly, and marine collagen to deliver anti-aging and nourishing benefits. Why would you miss it?
Pros
Maintains moisture balance
Provides intense hydration
Improves elasticity and texture
Cons
Price at the time of publication: $15.99
Just what your skin deserves, a sweet indulgence! There you go, those were the 13 best manuka honey creams of 2021 that you must try. Also, do you need assistance with finding the right cream? We've revealed some tips in the buying guide below.
Buying Guide:
How To Choose The Best Manuka Honey Cream?
Look out for the following features before buying the product:
Skin type: Choose a cream suitable for your skin type to enjoy the maximum benefits. Whether you have mature skin or dealing with a severe skin condition, it's always advisable to apply a cream formulated for your skin type only.
Manuka honey formula: Inspect if the product is infused with pure manuka honey from New Zealand before buying. Also, unlike regular honey, manuka is rich and has powerful anti-bacterial benefits.
Organic ingredients: Since your skin is sensitive-prone already, chemicals can trigger and make the condition worse. Hence, it is ideal to choose a product with organic ingredients to have a gentle and safe experience.
AM and PM usage: Always remember, manuka honey day cream works differently from manuka honey night cream. However, there are manuka honey creams that can be used during the day and night. So, inspect this feature before buying.
Suitable for all skin conditions: Lastly, inspect if the cream will treat your skin condition. Manuka honey creams are available for eczema, psoriasis, rosacea, dermatitis, redness, rash-prone, and many other skin conditions. So pick accordingly to enjoy the maximum benefits.
Why Trust StyleCraze?
Vaishnavi Kothuri, the author of this article, is a skin care enthusiast and loves writing about beauty products. She believes that honey cream nourishes your skin and helps deal with rough and dry skin. She browsed trusted online platforms and read hundreds of user reviews to provide you with the best honey creams. The creams listed above in the article are non-greasy, cruelty-free, and chemical-free.
Frequently Asked Questions
Is manuka honey cream good for eczema?
Yes, manuka honey cream is a great option to treat eczema as it has antibacterial, antifungal, and anti-inflammatory properties. Besides this, it also nourishes, moisturizes, and soothes intensely. Green Leaf Naturals Amazing Aloe Vera Eczema and Psoriasis Cream, Elizabeth Parker Naturals Baby Eczema Cream, and Era Organics Complete Daily Face & Body Cream are some great options to treat eczema.
Will manuka honey cream hydrate the skin?
Yes, manuka honey has a rich texture and nourishes intensely to boost hydration levels. So, if you are dealing with dryness or extreme dryness, Lanoline Manuka Honey Skin Renew Firming Creme and Lily Sado Honey Glow Collagen Radiance Cream would be ideal.
Is manuka honey good for skin rashes?
Packed with soothing benefits, manuka honey creams are a must-try to treat rashes, redness, and sunburns. Some of the best manuka honey creams for rashes are Green Leaf Naturals Amazing Aloe Vera Eczema and Psoriasis Cream and Elizabeth Parker Naturals Baby Eczema Cream.
Can manuka honey cure dermatitis?
Yes absolutely! Given its antibacterial and germ-fighting power, manuka honey creams are recommended to treat dermatitis as well. And if you are looking for one, Seborrheic Dermatitis Face Cream would be a great pick.
How long can you leave a Manuka honey dressing on?
You can leave Manuka honey dressing on for 12-24 hours to get the best results.
Can you have too much Manuka honey?
Around 2-3 spoonfuls of Manuka honey is OK to consume; more than that may be too much as its sugar content is very high.
Recommended Articles