7 Best Marcel Curling Irons Of 2023, According To A Hairstylist
Styling gets easier with the heat-controlled rods of this top-quality tool.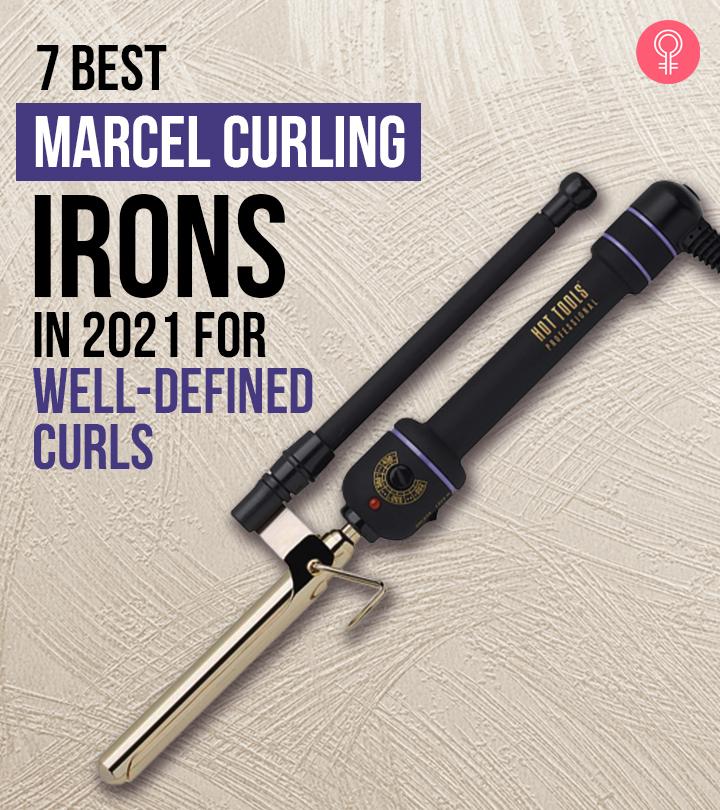 The need for owning the best Marcel curling iron comes when you want to give your hair the pampering it deserves. The best feature of the Marcel curler is that it helps you give controlled heat through the styling and protects your hair shaft from getting baked. While you will find tons of curling irons, choosing the perfect ones can be tricky if you shop for them. To help you choose the best ones, we have made a list of the 7 most popular curlers that give you beautiful results without making your hair weak and damaged.
What Is A Marcel Curling Iron?
Marcel curling iron is a popular hair styling tool among professional stylists. Unlike regular curling wands, the marcel curling irons come with a free-swinging clamp and can be controlled manually by the user. You can style your hair into tight rings, old-school curls, or light-natural waves.
Choose the curler that suits you from our list of the 7 best marcel curling irons, which we found to be worth it. Read on.
7 Best Marcel Curling Irons In 2023 For Well-Defined Curls
The Inch 24K Gold Marcel Iron by Hot Tools Professional is a salon-quality curling tool. The 24K gold plated barrel works as an excellent heat conductor, ensuring even heat distribution for perfect styling of each curl. This tool uses pulse technology to maintain optimum temperature during the entire styling process and gives controlled styling. It heats up quickly and has a wide range of temperature settings till 430 degrees Fahrenheit. Reviewers highly recommend its soft handle for a convenient grip. The tool also has both locking and rotating features for its main handle. It is compatible with a voltage of 110V.
Pros
Fast heating technology
Effective temperature control
Easy-to-use
Value for money
One-year warranty
Cons
None
The Nano Titanium Marcel Curling Iron by BaBylissPRO uses advanced nanotechnology to create salon-like curls or waves. The 1¼ inch titanium and ceramic barrel uses far- infrared technology to style your hair without damaging them. The nano titanium barrel ensures even heat distribution and maintains optimal heat. The 8-foot-long swivel cord ensures a tangle-free styling experience. It has 50 heat settings that range up to 450 degrees Fahrenheit. In addition, it has negative ion technology that ensures smooth and shiny curls. Several reviewers praise this tool for providing great hold even on fine hair. Check out this video to learn more about the tester's experience of using the curling iron.
Pros
Long-lasting hold
Even heat distribution
Turbo heat button for instant heating
Easy-to-use
Comes with warranty
Cons
None
Style your hair without the fear of accidental burns and sears with the Gold 'n Hot ⅝" 24k Gold Professional Marcel Curling Iron. The free-rotating handle helps you get various waves and curls without any creases or crimps. The 24k gold barrel provides superior heat conductivity. The patented MTR® Multi-Temp® Regulator withstands temperatures up to 500℉ for long-lasting curls, making it suitable for all hair types and salon-grade results.
Pros
Easy to operate
Built-in safety stand
Protective sleeve
Tangle-free cord
9-ft swivel cord
Cons
None
The Marcel Curling Iron by Dan Technology is a ceramic barreled curling tool. It reduces frizz and induces shine while curling your hair to perfection. The one-inch barrel with ceramic plating allows you to style your hair into loose natural curls. This curler heats up quickly and reaches up to 500 degrees Fahrenheit in just 60 seconds. The 8ft 360 degrees swivel cord allows you to style your hair conveniently. The dual voltage feature automatically adjusts between 110-240V. It has a resting stand for safety and heat-resistant gloves included.
Pros
Beginner-friendly
Easy to use
Quick heating
Comes with heat resistant gloves
Easy to use
90 days guarantee
Cons
The Paul Mitchell ProTools Express Gold Curls is one of the favorites styling irons among stylists. Its 1-inch gold titanium barrel heats up evenly to create tousled waves or classic curls. The curling barrel works best for short and medium-length hair. It has a dual-voltage feature for worldwide usage and heats up rapidly to reach up to 430 degrees Fahrenheit. The safety stand feature allows you to place the wand without damaging the surface. The 9-foot-long swivel cord ensures a convenient styling experience. Watch a reviewer's experience in this video for more information about the product and its safety features.
Pros
Heats up quickly
Durable
Control frizz and static
Locking temperature dial
Ergonomic design Travel-friendly
One-year warranty
Cons
The 2-in-1 Marcel Curling Iron by Sam Villa's Artist Series consists of a ceramic curling 1-inch barrel, ensuring easy styling for long hair. It is specifically designed for color-treated hair and reaches an optimal temperature of 391 degrees Fahrenheit. The ceramic element ensures even heat distribution and comes with three heat settings for well-defined curls and beachy waves. You can use this curler as a marcel curler or as a wand.
Pros
Multipurpose styling tool
Extended barrel length
Suitable for color-treated hair
Value for money
Cons
The Professional Marcel Curling Iron by Dura Chi comes with the combined goodness of titanium and ceramic barrel for better durability. The marcel iron heats in just 30 seconds to create smooth and well-defined curls and waves. It has 3 different heat settings 280-, 360-, and 410-degrees Fahrenheit and the rotating handle with the non-slip grip makes it a convenient tool for fast and efficient styling.
Pros
Easy to use
Non-slip grip
Heats up quickly
Adjustable temperature settings
Dual voltage
Two-year warranty
Cons
*The prices provided in this article are based on the latest available information. However, they may vary due to changes in pricing by the seller and/or promotional offers.
This ends our list of best marcel curling wands. Now, look into the things to consider before buying this styling tool.
Things To Consider Before Buying A Marcel Curling Iron?
There are many things to be considered when choosing the perfect curling iron that suits your hair texture, hair length, and hair needs. For an optimal styling experience, here are a few things to keep in mind while buying a marcel curling iron.
1. Type Of Hair
Different hair types and textures call for a different type of curling iron. It is crucial to know about your hair texture to make sure you do not damage your hair during the curling process.
Delicate Thin Hair: Thin and fine hair can be easily damaged by high heat. You can opt for a marcel iron that offers low heat settings.
Coarse And Thick Hair: Thick hairs are hard to manage when curling. You need a marcel iron that holds your hair down precisely and applies heat evenly. Look for a curler with high heat absorbing material and a higher heat setting.
2. Length Of Hair
Short hair: It will be uncomfortable to style your hair precisely with a big barrel. Always opt for a barrel of thickness 1 inch or less for a convenient styling experience.
Long or Medium hair: You need a marcel hair curler with more than 1 inch thickness for convenient styling.
3. Barrel Material
The ceramic tourmaline barrels evenly distribute heat, aiding in defrizzing your hair while styling. Titanium barrels give a smooth surface and minimize static in your hair. It heats up rapidly and is best for voluminous hair. Gold and chrome styling wands are cheaper but don't stay hot for long nor do they remove frizz.
4. Temperature Settings
For coarser hair, you need a curling iron with high heat settings, and for thinner hair, you would need a curling iron with a lesser temperature setting. Choosing the right temperature will ensure that you don't damage or burn your hair. For thick hair, you should look for a curling wand that reaches a maximum temperature of 370 – 420 degrees Fahrenheit. If your hair is less dense choose a curling iron that reaches a maximum temperature of 350 degrees Fahrenheit.
5. Barrel size
Curling irons come in various sizes varying from 3/4th of an inch to 2 inches. Smaller-sized barrels will give you a tightly curled look while a larger barrel size will give you big loose curls.
Why Trust Stylecraze
The author, Shiboli Chakraborti, has a keen interest in hair care. She has done thorough research on the best marcel curling irons and compiled a list of the user favorites and top-rated products. The hair damage with these marcel curling irons is a bare minimum, and one can control the heat throughout the styling. These are also easy to use and are quick-heating.
Frequently Asked Questions
Is a Marcel curling iron better?
Yes, it is. A marcel curling iron has a handle that can be manually handled, allowing a more controlled and precise curling experience. It is a versatile tool used by all the major hairdressers and salon professionals.
Who invented Marcel curling irons?
The Marcel curling iron was introduced by Marcel Grateau in the year 1875. Now, using the marcel has been made compulsory in order to pass as a licensed hairdresser.
How do I clean my Marcel curling iron?
•  Unplug the curling iron and wait till it is at a lukewarm temperature.
•  Spray a styling tool cleaner on the surfaces and wipe with a microfiber towel.
•  Pay attention to any grooves and rides.
•  Wipe it down with a dry cloth or towel as the last step.
What curling irons do celebrity stylists use?
Celebrity stylists use tools like the Dyson AirWrap Multi-Styler, Conair Infiniti Pro Curl Secret, Babyliss Pro Nano Titanium 1.25-inch Spring Curling Iron, and many more.
What is the difference between a Marcel curling iron and a regular curling iron?
Marcel irons do not feature springs and are controlled manually by the user. This allows for greater grip and control as compared to standard curling irons.
Which curling iron is least damaging?
Ceramic curling irons are the least damaging to the hair. It allows even heating of the hair and offers smooth, shiny tresses.
Is a ceramic or titanium curling iron better?
Ceramic irons are suitable for softer, fine hair and offer frizz-free, shiny hair by evenly distributing heat. On the other hand, titanium irons have higher temperature settings that are better for dry, coarse hair and require more heat to style.
Recommended Articles