The 18 Best Mario Badescu Products Of 2020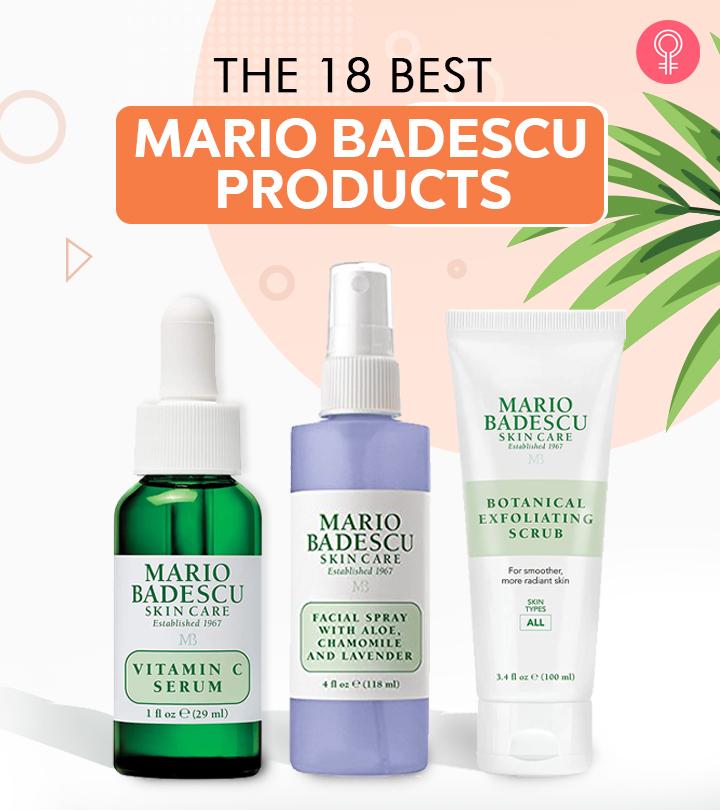 Have you ever used products from Mario Badescu? If not, it's time you do. Mario Badescu is a brand that has a product for every type of skin trouble. You don't need to buy expensive products to follow a proper skin care routine. Pamper your skin with this amazing drugstore skin care brand's products.
If you are looking for products that make skin care affordable yet effective, try out these ones by Mario Badescu. To make your job easy, we have reviewed some of the best products by this brand and how they can help you solve your specific skin trouble. Let's begin!
18 Best Mario Badescu Products Available Right Now
Mario Badescu has one of the best facial sprays available in the market. It is a refreshing and hydrating mist with a blend of potent botanicals that effectively tone your skin complexion. This facial spray gets its moisturizing and brightening properties from rosehip extracts and a combination of vitamins A, C, and D, fatty acids, and bioactive compounds. The natural antioxidants in it improve the skin texture and elasticity and prevent further damage from UV exposure.
The Mario Badescu Facial Spray With Rosewater, Aloe, And Herbal Extracts works well on dry, mature, and combination skin types. Before applying a moisturizer, spray this all over your face and enjoy refreshed skin.
Pros
Tones the skin complexion
Hydrates the skin
Suitable for dry, mature, and combination skin
Brightens the skin
Prevents UV damage
Cons
Sticky formula
Not suitable for sensitive skin
This drying lotion by Mario Badescu is an award-winning product that helps in covering up blemishes and imperfections overnight. People with acne-prone skin often tend to pick at it, which causes more harm. This lotion contains calamine, sulfur, and camphor that dry out the blemishes and treats them from within. The salicylic acid in it clears the pores, and zinc reduces inflammation.
Apply this lotion directly on your acne and do not rub it off. Let it sit and dry overnight. Rinse it off the next morning.
Pros
Treats blemishes
Reduces inflammation
Clears out pores
Prevents future breakouts
Cons
None
Mario Badescu Glycolic Foaming Cleanser is a double-duty facial cleanser that cleans all the impurities from your skin and preps it before you use any other products. It has glycolic acid that works as an exfoliant and smoothens the outer layer of your skin. The other active ingredients in this formula include marshmallow leaf/root extracts and flower extracts with therapeutic properties that treat your skin and reduce dryness. It balances the moisture and soothes sensitive skin with problems like itchiness, eczema, and scaling.
This glycolic cleanser suits most skin types and promotes healthy skin.
Pros
Cleans skin impurities
Soothes the skin
Reduces dryness
Moisturizes the skin
Acts as an exfoliant
Prevents discoloration
Cons
Not suitable for regular use
Mario Badescu Glycolic Acid Toner is formulated with 2% glycolic acid, grapefruit extract, and aloe vera that gently exfoliate and lift away dead skin cells. It softens the look of fine lines and wrinkles, smoothens your skin with its anti-aging ingredients, and makes it appear youthful and rejuvenated. This toner is non-drying and alcohol-free. Include this toner in your skin care regimen for regular use.
Take a few drops of this toner on a cotton pad and swipe it gently in an outward direction till the cotton pad comes away clean. Apply a night cream or moisturizer after use.
Pros
Reduces fine lines and wrinkles
Suitable for regular use
Alcohol-free
Reduces redness
Refines pores
Cons
The Mario Badescu Facial Spray with aloe, chamomile, and lavender is infused with calming botanical extracts that replenish your skin and deliver a smooth and hydrating effect. The vitamin C in it has anti-aging properties, and it fights skin-aging free radicals. You can use this spray before or after applying makeup for a dewy finish. Spritz it all over your face and neck, and for a cooling effect, and store the bottle in a refrigerator.
Pros
Soothes the skin
Hydrates the skin
Prevents the signs of aging
Dewy finish
Cons
None
Dry and chapped lips need extra attention. Mario Badescu Rose Lip Balm renews dry lips with a blend of nutrient-dense butters and moisturizing oils. This ultra-rich balm is enriched with cocoa butter, coconut oil, shea butter, sweet almond oil, and antioxidant vitamin E that instantly moisturize and keep your lips soft and supple throughout the day. It has a mild rose fragrance, and you can apply it whenever required.
Pros
Reduces flakiness
Instantly moisturizes chapped lips
Mild rose fragrance
Cons
The Mario Badescu Acne Facial Cleanser is a gel-like non-foaming cleanser that works wonders on oily and combination skin. It is enriched with salicylic acid, aloe vera, chamomile, and other natural ingredients that effectively soothe inflamed skin. It prevents pore congestion while removing all the excess oil and dirt. Not only does this cleanser cure existing acne, but it also stops future breakouts.
This hydrating cleanser has a fresh scent. Take a tiny bit and gently massage it in circular motions on your wet skin. Rinse it off with lukewarm water and bid all the redness and painful bumps goodbye in no time.
Pros
Deeply cleanses the skin
Does not dry out the skin
Fresh fragrance
Soothes acne
Reduces inflammation
Cons
None
Mario Badescu Buffering Lotion works effectively on cystic acne to shrink large cystic pimples. Zinc oxide is a dermatologist-approved ingredient that banishes inflammatory skin conditions and has anti-microbial and anti-infective properties that prevent pimples and redness. Its essential B3 formula gives your skin an instant hydrating effect by preventing discoloration and reducing the appearance of fine lines and dry patches.
Shake the bottle well before use, take 1 or 2 drops, and pat it on the bumps. Leave the lotion on overnight and rinse it off the next morning. Incorporate this lotion into your daily skin care routine and apply it twice a day after cleansing.
Pros
Treats cystic acne and pimples
Reduces redness
Hydrates the skin
Prevents discoloration
Suitable for daily use
Cons
None
The Mario Badescu Seaweed Night Cream contains abundant vitamins, minerals, amino acids, and other bioactive ingredients that provide age-defying, soothing, and moisturizing effects. The combination of sodium hyaluronate and collagen has deep skin-repairing properties. Collagen acts as an antioxidant and moisturizer and prevents the formation of wrinkles. Sodium hyaluronate binds moisture to your skin and delays the aging process.
Use the Seaweed Night Cream before bedtime. Apply a thin layer before going to bed. This product is highly recommended for people with dry, combination, or aging skin.
Pros
Moisturizes the skin
Prevents wrinkles and fine lines
Suitable for dry, combination, and aging skin
Suitable for daily use
Cons
Not suitable for acne-prone skin
Mario Badescu Vitamin C Serum is a skin-perfecting serum that helps you achieve a brighter complexion. It improves your skin texture, smoothens it, and boosts its glow. It is enriched with 7.5% ascorbic acid (vitamin C), which reduces discoloration and brightens the skin. Hyaluronic acid retains the skin's natural moisture, and collagen enhances the skin's firmness and elasticity. Vitamin C makes your skin look rejuvenated and youthful, collagen smoothens it, and sodium hyaluronate makes it plumper.
Apply 3-4 drops of Mario Badescu Vitamin C serum on cleansed skin on alternate nights for better results
Pros
Improves skin texture
Imparts a radiant glow
Reduces discoloration
Improves skin firmness and elasticity
Brightens the skin tone
Cons
None
Are you looking for a mask to brighten your dry and dull complexion? The Mario Badescu Super Collagen Mask tightens and tones mature and sensitive skin with its collagen-enriched formula. This kaolin clay-based mask also nourishes and purifies the skin. Soothing oatmeal helps in reducing the redness and irritation on sensitive skin. Masking can often dry out your skin, but this product deeply cleanses your skin without any drying effect.
Apply a thin layer of this mask all over your face, avoiding the eye area. Leave it for about 20 minutes and wash it off.
Pros
Reduces dullness
Tightens mature and sensitive skin
Reduces irritation
Deeply cleanses the skin
Cons
Treat your acne, blemishes, and skin imperfections with the Mario Badescu Drying Cream. It is specially formulated to treat under-the-surface bumps and blemishes. It is enriched with zinc oxide that removes excess oils from the skin on application. The other essential ingredients include sulfur that takes out all the skin impurities, vitamin B3 to take care of your acne-prone skin, and vitamin B7 for a clean and healthy-looking complexion.
Take a minimal amount and apply it to the affected areas. The cream blends into your skin and shows visible results.
Pros
Treats acne and blemishes
Removes excess oil
Removes skin impurities
Gives a healthy-looking complexion
Cons
Not suitable for sensitive skin
Are you tired of using products that claim to reduce skin dullness but don't? The Mario Badescu Botanical Scrub is a savior, and it does what it claims. It is considered to be a universal exfoliator by professionals. It exfoliates your skin, banishes dullness, and reveals soft, smooth, and youthful-looking skin. Its formula has a botanical base, and it comes at an affordable price. The scrub is gel-based and contains nourishing botanicals like ginger, ginkgo, green tea, aloe, and coconut. It feels very gentle on your skin.
Use the Mario Badescu Botanical Exfoliating Scrub once or twice a week to get clean, supple skin.
Pros
Reduces dullness
Unclogs pores
Softens and smoothens the skin
Gentle on your skin
Cons
None
Mario Badescu Seaweed Cleansing Soap is a thick, creamy cleanser that is rich in minerals and anti-inflammatory seaweed extracts. Exfoliate your skin with this mild cleanser to unveil smooth, clean, and healthy-looking skin. The minerals present in this formula are rich and nourishing.
Use this cleanser twice daily. Take a minimal amount, apply it on your face in gentle, circular motions, and rinse it off with water. Pat dry your face with a towel and follow up with a toner.
Pros
Reduces inflammation
Spreads easily
Gently exfoliates the skin
Cons
Are those dark circles, fine lines, and visible signs of aging bothering you? The Glycolic Eye Cream by Mario Badescu is an overnight eye treatment that shows noticeable results in a short period. Glycolic acid smoothens fine lines and wrinkles and evens out your under-eye area by preventing discoloration. It is specially formulated to target the visible signs of aging and is ideal for dry and combination skin types. It is enriched with glycolic acid, cocoa butter, vitamin E, and olive leaf.
Use this cream overnight by applying a minimal amount underneath the eyes.
Pros
Prevents fine lines, wrinkles, and discoloration
Targets the visible signs of aging
Intensely moisturizing formula
Cons
Mario Badescu Azulene Calming Mask is a gentle clay-based mask that re-balances your skin. It is infused with olive leaf extract, evening primrose, and vitamin E to deliver antioxidant-rich hydration, while the natural minerals from kaolin clay lightly draw out the impurities from the skin.
The mask is ideal for all skin types and soothes all your sensitive skin issues like redness and irritation. Apply a very thin layer on your clean face and let it sit for 15-20 minutes. Rinse it off thoroughly with water.
Pros
Re-balances the skin
Recommended by professionals
Removes impurities
Soothes redness and irritation
Suitable for all skin types
Cons
Having trouble dealing with your oily skin problems? Mario Badescu Botanical Facial Gel has a very lightweight formula. It deeply penetrates your skin and removes all the excess oil and dirt. This refreshing gel cleanses away light makeup, oil, and other surface impurities to encourage a more balanced and healthy-looking complexion. Its gentle formula contains alpha hydroxy acid that has exfoliating properties.
Use this gel twice daily. Gently massage it in circular motions and rinse it off with warm water. Follow up with a toner and a moisturizer.
Pros
Lightweight
Removes excess oil, dirt, and light makeup
Promotes a healthy complexion
Exfoliates the skin
Cons
None
Did you know that just like you exfoliate and cleanse your face and neck, it is also essential to exfoliate other parts of your body? Say goodbye to dull and dry skin from your entire body with the Mario Badescu Raspberry Body Scrub. This is a fruit-based body scrub that smoothens and softens your skin. It is made with a delicious blend of papaya extract and raspberry seeds to combine the exfoliating powers of granular seeds and fruit enzymes to remove dull, dry skin gently.
This Raspberry Scrub is whipped to a silky consistency to provide a luxurious experience as you unveil soft, touchable skin from head to toe. Massage it gently on your skin with a sponge, loofah, or your own hands, and rinse it off with water.
Pros
Removes impurities
Reduces dullness and dryness
Exfoliates the skin
Cons
None
Now that you know everything about the best Mario Badescu products, let's answer some of the most frequently asked questions about this brand.
Is Mario Badescu Cruelty-Free?
Yes, every product by Mario Badescu is cruelty-free. Their products are not tested on animals, and they do not permit any other companies to test their products on animals. The products are manufactured in the United States, and the required ingredients are taken from suppliers that are cruelty-free as well.
What Ingredients Are Used In Mario Badescu Products?
Most of Mario Badescu products are made of botanical or plant-based ingredients. The formulas are enriched with aloe vera, lavender essential oil, shea butter, coconut oil, vitamin E, vitamin B3, ginger, ginkgo, green tea extracts, and other natural ingredients.
Do Mario Badescu Products Work?
Yes, Mario Badescu products do work and show visible results. But before purchasing a product, we must be well aware of its reviews and specifications. Every product may not work well for every skin type and condition. So, before you buy, make sure you go through enough reviews to choose the best products according to your skin type. 
Beauty professionals often recommend Mario Badescu products as one of the best skin care brands. It is also considered a trusted brand that has won many awards. This no-nonsense brand provides you with the best skin care treatment, and you won't feel like looking for any other alternative.
Grab some of the products listed above to instantly elevate your skin care game!
Expert's Answers for Readers Questions
Is Mario Badescu safe?
Yes, Mario Badescu products are safe and cruelty-free.
Where are Mario Badescu products manufactured?
Mario Badescu products are manufactured in the United States of America (USA).
How long do Mario Badescu products last?
Mario Badescu products may last for up to 6-9 months, depending on your usage.
Recommended Articles
The following two tabs change content below.

Latest posts by Oyendrila Kanjilal (see all)

Oyendrila Kanjilal
Oyendrila Kanjilal has a Master's Degree in English Literature. As a Beauty and Lifestyle writer, she writes about everything that the modern woman needs to know about grooming and self-care. She also reviews makeup, skin care, and lifestyle products to help readers make the best purchase. She is a trained classical dancer and loves binge-watching web series of different genres.