9 Best Marula Oils Of 2023 For Face
Say goodbye to all your skin concerns with these lightweight, moisturizing oils.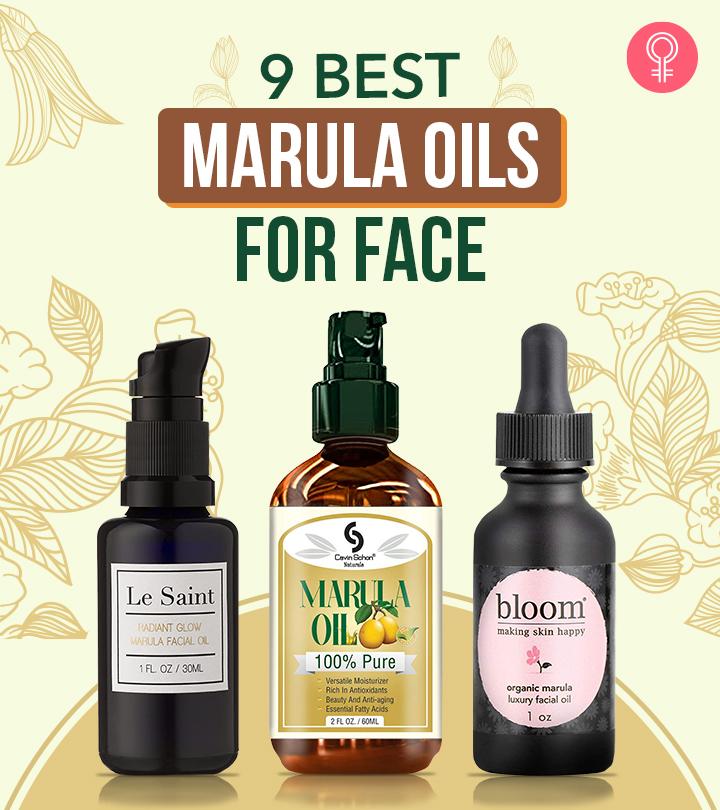 If fine lines, wrinkles, spots, and blemishes have been bothering you for a while, try getting your hands on the best marula oil for face. While there are many serums and treatment options, marula oil is being touted as the elixir of youth. With its powerful antioxidant properties, essential fatty acids, and amino acids, marula oil helps heal scars and reduce signs of premature aging as well! Available in many different formulations, you may start with a small sample to see the difference. To help you decide, we have shortlisted the 9 best marula oils for you to choose from!
9 Best Marula Oils Of 2023 For Face
The Acure The Essentials Marula Oil offers lightweight moisture and balance to dry skin. However, it is suitable for all skin types. This 100% pure, unrefined, and cold-pressed marula oil is enriched with omega fatty acids (omega-6 and -9) and essential proteins that are great for face, body, and hair. This oil is fast absorbing and alleviates dry cuticles, split ends, scars, and stretch marks. It also helps reduce skin redness. It is free of parabens, sulfates, mineral oil, silicones, and petrolatum. It is also cruelty-free.
Pros
Suits sensitive skin
Pleasant fragrance
Cruelty-free
Non-comedogenic
Antimicrobial
Fast-absorbing
Lightweight
Paraben-free
Sulfate-free
Silicone-free
Mineral oil-free
Petrolatum-free
Formaldehyde-free
Cons
None
Price at the time of publication: $17.59
The Drunk Elephant Virgin Marula Luxury Facial Oil is designed to nourish, moisturize, and balance your skin tone. It is suitable for all skin types and gets absorbed quickly. It fades the appearance of fine lines and wrinkles. The Drunk Elephant's filtration process ensures the oil is in its most unrefined and concentrated form (with its polyphenols and essential fatty acids intact). This Marula oil has a higher concentration of polyphenols and offers stronger antioxidant protection against pollution, environmental aggressors, and free radicals. It is suitable for sensitive skin as well. It is cruelty-free too, and contains no artificial fragrances. If you are still unsure about purchasing, you can check out a review of this product on YouTube.
Pros
Phthalate-free
BHA-free
Silicone-free
Sulfate-free
No artificial fragrances
Cruelty-free
Paraben-free
Mineral oil-free
Petroleum-free
Formaldehyde-free
Pleasant fragrance
Fast-absorbing
Non-greasy
Cons
Price at the time of publication: $23
The Eva Naturals Organic Marula Oil offers multipurpose benefits that moisturize the face as well as the whole body, nail cuticles, and hair. The lightweight formula is non-comedogenic and protects the skin's natural moisture barrier. This pure oil is enriched with the goodness of omegas 6 and 9, antioxidant vitamin E, flavonoids, and vitamin C. The versatile oil also offers protection from free radicals and offers long-lasting hydration to the skin.
Pros
Quick-absorbing
Adds glow
Paraben-free
Sulfate-free
Mercury-free
DEA-free
MEA-free
Cruelty-free
Vegan
Cons
None

Price at the time of publication: $12.95
The Cliganic Organic Marula Oil is a cold-pressed marula oil rich in omega-3 fatty acids, antioxidants, and polyhenols that deeply nourish the skin. This lightweight oil balances the skin's health and also refines the appearance of the overall skin. The sleek glass dropper that comes along with it makes your application process a breeze. It also helps control the amount of product you want to use at once.
Pros
Fast-absorbing formula
Suitable for mature skin types
Organic
GMO-free
Vegan
Cruelty-free
Cons
None
Price at the time of publication: $9.99
The biocompatibility of the Naturium Virgin Marula Face Oil 100% with the skin's own physiological processes makes it a perfect fit for all skin types. The non-greasy oil balances the skin's pH levels and hydrates the skin for long hours. This potent oil can be used in your a.m. and p.m. routines to restore the natural glow of the skin. The lightweight formula is rich in oleic and linoleic acids that nourish the skin. The plant-based, concentrated formula is also rich in antioxidants and omegas that offer a healthy complexion.
Pros
Silky texture
Easily absorbed
Paraben-free
Gluten-free
Fragrance-free
Dermatologist-tested
Vegan
Cruelty-free
Cons
May clog pores in oily skin
Price at the time of publication: $15.99
The Leven Rose Pure & Organic Marula Oil is a natural, cold-pressed and extra virgin oil. It can be used as a moisturizer for your face and body. The vitamins C and E and the essential fatty acids work together to rejuvenate skin, repair skin damage, and renew skin cells. The oil also offers anti-aging benefits. It also helps fight free radical damage, evens out the skin tone, and reduces acne, dark spots, sun spots, and aging spots. Additionally, you can also use this oil to treat various skin conditions like cysts, blisters, psoriasis, rosacea, eczema, candidiasis, rashes, keratosis, keloid dermatitis, calluses, corns, shingles, and sunburn.
Pros
Soy-free
Fragrance-free
Lightweight
Non-greasy
Cons
Price at the time of publication: $20.97
The Marula Organix Oil Of Africa Anti-Aging Facial Oil is a strong antioxidant serum and a facial moisturizer. It contains wild harvested and cold-pressed Marula oil infused with helichrysum oil. This oil originates from South Africa and is enriched with vitamins A and C, and omega-6 and -9 fatty acids. These nourish and hydrate your skin while boosting collagen production and enhancing skin elasticity. It suits all skin types. The oil does not leave any residue. It is free of parabens, fillers, and preservatives. It is non-GMO, cruelty-free, and non-comedogenic.
Pros
Non-comedogenic
Paraben-free
Phthalate-free
Gluten-free
Vegan
Sulfate-free
Preservative-free
Non-GMO
Cruelty-free
Suits all skin types
Cons
Price at the time of publication: $28
The Le Saint Radiant Glow Marula Facial Oil is carefully procured from the Kenya Rift Valley. It is wild harvested using sustainable practices and superior quality pressing and filtering techniques that keep its natural properties intact. It is rich in omega-9 fatty acids and is made using 94% pure Marula seed oil along with 6% of other essential oils. These oils effectively soothe and revitalize your complexion as well as plump and firm your skin.
The chia seed oil restores natural skin moisture, pomegranate seed extract promotes skin regeneration, crumb oil helps prevent dehydration, black current and watermelon seed oils offer anti-inflammatory benefits, sunflower seed oil provides defence against environmental aggressors, and lavender oil offers a pleasing floral scent. This silky oil absorbs quickly and works without leaving any oily residue.
Pros
Vegan
Non-toxic
Cruelty-free
Pleasant fragrance
Affordable
Fast-absorbing
Lightweight
Non-greasy
Cons
None
Price at the time of publication: $96.0
The 100% pure, cold-pressed Sky Organics Organic Virgin Marula Oil is rich in antioxidants, fatty acids, and omegas 3, 6, and 9. These components work together to promote the natural glow and moisture levels of the skin. The non-greasy oil helps smooth the appearance of fine lines and wrinkles and provides supple, youthful skin. The fragrance, color, and texture of this naturally-extracted potent oil may change over time, but its functionality remains intact and beneficial for all skin types.
Pros
Non-comedogenic
Quick-absorbing
Restores complexion
Anti-aging benefits
Suitable for nail and cuticle health
Vegan
Cruelty-free
Cons
None
Price at the time of publication: $14.99
Conclusion
Why Trust StyleCraze?
Shiboli Chakraborti, the author of this article, is a certified skin care coach. She understands the concepts of good skin care and suggests products that are safe and effective. Here, Shiboli has compiled a list of the best Marula oils for the face. She has scoured various forums and considered several reviews before settling for these selected products that are authentic and efficacious. She has also provided a buying guide to assist you in selecting the right product for you.
Frequently Asked Questions
Does marula oil lighten skin?
Marula oil contains antioxidants, vitamin E, and fatty acid emollients that reduce skin discoloration and help lighten skin.
Can you apply marula oil under your eyes?
Yes, you can apply marula oil under your eyes. It is infused with high amounts of vitamins E and C that help lighten dark circles and reduce the puffy appearance of under-eye bags.
Does marula oil clog pores?
Marula oil, in general, can clog your pores. Go for a product that specifies it is non-comedogenic.
Does marula oil help fade acne scars?
Marula oil helps hydrate skin. Its antimicrobial properties help fight acne and can reduce the appearance of acne scars.
Should I use marula oil before or after moisturizer?
As marula oil is lightweight, it is easily absorbed. So, apply it to damp skin before applying a moisturizer.
When should I use marula oil for the best results?
Use marula oil during the day and night as it helps moisturize irrespective of skin type.
Recommended Articles