11 Best Mascaras For Bottom Lashes (Lower Lashes) Of 2023
Mascaras that add length, volume, and definition to your lower lashes instantly.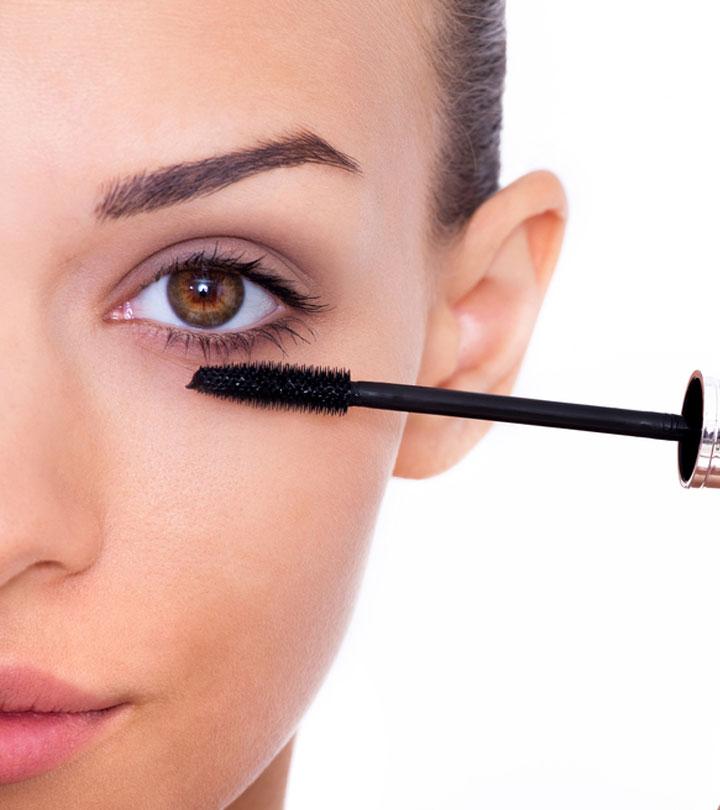 Although most women use mascara on their top lashes, the thought of using it on the lower lashes is less frequent. Those who do probably struggle to apply mascara to their lower lashes unless they have the best mascara for bottom lashes in their makeup kit!
Mascaras for bottom lashes are now available with sleek wands and brushes, allowing application easier than ever. If you are hesitant to use mascara on your lower lashes, which are less dense and smaller than the upper lashes, take a look at this list of the top 11 mascaras designed to make your bottom lashes look perfect. We also provide a quick buying guide to assist you in selecting the right product for you. Keep scrolling!
11 Best Mascara For Bottom Lashes That Can Enhance Your Look
Maybelline New York Lash Discovery Mascara comes with a lash-catching mini brush that can easily curl your bottom lashes from root to tip. This hypoallergenic mascara is ideal for lengthening and curling the bottom lashes. It is contact lens-safe, waterproof, and smudge-proof. The skinny brush of this mascara offers a defined and natural look.
Pros
Covers the hard-to-reach lashes
Ophthalmologist-tested
No clumps or globs
Boosts volume of the lashes
Features a non-sticky formula
Cons
Multiple coats may make the lashes appear glued.
Price at the time of publication: $6.98
This mascara wand by Innisfree is designed to curl and lengthen your bottom lashes with perfection. Its micro 1.5 mm bristles neatly curl the lashes without clumping, offering a naturally defined look. Thus, if you are getting late for work and want to make your eyes wide awake, this is the mascara to use.
Pros
Lasts all-day
Smudge-proof
Highly pigmented
Can be used on upper and lower lashes
Provides a natural look
Cons
The mascara may not hold the curl for an extended period.
Price at the time of publication: $12
If you think it is a difficult task to apply mascara on your bottom lashes without smearing, give this one a try. This 3-in-1 mascara features a thin brush that easily lengthens and curls the bottom lashes. The best thing about this rich black mascara is that it can be used as an eyeliner, and black lash primer as well. It effortlessly delivers pigment on each lash for a fuller-looking lash line. Plus, the thin wand allows the formula infused with biotin, jojoba oil, proteins, and various nourishing ingredients to condition your lashes.
Pros
Gets to the base of all the lashes
Doesn't smudge or flake
Effortlessly coats the tiny lashes
Lasts for hours
Peptide-infused
Cons
The mascara may not be 100% waterproof.
Price at the time of publication: $26
The innovative, skinny wand of this mascara coats your lashes from the roots to offer a lash-lengthening effect. This smudge-proof mascara comes with a formula that resists smears and lasts for hours. You can simply add a touch of pigment to your bottom eyelashes without affecting your lash line with this black mascara. Hence, it is the best mascara for lower lashes.
Pros
Smear-proof
Easily removable with warm water
100% fragrance-free
Paraben-free and allergy-tested
Tested by ophthalmologists
Cons
May make thin lashes feel stiff.
Price at the time of publication: $24.99
As the name suggests, this is one of the most iconic and highly pigmented mascaras available in the market right now. This mascara offers intense length to the lower as well as upper lashes. Its creamy formula separates every lash without making them look waxy. This lower lash mascara is also safe for contact lens wearers and those with sensitive eyes as it is tested by ophthalmologists and allergy-tested.
Pros
Voluminous mascara
Boosts volume while covering the tiniest lash
Creamy formula for smooth application
Dual precision brush for lash separation
Makes the lashes look up to 60% longer
Cons
Price at the time of publication: $9.89
This waterproof mascara comes with an easy-to-remove formula that makes your lashes look longer, denser, and curlier. The rich pigment instantly makes your eyes look bright. Plus, the product is fragrance-free, ophthalmologist-tested, allergy-tested, and safe to use. Simply apply the mascara from the roots to the tips for full-length coverage of your lower lashes.
Pros
Defines lashes in minutes
Long-lasting product
Great shelf life
Curated for sensitive eyes
Provides great volume
Cons
May not be 100% smear-proof
Price at the time of publication: $25.0
The ultra-coating brush of this mascara is engineered to coat each lash on your bottom lash line. This water-resistant mascara prevents smudging and smearing. This lengthening mascara dries quickly and requires no touch-ups for hours.
Pros
Cruelty-free product
Phthalate, parabens, and sulfate-free
Provides intense thickening effect to the lashes
Rich pigment
Cons
Some may find the brush too skinny.
Price at the time of publication: $14.95
Estee Lauder offers this lower lash mascara that coat your lashes with its unique smudge-shield formula. This mascara is formulated with polymer locks to make the lashes look highly pigmented and gorgeous. It separates the lower lashes without smudging and makes them feel lightweight. The best thing about this mascara is that it is resistant to high temperature, perspiration, and humidity.
Pros
Microfiber bristles for deep combing
Detangles the lashes easily
Fragrance-free product
Ophthalmologist-tested
Offers glossy and intense color
Cons
Multiple coats may make it look clumpy.
Price at the time of publication: $27.44
Amp up your lashes with the Ardell Top And Bottom Precision Lash Mascara. This mascara comes with a full tapered wand which gives you high-precision coverage. This long-lasting, flake-free formula comes with dual wand control that allows you to draw with double length, volume, and impact. It works seamlessly well on upper and lower lashes to create length with superior ease.
The dual-ended design comes with a thicker tapered wand for upper lashes and a small micro wand that reaches the lower lash line. This allows defined, lengthened, voluminous, and thicker lashes with just a few strokes. The formula gives you thick and opulent lash looks without looking messy or causing clumps. In fact, it coats your natural lashes with a pure black tint without weighing them down.
Pros
 2-wand design
Cruelty-free
Quick drying
Precise application
Easy to apply
Easy to remove
Long-wear formula
Smudge-free
Does not flake or clump
Sleek design
Cons
None
The applicator of this mascara beautifully tight lines the shortest and tiniest lashes within seconds. The mascara pigments the lashes from root to tips and defines them exquisitely. If you have sparse lashes, this mascara fills in the gaps and makes your lashes look fuller and denser. If you have thin and flat lashes, the ergonomic brush of the mascara lifts and curls the lashes for a perfect look.
Pros
Features an ultra-thin brush
Smudge and smear-proof formula
Features tubing mascara formula
Tear-proof
Provides a dramatic look with multiple coats
Safe for sensitive eyes
Cons
Price at the time of publication: $22.97
The rich and creamy formula of Terrybly Mascara Haute Croissance makes it absolutely worth buying. It is formulated with hyaluronic acid, plant protein, collagen, and other conditioning agents that boost lash growth, strengthen lashes, and prevent them from falling. It also features a wiggle brush that effortlessly glides through the lashes to create volume and length.
Pros
Provides serum-like treatment
Offers intense definition
Highly pigmented
Smudge and flake-proof
Doesn't clump or stick
Easy to apply and remove
Cons
Some may find the formula thick.
Price at the time of publication: $45
Mentioned above are the 11 best mascaras for bottom lashes. If you are still confused about which one to buy here is an informative buying guide that can help you make your decision.
How To Choose The Best Mascara For Bottom Lashes
As we have discussed earlier, there are several mascaras designed specifically for the lower lashes. Here are certain things to consider while buying bottom lash mascaras:
Design of the brush
The lower lash mascaras come with uniquely designed tiny brushes. These microfiber brushes are designed to apply mascara without smudging. The brushes with tiny bristles smoothly glide through the lower lashes and offer length and curl to lashes. Plus, the sleek wand reaches the lashes without hurting your eye or the skin under your eyes. Thus, a mascara with a microfiber brush is ideal for bottom lashes.
Formula of the mascara
Another important factor to keep in mind while buying mascara for bottom lash is the formula.  You need mascara with a creamy and waterproof formula that prevents smudging. The smudge-proof formula is generally lightweight and highly pigmented. Plus, it can never make your lashes look clumped or sticky. Some mascaras come with nourishing formulas and are enriched with hyaluronic acid, protein, microfibers, etc. to strengthen the lashes and prevent lash loss.
How To Apply Mascara To The Bottom Lashes
Want to make your lashes pop? Here are the steps to correctly apply mascara to the bottom lashes:
Dip the mascara wand into the bottle to coat it with the pigment. Lay the applicator flat, close to the roots of your lashes.
Start painting the lashes from the roots, in the outward direction.
Apply the mascara in a curling fashion to instantly provide a lengthening and curling effect.
Don't apply more than 2 coats to the bottom lash as it can make the lashes look clumpy and unnatural.
If your hands shake while applying the mascara, use a spoon or any accessory as a shield to protect your under-eye skin.
Once applied, clean up the under-eye skin with a tissue if the mascara has smudged.
Tips To Get Bold And Beautiful Bottom Lashes With Mascara
If you want to make the mascara last long, apply a primer first. A primer makes your mascara remain intact for hours and look lengthier.
Many women complain about smudging mascaras, which can run over your entire makeup. To prevent smudging, always use waterproof mascara.
For making your lashes look more voluminous, apply the mascara from side to side. You can learn this technique by watching video tutorials from any makeup artist.
If your mascara smudges or clumps, use an eyeliner stick and glide the mascara through the lower lash line.
Don't use oil-based or creamy concealers under the eyes. Greasy concealers can make the mascara smudge and smear.
It's quite tricky to find mascara for those tiny bottom lashes. Not all mascaras work well on the lower lashes, making the need for a dedicated lower lash mascara felt, to make your bottom lashes look fuller. These above given are the factors that you can keep in mind if you are willing to invest in a mascara for lower lashes. Plus, you could consider the 11 best mascaras for bottom lashes mentioned above to get the results you so desire!
Why Trust Stylecraze?
The author, Chaitra Krishnan, is a makeup enthusiast who loves sharing new trends and products that enhance your beauty. She scoured the internet for the best bottom lash mascaras and vetted each product and their reviews to pick the best ones for this list. These products were chosen based on their properties like brush texture and ease of use, formulation texture, and consistency, how easy it is to cover bottom lashes, and more such advantages.
Frequently Asked Questions
Is it bad to put mascara on your bottom lashes?
No. applying mascara on the upper lashes is the same as applying mascara to the lower lashes as long as you use the correct mascara. Always pick a smudge-proof mascara and apply it without poking or hurting your eyes or skin. If you choose a mascara with skin-friendly ingredients and learn to apply it properly, it's no more dangerous to apply mascara on lower lashes.
Could I use liquid eyeliner as a mascara for my bottom lashes?
If you use liquid eyeliner as a mascara, chances are, it may smear and ruin your entire makeup. Liquid eyeliners are generally runny and are designed to pigment the lash line. Thus, for best results, it is recommended to use a mascara that is designed for lower lashes.
Why does mascara look bad on my bottom lashes?
Mascara on the bottom lashes may look bad if you apply multiple coats. Layering the mascara can make the lashes look clumpy and overdone. Thus, if you want a natural and rich look, apply 1-2 coats of mascara to the bottom lashes, and it looks beautiful.
How can I make my bottom lashes stand out?
To make your bottom lashes stand out, use a mascara with a long, thinner brush and apply 1-2 coats of the mascara to your bottom lashes. This enhances the color and length of your bottom lashes, making them pop. Also, applying mascara makes the lashes look curled and brighter.
Does bottom lash mascara make you look older?
Yes, but, that is only if you are using a generic product. You can, in fact, open up your eyes and make them look bigger if you use specially-formulated mascaras for bottom lashes.
Does mascara on the bottom lashes make the eyes look bigger?
Yes. Applying mascara to the bottom lashes can help open up the eyes and make them appear more prominent.
Can I put mascara on my bottom lashes with eyelash extensions?
Yes. You can put mascara on the bottom lashes. However, use only water-based or specifically formulated mascaras that are suitable for lash extensions.
Do you put mascara on top or bottom lashes first?
Start applying the mascara from the bottom lashes, or else the top eyelids might smudge when you look down to apply.
Recommended Articles