10 Best Mascaras For Contact Lens Wearers' Eye Comfort
Having eye makeup is no longer a dream with these safe and skin-friendly products for all.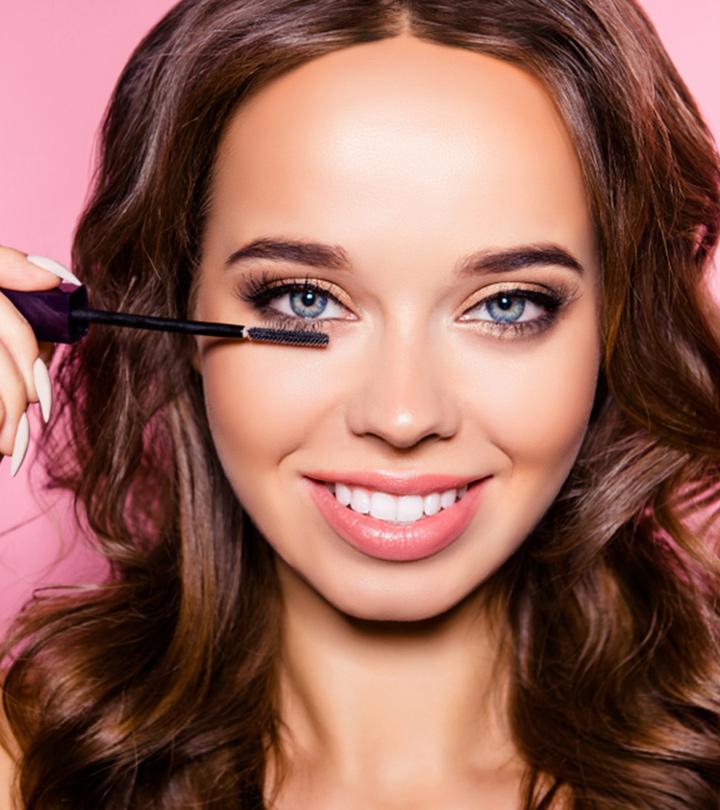 You need to find yourself the best mascara for contact lens wearers if you use contacts and refuse to give up on the holy grail of eye make up— the mascara. Mascaras can no doubt completely transform your lashes giving them a fuller, curlie,r and voluminous look, but they often come loaded with chemicals or harsh ingredients that can irritate sensitive eyes or eyes with contact lenses. But, there's no need to stop using mascaras; you only need to stop using the wrong ones for you. So how do you find the right one?
First check the ingredients; you should ideally opt for mascaras with natural and non-toxic ingredients only. Secondly, look at the functionality: ease of application, pigmentation, durability, and more. To make it easier for you to pick one for yourself, we've got you a list of the 10 best mascaras suitable for contact lens wearers.

10 Best Mascara For Contact Lens Wearers Sensitive Eyes
L'Oreal Paris Telescopic Mascara is undoubtedly the best mascara for contact lens wearers. It is ophthalmologist and allergy-tested, which makes it a safe option for sensitive eyes. The product comes with a patented precision brush for leveled up application. With a few light strokes of this carbon pigmented mascara, you can get dramatic looking eyelashes, making your eyes look breathtakingly beautiful. This innovative lash volumizing formula separates every lash, enhances the lash length, and doubles the intensity.
Pros
Clump-free formula
Has flexible tapered brush
Available in 5 shades
All day wear product
Cons
Some may find the brush a little flimsy
Price at the time of publication: $9.95
A perfect 2-in-1 product that does the job of both a lash primer and volumizing mascara is brought to you by Honesty Beauty. The mascara does a fab job at priming your lashes and enhancing the length in one go. The amazing primer quality in this product ensures a flawless application, imparting rich, black color to each eyelash. Made without paraffin and silicone, this mascara is great for sensitive skin. Honest Beauty's mascara defines your eyes and makes your lashes look fuller and denser.
Pros
Cruelty-free
Paraben-free
Free from synthetic fragrances
Dermatologist and ophthalmologist tested
Cons
Has slightly thick consistency
Price at the time of publication: $17.99
Maybelline Full 'n Soft mascara is a pocket-friendly makeup product especially designed for people who put on contact lenses. It has a vitamin- E enriched formula which is considered great for nourishing and thickening lashes. If you are someone who loves fuller, thick eyelashes that remain soft for long hours, you must give this mascara a chance. This smooth, clump-free formula adds a dramatic look to your eyes without giving you any brittle feel. Its quick dissolve system allows easy mascara removal, which prevents loss of lashes. You can wear the product all day long as it has super stay lasting power.
Pros
Water-proof
Flake-free
Smudge-free
Available in 3 shades
Cons
Might not give a natural look
Price at the time of publication: $6.98
Infused with vitamin E, rice protein and olive oil, this mascara from Neutrogena is high in nourishment value. As the name states, it has the power to lengthen your lashes with a super dose of antioxidants. For those who wear contact lenses and face the challenge of cloudy lenses, this mascara can be used on a daily basis and so, it is worth buying. It prevents clumps and does not smudge at all. The soft bristles impart color to the lashes from the root to the tip. Available in 3 shades, this mascara has the power to intensify the look of lashes instantly.
Pros
No animal testing
No parabens
No phthalates
Ophthalmologist tested
Recyclable packaging
Cons
Might not hold the curl of the lashes
Price at the time of publication: $15.0
Composed with 100% natural origin formula of jojoba oil and glycerin, this is one of the most nourishing lash mascara. Burt's Bees mascara comes with an effective brush that is gentle yet applies mascara evenly over the lashes. This nourishing formula beautifully defines the upper and lower lashes and makes your eyes look astonishingly beautiful. With no use of parabens, phthalates, SLS, petrolatum, or synthetic fragrances, it is a perfect formula for sensitive eyes and contact lens wearers who are more likely to face eye irritations. If you wish to strengthen and condition your lashes all at once, give this lengthening mascara a try.
Pros
Fragrance-free
Oil-free
Sulfate-free
Water-resistant
Gluten-free
Cruelty-free
Cons
Slightly low staying power
Price at the time of publication: $12.99
For those who feel mascara is not made for them, trying out Blinc Amplified Tubing Mascara can be great. This is because Blinc tubing mascara is pretty different from the usual ones. It forms water-resistant tubes around the lashes, which, unlike colored pigments, doesn't run or flake. Whether you have sensitive eyes, use contact lenses, or plan to hit the gym with mascara on, this is the ideal choice for you. The formula stays for long hours and thus, is suitable for women on the go.
Pros
Cruelty-free
Oil-free
Sweat-proof
Doesn't penetrate the skin
Cons
Price at the time of publication: $26
When looking for a lightweight, organic mascara that makes your lashes look flawlessly beautiful, it is time to give this mascara from Endlessly Beautiful a try. Loaded with natural ingredients like chamomile, vitamin E, and coffee powder, this mascara is sure to surprise you with amazing results. It effectively adds color and volume to your eyes. With a few light strokes of this mascara, you get fuller, voluminous, and clump-free lashes. If you wear contact lenses or have allergies, adding this mascara to your makeup kit is always a good idea. Prime features of this mascara include its wonderful water-resistant quality, gentle effect, and smudge-free excellence.
Pros
Soy-free
Vegan-friendly
Moisturizing formula
Gluten and paraben-free
Cons
Might not give enough length to lashes
Price at the time of publication: $21.95
A super pigmented formula that adds flawless definition to your eyes and upgrades the look to show stop level is everyone's top need. One such mascara is this one from Wet n Wild. It adds perfect shape and color to your lashes without making them all flaky. Just apply it with its precision brush that helps enhance the lash length and takes the product evenly from root to tip. Enriched with vitamin E, this mascara is a perfect choice for nourishing your lashes without having to irritate your eyes.
Pros
Sulfate-free
Gluten-free
No clumping
Super pigmented
Cons
Price at the time of publication: $3.18
For longer, thicker lashes that look natural and beautiful, this Naturlash mascara from Fifth & Skin has to be your first choice. Not only is it easy to apply, but it is also easy to remove. It works perfectly well with one application, but makes your eyes look bold and beautiful with a top mascara application. This mascara is totally natural and has no toxic ingredients at all, which means it is super safe and does not irritate your eyes. It can even be used for people with eye conditions like dry eyes or for those who wear contact lenses. Available in 2 colors, this is one of the best natural mascara for thicker, longer lashes.
Pros
Long-lasting
Water-resistant
Mercury-free
Lead-free
Non-GMO
Dye-free
Hypoallergenic formula
Cons
Price at the time of publication: $23.95
The Secret Xpress Control 4D Silk Fiber Eyelash Mascara is a waterproof and smudge-proof formula suitable for all skin types. It is a lengthening and volumizing formula that makes lashes look fuller and longer. The hypoallergenic formula is made with non-irritating ingredients. It doesn't flake or smudge and stays on well. Moreover, it is also easy to remove with a facial cleanser or warm water.
Pros
Waterproof
Easy to clean
Smudge-proof
Flake-free
Hypoallergenic
Suitable for all skin types
Cons
May not add length to the lashes
Price at the time of publication: $7.98
The brands mentioned here are reliable and enhance your lashes easily. But before investing in a mascara, just go through the points given below. These points might be helpful in choosing the right mascara for your eyes.
How To Choose The Best Mascara For Contact Lens Wearers?
Use non-allergenic mascara
Invest in a mascara that has the words, "ophthalmologist tested", "dermatologically tested" or "hypoallergenic". Such products are tested for allergies and are considered good for people who use contact lenses or have sensitive eyes. Usually, products that are phthalates, paraben, SLS, or dye free are also non-allergenic. Opting for such products is surely a good idea.
A water-proof formula works great when you have watery eyes that can mess up your mascara. A mascara that has water-resistance is suitable for contact lens wearers as it does not come off with tears or lens solution.
The ideal mascara has long-stay power, which means your mascara won't come off easily. The fear of getting the product smeared all over your face is a lot. Investing in a product that stays for around 12 hours protects you from smudging of the product.
A good quality mascara is one that lengthens your lashes, nourishes them, adds volume, and dries quickly. Products with ingredients like jojoba oil, vitamin E or olive oil do a better job at keeping your lash game strong. Look for such ingredients before investing in a mascara.
How To Wear Mascara With Contact Lenses?
Always wear contact lenses before applying mascara
Use high quality mascara that dries up quickly
Apply the mascara lightly on the lashes
Apply the mascara in layers
Start the application from the center of your lashes
Skip using the mascara on the bottom lashes
Things To Avoid When Applying Mascara With Contact Lenses
Avoid these things when applying mascara while wearing contact lenses-
Use of mascara with fibers
Movement of mascara wand too close to the eyes
Applying mascara with strong strokes
Using oil-based mascara
Why Trust StyleCraze?
The author, Chaitra Krishnan, is an ardent makeup lover and spends most of her time trying out new arrivals on the market. She carefully reviewed user feedback to compile the best mascaras for contact lens wearers. She considered staying power, hypoallergenic properties, and waterproof formulas to shortlist these products for her readers.
Frequently Asked Questions
Is it safe to use mascara with contact lenses?
Yes, it is safe to use mascara with contact lenses only if it is gentle on the eyes and doesn't cause any allergies.
Is waterproof mascara good for contact lens wearers?
A good quality waterproof mascara is good for contact lens wearers.
Which is the right time to wear contact lenses, before or after applying mascara?
The right time to wear contact lenses is before applying mascara.
How do I get mascara off my contacts?
If you accidentally get mascara on your contacts, remove them immediately, flush them in the solution and gently rub them to get off the mascara.
What type of mascara should contact lens wearers use?
Contact lens wearers should ideally opt for oil-free, waterproof mascaras that are ophthalmologist-tested to be safe for them.
What are some pro tips for contact-lens wearers who want to apply mascara?
Put on your contacts before you start your makeup. Opt for waterproof, flake-free mascaras that are made for contact lens wearers. Start applying from the middle of the lashes to the tips in light, even strokes. Avoid caking the lashes to prevent further rubbing and reapplication and absolutely avoid wearing false eyelashes with contacts.
Recommended Articles