8 Best Mascara For Redheads of 2023 Reviews
Achieve flawless eye makeup with intense mascaras that work wonders on your look!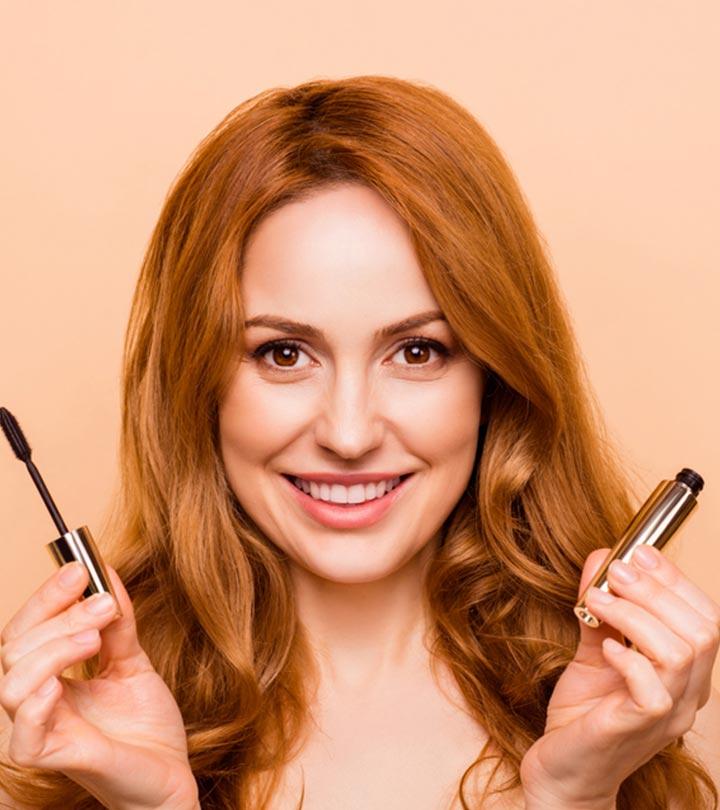 Redheads are gifted with a unique complexion and lash color that makes them stand beautifully apart. If you are one of those beautiful people, try getting your hands on the best mascara for redheads to make your eyes look their best. The commonly available black and brown mascaras might look out of place on your lashes and would not suit your natural complexion as well. That's why using a mascara made especially for your complexion and pale lashes would give them a more naturally defined look. Available in many options and variations, these mascaras are sure to elevate your lashes to another level. To help you get started, we have enlisted the top 8 mascara options for you so that you can pick the most suitable one for yourself.
8 Best Mascara Reviews of 2023 For Redheads!
Pros
Softens and lengthens the eyelashes
Adds a natural thickness
Defines the eyes
Clump-free formula
Protects and nourishes the lashes
Ideal to get a natural look
Gentle and suitable for sensitive eyes and contact lens wearers
Cons
It may flake.
It may not be easy to remove.
Price at the time of publication: $5.64
Pros
Maximizes the thickness of the eyelashes
Adds thickness and makes them look longer
Flake-free
Defines and separates lashes
Volume-boosting formula
Does not smudge or smear
Cruelty-free
Cons
Takes longer to dry
Eyelashes may clump
Price at the time of publication: $8.98
Pros
Two-part silicone brush
Flake-free
Fade-proof
Waterproof
Gluten-free
Paraben-free
Vegan
Cruelty-free
Cons
Price at the time of publication: $16.9
Pros
Flake-free
Fade-proof
Waterproof
Fragrance-free
Paraben-free
Gluten-free
Phthalate-free
Cruelty-free
Cons
Price at the time of publication: $15.98
Pros
Gentle formula
Offers curling effect
Easy to remove
Value for money
Cons
None
Price at the time of publication: $19
Pros
Soft and nourishing formula for the lashes
Prevents lash loss
Lengthens and boosts fullness
Highly-pigmented and adds definition
Smudge-free, clump-free, and flake-free
Waterproof
Cons
Price at the time of publication: $45
Pros
A high-end and premium-quality brand
Adds natural thickness to the lashes
Longwear
Ideal to create intense curls
Easy to remove
Cons
Price at the time of publication: $36.99
Pros
Flake-free
Fade-proof
Easy to remove
Paraben-free
Vegan
Cruelty-free
Cons
Dry formula
Applicator brush is not effective.
Price at the time of publication: $16.99
Still not sure which mascara would best-suit your lash color or complexion? Or wondering why you need a special mascara? Read on.
Why Do Redheads Need a Special Mascara?
Redheads have paler eyelashes that may end up looking too prominent with black mascaras. Their complexion and lash colors may not blend well with dark browns and blackish browns either. Hence why Redheads need special mascaras, which will not only accentuate their natural lash color but also compliment their features and more importantly, their red-blessed tresses.
How To Choose Mascara For Redheads?
Here are some tips that may make your shopping experience easy:
Pigment – Since your eyelashes are on the paler side, choosing a dark or highly-pigmented color is a big no-no. Pick a pigment that enhances your natural color rather than choosing a dark color.
Volume & Length – Choose a volume-boosting and lash-lengthening mascara that'll make your eyes look stunning even if the pigment is not intense. Also, the formula should be smudge-free, smear-free, and non-flaky.
Brush – The mascara wand is important. Whether you want to tint only or curl the lashes, there are different brushes available for different looks. So, pick the one that suits your needs.
Waterproof – Be it any mascara, always choose a waterproof and sweatproof product so it lasts longer and stays put through accidental rubbing or tears.
Why Trust Stylecraze
Srijita De, the author, is a beauty and makeup enthusiast, who loves experimenting with new looks and trends. Especially when it comes to eye makeup, she knows how to let your eyes do all the talking with different variations each time. So when it comes to choosing the best mascara for redheads, she has gone through several reviews and customer testimonials online, before curating this list of the 8 best mascaras for all you redhead beauties. Metallic, matte, pastel or shimmery, Chaitra has chosen the best in shade and formulations to make sure you rock that Sunday brunch or Friday night party.
Frequently Asked Questions
What Color Mascara Should Redheads Wear?
Redheads should opt for warmer browns, almonds, coppers, or cocoa colors to give their eyelashes a flawless definition.
What Is The Best Makeup For Redheads?
Bright coppers, soft chocolate browns, pinks, and peaches are some of the best makeup colors for redheads.
What Colours Should Redheads Avoid?
You should avoid deep-pigmented blacks or dark browns that will eventually turn black on the lashes.
Do Redheads Look Better In Gold Or Silver?
Gold is a better option than silver. Be it classic, yellow, or rose gold, these colors will bring out the auburn richness like no other. Silver, however, will work with light to medium-light red hair.
Should redheads wear black or brown mascara?
Redheads may have paler eyelashes and look too dominant with black mascaras. The skin tone and lash colors of redheads may not go well with dark brown or blackish brown mascaras.
Does brown mascara look more natural on a redhead?
Yes. Although brown mascaras are underrated, they not only enhance the natural lash color but also complement red hair. They add a surreal touch to your entire look.
Can redheads wear blue mascara?
Yes. Blue is a complementary color to red. The bold blue mascara brings out the vibrance of your red hair and makes your eyes pop irrespective of your skin color.
Recommended Articles
Best Ultimate Makeup Products For Redheads
Best Mascaras For Contact Lens Wearers' Eye Comfort
Best Mascaras For Oily Skin – A Review Guide
Best Cruelty-Free Drugstore Mascaras