15 Best Mascara Primers For Full Coverage Of 2023
Say goodbye to messy and clumpy eye makeup while accentuating your look in no time.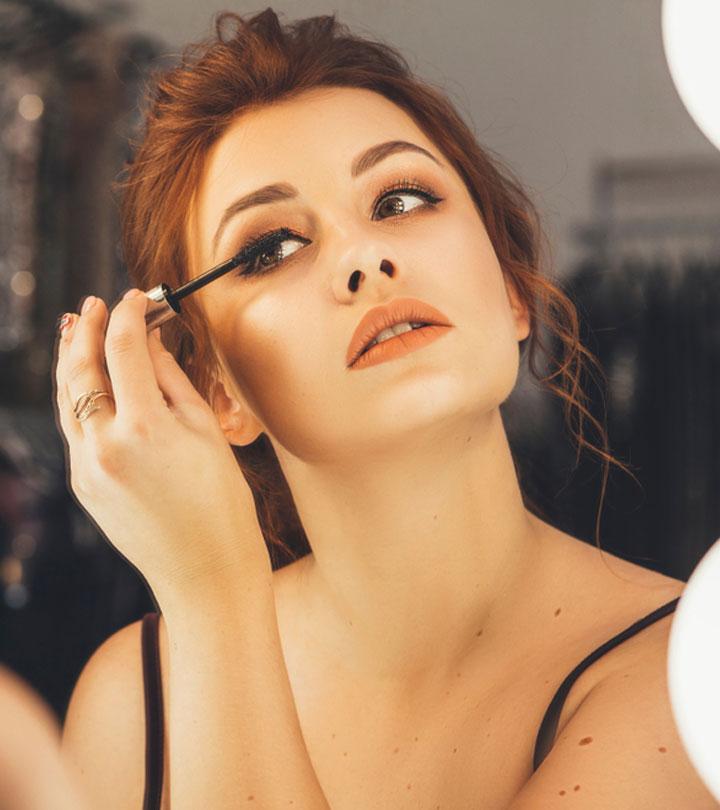 Want to make your regular mascara work hard and give the best results? If yes, then invest in the best mascara primers to get the most out of your product. Mascara primers help evenly distribute the product across the length of the eyelashes and smoothen out lumps that make the product look clumpy. They also ensure that the product stays on long and does not degrade, smear, and wash off. Mascara primers are the best solution to fix a sleepy face or tired, dull eyes when you need to step out quickly or show up to a gathering. Scroll down to check out the 15 best mascara primers to get flawless lashes.
Top 15 Best Mascara Primers For Flawless Lashes In 2023
Pros
Doesn't clump on the lashes
Instantly thickens lashes by up to five times
Conditions and softens the lashes
Thicker-looking lashes in four weeks
Ophthalmologist-tested
Suitable for sensitive eyes
Cons
May not curl your lashes properly if you don't have naturally curled lashes
Price at the time of publication: $7.99
You should consider this mink-brown tinted lash primer to do the job if you don't enjoy applying a white mascara primer. Made of a water-resistant and long-lasting gel formula, this eyelash primer helps you color and prime your lashes while adding length. As it is infused with pro-vitamin B5, it works actively towards conditioning your lashes, making them look naturally thick and voluminous. It comes with a custom ExtraFlex brush, which separates lashes, making them look fuller and more defined. This primer can either be used as a mascara base or as mascara itself.
Pros
Water-resistant tinted formula
Conditions lashes with pro-vitamin B
Mink-brown in color
Custom ExtraFlex brush
Can be used as a mascara
Suitable for all skin tones
Cons
May not be suitable for people with extremely sensitive eyes
Price at the time of publication: $25
A good way to ensure that you are on the right path of stimulating eyelash growth is by investing in a product that conditions your lashes. This lash extender contains algae extracts which keeps it conditioned and helps in adding length and thickness to your lashes while strengthening them. A single coat of this mascara primer gives your lashes dramatic thickness. It can also be used on your eyebrows to make them look fuller and defined, or as a lightweight mascara. No matter what your skin tone, it will work wonders for you.
 Pros
Contains wheat protein and radish extracts
The unique brush separates each lash to make it look fuller
Conditions the lashes
Can be used on the eyebrows
Can be used as a mascara
Cons
It contains boric acid which may irritate sensitive eyes
Price at the time of publication: $20.8
Do you want luscious, thick eyelashes for days? If your answer is affirmative, consider this primer. This primer by Grande Cosmetics is arguably the best mascara primer in white, which is infused with mini fibers that don't cause flaking. It also contains peptides that help in increasing the longevity of the mascara's wear. The natural soft waxes (which include beeswax) help in keeping your lashes conditioned and supple. This helps prevent breakage while the hard waxes such as carnauba wax make the lashes firmer for a better hold. This formula is water-resistant and doesn't smudge. It is the best waterproof mascara primer.
Pros
Waterproof primer
Tiny fibers prevent flaking
Contains peptides that make the mascara stay on longer
Smudge-proof
Contains soft wax and hard waxes
Ophthalmologist-tested and approved
Cruelty-free
Cons
The mascara has to be applied right after the primer. Otherwise, it is hard to cover up the white color.
It tends to dry up quickly if not stored properly.
Price at the time of publication: $24.95
Pros
Dermatologist-tested
Paraben-free
Cruelty-free
3-in-1 product
Thin and easy-to-use wand
Cons
It is not waterproof
Slightly expensive for the quantity
Price at the time of publication: $26
With a name as telling as this one, it would be disappointing if it didn't live up to its name, isn't it? This white mascara primer does exactly what it claims. When applied from root to tip, it instantly makes your lashes look longer, settling perfectly on each eyelash. Although it is a rich and creamy formula, it doesn't feel heavy on the lashes. Infused with conditioning ingredients like argan, jojoba, and coconut oils, it also strengthens the lashes. For best results, wait for 30 seconds to apply mascara after coating your lashes with this volume-boosting lash primer.
Pros
Instantly makes lashes look longer
Lightweight formula
Contains argan, jojoba, and coconut oils
Cruelty-free
Cons
Price at the time of publication: $9.37
Pros
Conditioning
Creates a protective barrier
Transparent
Creamy texture for easy application
Cruelty-free
Vegan
Cons
Difficult to remove
Not ideal for sensitive eyes
Price at the time of publication: $23
Flutter your eyes away like they do in the movies with the help of this mascara primer that stretches your lashes. Yes, it not just thickens and adds volume to your lashes, but also stretches them with its magnetic technology. Infused with carnauba wax, this primer lengthens the lashes to prep them for a seamless mascara application. It also contains panthenol and sunflower seed oil, which conditions the lashes and prevents breakage. When applied to the upper and lower lashes, it provides unbeatable length.
Pros
Uses magnetic technology to stretch lashes
Cruelty-free
Gluten-free
Vegan-friendly
Paraben-free
Contains sunflower seed oil for deep conditioning
Cons
May get clumpy upon heavy application
Price at the time of publication: $17
Let your mascara reach its full potential by applying this buildable primer as a base product. A single undercoat of this product will make your lashes look thicker and make your mascara last longer. We tend to forget that our lashes need some love too. Harsh chemicals and cleansing agents often take a toll on our lashes, leaving them dry and brittle. This white mascara primer contains moisturizing ingredients that condition and improve the overall texture of your lashes. It comes with a unique polymer formula that makes your mascara last longer.
Pros
Reduces dryness in lashes
Long-lasting
Creamy formula
Ophthalmologist-tested
Cons
Tends to get clumpy if applied in excess
Price at the time of publication: $21
Not only is this lash primer incredibly cute, but it's equally effective too. The buildable formula of this base primer will instantly make your lashes look several times thicker than they naturally do. Infused with nourishing ingredients such as acai oil and mango butter, it also helps in conditioning the lashes. You can apply a single coat of this lash primer for a subdued look or extra coats if you are going for a more dramatic look. For best results, apply mascara within 30 seconds of using this primer.
Pros
Buildable formula
Contains acai oil and mango butter
Affordable
Cruelty-free
Vegan
Paraben-free
Cons
Some may find the formula slightly thick
Price at the time of publication: $4.99
According to a recent study conducted by Tarte, each and every participant said that this lash primer made their eyes look more open. Infused with skin rejuvenating ingredients, this primer is considered to be one of the best mascara primers for thick and natural-looking lashes. It contains carnauba wax that aids in flawless application, olive esters that condition and protects the lashes, and vitamin C that helps fight free radicals. A unique element about this lash primer is the revolutionary 360° magniLASH brush, which separates every eyelash for ease of application. Made without parabens, this lash primer is safe for contact lens wearers as well.
Pros
Contains vitamins and other nourishing ingredients
360° brush
White-tinted lash primer
Dermatologist and ophthalmologist-tested
Vegan
Mineral oil-free
Phthalate-free
Gluten-free
Cons
The packaging of waterproof and non-waterproof variants can be difficult to differentiate.
Price at the time of publication: $23.99
Sculpt your lashes into long, thick, and voluminous ones by applying a coat of this lash primer before mascara. It contains collagen which helps in adding to the volume of your lashes and nano-peptide complex which keeps them nourished. With its thickening microfibers, you will instantly notice that your lashes are stretched and extended. The brush has large and perfectly placed soft bristles that separate each eyelash, making your eyes look more open.
Pros
Contains collagen for volume
Nano-peptide complex nourishes the lashes
Comes with thickening microfibers
Cruelty-free
Cons
Price at the time of publication: $20
Improve your eye makeup or simply enhance your look for the day with this nourishing and conditioning drugstore mascara primer. A creamy but lightweight formula that clings to your lashes without clumping or feeling heavy, this base primer holds the secret to long and thick lashes. It comes with an ultra-thickening formula that promotes length and volume. Coupled with a double-lush brush, you can easily curl your lashes with this MAC maximizer before applying mascara. Although it is a white mascara primer and appears white upon application, it dries quickly to reveal a semi-clear base. If you like trying out contact lenses in different colors, you're in luck as it's completely safe for contact lens wearers. It is the best drugstore eyelash primer.
Pros
Conditions the lashes
Creamy eyelash primer
Thickening formula
Comes with double-lush brush
Lightweight
Long-lasting
Ophthalmologist-tested
Cons
The product tends to accumulate at the opening of the tube and thickest area of the brush
Price at the time of publication: $19.73
Don't we just adore a product that is easy to apply and is equally easy to wipe off? Formulated especially to condition, strengthen, and volumize your eyelashes, this primer goes that extra mile to provide nourishment as well. A single coat of this primer will help your mascara settle better, giving way for an amplified effect. The soft bristles of the brush coat each and every eyelash from root to tip, in one smooth stroke. Clean-up is as easy as pie as it can be washed away with the mascara with some lukewarm water. This primer is also free from parabens, fragrances, and oils. It is the best lash primer.
Pros
Volumizes and curls eyelashes
Easy to apply and wipe off
Sulfate-free
Cruelty-free
Gluten-free
Cons
Price at the time of publication: $20
Cute, compact, and well-packaged, this little gem can elevate your eyelash game in a matter of minutes. Now you can achieve long and voluminous lashes that you've always desired with this mascara primer that lifts your eyelashes like no other! It separates and defines your lashes while allowing the mascara to stay on longer. A translucent mascara formula, it is also buildable. With this primer, you can expect a flawless finish without any spiking or clumping.
Pros
Conditions the eyelashes
Long-lasting
Lightweight
Doesn't clump
Cruelty-free
Cons
Some may not like the thin brush
Price at the time of publication: $17.49
Now let's take a look at the buying guide to help you choose the right primer.
A Helpful Buying Guide For The Best Mascara Primer
A mascara primer preps the eyelashes for mascara, but that's not all it does. It also strengthens, thickens, and adds volume to lashes, making them look fuller and longer. Some primers condition and nourish eyelashes, while others use magnetic technology to stretch the lashes, making them look naturally longer.
Before settling on a mascara eyelash primer, you should keep these following points in mind:
Look for a primer that is creamy yet lightweight. A creamy formula helps make the eyelashes look extremely thick.
Invest in a nourishing and conditioning formula as it prevents eyelashes from becoming brittle.
A buildable.voluminous mascara primer is beneficial, especially if you want full coverage on some days and a subtle eye on others.
As our eyes are sensitive, it is important to choose a product that contains natural ingredients and is preferably free from parabens, sulfate, mineral oils, and fragrances.
The wand or the spoolie also makes a huge difference when it comes to choosing a mascara primer. Pick one with soft bristles that can reach each eyelash and separate it properly.
Let us now understand how to apply a mascara primer.
Step 1: Start with a clean face. Wash your face and eyes properly, ensuring that no residues of the previous day's makeup are left behind.
Step 2: Pump the wand of the mascara primer a few times inside the tube.
Step 3: Take the wand out and wipe off the excess product on the opening of the tube.
Step 4: Apply the primer from under the lashes, curling it upwards. Start from the root to the tip. Don't apply too much product to avoid clumping.
Step 5: Wait for 30 seconds.
Step 6: Apply mascara and ensure that you have concealed all of the mascara primer.
Why Trust StyleCraze?
Srijita De, the author of this article, is passionate about makeup and loves experimenting with different products. Her deep interest in the field helps her understand the current beauty trends and people's requirements. She consulted professionals and reviewed various product reviews to curate this list of the best mascara primers that give full coverage. The products are listed keeping your needs and quality parameters in mind. You can go through the detailed description of each product to know about its type, formulation, coverage, and other important factors before picking the right one for yourself.
Frequently Asked Questions
Does mascara primer really work?
If you know how to use it well, yes, it does work. It adds volume, thickness, and length to your eyelashes while preparing them for mascara. It also makes the mascara last longer.
What is the best drugstore mascara primer?
The L'Oreal Paris Voluminous Base Primer Base, It Cosmetics Tightline Mascara Primer, and Blinc's Lash Primer are some of the best drugstore mascara primers. You may refer to the list above to find out more about the best drugstore mascara primers.
Is a lash primer good for your lashes?
Too much of a good thing can be a bad thing. So, moderation is the key. When lash primers are not used in excess, they can be good for the lashes. They give your lashes a fuller and thicker appearance, and most good-quality mascara primers also nourish and condition the lashes.
Can you wear eyelash primers without mascara?
Yes, some people use a primer as an alternative to mascara. However, if you are using a white mascara base, it is better to coat it with black mascara.